Brussels sprouts slaw (© Mara Yamauchi)
When I was eight, my family moved from Nairobi, Kenya, to Oxford in the UK. The first few months were a reverse-orientation process for me, living for the first time in the country of my birth and nationality. I was baffled why, when I talked about everyday things using their Swahili names, which was all I knew, my new schoolmates looked a bit confused.
At my local gymnastics club, one of the other girls asked me if I liked Spurs. I had no idea what Spurs was – a food, a place, an item of clothing?! Eager to fit in, I cheerfully said 'Yes!', only to discover much later that it was a football team.
In my first December living in the UK, as Christmas approached, I heard my friends talking with horror about Brussels sprouts. Every one of them, without exception, complained about their smell and taste. They swapped tips about how to avoid eating them. I took my friends at their word and decided I should keep my distance from the dreaded sprouts!
Fast forward many years, and much to my delight, I discovered that sprouts can be delicious, and that they are packed with nutrients! Traditional Christmas dinner in the UK means boiling sprouts but this really does them no favours. Therefore, I resolved never to boil them, and instead to find tasty alternative ways to prepare them.
From gratins and roasts, to salads and stir-fries, Brussels sprouts have a lovely nutty flavour which goes especially well with creamy cheeses, bacon and nuts. These mini cabbages, which are in season over the northern hemisphere winter, are packed with nutrients, including vitamins C, K and the B group, and also iron, manganese and fibre.
The simplest way I cook sprouts is shallow-frying them, finely chopped, with onion and bacon. But one of my favourite Brussels sprouts recipes is a crispy, crunchy slaw. At Christmas, I always add pomegranate seeds to make it festive and colourful. Enjoy!


---

Ingredients
150g Brussels sprouts, washed and very finely sliced
Half a red onion, very finely sliced
50g sultanas
25g pine nuts
1 small apple (optional)
Heaped tablespoon pomegranate seeds
1 large tablespoon mayonnaise
1 large tablespoon plain Greek yogurt
Half a teaspoon honey
Half a teaspoon Dijon mustard
Half a lime, grated zest and juice
Salt and pepper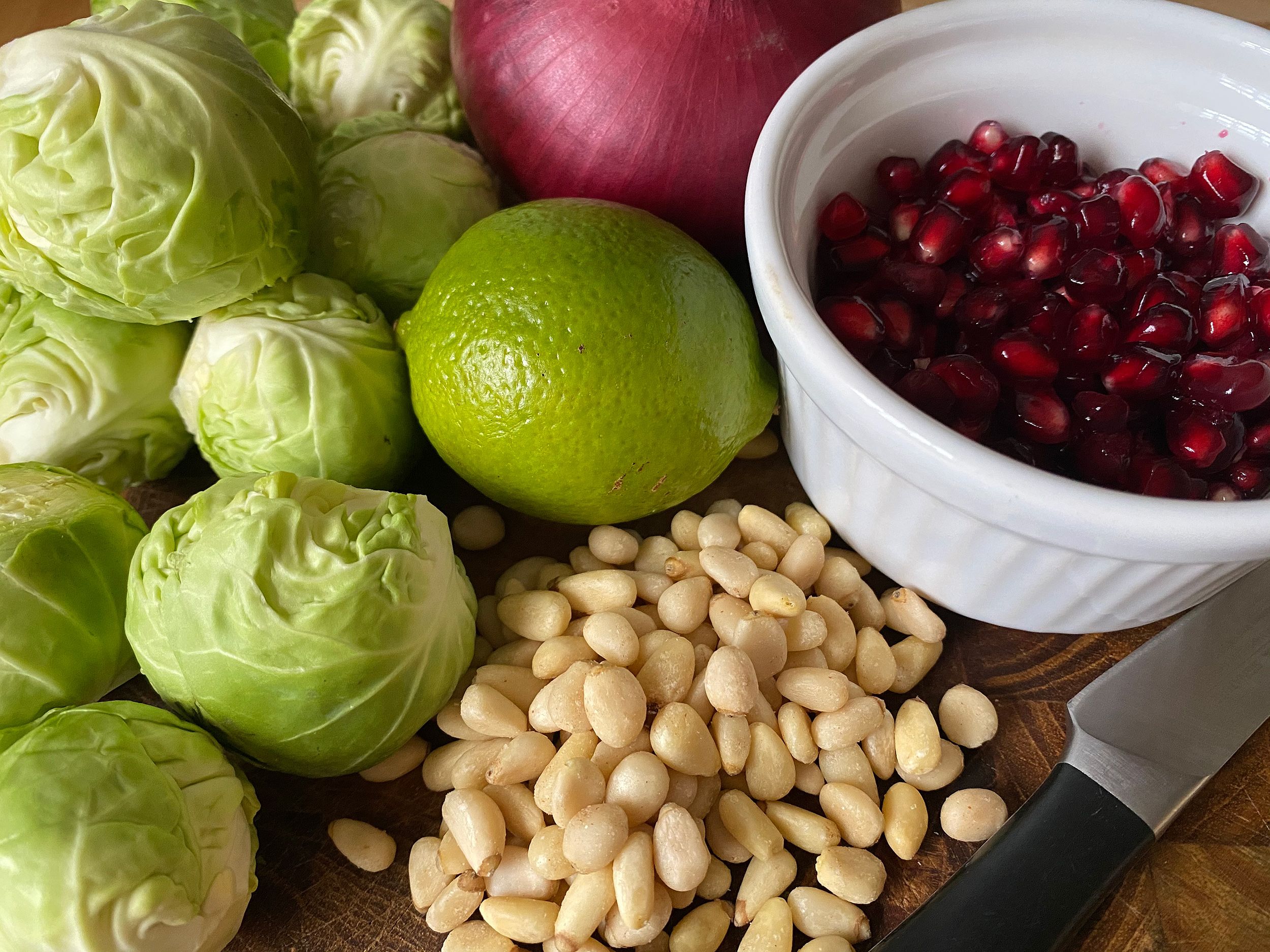 Method
• Place the sliced red onion into a bowl and pour over boiling water to just cover them. Leave for two minutes, drain and set aside. If you like your onions tangy and crispy, you can skip this step.
• Mix together in a small bowl the mayonnaise, yogurt, honey, mustard, lime zest and juice, and salt and pepper, and stir well.
• Roughly mix the sprouts, onion, sultanas and pine nuts in a large bowl. If you like your slaws a bit sweet, core, peel and grate the apple, and add that in too.
• Pour in the mayonnaise mixture and stir everything together thoroughly. Place in a serving bowl and sprinkle over the pomegranate seeds to finish.

Mara Yamauchi for World Athletics