Jasmine Camacho-Quinn wins 100m hurdles gold ahead of Kendra Harrison at the Tokyo 2020 Olympic Games (© Getty Images)
To understand what it means now, you have to go back to what it was like for them back then.
In the autumn of 2016, training partners Jasmine Camacho-Quinn of Puerto Rico and Keni Harrison of the USA were back at their base at the University of Kentucky, putting in the hard yards, trying to move swiftly on from what had happened over the summer.
Harrison had been the world's best hurdler that year, clocking 12.24 six weeks out from the US Olympic Trials. But on the day it mattered most it all went wrong, a sixth-place finish in the event forcing her to wait five long years before she lined up at the Olympics.
Camacho-Quinn, meanwhile, had made it to Rio but a few days shy of her 20th birthday, it all went pear-shaped in her semifinal, a crashing fall turning her Olympic dream into a living nightmare.
But on Monday (2) in Tokyo, the pair found long-awaited redemption, Camacho-Quinn blazing to gold in 12.37, Harrison taking silver in 12.52.
It was inevitable in the aftermath that 2016 would come up, and they were finally able to reflect on a period that no longer stings.
"Missing out on Rio is always in the back of my head," admitted Harrison. "That's what makes me work hard, reliving that moment of getting sixth at US trials, picking myself up, building my confidence back up."
For Camacho-Quinn, her response to the crashing fall could be summarised by a tattoo she had emblazoned on her right forearm following the Games: todo es posible – everything is possible.
"I wasn't going to let that race tickle for the rest of my life," she said. "I'm constantly reminded, someone messages me and I'm like: 'I need y'all to let that go'. You have to move on."
But she knew the demons of the past could only truly be exorcised with a big performance in Tokyo. Before her semifinal, that Rio race again came back to haunt her.
"I kind of had a breakdown because I was like, 'I don't want the same thing to happen again,'" she said. "I knew how I'd been racing all season: 'just do that and I'll be okay.'"
It was just before midday when they two lined up behind their blocks: Harrison in lane four, Camacho-Quinn in five. During the biggest moment of their careers, that familiarity made it feel far less intimidating.
"I was more relaxed in the blocks with her by my side," said Camacho-Quinn. "We've had years beside each other so it calmed me down in the blocks. I think with that experience, it got us to this point, and we both know it."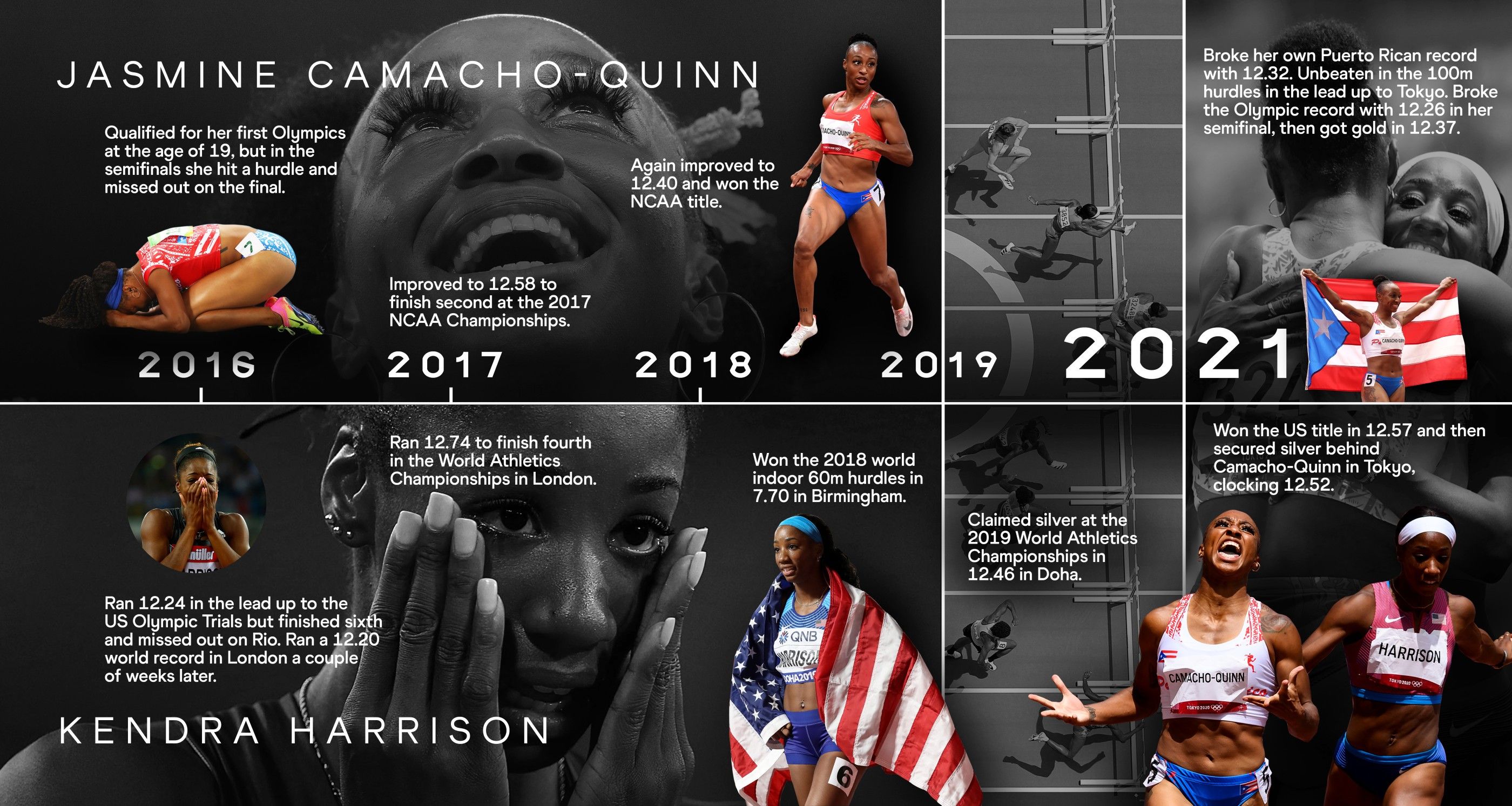 Harrison, 28, is four years older than Camacho-Quinn, who arrived at the University of Kentucky in 2015. By then Harrison had turned professional, reaching the semifinals at her first World Championships in Beijing.
"Training with (Camacho) Quinn, she's really talented, we brought the best out of each other," said Harrison. "I knew she wanted to beat me, I wanted to beat her – it brought an edge."
Camacho-Quinn – who grew up in North Charleston, South Carolina, her mother a native Puerto Rican, her father from the US – was already a promising young hurdler when she arrived in Kentucky, having clocked 13.33 in 2014, the fastest of any US high schooler.
For both, the attraction of enrolling in Kentucky was obvious, it being a programme overseen at the time by Edrick Floreal, the renowned coach who has guided a succession of champions. Camacho-Quinn was a standout star during her time there, winning the NCAA 100m hurdles title in 2016 and 2018, the latter a year in which she lowered her PB to 12.40 at the age of just 21.
By that point Harrison had established herself as the woman to beat on the world stage, having bounced back from her 2016 disappointment to set the world record at 12.20 shortly before the Rio Olympics and then going on to win the 2018 world indoor title. But those were interspersed with another letdown, a fourth-place finish at the 2017 World Championships in London.
In the summer of 2018, Floreal chose to move from Kentucky and become head coach at the University of Texas, 1500km away in Austin. Harrison didn't have to think long about her future, deciding to go with him.
"If it's not broken, don't fix it – I run really well under him," she said. "He knows my personality, what I need, and he stood by my side even when things didn't go well. I will never leave Flo."
Camacho-Quinn forged a different path. After turning professional in 2018, she had a mediocre season in 2019 with a best of 12.82, and early in 2020 her agent Paul Doyle arranged a new coaching set-up, hiring Irish coach John Coghlan to come to Orlando, Florida, specifically to work with her alongside Gary Evans.
Also in the group is world 400m champion Steven Gardiner, and Coghlan and Evans have worked together ever since to bring Camacho-Quinn back to her best – and beyond.
"She ran really well in college and was a serious talent," says Coghlan. "But she was struggling with that transition to the professional ranks. She had different coaches and basically she had to make a decision."
Once that was made, she showed promising signs of progression. Through the pandemic-hit 2020 she didn't race over barriers, but clocked some swift times on the flat (11.22 for 100m, 22.45 for 200m, 36.12 for 300m) but it was in 2021 that she truly announced herself on the global stage.
In April, Camacho-Quinn clocked a Puerto Rican record of 12.32 and she went unbeaten in 10 races after that led up to the big one: the Olympic final.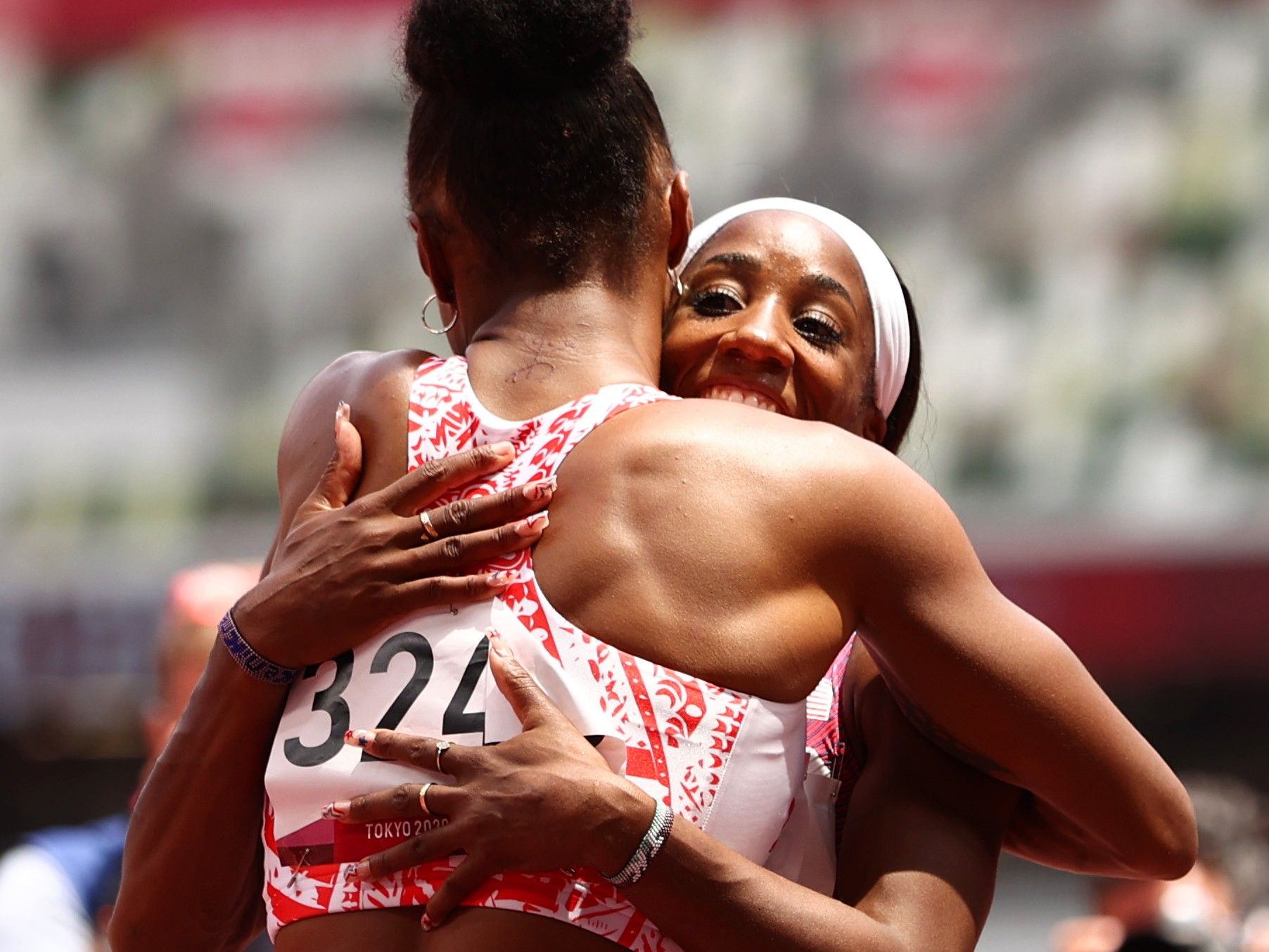 Harrison was widely touted as her biggest threat in the battle for gold, an athlete she knew so well, an athlete who had her own redemption story to write at these Games.
Floreal isn't big on pre-race pep talks, but in Tokyo on Monday he told Harrison to "attack every hurdle".
That's exactly what she did, like Camacho-Quinn, even if there were some scary moments with both clattering barriers late in the race. "We were so focused on the finish we almost forgot (the hurdles)," laughed Harrison.
But once they crossed the line – Camacho-Quinn in 12.37, Harrison in 12.52, with Jamaica's Megan Tapper third in 12.55 – they found something they'd been awaiting for years: redemption.
Camacho-Quinn became the first Puerto Rican to win Olympic gold in athletics, just the second in any sport, and pandemonium will likely await when she goes there for a victory parade in the weeks ahead.
Harrison's silver was further proof that she can deliver under the weight of nauseating pressure – this being her second major outdoor championship medal after finishing second in Doha in 2019.
"Keni set the bar and you either run faster or get left," said Camacho-Quinn. "We're the most competitive event, I don't care what anybody says. We're putting up times, we're daredevils, running full speed towards hurdles – anything can happen."
After clocking a national record of 12.26 in her semifinal on Sunday, Camacho-Quinn edged up to joint-fourth on the all-time list, with Harrison's 12.20 still standing alone, if now within touching distance. Harrison herself knows that time is not near the limit.
"I feel like records are made to be broken and the way we keep evolving in this sport, we're capable of running sub 12.1, and maybe even sub-12," she said.
A point with which her old training partner agreed.
"We always want more, we're not going to be settled with what we ran," said Camacho-Quinn. "The sky is the limit."
Cathal Dennehy for World Athletics