Elaine Thompson wins the 200m at the Tokyo Olympic Games (© AFP / Getty Images)
Elaine Thompson-Herah and Anita Wlodarczyk cemented their status as all-time athletics greats, achieving what no other women had done before, while Athing Mu's and Mondo Duplantis's stars continued to rise on a busy Tuesday evening in Tokyo.
It was always going to be difficult to match the excitement of the morning session, but the finals on the fifth day of action at the Tokyo Olympics were certainly not lacking in drama.
Thompson-Herah became the first woman to successfully defend a sprint double at the Olympics. After equalling her PB of 21.66 in the semifinals of the 200m, many fans were keen to see how fast the 29-year-old could go in the final.
The Jamaican, drawn in lane seven, strode to victory and was never seriously challenged, stopping the clock at 21.53 (0.8m/s) to break Merlene Ottey's national record. Following her 10.62 run to win the 100m, Thompson-Herah is now the second-fastest woman in history over both sprint distances.
Namibia's Christine Mboma came through to take silver in 21.81, breaking her own world U20 record from the semifinals, and USA's Gabby Thomas took bronze in 21.87. World 100m champion Shelly-Ann Fraser-Pryce just missed out on a medal in fourth, clocking 21.94 – the second-fastest time of her long distinguished career.
"It's been a rough week," said Thompson-Herah. "I'm super tired, I hardly slept after the 100m. My legs really need a rest now because we ran two rounds of the 200m in one day yesterday, which isn't normally the case. To run a national record, I'm so, so happy."
Wlodarczyk won her third successive Olympic title in the hammer, becoming the first woman to earn three golds in a single discipline.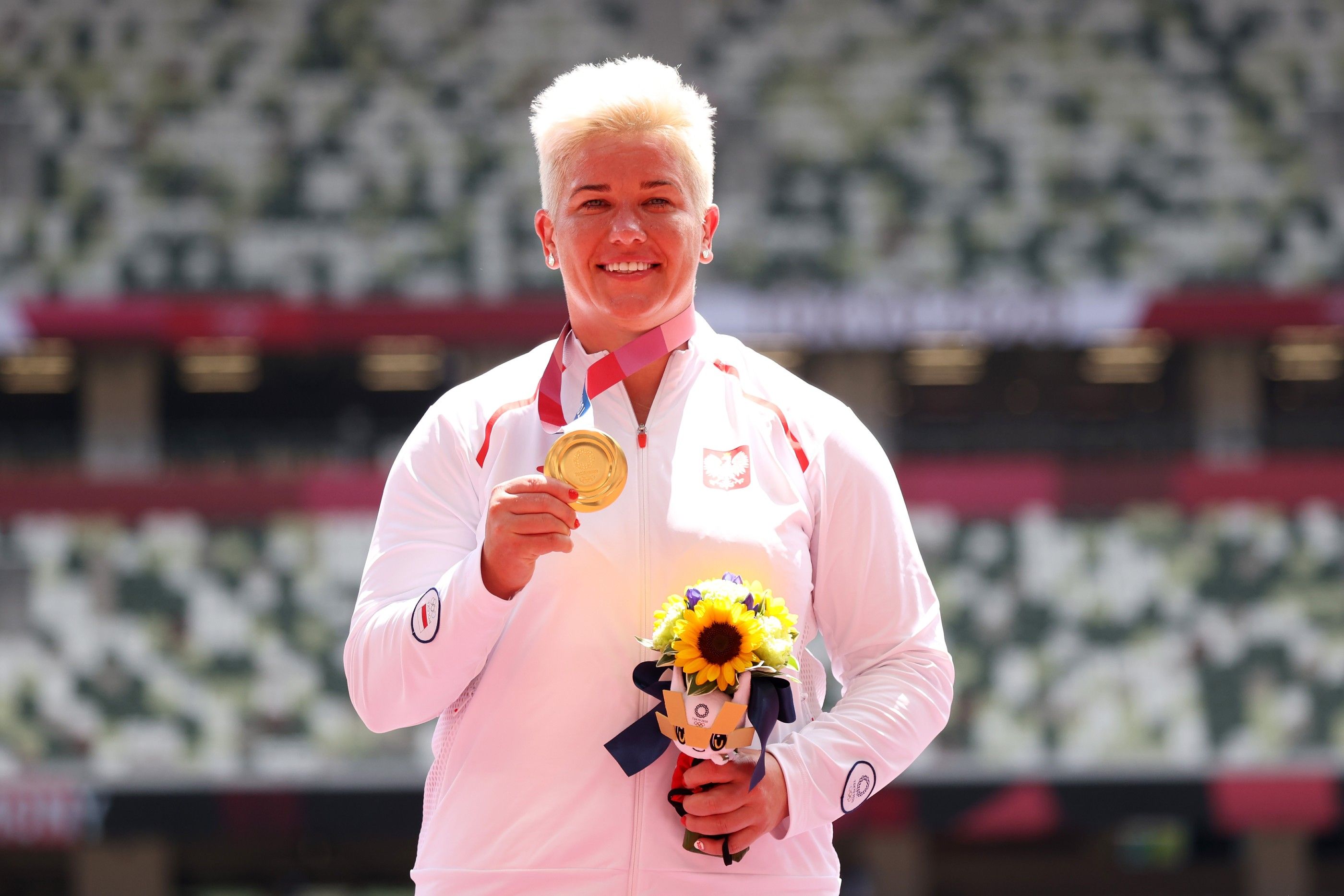 Had the Olympics gone ahead last year, there's a strong chance the Pole wouldn't have been ready for the Games. She underwent knee surgery in mid-2019, which took more than a year of rehab to recover from. Instead of rushing back to form, she delayed her return until May this year and gradually rediscovered her rhythm as the season progressed.
Following her 76.99m heave in qualifying, it was clear she was in form to defend her title. The only downside is that world champion DeAnna Price wasn't at her best, following a foot injury sustained in the aftermath of the US Trials, so it wasn't quite the showdown between history's two 80-metre women in could have been.
Nevertheless, the excitement – and distances – built throughout the final. Wlodarczyk took the lead in round two with 76.01m, then extended it with 77.44m in round three before unleashing her best of the day, 78.48m, in round four.
Only Wlodarczyk herself, with her Olympic record of 82.29m in 2016, has ever thrown farther in an Olympic final.
The podium was a repeat of the medallists from the 2017 World Championships as China's Wang Zheng delivered a last-round effort of 77.03m to take silver and Wlodarczyk's teammate Malwina Kopron took bronze with 75.49m.


Mu leads teenage 1-2
Two teenagers lined up for the women's 800m final and less than two minutes later they were the first to cross the line.
Fearless and astute, running with an ability and execution that belies her 19 years, USA's Athing Mu dictated the pace at every stage, front-running her way to victory. She covered the first lap in a swift 57.9, followed closely by Jamaica's Natoya Goule and Ethiopia's Habitam Alemu.
Keely Hodgkinson, meanwhile, was nearer the back of the pack along with British teammates Jemma Reekie and Alex Bell. Mu continued to lead throughout the second lap, but Goule and Alemu started to fade on the home straight while Hodgkinson had moved up to third.
Mu kicked to victory down the home straight and Hodgkinson followed. Mu continued to pull ahead and crossed the line in a US record of 1:55.21 while Hodgkinson took silver in 1:55.88, breaking Kelly Holmes' British record of 1:56.21.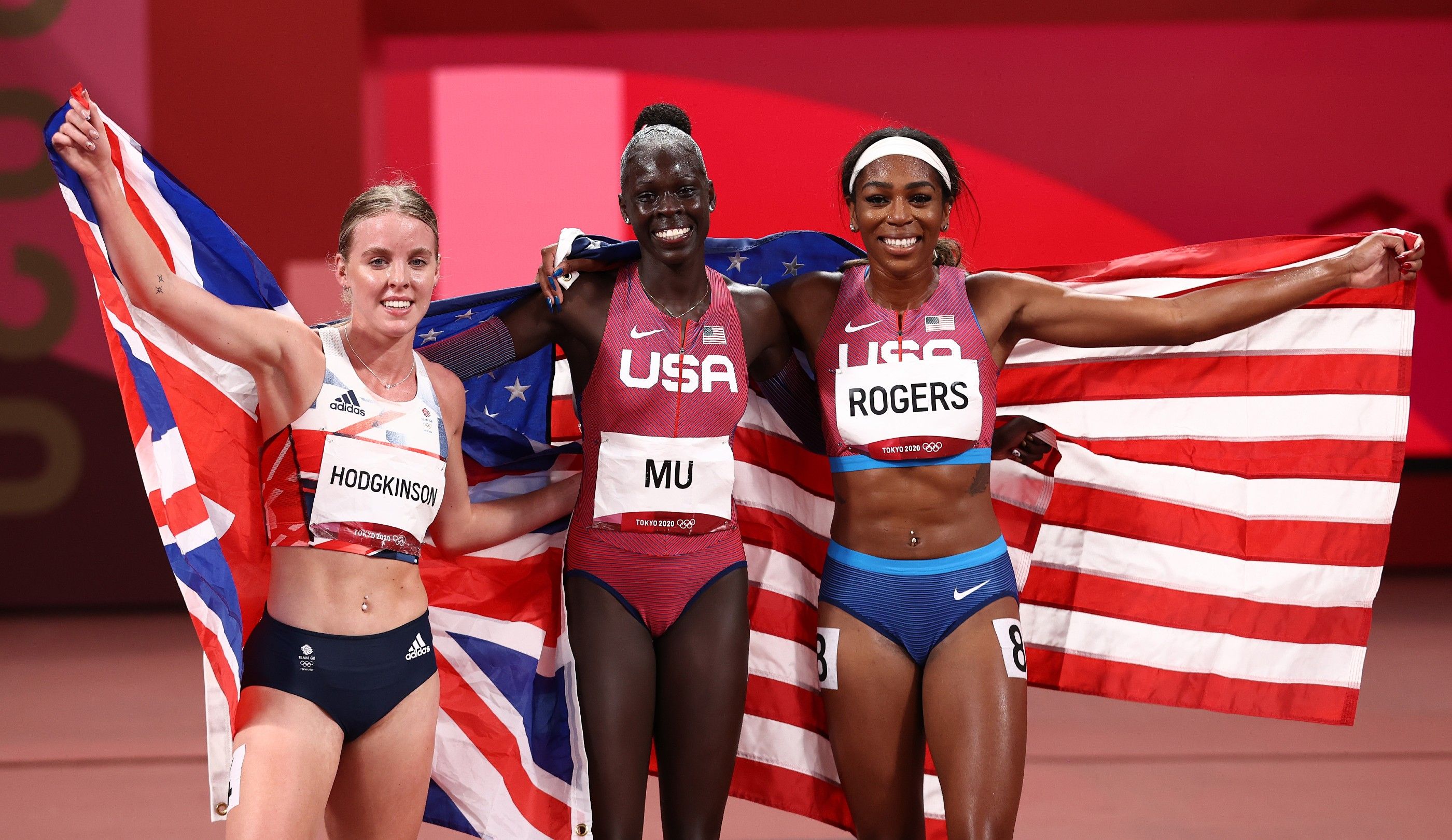 World silver medallist Raevyn Rogers was seventh with 100m to go but produced another strong finish to came through to take bronze in 1:56.81. In a race of incredible depth, the top four women finished inside 1:57 and the first seven finished inside 1:58. Six of the eight finalists set personal bests.
"I thought it would be really tight going into the first 400m," said Mu. "You can use your head, but you have to run your race, be ready to execute. That is what I did. If nobody was going out there I was going to do it myself."
Mondo Duplantis was the last man standing in the pole vault – and indeed of the whole session – as he landed his first senior global title.
The world record-holder didn't record any failures up to and including his winning height of 6.02m. But while his route to victory was relatively free from drama, it was an eventful contest for many of the other competitors.
France's former world record-holder and 2012 Olympic champion Renaud Lavillenie, who twisted his ankle not long before heading to Tokyo, aggravated his injury in the early stages of the final. He cleared 5.70m but was unable to get over any of the latter heights.
Chris Nilsen proved to be Duplantis's toughest opponent. The US champion got over 5.87m on his first try, moving him into second place, and then got over 5.92m and 5.97m, setting a PB. Defending champion Thiago Braz, meanwhile, enjoyed his best competition in a long time and cleared a season's best of 5.87m to take bronze.
Duplantis was the only one to clear 6.02m as Nilsen exited at that height. With all other action having concluded for the evening, Duplantis raised the bar to a potential world record height of 6.19m. His first attempt was particularly close but he nudged the bar with his chest on the way down. He aborted his second attempt and then nudged the bar off again on his third try. He was far from disappointed, though.
"It's a surreal feeling, I don't know how to explain it," said Duplantis. "It's something I've wanted for so long, and now I finally did it. It's so crazy.
"It is overwhelming. Ever since I was a little kid, I've loved the sport so much. This sport has given me so much, I can never repay it. My father and mother have been so instrumental in my success; the fact they're able to be here today (as my coaches) makes it even more special.
"The world record would have been nice and I felt like I was close," he added. "But I won the Olympics, so I'm not going to complain about it."
De Grasse leads qualifiers for 200m final
After taking bronze in the 100m, Andre De Grasse looks on course for another medal in the men's 200m after booking his place in the final with a 19.73 semifinal victory, breaking the Canadian record in the process.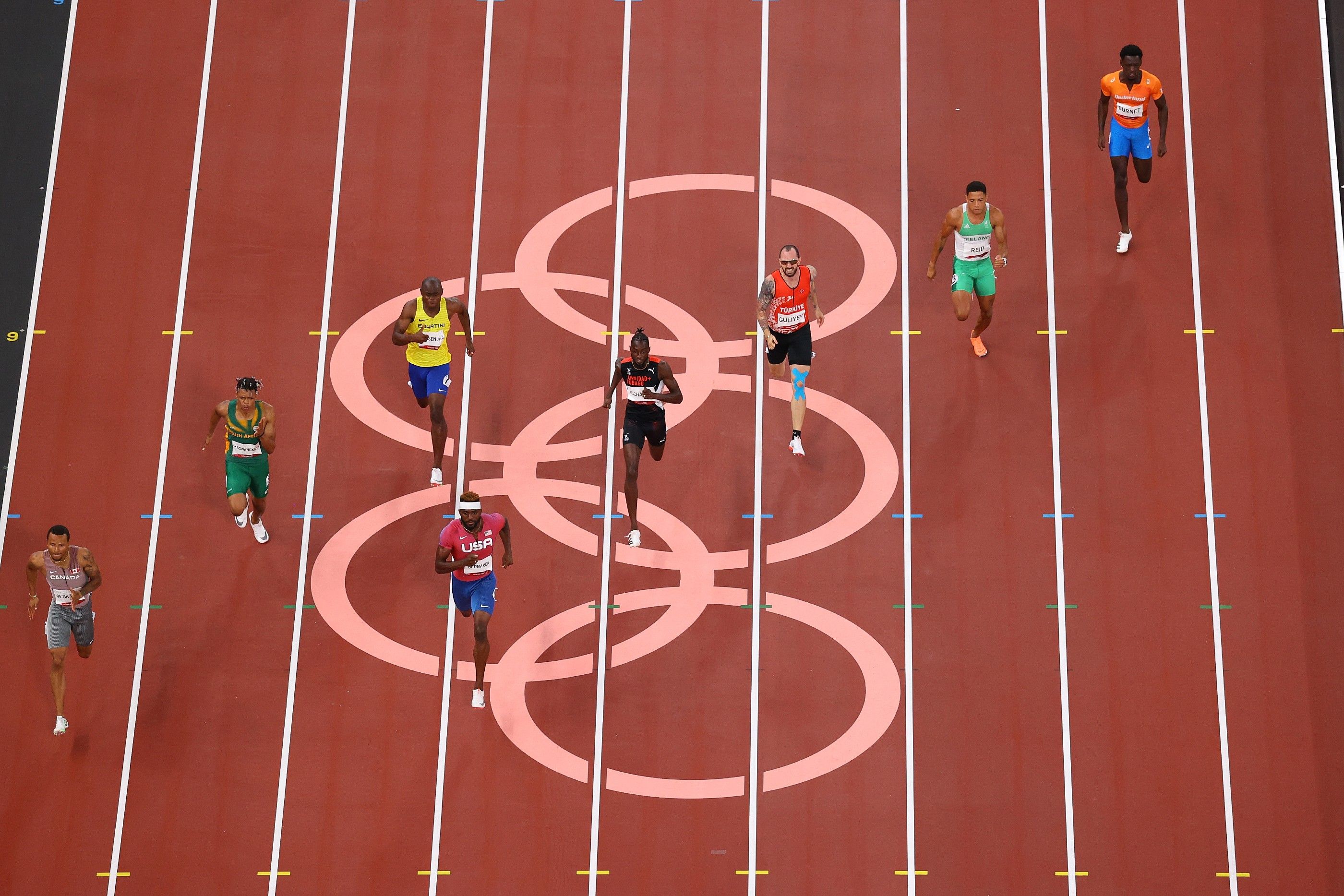 World champion Noah Lyles was caught on the line by Canada's Aaron Brown and Liberia's Joseph Fahnbulleh in the second semifinal as all three men clocked 19.99. Although Lyles was given third place, they all advanced. 17-year-old Erriyon Knighton won the first semifinal in an easy looking 20.02.
Most of the big names made it through the heats of the men's 5000m and into Friday's final. A few notables missed out, though: Ethiopia's Getnet Wale, Kenya's Daniel Simiu Ebenyo (who took a bit of a tumble in his heat), two-time Ethiopian cross-country champion Nibret Melak, Britain's Marc Scott and Italian record-holder Yemane Crippa.
Luis Grijalva made it through, though. He becomes Guatemala's first ever Olympic finalist in a track event.
Grant Holloway looked incredibly good in the heats of the men's 110m hurdles, winning his heat in 13.02 - faster than the winning time in Rio five years ago.
Jamaica's Ronald Levy (13.17), USA's Devon Allen (13.21), France's Aurel Manga (13.24) and Spain's Asier Martinez (13.33) were the other heat winners. But 2016 Olympic silver medallist Orlanda Ortega and 2015 world champion Sergey Shubenkov were non-starters, while European indoor champion Wilhem Belocian didn't finish his heat.
Defending champion Ryan Crouser launched his shot out to 22.05m in the qualifying round of the shot put, recording the best qualifying round throw ever at an Olympics. In fact, only two Olympic titles (2016 and 1988) have been won with a better mark.
Tom Walsh produced a big throw with his final effort, which initially was ruled a foul but was later deemed valid and measured at 21.49m, beyond the auto qualifier. World champion Joe Kovacs also advanced.
Jon Mulkeen for World Athletics