Mondo Duplantis celebrates his performance at the Diamond League in Stockholm (© Diamond League AG)
Three days after improving the Bislett Games pole vault record to 6.01m and attempting a world record in Oslo, Mondo Duplantis emulated that performance in front of a home Bauhaus-Galan crowd in Stockholm on Sunday (4).
A flawless series at the Wanda Diamond League meeting saw him clear each of his heights up to a meeting record of 6.02m on his first attempt before he went on to again try 6.19m three times.
As in Oslo, he was unable to add a centimetre to the world record of 6.18m he set indoors in Glasgow in February 2020, but it is not a height which looks far away.
Embracing the cheers as he was welcomed to Stockholm's Olympic Stadium, the 21-year-old cleared his opening height of 5.62m with ease before passing at 5.72m and then achieving 5.82m, 5.92m and 6.02m also on his first tries.
In hot conditions, with the temperature at 29 degrees at the start of the meeting, the USA's two-time world champion Sam Kendricks finished second and France's former world record-holder and seven-time Diamond Trophy winner Renaud Lavillenie third as they both cleared 5.92m.
"Today was special," said Duplantis, whose next competition will be the Olympic Games in Tokyo. "I hadn't felt that kind of pressure on me in quite a long time. I haven't been able to really jump in front of a full Swedish crowd since I became the world record-holder so having my family here, the whole home crowd rooting for me ­– I can't lose in front of them, so that's another level of it.
"I wish I could have given the world record a couple more better attempts but I felt really good jumping today."


No barriers for Bol and Dos Santos
It has been quite a week for the 400m hurdles and the races in Stockholm did not disappoint.
Femke Bol was another athlete to have made the trip to Sweden via Norway and after setting her 11th Dutch record of the year in Oslo when winning in 53.33, the 21-year-old was not far off improving that time by a whole second as she crossed the finish line in 52.37.
Following her performance on Thursday, the European indoor champion had talked about the impact of top competition and what she might be capable of in a race where she was being pushed. Stockholm saw the result of that scenario as the USA's 2015 world silver medallist Shamier Little fought Bol for the line, missing out on victory by just 0.02.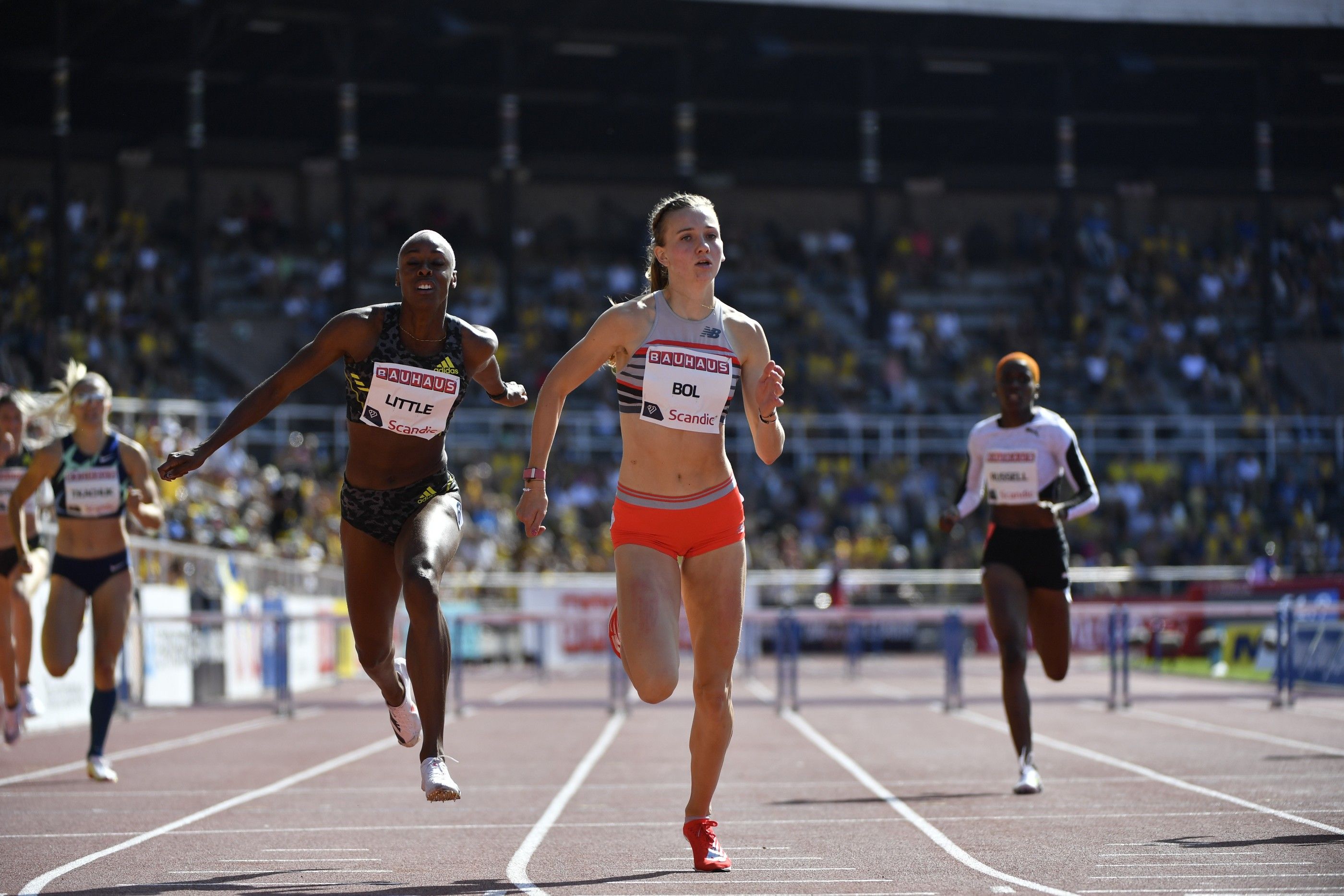 The performances move the pair to fourth and fifth respectively on a world all-time list topped by Sydney McLaughlin, who broke the world record with 51.90 just the weekend before at the US Olympic Trials. Little finished fourth in that race to miss out on the team for Tokyo but returned to action in Stockholm to take 0.36 off her previous best set in 2017. Finishing third was Anna Ryzhykova, breaking the Ukranian record with 52.96.
"I knew I was running against a really strong field and my coach and I said to each other 'okay, I'm going to show that I can also do it under this pressure and when we push each other'," said Bol, who was just three hundredths of a second off the European record. "Shamier was coming so close and I don't think I have ever pushed as much in the last few metres. I am extremely happy and also that I did a good dip to win it.
"When I run these times I am in the mix against the real good girls and I didn't expect it, to be honest. I hoped I could do 52.9 maybe this year and I felt I was getting close to that and now I have run one second faster. It's not yet making sense in my head!"
The men's race took place a short while later and Brazil's Alison dos Santos, who was in the lane next to Karsten Warholm during his world record in Oslo and followed him over the finish line in a South American record of 47.38, also went even quicker this time. Shaving another 0.04 off that mark, he again beat Turkey's Olympic bronze medallist Yasmani Copello, who was third in Oslo and ran 48.19 in Stockholm. There was disappointment for Commonwealth champion Kyron McMaster of the British Virgin Islands as he clattered the barrier when coming off the final bend and did well to stay on his feet but then fell when he clashed a hurdle on the home straight.
"I have trained so hard for this competition, for the Diamond League in Monaco and for the Olympic Games," said Dos Santos. "I am feeling confident and I am very excited for the Olympic Games."


Mahuchikh leaps world lead
Another athlete who is rounding into top form as Tokyo approaches is Ukraine's world silver medallist Yaroslava Mahuchikh, who cleared 2.06m over the winter for the highest indoor mark in the world for nine years. She was just three centimetres off that in Stockholm, and a single centimetre off her outdoor best she set to secure world silver in Doha, as she cleared a world-leading 2.03m before three attempts at a would-have-been PB and equal meeting record of 2.07m.
In an exciting competition, Australia's Nicola McDermott improved her Oceania record by a centimetre to 2.01m, while her fellow Australian Eleanor Patterson was third with a clearance of 1.96m.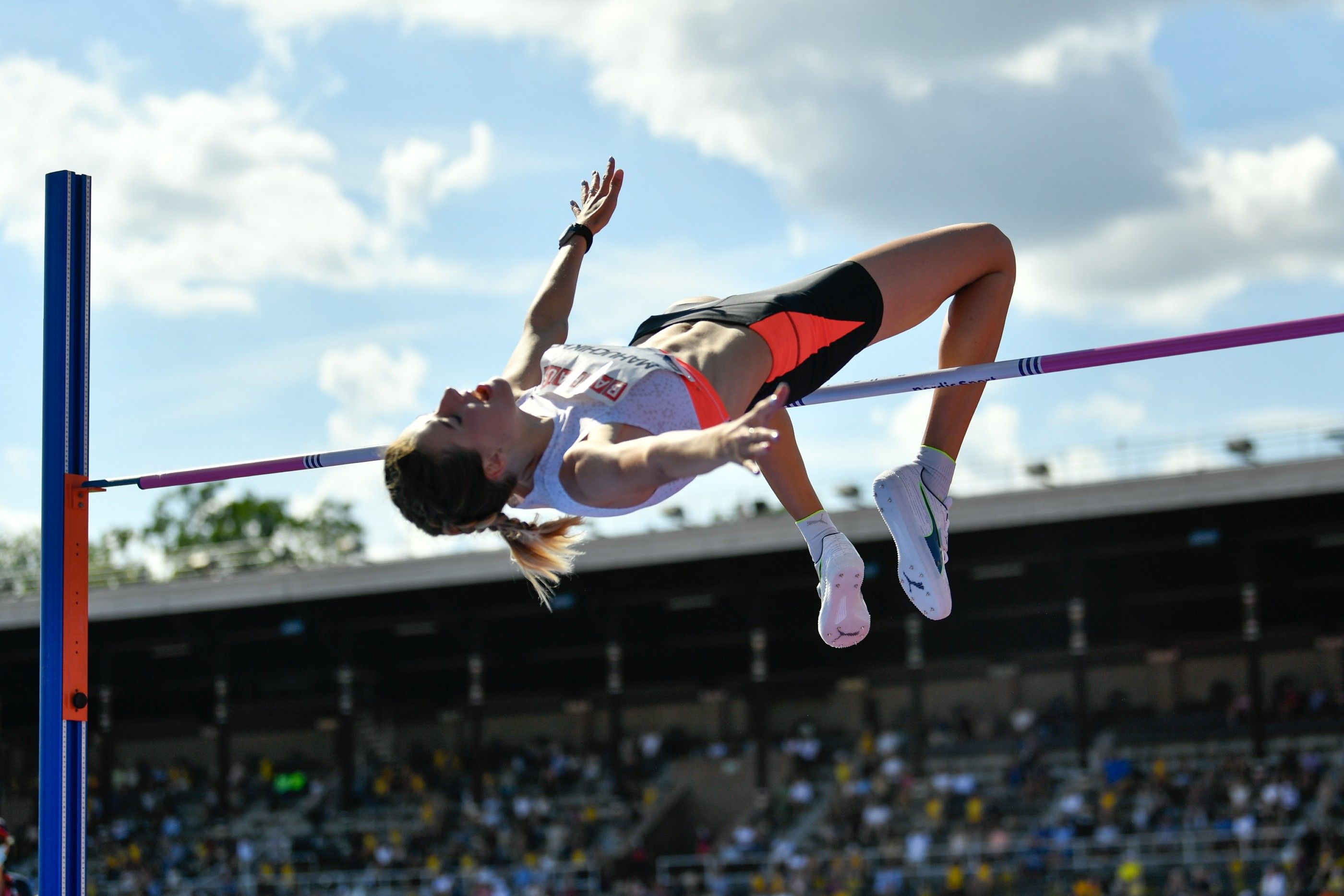 A close men's long jump contest was won by Jamaica's world champion Tajay Gayle as he saved his best leap for last – recording a wind-assisted 8.55m (2.3m/s) as the competition came down to the 'final three'.
Cuba's world indoor champion Juan Miguel Echevarria took an early lead with 8.29m (1.5m/s) from his first attempt, but he was unable to respond to Gayle's final leap and finished second with a last jump of 8.19m. Receiving strong home support, Sweden's European indoor silver medallist Thobias Montler opened with a leap of 8.20m, just two centimetres off his outdoor best, then improved to 8.23m in the second round and fouled his final attempt to finish third.
The wind was swirling the other way for the winning jump in the women's competition, with Serbia's world indoor champion Ivana Spanovic leaping 6.88m into a headwind of -2.4m/s in the final round. That secured her the win ahead of Germany's world champion Malaika Mihambo, who jumped 6.77m (-0.2m/s) in that 'final three' round after an earlier wind-assisted 7.02m (2.6m/s).
Like his fellow Swedish athlete Duplantis, world discus champion Daniel Stahl had also been in Oslo on the night that Warholm set his world record and before the competition in Stockholm he had not ruled out trying to make his own bit of history in front of local fans. Although he was unable to do that, and improve on his world lead of 70.55m set last month, he did claim another win with a throw of 68.23m from the final round, which followed his 68.64m in round four.
European U23 champion Kristjan Ceh placed second with 64.74m, after 66.62m in round one, while Lithuania's 2017 world champion Andrius Gudzius finished third with 63.43m after 66.97m in round three.


More meeting records fall
Kenya's 2015 world champion Hyvin Kiyeng followed her win at the Kenya Olympic Games Trials with a dominant performance to win the 3000m steeplechase, breaking the meeting record with 9:04.34 ahead of Germany's two-time world medallist Gesa Felicitas Krause, who ran 9:09.13. Kenya's world record-holder Beatrice Chepkoech, second behind Kiyeng in the trials, finished third in 9:10.52.
Another meeting record fell in the women's 800m as a brilliant battle saw Cuba's Rose Mary Almanza, who ran a PB of 1:56.42 in Ordizia last month, further improve to 1:56.28 to hold off Jamaican champion Natoya Goule, who came close to her best with 1:56.44. US Olympic Trials disappointment fuelled Kate Grace to a 1:57.60 PB to win in Oslo and she also went faster in Stockholm, running 1:57.36 in third as 19-year-old Keely Hodgkinson took more than a second off her PB with 1:57.51 to finish fourth.
The men's 1500m saw Kenya's world champion Timothy Cheruiyot pick up from where he left off after his world-leading time of 3:30.48 to win at the Doha Diamond League. The 25-year-old had finished fourth at the Kenyan trials but returned to winning ways to claim his third victory in as many years in Stockholm, running 3:32.30. Spain's Ignacio Fontes was second in a PB of 3:33.27 and Kenya's Ronald Kwemoi third in 3:33.53.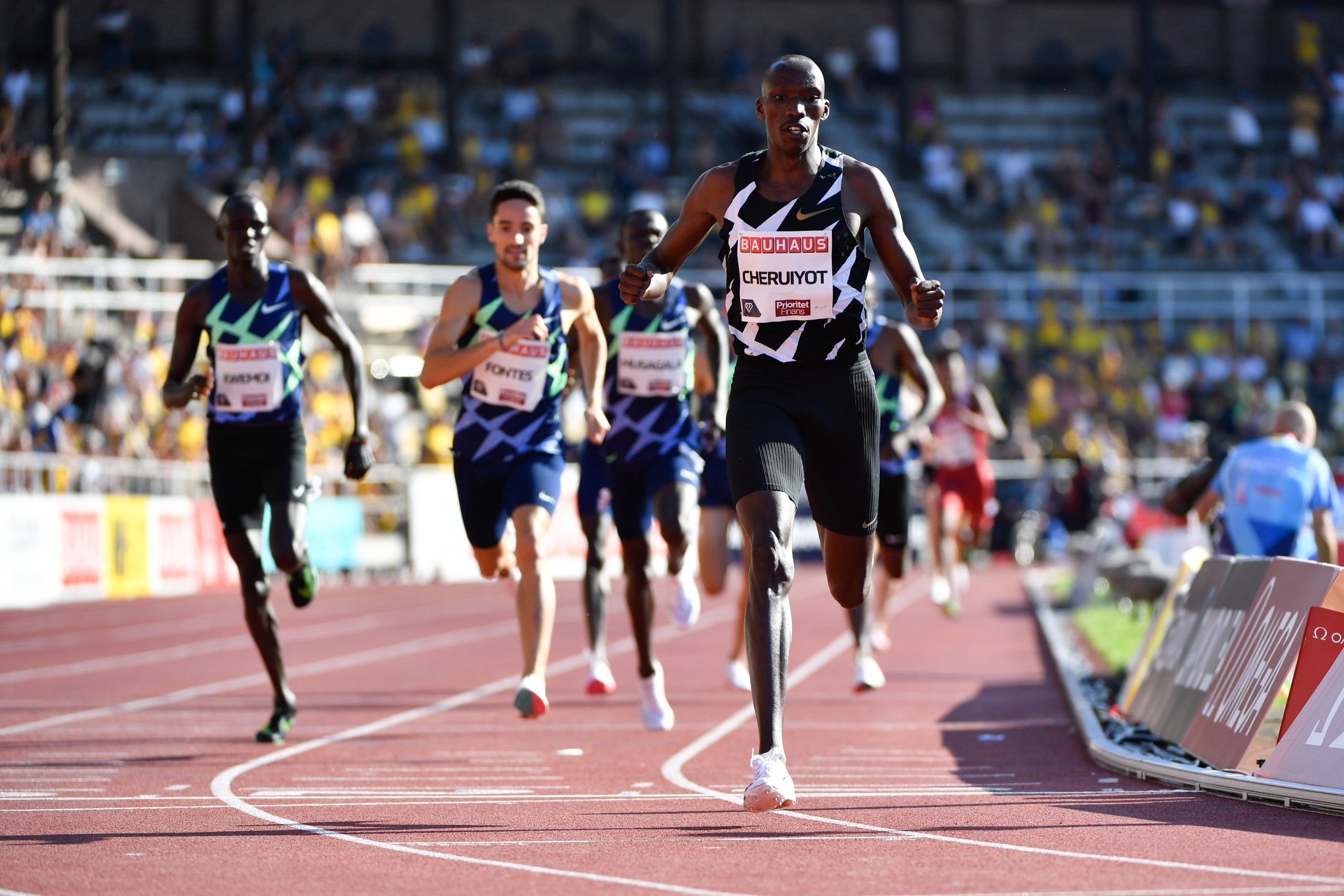 A well-judged run from Kenya's world bronze medallist Ferguson Rotich in the men's 800m secured him victory in 1:43.84 as Canada's Marco Arop managed to hold on for a PB of 1:44.00 in second. British champion Elliot Giles, who ran 1:43.63 indoors in February, ran an outdoor best of 1:44.05 in third.
Jamaica's Olympic 400m bronze medallist Shericka Jackson has been focusing on the shorter sprints this season and with her Olympic 100m and 200m places confirmed, she impressed again in the half-lap event, winning in 22.10 (-0.4m/s). Multiple world medallist Marie-Josee Ta Lou of Ivory Coast was second in 22.36 and Namibia's Beatrice Masilingi third in a national record of 22.65.
After a challenging few years on and off the track, Grenada's 2012 Olympic champion Kirani James claimed his first Diamond League win since 2016, clocking 44.63 to win the 400m ahead of Trinidad and Tobago's two-time world indoor 400m medallist Deon Lendore with 44.73. Liemarvin Bonevacia of the Netherlands was third in 44.80.
"Since this is my last race before the Games, I wanted to do something a bit more special but given the circumstances with travel, all in all I am happy," said James, who had finished fourth at the Doha Diamond League meeting in May.
"I have been through a lot, on a professional level and on a personal level," he added, reflecting on the past few years. "On a professional level, I had this thing called Graves' disease which is a thyroid issue, and in 2019 I lost my mother, so I went back home to be with family. It has been trying but all in all, I thank god, I am still here."
The men's 100m was won by US Olympic Trials runner-up Ronnie Baker in 10.03 (0.8m/s) as he pipped Italy's European indoor 60m champion Lamont Marcell Jacobs by 0.02. British champion Chijindu Ujah was third in 10.10.
New Zealand's multiple global gold shot put medallist Valerie Adams enjoyed a winning return to the Diamond League stage, recording 19.26m in the third round for the furthest throw of the competition before winning the 'final three' with 18.65m.
Before Stockholm, the five-time Diamond Trophy winner's last event in the series had been the Monaco Herculis in 2018 and she backed up her 19.26m throw with 19.20m in the first round to beat Portugal's European indoor champion Auriol Dongmo with 18.37m, after an earlier 19.05m. The USA's Maggie Ewen was third with 18.25m, and she also threw 19.04m in the first round.
The non-Diamond League women's pole vault was won by authorised neutral athlete Polina Knoroz who cleared 4.71m, as British record-holder Holly Bradshaw was one of four athletes to clear 4.61m and finished second.
Jess Whittington for World Athletics