Action in the mixed 4x400m heats at the Tokyo 2020 Olympic Games (© AFP / Getty Images)
After a thrilling global senior debut at the 2019 World Athletics Championships, the mixed 4x400m relay made its eagerly anticipated inaugural Olympic appearance on Friday night (30) at Tokyo's Olympic Stadium. And the strong pool of Dutch 400m runners couldn't be happier.
"I see it as a gift to start the Olympics like this," said Lisanne de Witte, who teamed with Jochem Dobber, Lieke Klaver and Ramsey Angela to produce a 3:10.69 national record, the second fastest time of the night and the third fastest of all-time. "It's just an amazing event. We'll do amazing things this week."
Few would disagree on a night that witnessed three of the four fastest performances of all-time led by the Polish quartet of Dariusz Kowaluk, Iga Baumgart-Witan, Malgorzata Holub-Kowalik and Kajetan Duszynski who clocked 3:10.44, the second fastest performance ever.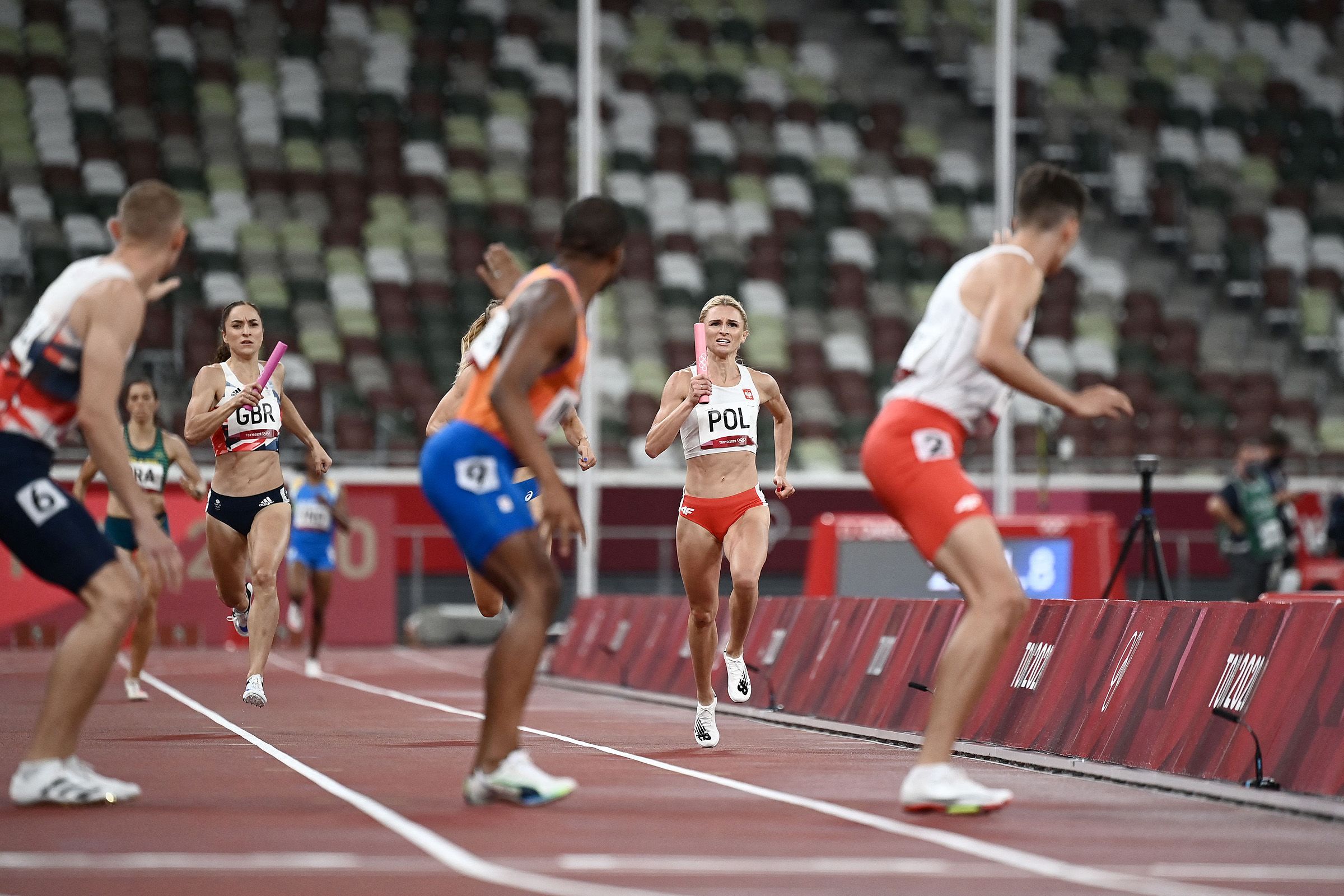 The mixed race was first contested on a global senior level at the World Athletics Relays in 2017, when host nation Bahamas clocked 3:14.42 to handily defeat a favoured US quartet by nearly three seconds. But it made an even earlier appearance at the World U18 Championships in Cali, Colombia, in 2015, where it capped a sensational five-day programme.
It's grown up a lot since then, in popularity, quality and stature.
"We've really discovered that this 4x4 is not a B event, or a secondary event," Dobber said. "It's just as important an event as every other relay, every other event here. We enjoy it to the max. We want to take this opportunity to win a medal here. It counts as much as any other medal. That's how everybody's mindset is and you see how that pays off. We're very, very motivated."
So is an inspired Irish squad that finished fourth in their heat and eighth overall, clocking 3:12.88, also a national record.
"It is massive for us, and for an Irish relay team to be here as well," said Phil Healy, a 14-time national champion who ran the second leg.
"It's a great opportunity for us and two great subs to be Olympians and to represent the country at the highest level. There were three other runners who helped qualify this team so this has been a massive effort."
Her teammate Sophie Becker agreed.
"It's brilliant to be a part of it. And we just can't wait to get out there tomorrow and do it again."
Neither can Cillin Greene, like his three teammates, a first-time Olympian.
"It really gives people that incentive to step up and compete at the highest level," he said. "It shows that the opportunities are there if you start racing well. It's such a diverse event and you see different countries running in a different way and it's really bringing an exciting dynamic to the Olympic Games."
Fastest splits of the heats
44.37 Angela Ramsey (NED)
44.56 Manuel Sanders (GER)
44.74 Christopher O'Donnell (IRL)
44.74 Kajetan Duszynski (POL)
44.80 Karayme Bartley (JAM)
44.99 Bryce Deadmon (USA)
45.15 Cillin Greene (IRL)
45.15 Bernat Erta (NGR)
45.35 Jonathan Borlee (BEL)
45.35 Vladimir Aceti (ITA)

49.68 Marileidy Paulino (DOM)
49.77 Lynna Irby (USA)
49.98 Malgorzata Holub-Kowalik (POL)
50.18 Emily Diamond (GBR)
50.28 Stacey Ann Williams (JAM)
50.28 Iga Baumgart-Witan (POL)
50.37 Lieke Klaver (NED)
50.39 Lisanne De Witte (NED)
50.49 Zoey Clark (GBR)
50.61 Imaobong Nse Uko (NGR)

Poland's performance to win the second heat was just over a second shy of the 3:09.34 world record set by the US quartet of Wil London, Allyson Felix, Courtney Okolo and Michael Cherry at the 2019 World Championships.
Another US squad arrived with ambitions to lower that mark. Initially disqualified after their heat win in 3:11.39, the US team was later reinstated and Elija Godwin, another first-time Olympian, relished his experience.
"It's fun to see, when teams put their guys against women and we've got to go chase them down," he said. "It's fun. And it's a very new experience and I was glad to be a part of it."
Jamaica and Great Britain also ran well, clocking 3:11.76 and 3:11.95, the fourth and seventh-fastest performances of all-time, to move on to Saturday's final.
The Italian quartet of Edoardo Scotti, Alice Mangione, Rebecca Borga and Vladimir Aceti also set a national record, clocking 3:13.51, but finished 11th overall to miss a place in the final. The record and the Olympic appearance were emotional moments for Aceti and Borga who both competed on the Italian team in Cali as dreamy-eyed teenagers, where they finished seventh.
"This race means a lot to me, to run again together with Rebecca," Aceti said.
"I also remember that race in Cali," Borga said, "so we're really happy to be together again on a team - at the Olympic Games."
Bob Ramsak for World Athletics