Karsten Warholm wins the 400m hurdles at the Tokyo Olympic Games (© AFP / Getty Images)
Breathtaking. Stunning. Epic.
There aren't enough superlatives to describe the men's 400m hurdles final on Tuesday (3) at the Tokyo Olympic Games.
It was, quite simply, a race for the ages.
Norway's Karsten Warholm won the gold by holding off his great US rival Rai Benjamin and crossing the finish line in 45.94 seconds – obliterating his own world record by 0.76.
Benjamin clocked a North American record of 46.17, a time that was also faster than the world mark of 46.70 that Warholm set just last month in Oslo.
Brazil's Alison Dos Santos claimed the bronze in a South American record of 46.72, a time that would been a world record just a few weeks ago.
Overall, six of the eight runners set a world, area or national record.
Warholm and other athletes looked in disbelief when they saw the times on the scoreboard. The Norwegian tore open his singlet and held his mouth wide open in amazement. A dejected Benjamin wandered down the track by himself.
"By far the biggest moment of my life," said Warholm, who added Olympic gold to his collection of world and European titles. "It's just so big. It's almost like history here. It was the only thing missing from my collection.
"I had a world championships (gold). I had European championships. I had the world record, the European record. The Olympic gold medal is what everybody talks about. I knew this race was going to be the toughest of my life, but I was ready."
Benjamin put Warholm's world record in perspective.
"I don't think Usain Bolt's 9.5 was better than this," he said, referring to the Jamaican's 100m world record of 9.58 set in 2009.
Warholm's win came a few minutes after world champion Malaika Mihambo of Germany won a compelling women's long jump final that went right down to the wire.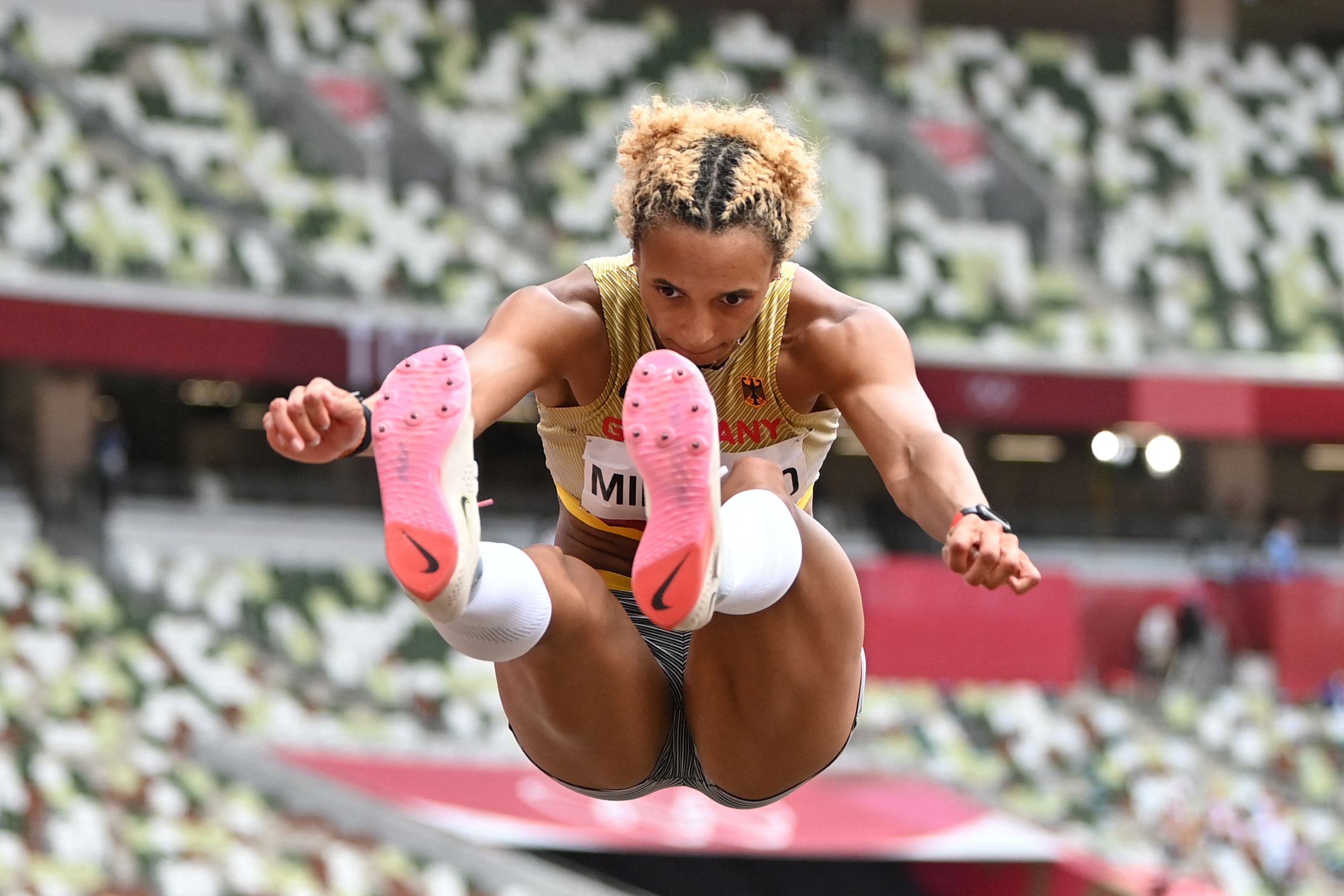 Mihambo leapt 7.00m on her sixth and final jump to edge USA veteran Brittney Reese for the gold. Reese took silver with a top jump of 6.97m, adding to the silver she won in 2016 and gold in 2012. Nigeria's Ese Brume took bronze, also with 6.97m.
But nothing could top the hurdles final on yet another hot and humid morning at the Olympic Stadium.
The event had been one of the most anticipated events of these Games, and it lived up to the hype and then some.
The expectations started ramping up at the US Olympic Trials in June when Benjamin clocked 46.83, becoming only the fourth man ever to run under 47 seconds. Five days later, Warholm answered by running the 46.70 that broke Kevin Young's 29-year-old world record.
On Tuesday, Warholm got off to a fast start in lane six and kept up a narrow lead over Benjamin in lane five. Benjamin gained ground down the final straight and nearly pulled even with Warholm, but the Norwegian never buckled. Instead, he accelerated and powered through the final metres.
"I didn't touch one hurdle," Warholm said. "I was even able to find another gear coming home, so 'Wow'."
Benjamin was in tears despite running the second fastest one-lap hurdles race of all-time.
"Knowing that you want to be the best, this is what it costs," he said. "It's hard. It hurts. But it is what it is. Right now I am just full of emotion. I have worked so hard. This is what matters. I got a medal but it just hurts to lose."
Benjamin promised to be back to challenge Warholm for more titles and records.
"I'm a dog," he said. "I'm a fighter. It's my first Olympics. I made some mistakes that cost me, but it's all right. I'll fix it."
In the women's long jump final, Brume took the early lead with a first-round jump of 6.97m, but Reese matched that on her third jump to move into first place.
After Brume regained the top spot with a jump of 6.88m on her fourth jump, Reese responded with 6.95m on her fifth jump to go back into the lead. Then, with the pressure on, Mihambo landed her 7.00m jump in the last round to put herself in gold medal position.
Reese had one shot to wrest the title from Mihambo on her final jump, but her 6.84m wasn't enough.
"I feel overwhelmed," said Mihambo, the second German to win gold in the event after Heike Drechsler, who captured the title in 1992 and 2000. "It was, I think, the most exciting women's long jump competition in history."
For the 34-year-old Reese, competing in her fourth and final Olympics, it was her record-equalling third medal in the long jump.
"It is a great feeling," she said. "I had a great career, and a great journey. I have been in this sport for 13 years, and I can't complain for finishing my career with a silver. It was a great competition, won by inches. I have 11 medals, and I am at my fourth Olympics and got medals in three of them. There is no reason to hang my head, I just got beaten today."
Meanwhile, Allyson Felix opened her bid for a record 10th Olympic medal by winning her 400m heat in 50.84, the fourth fastest of the day.
Competing in her fifth Olympics, and first as a mother, Felix is looking to add to her collection of six gold and three bronze medals. One more and she will become the most decorated woman in athletics history and equal Carl Lewis for the most medals by a US track and field athlete.
"It is good to get going," Felix said. "I felt like I have been waiting forever. I am ready to bump it up in the semifinals."
Marileidy Paulino of the Dominican Republic led all qualifiers with 50.06, the fastest first-round time at a global championships. Next fastest were defending Olympic champion Shaunae Miller-Uibo (50.50) and Cuba's Roxana Gomez (50.76).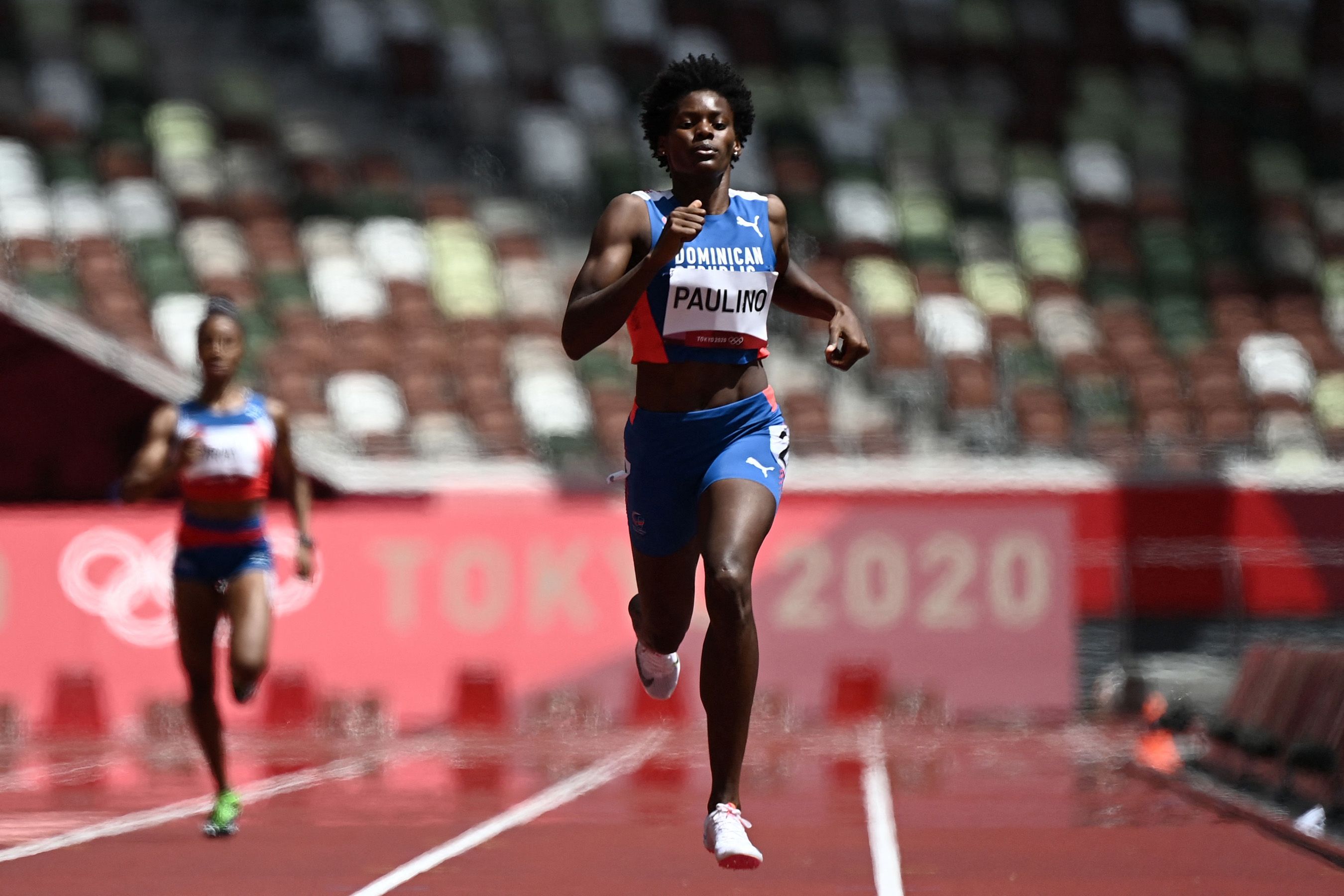 Seventeen-year-old US sprint talent Erriyon Knighton made his debut on the global stage in impressive fashion, cruising to victory in his 200m heat in 20.55.
World champion and gold medal favourite Noah Lyles won his heat comfortably in 20.18. US teammate Kenny Bednarek led all the way in his heat and won in 20.01.
Canada's Andre de Grasse, the 2016 Olympic 200m silver medallist who won bronze in the men's 100m on Sunday, finished third in his heat in 20.56.
Belgium's Ismael Debjani edged Timothy Cheruiyot in their 1500m heat, clocking 3:36.00 to the Kenyan favourite's 3:36.01. Those were the two best times of the day.
Others advancing safely included Australia's Oliver Hoare (3:36.09) Great Britain's Jake Heyward (3:36.14), USA's Cole Hocker (3:36.16) and Norway's Jakob Ingebrigtsen (3:36.49).
Poland's Marcin Lewandoswki, bronze medallist in Doha and world indoor silver medallist in 2018, tripped and fell in his heat but was later advanced.
But Ethiopia's world indoor champion Samuel Tefera, coming off a lifetime best of 3:30.71 earlier this year, had only 3:37.78 and missed out on a place in the semifinals.
In men's triple jump qualifying, world leader Pedro Pablo Pichardo of Portugal leapt 17.71m, the best qualifying round jump in history in any competition. Turkey's Necati Er had the second best jump of 17.13m.
World indoor record-holder Hugues Fabrice Zango of Burkina Faso, meanwhile, squeezed into the final by five centimetres with 16.83m, just enough for the 12th and last qualifying spot.
World leader Maria Andrejczyk needed just one throw in qualifying to book her spot in the javelin final with an effort of 65.24m. The USA's Maggie Malone had the next best throw of 63.07m, followed by world champion Kelsey-Lee Barber of Australia (62.59m).
But the winners of the past three past three Olympic titles all failed to make it to the final. Defending champion Sara Kolak failed to register a mark and two-time champion Barbora Spotakova's 60.52m wasn't good enough to go through.
Steve Wilson for World Athletics