Leading discus throwers Kristjan Ceh and Daniel Stahl will go head to head in Oregon (© Getty Images)
The wait is almost over. In nine days' time the world's best athletes will descend on Eugene's Hayward Field for the World Athletics Championships Oregon22 – the first outdoor World Championships to ever be held in the United States.
Anticipation is high and here we take a look at some of the storylines well worth following.


Life's a breeze for the soaring Swede
Having been obliged to battle with the weather gods all season and then produced the world's highest ever outdoor vault at the first sight of favourable conditions, Mondo Duplantis has a cool breeze in his favour as he looks to secure the final piece of his major championship gold medal jigsaw in Oregon.
With Olympic and world indoor gold in his possession, plus the world record and European crowns indoors and out, the young Swede – whose soaring precise vertical position was captured so strikingly on camera in his 6.16m clearance in his home-town Wanda Diamond League meeting in Stockholm last Thursday (30) – is laid back to the point of horizontal, in the metaphorical sense, as he prepares to close in on what would be his first world outdoor pole vault title.
Even before he launched himself into the sky above the Swedish capital, vaulting 16cm higher than any of his rivals have managed outdoors in 2022, Duplantis was sailing through the outdoor season unburdened by the baggage of any expectations, save his own. That much was clear when he kept winning in the rain and in the wind while the elements conspired to rail against him.



The fact is since planting his Swedish flag atop Mount Olympus Tokyo last year, the 2019 world silver medallist has been a young man with a huge load lifted, reeling off 12 wins out of 12 this year, notching world records at 6.19m and 6.20m, and landing a world indoor title.
"The pressure's still going to be there at the World Championships, of course," said Duplantis, who was up bright and early to chill out on the golf course with his family the morning after hitting the heights in Stockholm's awesomely antique 1912 Olympic Stadium.
"This whole thing means a lot to me. I want to go out there and do well. Of course, the pressure is going to come internally, but I don't think anything is going to compare with last year's pressure. After that, everything kind of feels like a breeze.
"There are still a lot of things I want to accomplish, so I have that pressure on myself. The more and more you jump, the more comfortable you become with things. Even when the pressure's at its highest, I think I've been able to separate myself from everything and relax. But after the Olympics, it's just kind of like everything's a bonus.
"The Olympics was a very stressful period. You train and it feels like everything is built up on this one event. And in my situation especially, I'm going in there as huge, huge favourite.
"It's almost like if I'm not to win this event, then it's like a huge disappointment to me and everybody here in Sweden that supports me and wants me to bring home a gold medal.
"That was a different level of stress than I'd ever experienced. There's just so much weighing on just one single event on one single day. There are lots of crazy things that can happen on one given day. The uncertainties can drive you a little crazy.
"After the Olympics, it's like nothing can compare to that feeling. I've already got one out of the way and I've already won it, so it feels like I'm never going to go through anything that's quite like that
"I can imagine it breaking people down. I can understand that."
Born in the USA, and brought up in the deep south in Lafayette, Louisiana, the planet's preeminent pole vaulter also has not the slightest qualm about conflicting loyalties when returning to his homeland as a gold medal hope for his mother's country at the World Athletics Championships Oregon22.
"I think it'll feel quite normal," said Duplantis, who will be returning to Lafayette to complete his preparations. "Oregon's pretty far from Louisiana. It's a pretty place, but I don't get a homey feeling there.
"If it was in Louisiana, it would maybe be a little bit of a different story. I feel pretty calm. I think I'll be pretty positive.
"I'll be proud to have Sweden across my chest. I want to go out there and do something special."
We have been warned.


Transformed Ealey chases golden high in Eugene
This time last year, Chase Ealey was in a slough of despond. Fifth in the US Trials, the shot putter from Springfield, Illinois, was obliged to watch the Tokyo Olympics from afar, lamenting what might have been.
Twelve months on, Ealey sit on top of the world list and boasts an unbeaten seven out of seven record for the 2022 outdoor season. The 27-year-old is very much the woman to beat at Hayward Field.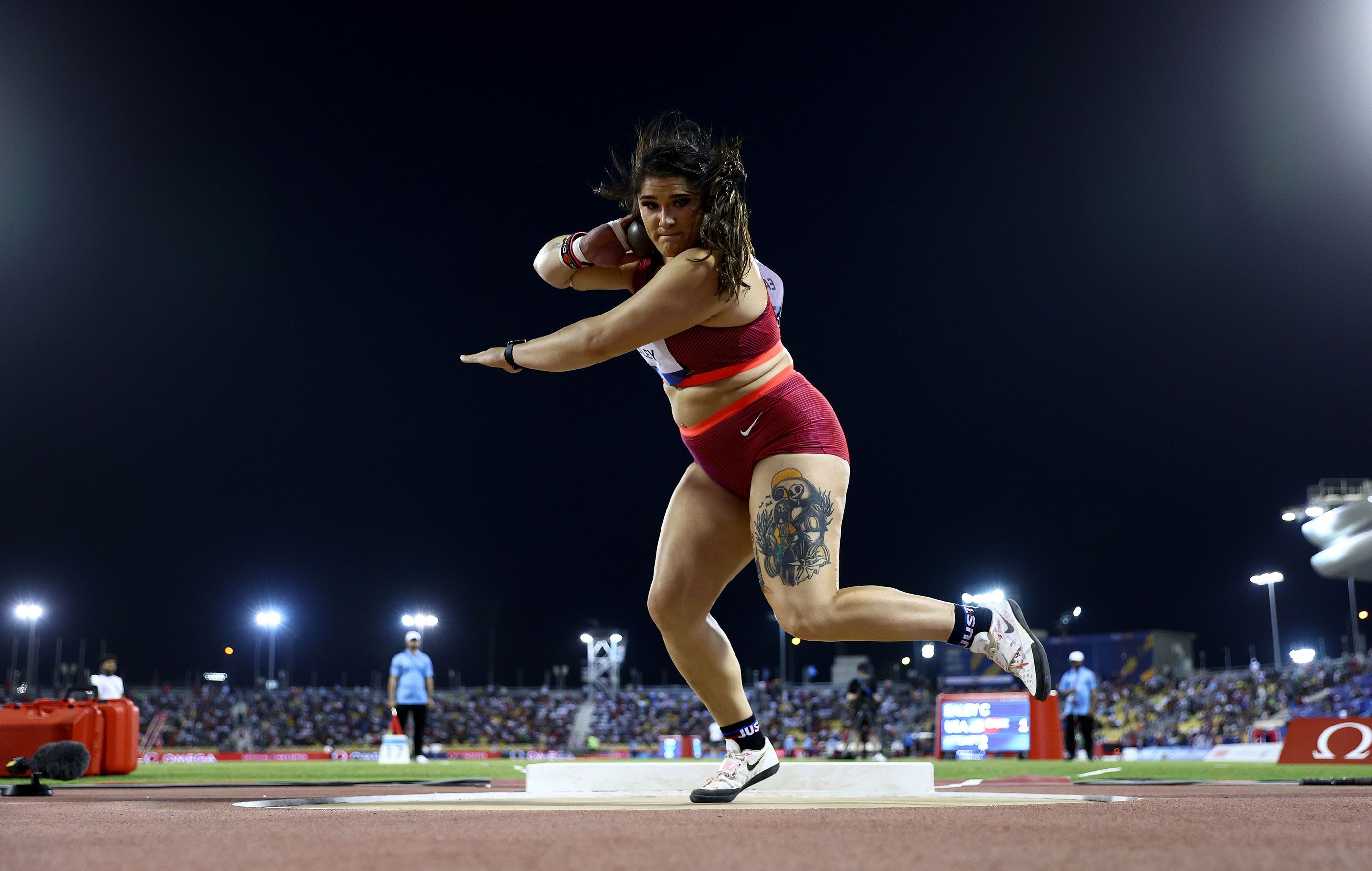 Shot put winner Chase Ealey at the Doha Diamond League (© Getty Images)
Her 20.51m in the US Championships at the hallowed Eugene track put her on top of the world list, ahead of China's Song Jiayuan who finished fifth in Tokyo and threw 20.38m in Shanghai on 16 June.
Ealey flew over to Europe and was just 3cm shy of her mark when completing her competitive preparations for the World Championships with a third Diamond League victory of the season in Stockholm last Thursday (30).
The 2013 Pan American U20 silver medallist owns five of the top nine outdoor marks for the year, and has thrown three of the six 20m-plus distances: 20.51m, 20.48m and 20.13m. Song has thrown 20.38m and 20.20m, and Sarah Mitton a Canadian record 20.33m.
"I just feel so much more confidence when I go into meets," said Ealey, basking in the glow of the sun and her latest victory under the twin towers at the top end of Stockholm's 1912 Olympic Stadium.
"I'm just, like, ready to go, and I feel really good. I don't feel so much pressure any more because I feel like I can trust myself to throw good. When I didn't make the Olympic team last year, I went to train at Loughborough in the UK with Sophie McKinna and coach Paul Wilson. I've been friends with Sophie for a very long time.
"I started seeing some results and made the quick decision to move there because I wasn't going to mess around. I wasn't going to let that happen. I'm doing so well now this year, and I really want to keep that going."
The first tangible result came at the World Athletics Indoor Championships Belgrade 22 in March. Ealey took the silver medal behind Portugal's Auriel Dongmo. McKinna, competing for Britain, finished eighth.
Ealey has not been beaten since. So how does she feel, heading back home to take on the rest of the planet's shot putting fraternity with a place at the top of the world list and having seemingly gained a shield of invincibility?
"I don't feel too much pressure," insisted Ealey, who finished seventh at the 2019 World Championships in Doha. "I trust my coach to set me up to peak really well at the World Championships.
"I don't think I've thrown as far yet as I'm going to throw this year. I think we're all just ready for me to throw my furthest - and trusting the process that Paul has to get me there and throw really far when it counts."
Again, we have been warned.


Stahl plays it cool as onward Kristjan soldiers
Shock! Hold the front page!.. Mondo Duplantis is not the only chilled Swede!
After facing the world's media at the preview press conference for the Stockholm Wanda Diamond League meeting, Daniel Stahl spent the evening before his home-town meeting at his parents' house in the northern suburb of Solna, playing cards with his mother and grandmother.
Perhaps the world and Olympic discus champion is something of a Cool Hand Luke, keeping his cards close to his chest the following evening with a 67.57m throw that was only good enough for third place – behind Kristjan Ceh's 70.02m and Mykolas Alekna's 69.81m.
The 29-year-old still heads the 2022 world list with the 71.47m he threw at the Swedish Team Championships in Uppsala on 21 June.
"Now I've won the World Championships and Olympics, I feel no pressure," insisted Stahl as he prepares to defend his title at the World Athletics Championships Oregon22.
"The younger guys have the pressure now. I'm just going to go there and be calm and do my best, and throw as far as I can."
Most prominent among that young generation, in the literal and metaphorical sense, is of course Ceh. The bespectacled 6ft 9in Clark Kent lookalike whose Superman powers took him to a 71.27m Wanda Diamond League record in Birmingham in May, has got the better of Stahl on five occasions this season, though the old master found some Kryptonite to eclipse him at the World Athletics Continental Tour Gold meeting in Turku.



Not that the emergence of a potential nemesis has undermined Stahl's equanimity. Far from it.
"I'm very proud of Kristjan," he said. "He's a very huge talent. There's a lot of other young guys who are growing and growing and getting better and better. I'm very excited that the young guys are coming up.
"Me and Andrius Gudzius and Lukas Weisshaidinger are older guys now, so we are going down. But it's always good for the younger athletes to grow in this business, to keep the branch growing in the discus.
"I'm so happy for the guys. And, yeah, it keeps me motivated also. It's fun."
"I think it's awesome," said Ceh. "We have so many guys over 69m, 68m, 67m. I think everybody gets so motivated by it.
"It would be different if one person was over 71m and the next was 65m. That would be boring."
Still, the 23-year-old Slovenian finds himself looking over his shoulder as Eugene looms, the burgeoning 19-year-old Alekna – son of two-time world and Olympic champion Virgilijus Alekna – having moved to third on the 2022 world list with his 69.81m in Stockholm
"It was the first time I'd seen him," said Ceh, "the first time I'd seen how he throws, and the first time I'd competed against him. The kid is young and talented.
"At his age I was throwing 63m. I'm impressed."
As well he might be. The stage is set for an intriguing battle in Eugene.


Mighty Camacho-Quinn battles to overcome mental barrier
It was at the final Wanda Diamond League fixture before Oregon that one of the stellar performers spoke about feeling something other than at one with the world ahead of the World Athletics Championships Oregon22.
Without any prompting, Jasmine Camacho-Quinn shared insight into her finding the burden of her status as Olympic 100m hurdles champion a far from comfortable experience.
"It's a mental battle," the pride of Puerto Rico said. "Honestly, it can become overwhelming.
"Every time you step out there, you hear, 'This is the Olympic champion.' The pressure that comes with that, you've got to live up to it. I've got to the point where I say to myself, 'Just focus on what you're doing because at the end of the day you're still Olympic champion.'
"I don't know, I've just had to process it. I just feel like everything I did last year was pretty big, especially with the times I put out. Now, if things don't go as planned, it can take a toll on you mentally.
"It's my first World Championships. I've never been. I'm trying to get the same mindset as I had last year going into the Olympic Games. I'm hoping it'll come when I get to Eugene. I hope I get a little bit more of an adrenaline rush."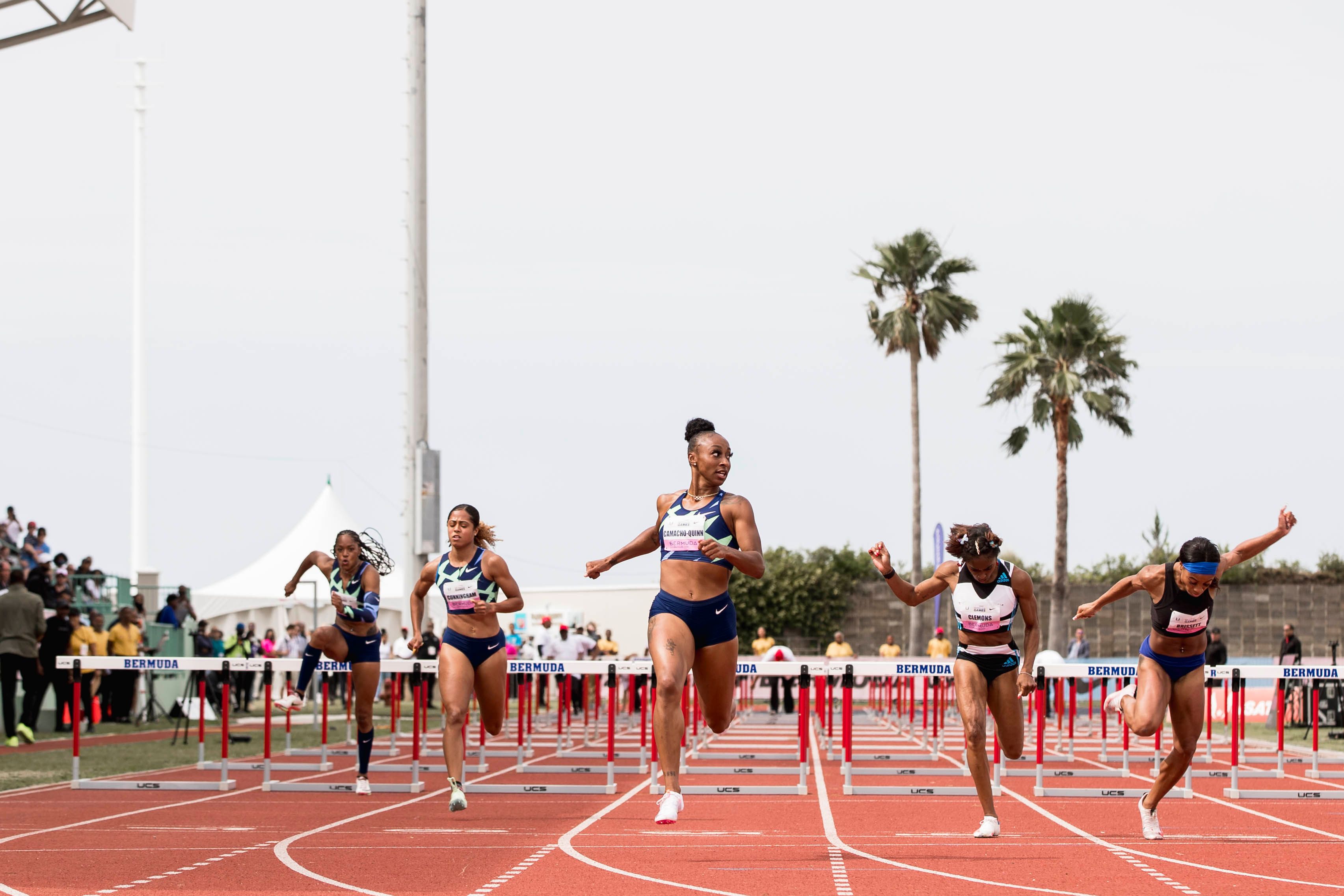 Jasmine Camacho-Quinn on her way to a 100m hurdles win at the Continental Tour Gold meeting in Bermuda (© USATF)
Camacho-Quinn heads into the World Championships standing third on the world list with the 12.37 she clocked at the Wanda Diamond League meeting in Rome on 9 June – behind world record-holder Kendra Harrison and Alaysha Johnson, first and second in the US Championships in 12.34 and 12.35.
She has won eight of her 10 races, being unable to finish at the Drake Relays in April and finishing a close second to Johnson after getting caught in her blocks at the Puerto Rico Classic in May.
Last year she won all of her races save for one qualification and clocked the five fastest times, posting a 12.27 PB in her Olympic semifinal. Harrison, who took silver in Tokyo, set her 12.20 world record at the Wanda Diamond League meeting in London six years ago, after missing selection for the Rio Olympics.


Can troubled Jacobs still pick up Kerley's gauntlet?
Fred Kerley's stunning 9.76 semifinal at the US Championships on 24 June – followed up, for good measure, with 9.77 in the final – could hardly have been a more timely marker ahead of the World Athletics Championships Oregon22 on the same Hayward Field track.
Sixth on the all-time list, the second time any mortal has ever clocked a pair of sub-9.80s on the same day, and a world lead, it was also the fastest ever time by a US sprinter on home soil. In other words: a warning shot to the rest of the sprinting world.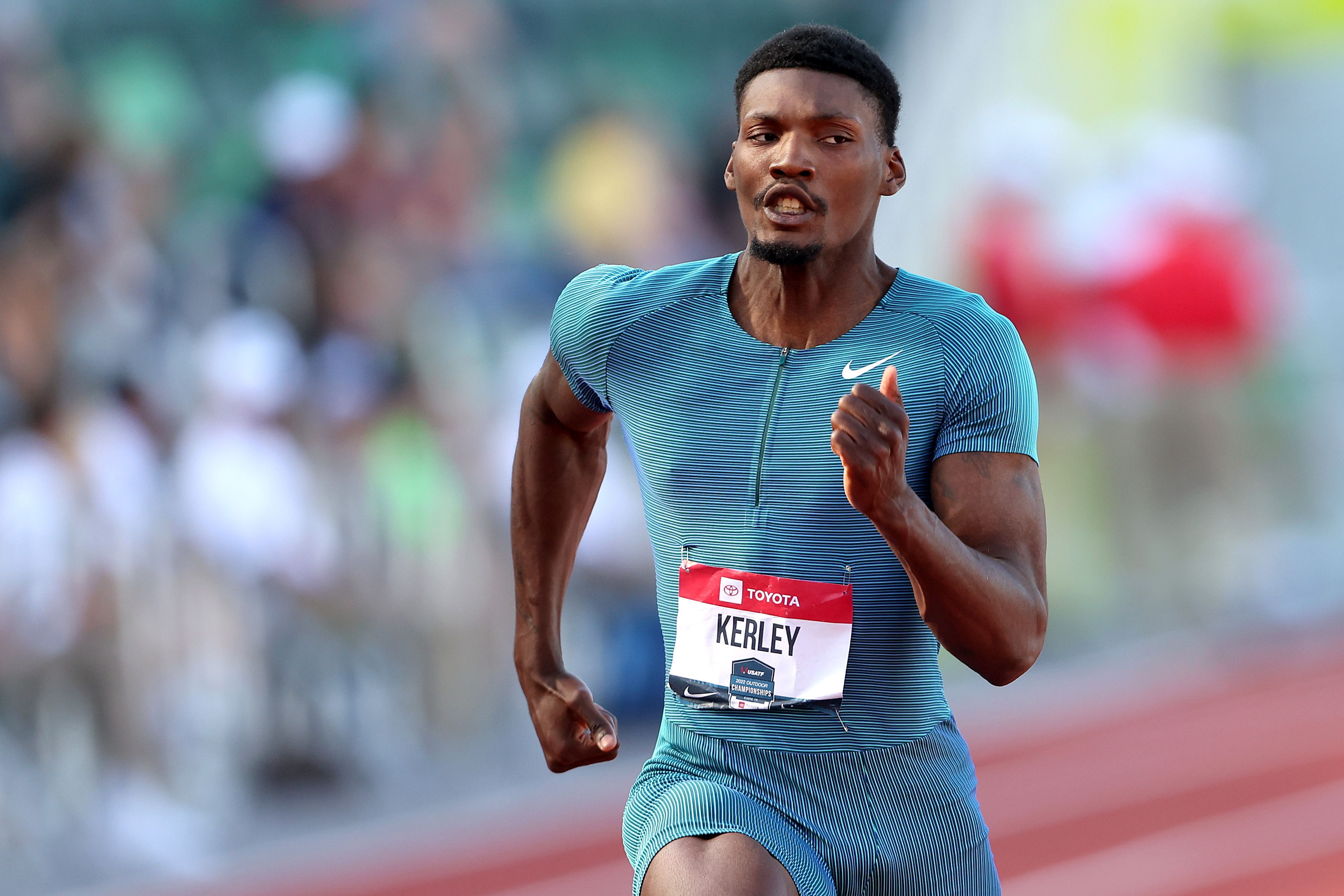 Fred Kerley in action in the 100m at the US Championships (© Getty Images)
Across in Europe, Italy's Olympic 100m champion Marcell Jacobs took to the Twittershere to respond to the man who took silver behind him in Tokyo last year, tweeting: "Looking for a nice battle! See you in Oregon."
Obliged to play catch up following the muscle injury that ruled him out of Diamond League meetings in Eugene, Rome and Oslo, the world indoor 60m champion was hoping to lay down a marker of his own in Stockholm but withdrew from the field after feeling some pain in training the evening before the meeting.
According to his coach, Paolo Camossi, it was purely a precautionary measure. "The situation is in hand," he insisted.
Earlier, at the preview press conference, Jacobs said he was considering another race at his training camp in Oregon. If he fails to make that, the world indoor 60m champion will head into the World Athletics Championships Oregon22 ranked 37th on the world list, courtesy of the 10.04 he clocked in Savona on 18 May.
Having returned to action with a 10.12 win at the Italian Championships in Rieti the previous weekend, Jacobs was in bullish mood at the Stockholm press conference when asked about the challenge of facing Kerley.
"I have a very good friendship with Fred," he said. I'm happy to see that he has run well this season. I'm best at expressing myself when I'm at the championships, so I'm confident going into Eugene."
For those who like to consider historical precedents, no speed merchant without a starred and striped vest has ever taken a global 100m title in the US. At the St Louis Olympics of 1904 and the LA Games of 1932 and 1984, the winners were Archie Hahn, Eddie Tolan and Carl Lewis.
The US has also filled the top two spots in the last two World Championships finals.
Simon Turnbull for World Athletics