Ser-Od Bat-Ochir and his teammate Byambajav Tseveenravdan at the finish of the 2019 World Championships marathon in Doha (© Getty Images)
Maybe you never noticed him before, but chances are you've seen him – pitched in among the world's best marathoners, fighting against outrageous odds.
Ser-Od Bat-Ochir of Mongolia has never won a world or Olympic medal. He's never broken 2:08 for the marathon. He's never made the top 15 at a global championships.
But enough about what he hasn't done. Because what the 40-year-old has done is far more significant.
Since the 2003 World Athletics Championships, he's been ever-present at major championship marathons, 14 of them in total: Paris (63rd); Athens (74th); Helsinki (61st); Osaka (55th); Beijing (52nd); Berlin (29th); Daegu (19th); London (51st); Moscow (35th); Beijing (38th); Rio (91st); London (48th); Doha (54th) and Tokyo (DNF).
That last one – and those three dreaded letters – hurt like a stab wound, which is appropriate given what Bat-Ochir resorted to during the race (more on that later).
But what that disappointment in Sapporo – which he says sparked two months of depression – ultimately led to was a fresh resolve: to become the first athlete in history to contest six Olympic marathons if he can make it to Paris in 2024.
Bat-Ochir has run 74 marathons to date – he thinks – but he continues to epitomise the mantra made famous by former Boston Marathon champion Desiree Linden: keep showing up.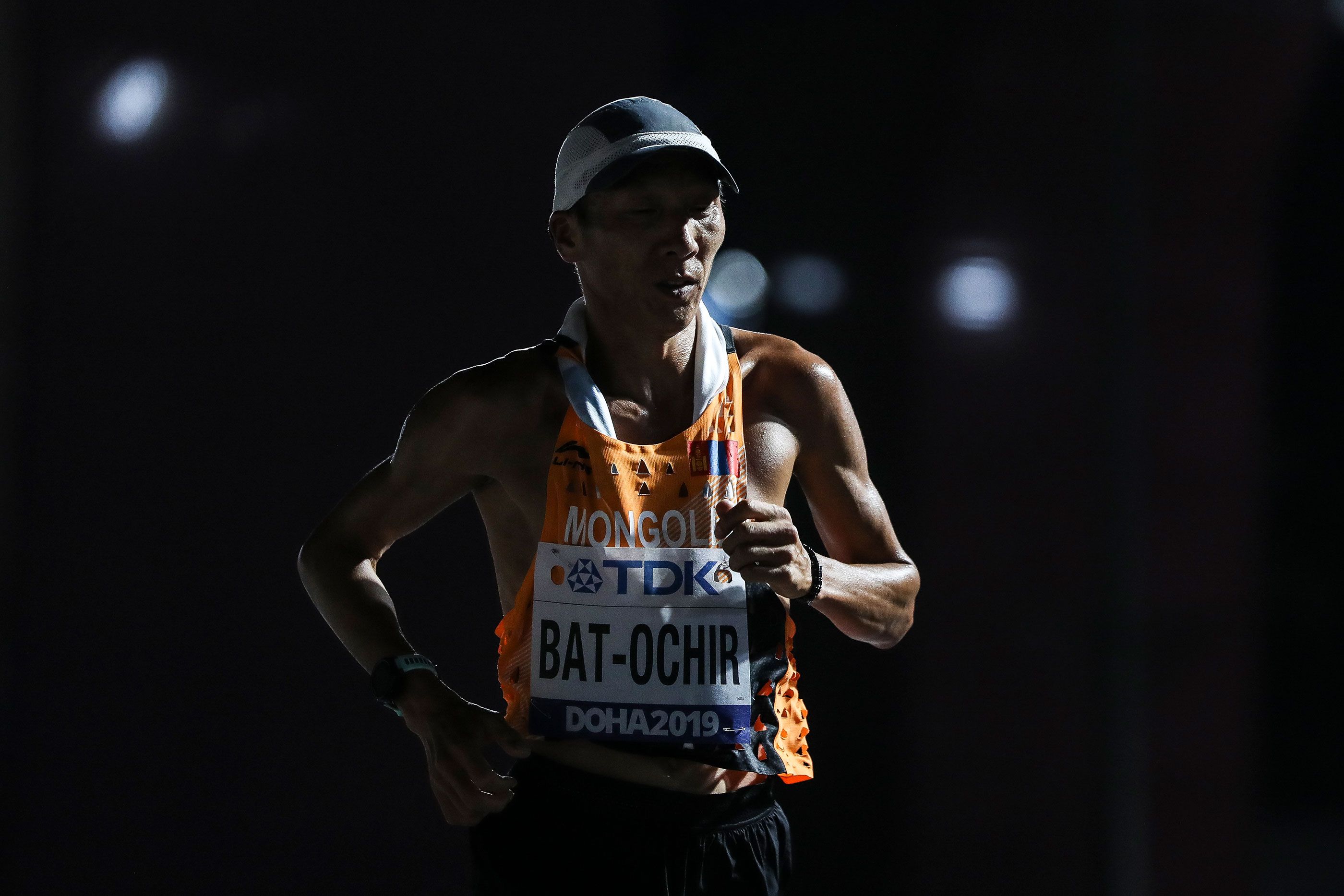 Ser-Od Bat-Ochir at the 2019 World Athletics Championships in Doha (© Getty Images)
At the World Athletics Championships Oregon22, he will show up for his 10th straight World Championships marathon. No one in his event has come close to that record, while across the entire sport only two race walkers – Portugal's Joao Vieira (11) and Spain's Jesus Angel Garcia (13) – have surpassed it.
But in the marathon, this most attritional of events, how has Bat-Ochir not burnt out after a period of world-class racing – 20 years – that forces so many others to fade away?
"It's two things," he says. "One: I love to run, it's a real source of enjoyment. When I run long, I am happiest. The other is having my wife there with me. She's been acting as a functional coach for 17 years. Having her watching me, having my back, makes it all worthwhile."
If Mongolia seems like a place that doesn't produce many world-class distance runners, well, there's a good reason. In winter, temperatures might rise to -15°C/5°F on a good day. At night, they can drop to -40°C/-40°F.
For Bat-Ochir, the only way to train for much of the year was by doing long, steady runs, with interval training impossible given the conditions. In those icy months, he'd cover himself in four or five layers and head out on the freezing roads, arriving back to his car an hour or two later – the engine left running to ensure an immediate source of warmth.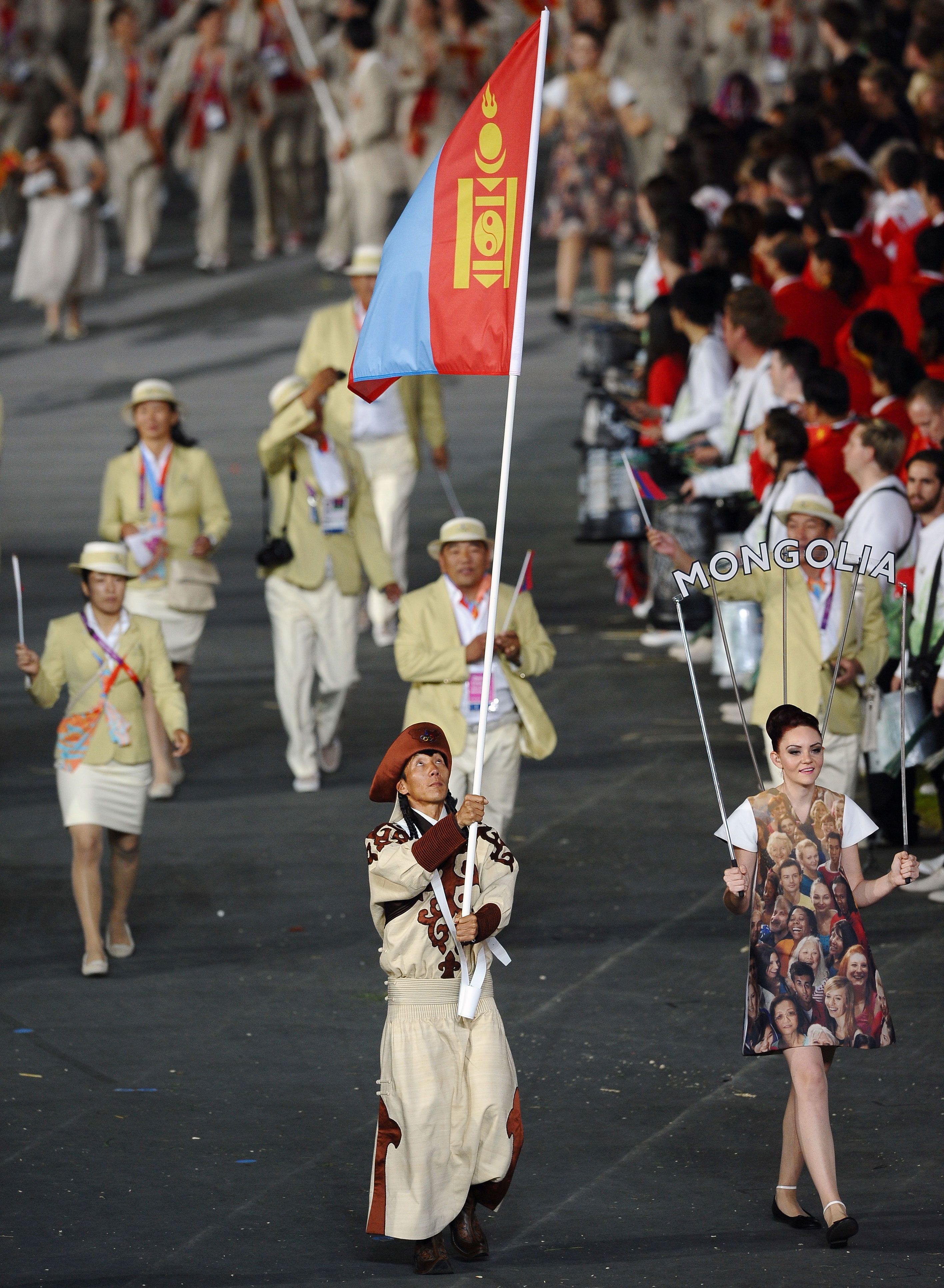 Mongolia's Ser-Od Bat-Ochir carries his country's flag at the opening ceremony of the 2012 Olympic Games in London (© Getty Images)
He grew up in Govi-Altai – a region in the west of Mongolia that sits at about 2000m of altitude – and his family moved to the capital, Ulaanbaatar, when he was 12.
Bat-Ochir discovered running in elementary school, winning his first race at a sports day. "Ever since then, it's what I wanted to do," he says.
He took the sport seriously from the age of 14, competing in middle-distance races on the track (which was a 400m oval with a hard, paved surface).
"I wasn't very good but during the Sydney Olympics, I watched the marathon and I really liked running long," he says. "So I said I'd target the marathon in the next Olympics."
He made his marathon debut in 2002. A year later, he lined up at the World Championships in Paris, clocking 2:26:39 to hack 10 minutes off the Mongolian record. Given where he came from, there was no real template for what he was doing, Bat-Ochir just figuring it out as he went along.
"I didn't know how to train," he says. "When I started, there wasn't much history but once I ran some marathons I started thinking: 'How can I take the next step to move up?'"
He competed at his first Olympics in Athens in 2004, clocking 2:33:24 to finish 74th, but getting to a second Games in Beijing required a significant improvement.
"The qualifying time was around 2:14 and everybody was telling me, 'Mongolians can't run marathons; you can't run that time.' Paula Radcliffe ran 2:15 a few years before and everyone was telling me: 'You can't even run what the women are running. How are you going to run 2:14?' But I kept working on it.'"
He ran 2:14:15 in 2008 to qualify for the Games, then lowered his national record to 2:12:35 in 2010 and 2:11:35 in 2011. At the Daegu World Championships in 2011, he produced his best ever finish at global level, 19th, and the following year he took the national record down to 2:11:05.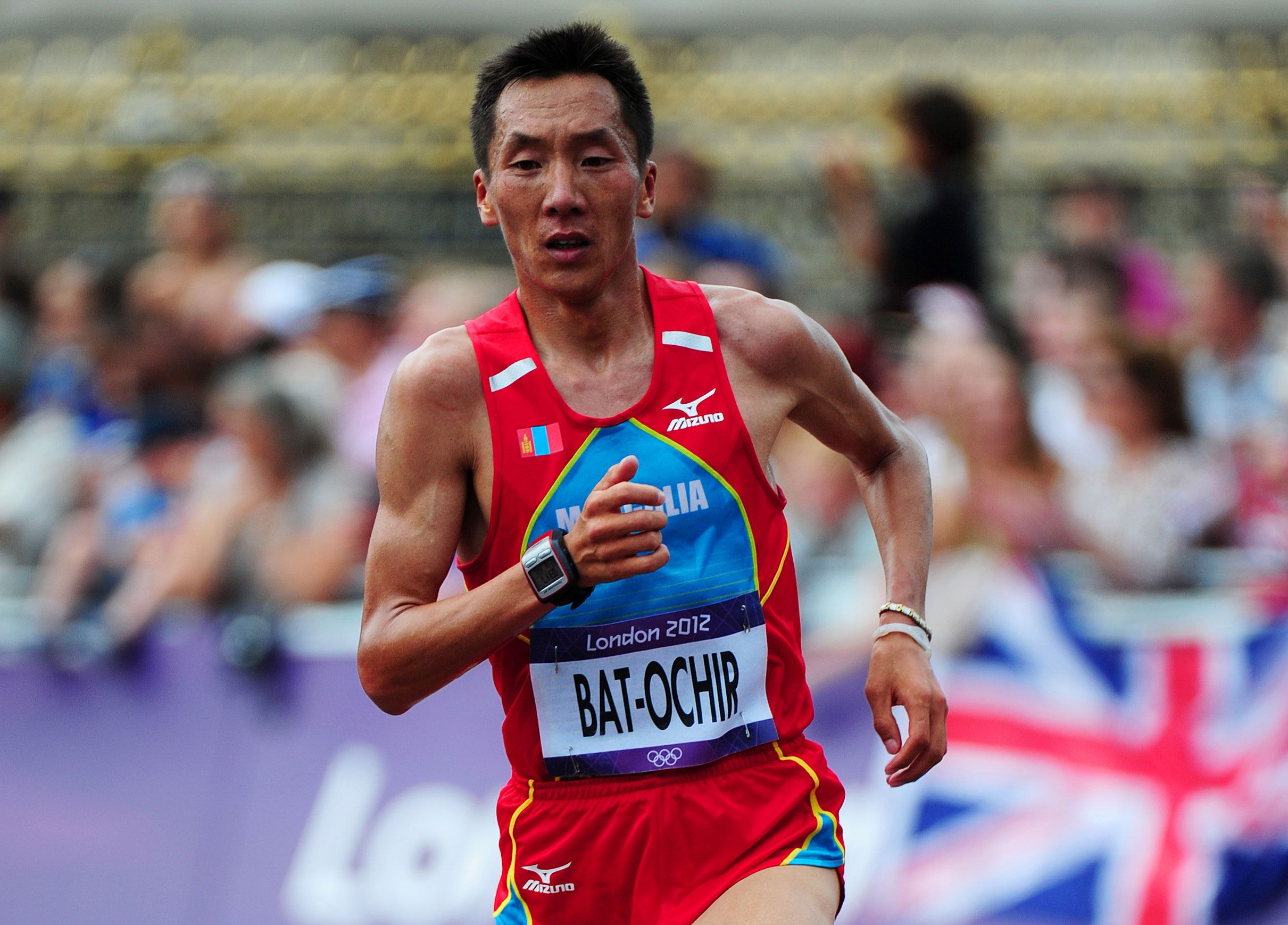 Ser-Od Bat-Ochir in the 2012 Olympic Games marathon in London (© Getty Images)
Between 2009 and 2012, Bat-Ochir spent much of his time in the UK, where his wife's sister and her husband lived. Keen to find a training group, he reached out to Morpeth Harriers, where he earned the nickname 'Ziggy' – an Anglicised, pop-culture take on his Mongolian nickname – which was coined by club secretary Mike Bateman.
In 2014 he moved to Japan, starting a new chapter by running professionally for the NTN Corporate Team. In December that year, he lowered the Mongolian record to 2:08:50 and in the years that followed he kept showing up at every major championship – no matter what came his way in preparation.
He had injury issues before the Rio Games in 2016, which worsened in 2018 and 2019, the problems stemming from the training he was doing at the insistence of his corporate team coach.
He qualified for the Tokyo 2020 Olympics with a 2:09:26 clocking in Lake Biwa in February last year, and Bat-Ochir was in flying form ahead of the Games. His last training camp was in Chitose, Japan, but that was where things went downhill.
Bat-Ochir was staying in an old hotel with air conditioning that he couldn't control, its sporadic nature meaning the room temperature alternated between flaming and freezing throughout the night. He soon came down with an infection, which led to a fever that lasted three days.
"When I recovered, I just didn't feel right," he says. "All my strength, all my power, was gone."
He had to try, though.
In the Olympic marathon in Sapporo Bat-Ochir set off strongly, but after 14km he felt his quads stiffen, which led him to seek an unusual, don't-try-this-at-home solution.
"I was having trouble lifting my legs and so I took one of the safety pins off my bib and poked or stabbed my quad muscles with it two or three times on each leg," he says. "That actually served to loosen up the muscles and I was able to keep going.
"But by the time I got to 30km I was completely dead and couldn't keep going at all. That was where my Olympics came to an end."
He went through a dark period in the months after, but it was his wife, Oyuntuya, who pulled him out of it.
"She told me: 'You have to turn this around, to set the next goal. It's not over yet.' I made the decision to go for the Paris Olympics, to renew everything and work towards it."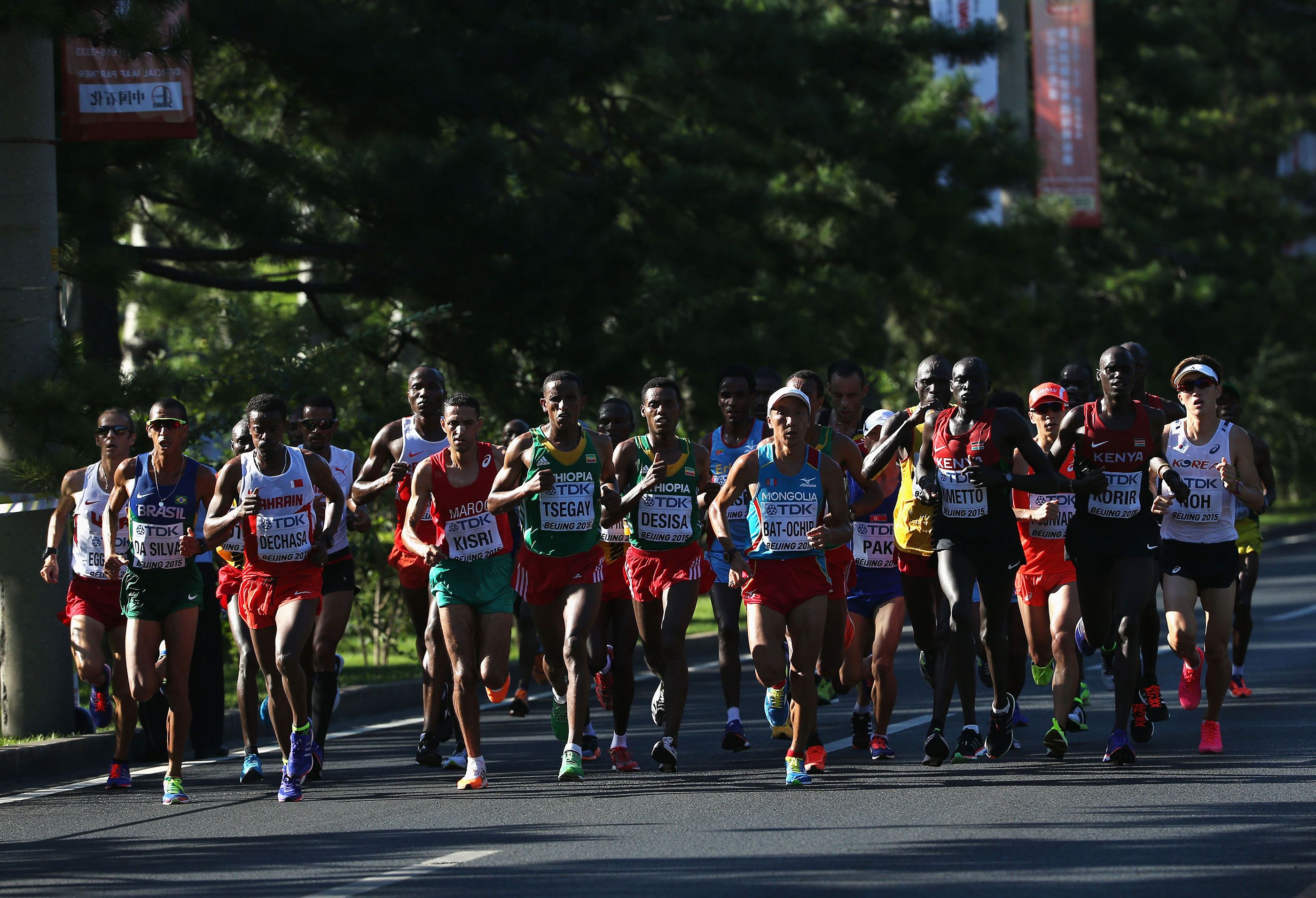 Ser-Od Bat-Ochir competes at the 2015 World Championships in Beijing (© Getty Images)
With his NTN contract at an end, Bat-Ochir sought the help of his representative, Brett Larner, in finding a new sponsor. Larner knows the Japanese running scene as well as anyone, and he linked him up with a friend of a friend who ran a solar panel installation company, Shin Nihon Jusetsu Co., Ltd, which was expanding its sponsorship of athletes.
The company will now support him all the way to the Paris Olympics, giving Bat-Ochir – who has four children: Jambaldorj (19), Nomin-Od (12), Naran-Od (6) and Uran-Od (2) – the backing to keep chasing his dream.
He's currently logging 150-200km per week as he prepares for his next major championships, and his goal in Eugene is to surpass his 19th-place finish in Daegu.
Whenever his competitive days are done, Bat-Ochir plans to transition into coaching in the Japanese corporate system, but right now that day seems far away.
"Even when I can't be competitive, I'll keep running as an amateur," he says.
And the reasons he'll run for then will be the same reasons he ran for in the beginning – when he was a child in western Mongolia, willing to set off on a road less travelled.
"I'll run for my own enjoyment, health and peace of mind," he says. "I'll keep doing whatever I can, as long as I can."
Cathal Dennehy for World Athletics