Jamaica's world 200m champion Shericka Jackson (© Getty Images)
Shericka Jackson believes that everything happens for a reason. On 2 August last year – when she missed the Olympic 200m semifinals by just four thousandths of a second – she might not have known what that reason was.
She does now.
Celebrating with her fellow medallists as she took her place at the centre of the press conference table for the first time in an individual international event, Jackson paused for a moment to reflect.
"No, I'll not cry," said the 200m champion, fresh from her record-breaking 21.45 run at the World Athletics Championships Oregon22 on Thursday (21). "It taught me so much, that year. That I didn't make it in my favourite event.
"It taught me that no matter what, you keep going. After the Olympic Games, I cried so hard, because I wanted to be in that 200m final and I wasn't.
"It wasn't meant to be, in that moment. I guess this is the moment. Last year was preparing me for this year and this is the moment. I'm so grateful for it."
And what a moment.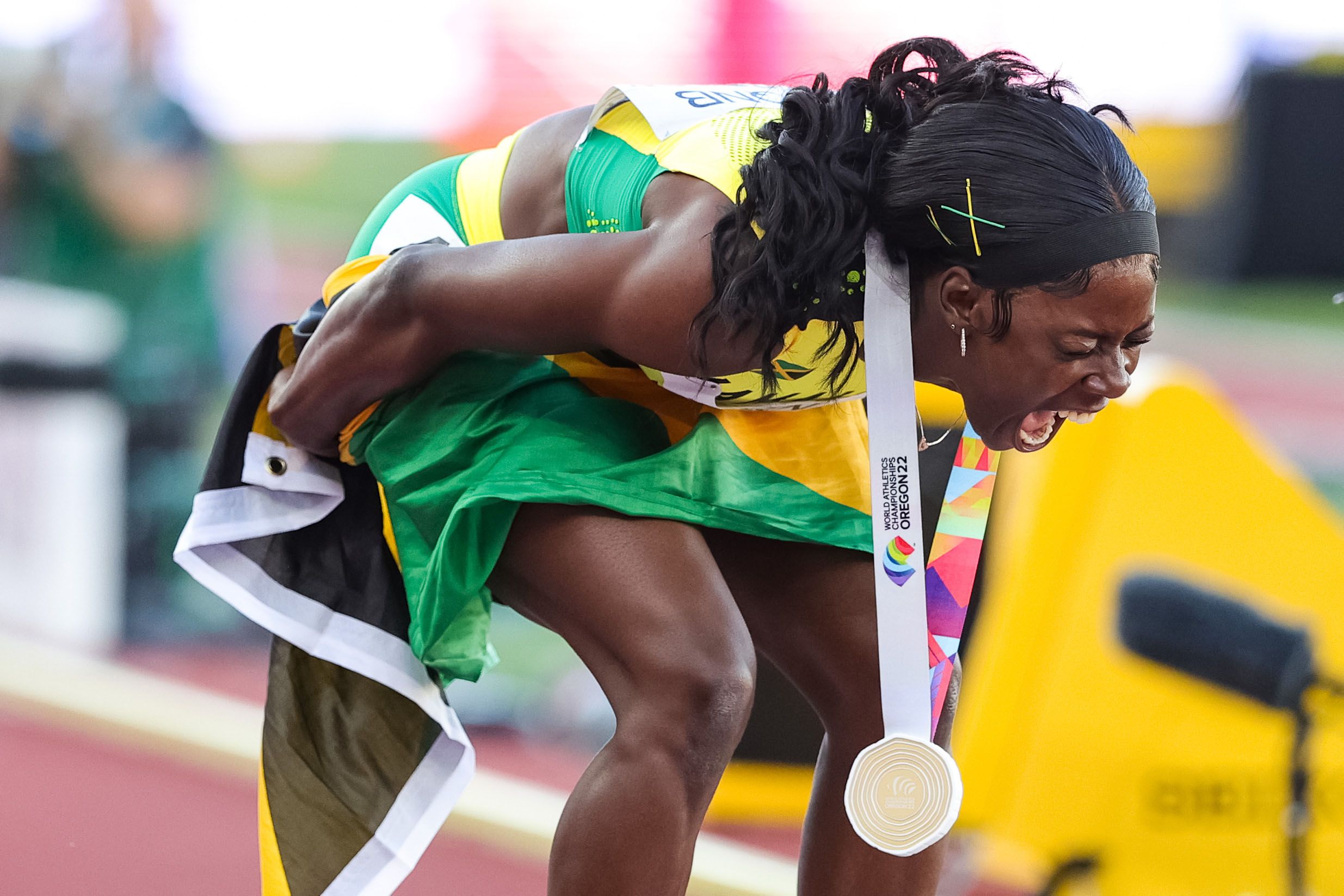 Jamaica's Shericka Jackson celebrates her 200m victory at the World Athletics Championships Oregon22 (© Getty Images)
With a strong start and an even stronger finish, the 28-year-old left a stacked field in her wake, blazing to the second-fastest 200m of all time to get her first individual global gold.
She later explained how she had worked hard in training to perfect her curve running technique. It showed.
Narrowly behind her Jamaican compatriot Shelly-Ann Fraser-Pryce – the now five-time world 100m champion – at half way, Jackson found another gear down the home straight. Pulling away in the second half of her race, she was unchallenged as she reached the finish line to an eruption from the Hayward Field crowd, breaking the championship record ahead of Fraser-Pryce in 21.81 and Britain's defending champion Dina Asher-Smith in 22.02.
After five individual international medals – including world 100m silver in a PB of 10.73 just four days earlier – Jackson had finally got her gold. Even more remarkably, the performance completed an unprecedented sweep, as the 200m gold, 100m silver and two-time world bronze medallist became the first athlete in history to win a full set of World Championships medals across the three sprint events.
"Competing in the 400m for so long and to start sprinting (in the 100m and 200m) last year is a great feeling," she said. "I wanted to be among the best and I've worked hard to be among the best. I'm just grateful for the journey."



On the world stage, Jackson's journey started at the 2010 World U20 Championships in Moncton, where she formed part of the Jamaican 4x100m squad. The following year she claimed bronze in the 200m at the World U18 Championships in Lille, also racing on the victorious medley relay team, and in 2012 she competed at the World U20 Championships in Barcelona.
Just three years later, she was a senior global medallist – dipping under 50 seconds for the first time with 49.99 to claim 400m bronze behind Allyson Felix and Shaunae Miller-Uibo at the World Athletics Championships in Beijing, where she also formed part of the winning Jamaican 4x400m team. Jackson made her Olympic debut in 2016, winning another major 400m medal thanks to a third-place finish and claiming another 4x400m podium place. She finished fifth at the 2017 World Championships in London and then, focusing on the 200m the following year, she claimed Commonwealth silver on the Gold Coast.
Her bronze medal collection grew again by two at the World Championships in Doha, with third-place finishes in the 400m and 4x400m, and she also helped the 4x100m team to another title.
Then injury struck. In late 2019 an X-ray revealed she had sustained two stress fractures, but the postponement of the Tokyo Olympics played to her favour. She focused on her recovery and after a few races in 2020, Jackson returned in 2021 to further demonstrate her versatility. Contesting the 100m, 200m, 4x100m and 4x400m, she won three medals – 4x100m gold, 4x400m bronze and 100m bronze – at the Tokyo Olympics, and ended the year with PBs of 10.76 for 100m and 21.81 for 200m to go with her 49.47 400m best from 2019.
But she knew there was more to come.
Testing her speed during a debut indoor season, she finished sixth at the World Indoor Championships in Belgrade in March, running 7.04, and then made a statement by winning both the 100m and 200m titles at the Jamaican Championships – the latter in 21.55, then the third-fastest time in history.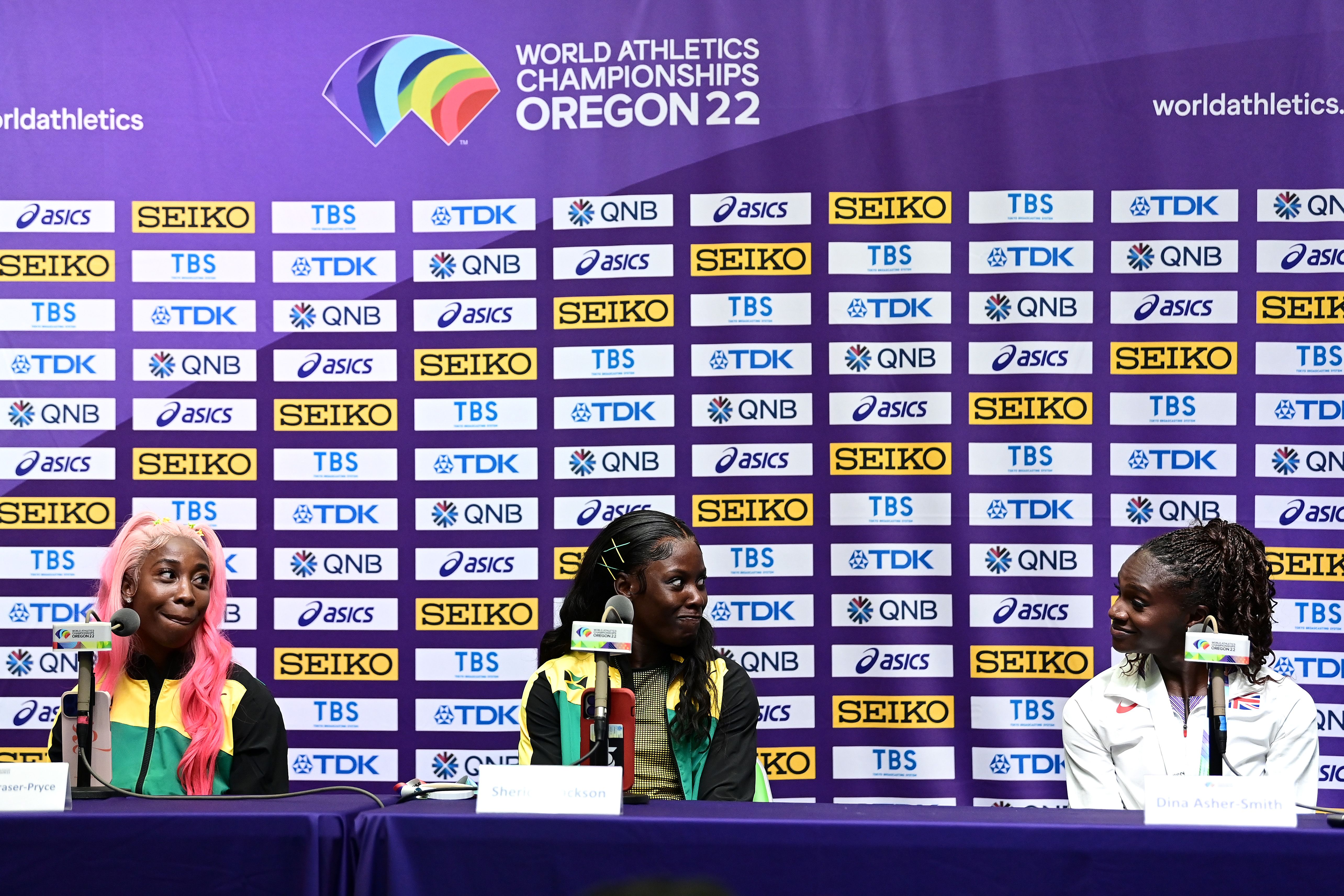 World 200m silver medallist Shelly-Ann Fraser-Pryce, champion Shericka Jackson and bronze medallist Dina Asher-Smith (© Getty Images)
"I knew I could go faster than 21.55," said Jackson, who pushed her compatriot Elaine Thompson-Herah – the five-time Olympic gold medallist – down a place on the world 200m all-time list with her run in Oregon, to now sit second behind only world record-holder Florence Griffith Joyner with her 21.34.
On the work she has put in with her coach Paul Francis, Jackson added: "I train with the quarter-milers and then I switch to the sprinters. I enjoy training with both groups. I have run two 400m races this season, and I think it was pretty good. I am strong, I am definitely getting faster, so I enjoy training with both groups.
"One of my goals this year was to step out of my comfort zone. I run hard every day at practice. Me running hard here was just a practice run for me and that practice run gave me a gold medal, a national record and a championship record – I can't complain.
"Last year, that helped me think about running the curve hard. I never ran the curve hard in the heats of the Olympics, and I think it cost me a place in the semifinals. So, I went back to the drawing board, and I worked really hard on that curve – every day. Every single day. I think it paid off."
There could be more to come, too, with Jackson named on the 4x100m squad for Oregon. After that she will turn her attention to the Commonwealth Games in Birmingham and beyond, looking to make even more magic moments.
Jess Whittington for World Athletics