Kristjan Ceh, Faith Kipyegon, Valarie Allman, Alison Dos Santos, Athing Mu, Marcell Jacobs (© AFP / Getty Images / Diamond League)
The countdown is on, and while some stars have yet to compete, preferring to fine-tune their fitness in training, many have already been out there, lighting up the circuit and offering an early indication of how things might play out at the World Athletics Championships Oregon22.
From Doha to Birmingham to Eugene, Nairobi to Tokyo to Ponce, there have been many memorable races, magnificent throws and outstanding jumps. It's early days, of course, but with just over six weeks until the marquee event of the athletics year, here are six key talking points to get you up to speed as the world's best athletes prepare to hit full flow.
Olympic 1500m champions look better than ever
If there's one track event where the current king and queen look poised to back up their Olympic titles this year, it's the 1500m, where Kenya's Faith Kipyegon and Norway's Jakob Ingebrigtsen are showing no signs of a post-Tokyo hangover.
For Kipyegon, the chief threat in recent years has been world 1500m champion Sifan Hassan, but with the Dutchwoman struggling with injury and illness of late, she has yet to be seen on the racing circuit.
Kipyegon, meanwhile, looked better than ever last weekend, clocking a blazing 3:52.59 in Eugene despite cool, windy conditions. She tracked Ethiopia's Gudaf Tsegay until the last 200 metres and then unleashed that lethal kick which has already taken her to three global senior titles. Kipyegon said after that she will "have a think about" a world record attempt later in the summer, but noted her mind was solely focused on reclaiming the world title from Hassan.
On recent evidence, it will take an almighty effort to stop her.
Same goes for Ingebrigtsen, who's only been beaten once this year. That happened in the 1500m final at the World Athletics Indoor Championships Belgrade 22, though the reason for his slightly off-colour performance emerged the next day when he tested positive for Covid-19.



But now he's back, looking better than ever. In Eugene last weekend, he sauntered to victory in the Bowerman Mile, clocking 3:49.76 in damp, windy conditions. He also did it the hard way, cranking up the pace from the front after the pacers stepped aside and running his chief rivals – Kenya's Timothy Cheruiyot and Abel Kipsang – off his tail.
Asked whether he was disappointed his rivals couldn't stay with him at that point, Ingebrigtsen delivered one of the most memorable lines of the season to date: "You can't be disappointed when people are not better."
It's a line that speaks to his confident attitude, but as the old saying goes, it's not bragging if you can back it up. So far, Ingebrigtsen has shown he can.
He plans to chase gold over 1500m and 5000m at the World Athletics Championships Oregon22, a double that's not been done at global level since Bernard Lagat in Osaka in 2007. Going up against Olympic champions like Joshua Cheptegei and Selemon Barega with three rounds of the 1500m in his legs would be a mammoth task, but if none of them can drop Ingebrigtsen through the first four kilometres, few would bet against him at the finish.
US throwers send out a signal
Historically, the US has mined its most gold medals in the sprint events, and while they've long produced champions in the throws, by and large that's where their athletes have often played second fiddle to European rivals. But not anymore.
As things stand, US athletes top the 2022 world lists in three of the four women's throwing events through Chase Ealey, Valarie Allman and Brooke Andersen, while Ryan Crouser looks nigh-on untouchable in the battle for men's shot put gold in Eugene.
Allman has enjoyed a stunning start to her season, throwing a North American discus record of 71.46m in April. The Olympic champion was again dominant in Eugene last weekend, taking victory with a best of 68.35m – a mark no one has got within a metre of this year.
Crouser, meanwhile, endured a tricky start to his year, facing defeat at the World Indoor Championships by Brazil's Darlan Romani – a period when Crouser was still struggling with a nerve issue in his arm. But he looked back to his best in Eugene last weekend, launching 23.02m in the second round. His biggest rival when he goes for gold in his home state of Oregon, trying to win his first world title, is likely to be US teammate Joe Kovacs, the world champion who threw 22.49m to finish second last weekend in Eugene.



What made Crouser's performance last weekend more impressive is that he chose not to utilise his full technique, throwing off a static starting position, which before had never produced a 23-metre effort. Crouser said he usually throws 40-60cm farther when utilising his full wind-up, and given his world record is 23.37m, a warning has been sent out about what might be coming.
Ealey has enjoyed a brilliant breakthrough this year, throwing a North American shot put record of 20.21m to earn world indoor silver, while her 19.76m in Halle currently tops the world outdoor lists.
Andersen and Janee Kassanavoid, meanwhile, look set for a hammer showdown with Polish star Anita Wlodarczyk come the World Championships. Andersen threw a world lead of 79.02m last month, while Wlodarczyk's best this year is the 78.06m she threw at altitude in Nairobi. Kassanavoid, meanwhile, rose to sixth on the world all-time list with her 78.00m at the USATF Throws Fest in Tucson last month. USA also has the defending world champion in Deanna Price, who has a best this year of 72.39m.
The 100m: a tale of two sprints
Heading into the Tokyo Olympics, few could say with any confidence who'd win the men's 100m, and even fewer predicted Marcell Jacobs would shake up the world and walk away with gold. While the Italian has since proven that win was no fluke, powering to world indoor 60m gold in Belgrade, the event again looks wide open as we count down to the next global sprint showdown.
Jacobs had a solid, if unexceptional, start to his season by clocking a wind-assisted 9.95 and wind-legal 10.04 in Savona, Italy. Intestinal issues ruled him out of the Continental Tour Gold meeting in Nairobi, and an injury forced him to withdraw from last weekend's Wanda Diamond League meeting in Eugene and from the upcoming Diamond League meeting in Rome. Such interruptions could leave the current sprint king in a race against time to be at peak fitness in July.
In the meantime, a legion of contenders has emerged. There's Ferdinand Omanyala, the Kenyan who tops the world lists with his 9.85 in Nairobi. There's USA's Trayvon Bromell, who put a crushing Olympic experience firmly behind him by clocking 9.76 late last year in Nairobi, and who ran 9.93 in Eugene last weekend to beat his chief US rivals Fred Kerley, Christian Coleman and Noah Lyles.
Jamaica – much to the relief of its proud, patriotic fan base – looks to have a genuine contender for men's 100m gold, with Oblique Seville clocking a highly impressive 9.86 in Kingston recently.
Who wins the world title? Just as it was in Tokyo, the answer right now seems shrouded in mystery.
The women's 100m, meanwhile, looks far more straightforward. The two women to beat – at least at this early-season juncture – are the two who've long had a stranglehold on this event: Jamaica's Shelly-Ann Fraser-Pryce and Elaine Thompson-Herah.



Fraser-Pryce started her season with a statement of intent, the 35-year-old clocking a superb 10.67 at altitude in Nairobi. She backed that up with a 200m win in Eugene last weekend in 22.41. Thompson-Herah, meanwhile, revealed her training had been hampered recently by niggles, but the Olympic champion looked back to her peerless best when clocking 10.79 to win in Eugene last weekend.
Who can come out of the pack to challenge them?
Their compatriot Shericka Jackson has been a consistent threat, as has Britain's Dina Asher-Smith, though if there's one woman with the talent to trouble the current sprint queens, particularly on US soil, it's likely Sha'Carri Richardson, who has run 10.72 at her best and who clocked a noteworthy 10.92 to finish runner-up to Thompson-Herah in Eugene.
Hodgkinson and Mu on a collision course
Ever since the Olympic final in Tokyo – where a pair of 19-year-olds rose to the top of the world – it was clear that the women's 800m might revolve around two athletes for some time to come: USA's Athing Mu and Britain's Keely Hodgkinson.
Both emerged for the 2022 outdoor season looking like they'd only got better, which is bad news for their rivals, but great news for fans awaiting a showdown between two youngsters with the potential to become all-time greats.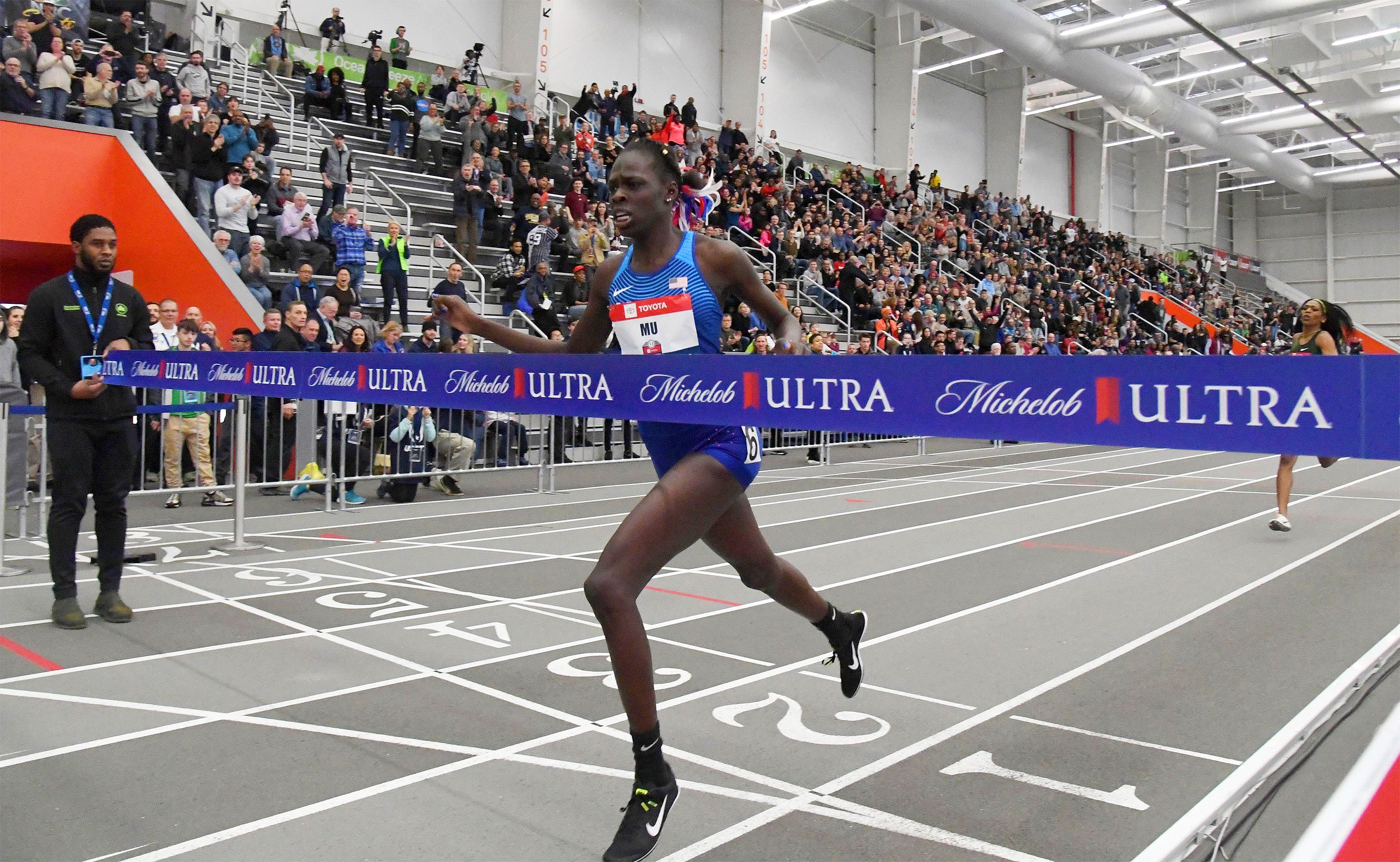 Athing Mu in New York (© Kirby Lee)

Mu powered to victory over 600m at the Penn Relays in April, clocking 1:22.74, while Hodgkinson showed off her enviable range of gears with wins on the Wanda Diamond League circuit in Birmingham and Eugene. A bout of Covid-19 for Mu meant the athletics world was denied the clash it was awaiting last weekend, but that should make it all the more intriguing if they next meet in the world final in July.
If there's an athlete who could interfere with that rivalry, it's likely Ajee Wilson, who bounced back to her brilliant best in March by winning her first ever global senior title in Belgrade, doing so with astonishing ease and a vicious last lap. She was runner-up to Hodgkinson in Eugene last weekend, but her come-from-behind finish suggested there could be more in her tank for their next meeting.
400m hurdles aces prepare to play their hand
They were the most astonishing races of the Tokyo Olympics: two events, six athletes, who produced something close to perfection in the art of one-lap hurdling.
With their gold medals and utter annihilation of the respective world records, Sydney McLaughlin and Karsten Warholm took their event into the stratosphere, clocking times over 10 barriers that many international-level athletes would be delighted with on the flat.
But the thing that made the 400m hurdles the must-watch event of athletics is that it's not only about their individual brilliance, but the horde of heavy hitters lining up behind them, ready to take their shot at the champions.
It's unreasonable to hope this year's world finals will live up to the magic that occurred in Tokyo, especially given there are a series of questions yet to be answered right now about the chief protagonists. Warholm and McLaughlin have yet to contest their specialist event in 2022, though McLaughlin showed things are ticking along well with her 12.75 100m hurdles at the Penn Relays last month.
The bronze medallist in Tokyo, Femke Bol, got her outdoor campaign under way in sensational style, clocking a world best of 36.86 for the 300m hurdles in Ostrava. Olympic silver medallist and world champion Dalilah Muhammad showed she's coming into the season in fine form by clocking 53.88 to win at the Drake Relays in late April and backing that up with victory in Birmingham in 54.54.



Warholm, meanwhile, will open his season in Rabat on Sunday (5) before racing at home in Oslo on 16 June. In Warholm's absence during the season to date, Olympic bronze medallist Alison Dos Santos emerged as a strong contender for this throne, taking victory ahead of Tokyo silver medallist Rai Benjamin in Doha in 47.24 before lowering that world lead to 47.23 last weekend in Eugene.
Benjamin was a late withdrawal from Eugene with illness, though he's expected back on the line at the Continental Tour Gold meeting in New York on 12 June. After winning at the Pre Classic last weekend, Dos Santos was in no doubt that Warholm still rules his event until someone can depose him – which he believes will take something very special.
"He is the boss," said Dos Santos. "And for winning the (world) final, you need to run 45."
Meet the shooting stars of the field events
A post-Olympic year is often a time for change, with a raft of retirements and a fresh crop of athletes breaking into the elite echelon. Though it's still early days in this 2022 season, a horde of relatively new names have already made their presence felt with some outstanding efforts.
None more so than Kristjan Ceh, the 23-year-old Slovenian discus thrower who launched a stunning national record of 71.27m, making perfect use of the windy conditions, in Birmingham earlier this month. That puts him two metres clear of world and Olympic champion Daniel Stahl on this year's world list. Ceh finished fifth in the Olympic final last year but if he maintains his current trajectory, his first global medal at senior level looks almost assured in Eugene.



In Götzis last weekend, 22-year-old Simon Ehammer showed he can be a contender in both the decathlon and long jump for years to come when leaping a world decathlon best of 8.45m, helping him to a Swiss record of 8377.
Meanwhile, Jamaica could well have a global medal contender on its hands in the women's high jump in Lamara Distin, a 22-year-old student at Texas A&M University who cleared a national record of 1.97m last month. That puts her second on the 2022 world list behind Ukraine's Yaroslava Mahuchikh.
A pair of Cubans currently top the world lists in the triple jump, with Andy Diaz sending out a statement of intent in the men's side by leaping 17.64m in Grosseto, Italy, last week. On the women's side, 20-year-old Leyanis Perez tops the world lists via her 14.58m leap on home turf in La Nucia – the pair looking ready to add to their nation's proud jumping history by contending for medals in Eugene.
But all in the triple jump world, of course, are still awaiting the outdoor debut of Venezuela's Yulimar Rojas, who stole the show at the World Indoor Championships in Belgrade with her outright world record of 15.67m. Given her remarkable ability to reach new levels when the pressure is highest, Rojas could well edge closer to 16 metres – a mark which has long occupied her thoughts – when the world is watching in Eugene in July.
Cathal Dennehy for World Athletics