British sprinter Jason Gardener (© Getty Images)
For Jason Gardener – who was this week announced as the World Athletics ambassador for the World Athletics Relays Silesia21 on 1-2 May – it all started at the World U20 Championships.
His 4x100m success as a teenager at the 1994 edition of the event in Lisbon was to set the tone for more than a decade of international relay duty, which was capped by that 2004 Olympic gold medal win for Britain in Athens.
There were many great individual achievements too, of course, with a world and four European indoor 60m golds gained between 2000 and 2007, but it was the 4x100m in which the 'Bath Bullet' won the Olympic title he had always dreamed of.
A lot was learned in the 10 years between his first global gold and the moment Gardener stood alongside Darren Campbell, Marlon Devonish and Mark Lewis-Francis on top of the podium in Athens. But in Portugal he was put on the first leg, and there he stayed.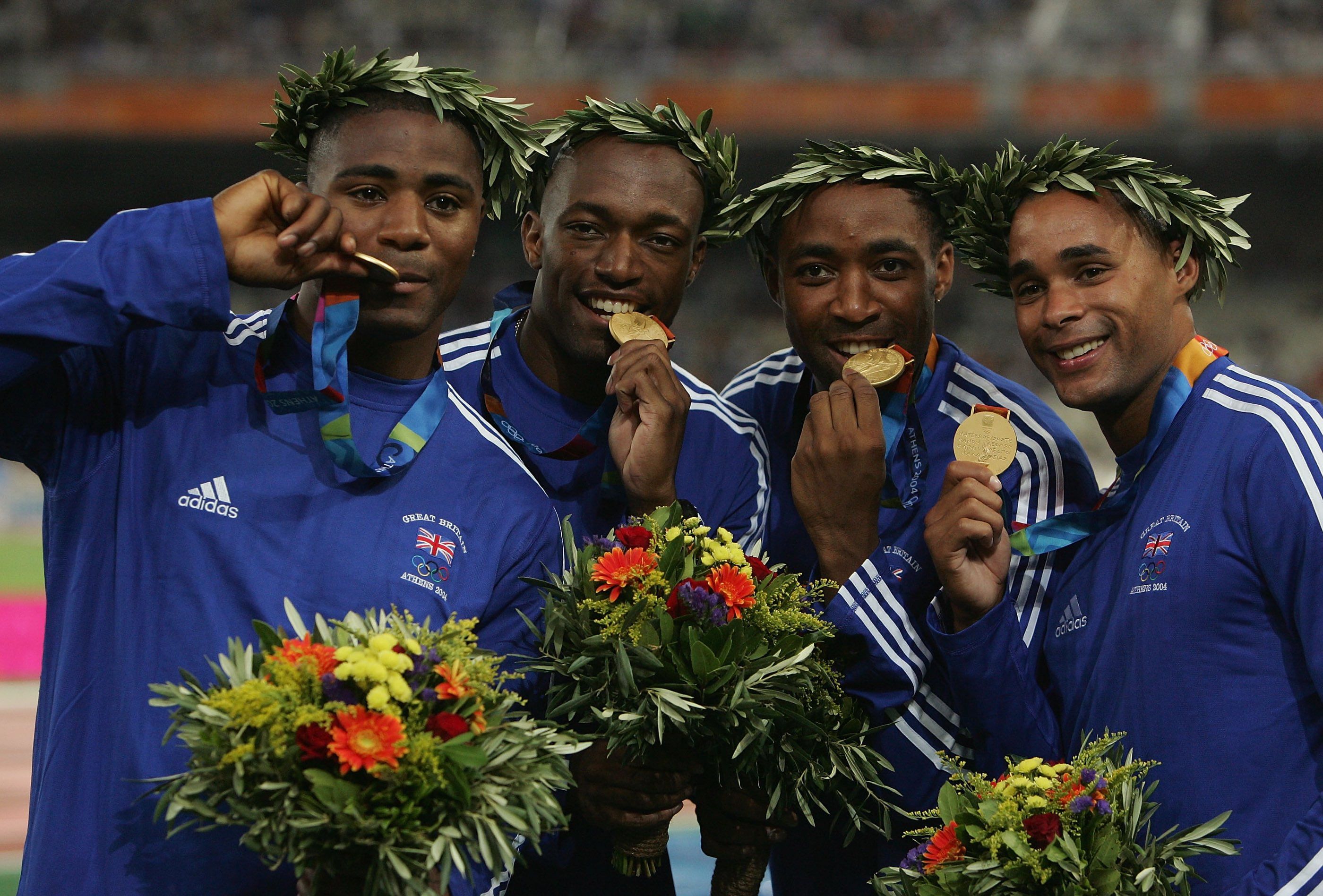 Mark Lewis-Francis, Marlon Devonish, Darren Campbell and Jason Gardener at the Athens 2004 Olympic Games (© Getty Images)

"The strategy at the World Juniors, where again at the time the Americans were favourites, was to put me first leg," explains Gardener, who now leads digital sport company dcSPORT and worked with World Athletics to create the Museum of World Athletics™ (MOWA) - the world's first 3D virtual sports museum.
"I won a silver medal in the 100m and I was the fastest guy in the team. You usually put the fastest guy on the last leg, but I went on the first leg because we wanted to try and put pressure on the USA to make a mistake. And it worked. We went and won gold.
"That pretty much stuck, then, as my position. That's where I cemented myself as a first-leg runner for GB."
Lisbon is also where Gardener first really became known for his blistering starts and a similar tactic of putting the USA team under pressure from the gun paid off on the Olympic stage.
"Dreams really came true for us that night," says Gardener as he reflects on the evening of 28 August 2004.
"It is really interesting because I had been around the sporting arena for a number of years, I used to read books about great successes and athletes talk about being in a zone and things falling into place. Well, we were a team that was really, really well prepared. We put in the hard yards in training to try and give us that point of difference against our rivals.
"We honestly believed it was going to be our night. For the first time in years, not any one of our 100m or 200m runners made the individual Olympic finals, so that was a huge blow and we weren't expected to achieve any success, really. We had this belief, we sacrificed a lot of our individual for the relay, to be honest with you, and it's just that night where everything worked.
"It's a bit of a David and Goliath story – we were a team which was totally written off and it just goes to show, you have got to turn up and you've got to believe because anything can happen."
Gardener had previously won world 4x100m silver in Seville in 1999 and would go on to claim world bronze in Helsinki in 2005, but that run in Athens was different.
"Our changeovers were so slick," he says. "If you want to look at perfection, that's one of the great relay races to go to. When Mark Lewis-Francis came off the bend on the final leg, a metre or two ahead of Maurice Greene, I couldn't quite believe what I was watching.
"I stood back and our stars lined up that evening. There was an absolutely incredible feeling that we were going to be victorious.
"The USA team were probably going out there to break a world record. They had that capability – Maurice Greene, Justin Gatlin, Shawn Crawford, Coby Miller – all sub-10-second sprinters, but sometimes when you are going out to break records there's a very fine line between ultimate success and failure and small mistakes can have a detrimental impact on performance. For them it did and for us, I've got an Olympic gold medal to my name and probably when I least expected it, to be honest with you. Four years before in Sydney we were a much faster team, but we weren't 'a team' and that's the beauty of relay."
It is also what constitutes the 'art' of the 4x100m, Gardener believes.
"The real skill to achieving ultimate success is pulling together a cohort of highly exceptional performers and trying to develop that camaraderie, because it is difficult," he says.
"Just knowing the people that you are working with. Darren Campbell was an athlete I trained with for years, and Marlon Devonish – I knew their intricacies, inside out. For example, in the changeover zone, Darren's hand would often bounce up and bounce down, whereas Marlon's hand would go up and it would be fixed there.
"There are different strengths required, like for the last leg there would be Mark Lewis-Francis on our team and there's big pressure – whether you get the baton in front and stay in front or if you can hunt people down. That's the beauty and excitement, and of course we all love it when sometimes things don't go quite to plan and there's a big collision at changeovers and messes going on and suddenly there's a shift in who is winning the race or who has fallen behind.
"It makes it really exciting but as I said, the art is actually being able to come together as a team."
Events like the World Athletics Relays, which returns for a fifth edition in Poland next month, bring an added dimension to that team aspect, Gardener says.
"I'm really privileged and feel honoured and fortunate to be announced as the World Athletics ambassador for the World Relays," he adds. "A few years ago I was very fortunate to have attended the first event in The Bahamas, which was just phenomenal. The atmosphere was just tremendous.
"Seeing all the athletes coming together and cheering on their teams – I liken that team togetherness to the European Cup which we used to take part in, where suddenly every point counts and you rely on everybody to raise their game."
Jess Whittington for World Athletics