Femke Bol, Akani Simbine and Joanna Jozwik at the World Athletics Relays Silesia 21 press conference (© Krzysztof Wesolowski / LOC)
For the hundreds of world-class athletes who made the journey to Poland for the World Athletics Relays Silesia 21, this hasn't been a straightforward task, and the same goes for all those who have worked tirelessly to make the event possible.
On the eve of the competition on Friday (30), there was agreement among those at the press conference that the effort has been worthwhile.
"Our journey was a bit tricky, we travelled for close to 30 hours but we're grateful we're able to compete," said Akani Simbine, who will run the 4x100m for South Africa. "It's been a priority for us to get here and get here in the best shape."
Although South Africa has already secured Olympic qualification in the men's 4x100m, Simbine highlighted why it was so important to be present given his nation was just 0.3 away from a medal when finishing fifth at the 2019 World Athletics Championships in Doha.
"We're a country that believes in ourselves and the talent that we have," he added. "We've been trying to get the team together and make sure we're ready to compete once we get to Tokyo. That for us is going to be an important chance to do something great for our country."
World Athletics President Sebastian Coe acknowledged the difficulties facing so many athletes around the world but highlighted why it was so important this event made it to the start line.
"It would have been easier to cancel, we recognise that," he said. "We recognise the world we live in at the moment, but what we've tried to do is provide an event that gives athletes as good a chance as possible to qualify (for major championships) and to get competition under their belts. It's absolutely imperative we maintain competitive structures as long as we can."
For Dutch star Femke Bol, this will be her second appearance at the World Athletics Relays, having made her debut in Yokohama in 2019 at the age of 19. The European indoor 400m champion ran a blazing 49.99 – the third fastest indoor split in history – to help the Netherlands to gold in the women's 4x400m in Torun back in March and in her first competition since, she feels her long, raking stride will be even more effective on an outdoor track.
"I'm feeling fit and ready to run," she said. "Outdoors is different and I don't have difficulty with small bends so I'm ready to show what I got."
Bol is listed on the Dutch squads for both the women's 4x400m and the mixed 4x400m, with a decision due on her exact competitive schedule after a team meeting on Friday, and she's looking forward to returning to action alongside some training partners from the Olympic Training Centre in Papendal.
"I think relays have become more important in the Netherlands and everyone wants to be a part of the team," she said. "You run individual but, together, you achieve more. We got one week off (after the indoor season) and then trained hard again. We did really hard sessions and our entire team is ready to compete."
Another returning to action for the first time since the European Indoor Championships is Poland's Joanna Jozwik, who won 800m silver behind Britain's Keely Hodgkinson in Torun in early March. Silesia holds a special place in Jozwik's heart, given it is where she spent much of her time rehabbing from injury in the years after finishing fifth in the 2016 Olympic 800m final in Rio.
"It's here in Silesia I found a doctor who helped me recover and it's here I spent a lot of time regaining fitness," she said. "I hope it'll never again happen to me. The path has been long and hard at times, it took a lot of mental work and physical work. I'm overwhelmed with joy that Silesia can organise such a great event and I'm very proud, very humbled and confident we will do very well."
At the Silesian Stadium in Chorzow this weekend, she will contest the 2x2x400m alongside Patryk Dobek, the European indoor men's 800m champion. She believes Dobek can break 50 seconds for both of his legs but she remained tight-lipped when asked about her own intended target.
"Honestly, I'm very excited," she said. "This resembles tempo training but with an extreme short break. It'll be a challenge but wonderful to watch."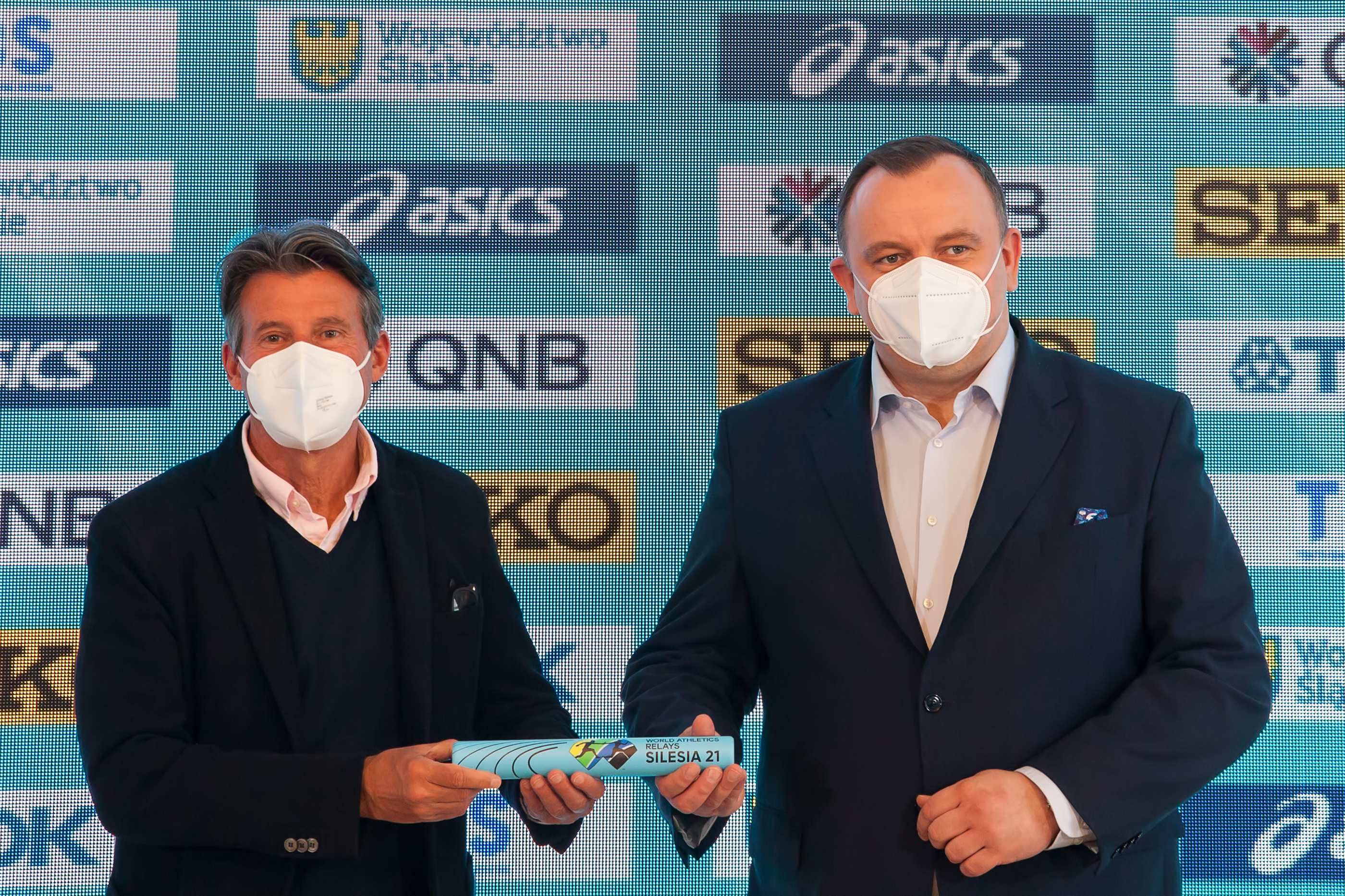 World Athletics President Sebastian Coe and Marshal of the Silesian Voivodeship Jakub Chelstowski (© Krzysztof Wesolowski / LOC)

Jakub Chelstowski, Marshal of the Silesian Voivodeship, beamed with pride as he welcomed the trio of world-class athletes to the event.
"This is our dreams coming true, not only my dreams but the dreams of our residents," he said. "We were saying from the very beginning, 'we can do this, we cannot give up,' and this demonstrates we are right. Unfortunately we cannot invite the fans, but we're still happy you are with us."
Coe expressed his gratitude to all those who overcame the logistical headaches to ensure the event could go ahead.
"The people of Poland, the local authorities, the organising committees, the federation, have done so with a resilience and a fortitude and an innovative approach that we can all learn from," he said. "These championships come at a critical moment in the athletics season and we've done everything we possibly can to maintain as much competition as possible, as safely as possible."
Cathal Dennehy for World Athletics