Seb Coe, Letsile Tebogo, Mine de Klerk, Natalia Linares, Mattia Furlani, Mike Powell, Robert Emmiyan and Erwan Konate (© Marta Gorczynska)
Now that the latest generation of senior champions has been crowned, the attention turns to the stars of the future as the World Athletics U20 Championships Cali 22 prepare to get under way on Monday (1) – an event bringing together 1500 of the world's most gifted teenagers from over 140 nations.
"This will be a championships where fresh talent will be unearthed," said World Athletics President Sebastian Coe at the pre-event press conference in Cali on Saturday (30). "This is a huge moment for all of us. These championships have always been a cradle for talent. If you go back to 2002, it was the opportunity for Usain Bolt to thrash into the global landscape and we were here in 2015 for the World U18 Championships when we had two young athletes who debuted on the international stage – Sydney McLaughlin and Mondo Duplantis – and I don't really need to lay out their credentials given what they both achieved in Oregon."
One star of the future – and indeed present – the athletics world will be watching closely over the coming days is Botswana's Letsile Tebogo, the defending world U20 100m champion who broke the world U20 record at the World Championships in Oregon, clocking 9.94 (1.1m/s) in his heat.
"If breaking the world record again comes in (my) mind during the days, I'll have to do it," said the 19-year-old, who reached the 100m semifinals in Oregon. "The race was really amazing. Competing against the big names was a bit tough but I held my head up. Being in the semifinal was a big achievement."
Tebogo got to know several of the world's best while in Oregon, such as world champion Fred Kerley. "What Kerley told me was: 'Don't worry, you still have a long way to go. Keep pushing until you reach your limits.'"
Tebogo will compete in the 100m, 200m and 4x100m in Cali, and he said that "the boys are ready" for the latter event where they're shooting for gold. He is likely to return to Eugene to enrol at the University of Oregon in the future, and he said he's keen to spearhead the rise of African sprinting in the years ahead. "I really like to change how Africa is seen – from (success at) the long distances to the short sprints," he said.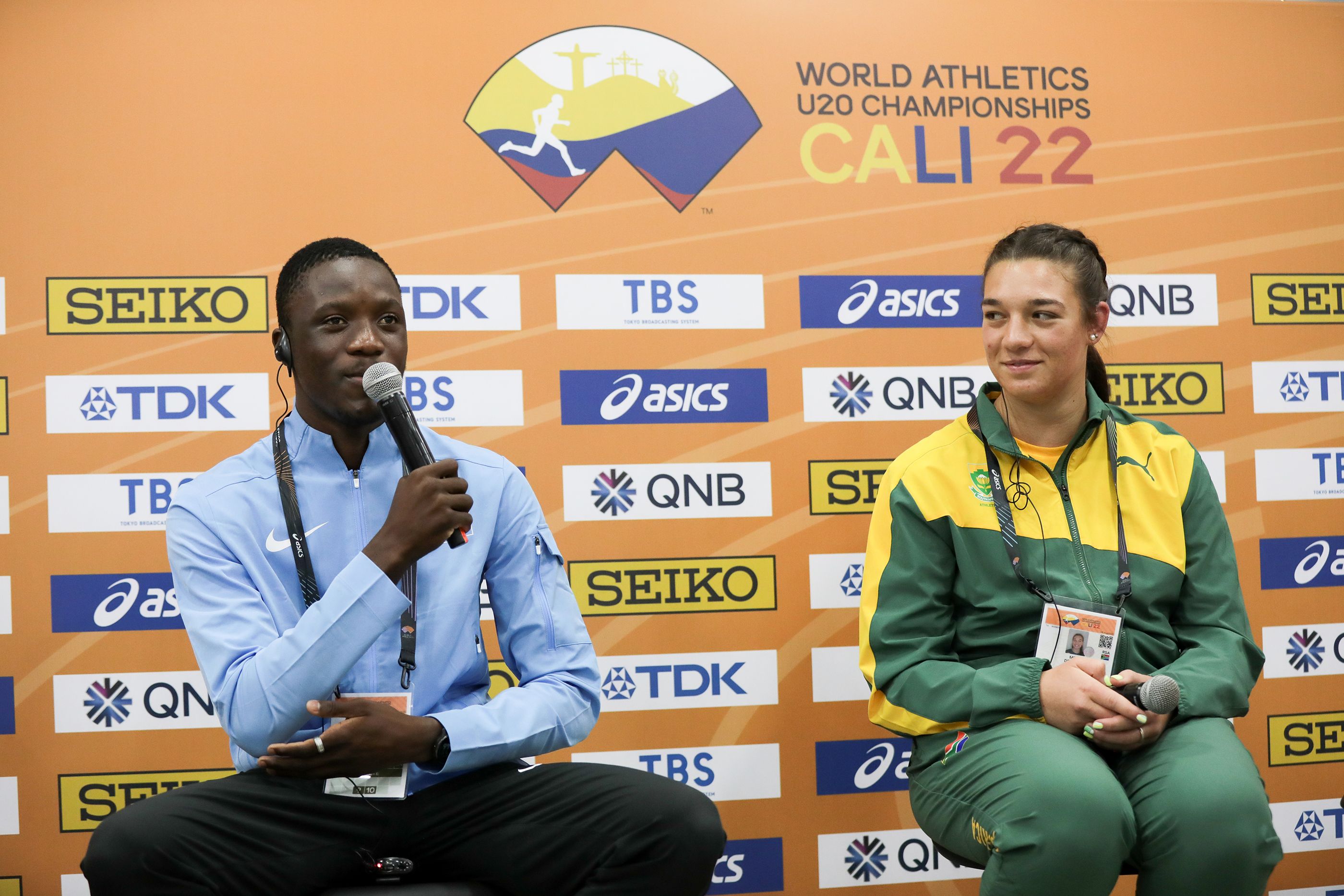 Letsile Tebogo and Mine de Klerk speak with the media ahead of the World Athletics U20 Championships Cali 22 (© Marta Gorczynska)
Another African hoping to provide a fresh source of athletics success is Mine De Klerk. The South African 19-year-old is the reigning world U20 shot put champion and discus silver medallist, and she'll be hoping for a repeat showing when she attempts the same double here in Cali.
"I've been working hard to do the shot put and discus again," she said. "The discus is going to be a lot harder, but I'll try my best. I personally like shot put better, I've been doing it a longer time, but the discus is also top of my list."
De Klerk moved to the University of Oregon in January and has since improved her discus best to 54.22m, while she also reached the NCAA shot put final in June. After feeling "a little homesick" at the end of term she returned home ahead of the World Championships, watching the action at Hayward Field – her daily training venue – on TV.
"It's been really fun," she said of her NCAA experience. "A lot of them have Olympic experience and they push me to my limits."
One group of athletes certain to push those limits in Cali are the long jumpers, with France's Erwan Konate and Italy's Mattia Furlani two of the standout athletes in the men's event. Konate is the defending world U20 champion, jumping 8.12 to win gold last year in Nairobi, while Furlani is the new kid on the jumping block, the 17-year-old leaping 8.04m to win the European U18 title in Jerusalem earlier this month and clearing 2.15m to win gold there in the high jump.
"I have a new competitor, it's hard for me now," said Konate. "My goal is to have fun, to do my best, and why not the gold medal?"
Konate said he "loves the vibes" of Cali, which he said is filled with "very nice people" and the 19-year-old is certainly a globetrotter – as much for his modelling career as for athletics. "It's very complicated for me because I have a lot of specialities," he said. "But I'm young, I have time and the energy."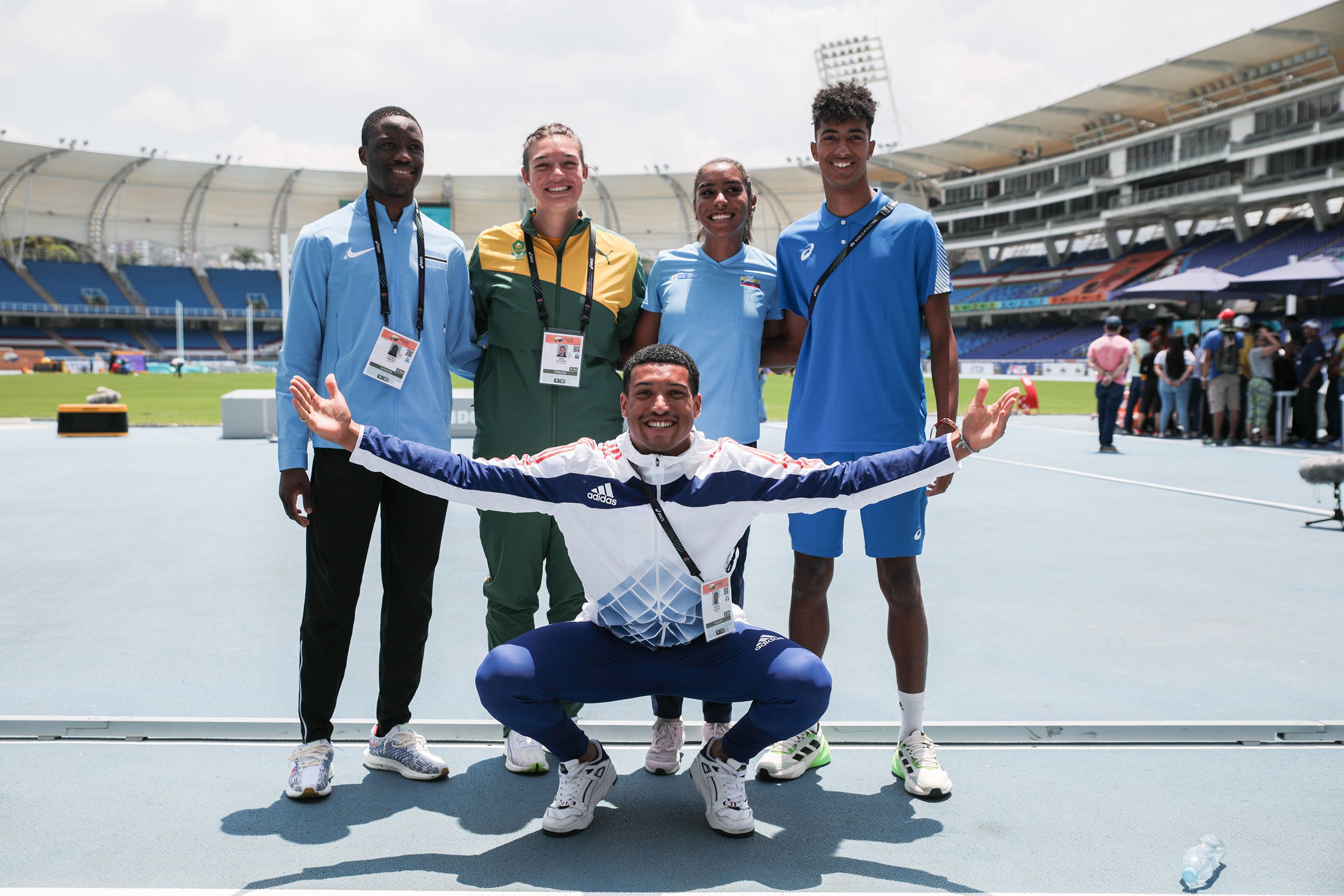 Letsile Tebogo, Mine de Klerk, Natalia Linares, Mattia Furlani and Erwan Konate get ready for competition in Cali (© Marta Gorczynska)
He's coached by European long jump record-holder Robert Emmiyan, who's good friends with Mike Powell – the world record-holder in the long jump who is in Cali as a World Athletics ambassador. Having kept a close eye on the next generation of jumping talent, Powell believes these rising stars could well surpass his achievements.
"They jumped further than I did at 19 – I jumped 8.05m," he said. "Hopefully they'll jump 8.20m, 8.30m (in Cali) and hopefully we're seeing the future world record-holder. I had the record long enough. They can have it back!"
Furlani will have a busy week if all goes to plan, with the long jump taking place on Monday and Tuesday and the high jump on Wednesday and Friday.
"I kind of feel out of place with all these great long jumpers," he said. "The long jump is not my favourite event. Erwan is still the king. I'm only 17, I still have two more years in juniors. Competing in both events will be a tour de force but I'm here for the gold medal and to improve my personal bests in both events. I will do my best."
There will be high hopes of Colombian gold in the women's long jump where Natalia Linares tops the entry lists with her Colombian U20 record of 6.68m earlier this month, an event at which she also jumped a wind-assisted 6.78m (2.2m/s).
"I've been waiting for this moment for three years," said Linares, who finished 12th in the world U20 final last year. "That was my first World Championships and it was so hard, with huge competition, but it was a great experience. Now we're at home and with the passion and energy here, more is possible."
Linares said her dream is to "jump seven metres, to break records," and ultimately make an impact on the global stage at the 2024 Olympics in Paris. "It takes a lot of work, a lot of time," she said.


Natalia Linares at the pre-event press conference for the World Athletics U20 Championships Cali 22 (© Marta Gorczynska)
That was something alluded to by Coe as he spoke about the value of these championships for aspiring senior champions.
"The real challenge is navigating a young athlete from the junior ranks to the senior ranks," he said. "Many don't make it and that is why these championships are so important, for not only identifying young talent but also to give them encouragement and nourishment to make them part of the journey into senior teams."
Coe also said the event offers a crucial health check for the wellbeing of the sport – both now and in the future.
"I genuinely think the most reflective audit of your sport is not in the senior ranks but what's going on below that," he said. "This is a huge opportunity for all of us who are always monitoring the progress of the sport to understand what we'll be witnessing in three or four years' time, and there'll be athletes here fighting it out for Olympic medals as soon as Paris in 2024."
Ramiro Varela, President of the Local Organising Committee, welcomed the athletics world to Cali ahead of an action-packed week from Monday (1) to Saturday (6) at the Pascual Guerrero Olympic Stadium.
"Today we are in front of the world," he said. "In six days in the stadium, the public will get to see so much emotion, so much work, from these athletes. I feel so happy to have you with us here in Cali."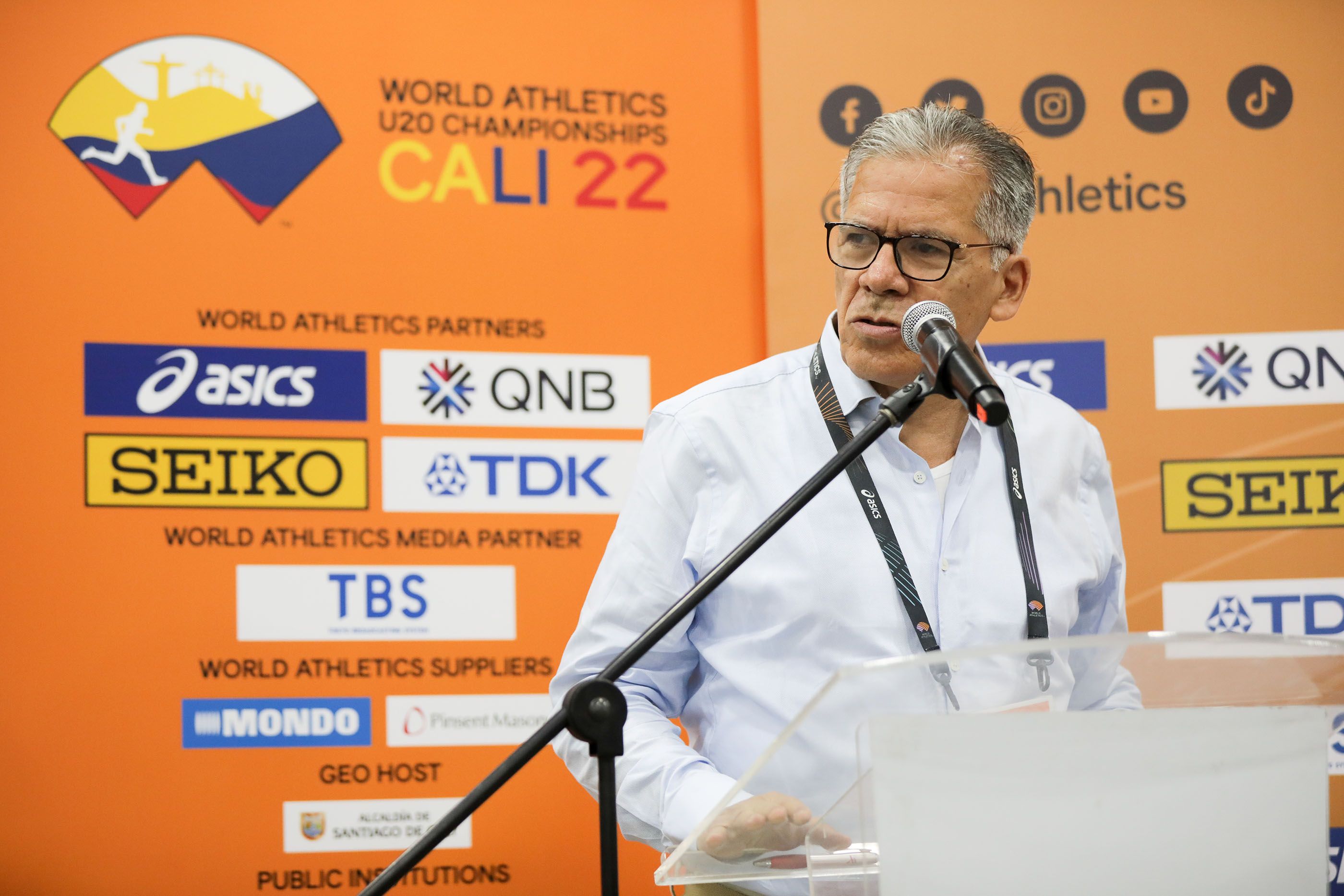 Ramiro Varela, President of the Local Organising Committee of the World Athletics U20 Championships Cali 22 (© Marta Gorczynska)
Cathal Dennehy for World Athletics