Chris Turner and Antonio Castiglia at the unveiling of the Heritage Plaque in Castelbuono's Piazza Margherita
The World Athletics Heritage Plaque honouring the Giro Podistico Internazionale di Castelbuono, a World Athletics Label Road Race, has been unveiled in the centre of the medieval Sicilian town of Castelbuono.
The race was among six historic competitions awarded the plaque on 10 October 2020.
The World Athletics Heritage Plaque is a location-based recognition, awarded for "an outstanding contribution to the worldwide history and development of the sport of track and field athletics and of out-of-stadia athletics disciplines such as cross country, mountain, road, trail and ultra-running, and race walking".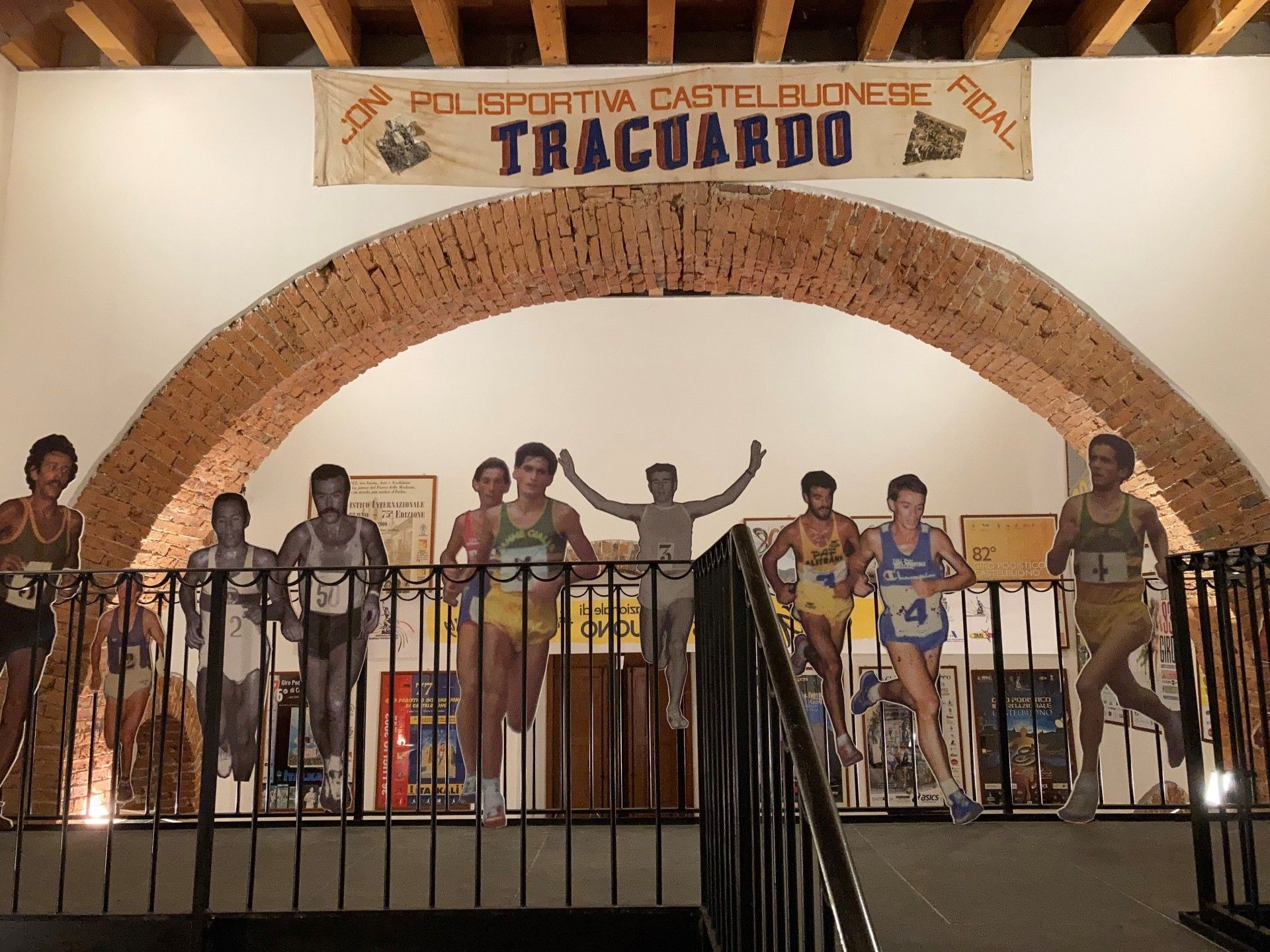 Giro Podistico di Castelbuono Museum


Attracting the world's best runners
The Giro Podistico di Castelbuono, founded in 1912, is one of Europe's oldest footraces. It takes place each year in the hilly streets of Castelbuono on 26 July, St. Anne's Day, who is the patron saint of the town.
The start and finish of the race is in Piazza Margherita in the town's centre, where there is an ancient Church called 'Madrice Vecchia'.
The course runs through the historic heart of Castelbuono, along a circuit repeated 10 times for a total of 11,340km.
Over the decades the race has attracted many of the world's best long distance runners including Paul Tergat, Gelindo Bordin, Martin Lel, Orlando Pizzolato, Eluid Kipchoge, Stefano Baldini and many, many more.


Modica's donation and Fava honoured
On Wednesday 7 July 2021, two-time Olympian Franco Fava, 1975 University Games 5000m & 10,000m champion who won the Giro Podistico di Castelbuono in 1977, and Vincenzo Modica, the 1999 World Championships marathon silver medallist who raced 15 times in Castelbuono, were the athlete guests of honour present for the unveiling ceremony of the World Athletics Heritage Plaque.
The plaque, which is permanently displayed in Piazza Margherita, was unveiled by the Mayor of Castelbuono Mario Cicero, Race Director Antonio Castiglia, Regional President of the FIDAL Salvatore (Toto) Gebbia, World Athletics Heritage Director Chris Turner and World Athletics Road Running Manager Alessio Punzi.
VIDEO (English language) of the race's history and plaque unveiling.
The ceremony was followed by a press conference at which Fava was honoured by the mayor with the 'Honorary Citizenship of Castelbuono' in recognition of his years of support for the race both as an athlete and subsequently as a sportswriter.
Afterwards, Vincenzo Modica presented one of this running singlets to the Giro Podistico di Castelbuono Museum which displays trophies, posters and other memorabilia from the race.
A dinner followed, given by the organising committee, Gruppo Atletico Polisportivo Castelbuonese.
Chris Turner for World Athletics Heritage