Markus Ryffel (795) in action at the 1984 Olympic Games (© IMAGO)
Markus Ryffel has generously donated to the World Athletics Heritage Collection one of the running spikes he wore when earning the 5000m silver medal at the 1984 Olympic Games.
The Swiss distance runner donated his left shoe to the collection in June and it is now on permanent view in glorious 360˚ 3D in the Olympic Athletics Collection room of the Museum of World Athletics (MOWA), the world's first virtual sports museum.
This evening at the Weltklasse Zürich Heritage Night, Ryffel was able to officially hand over the spike in person to his friend and racing contemporary, World Athletics President Sebastian Coe, who won his second 1500m title in Los Angeles in 1984.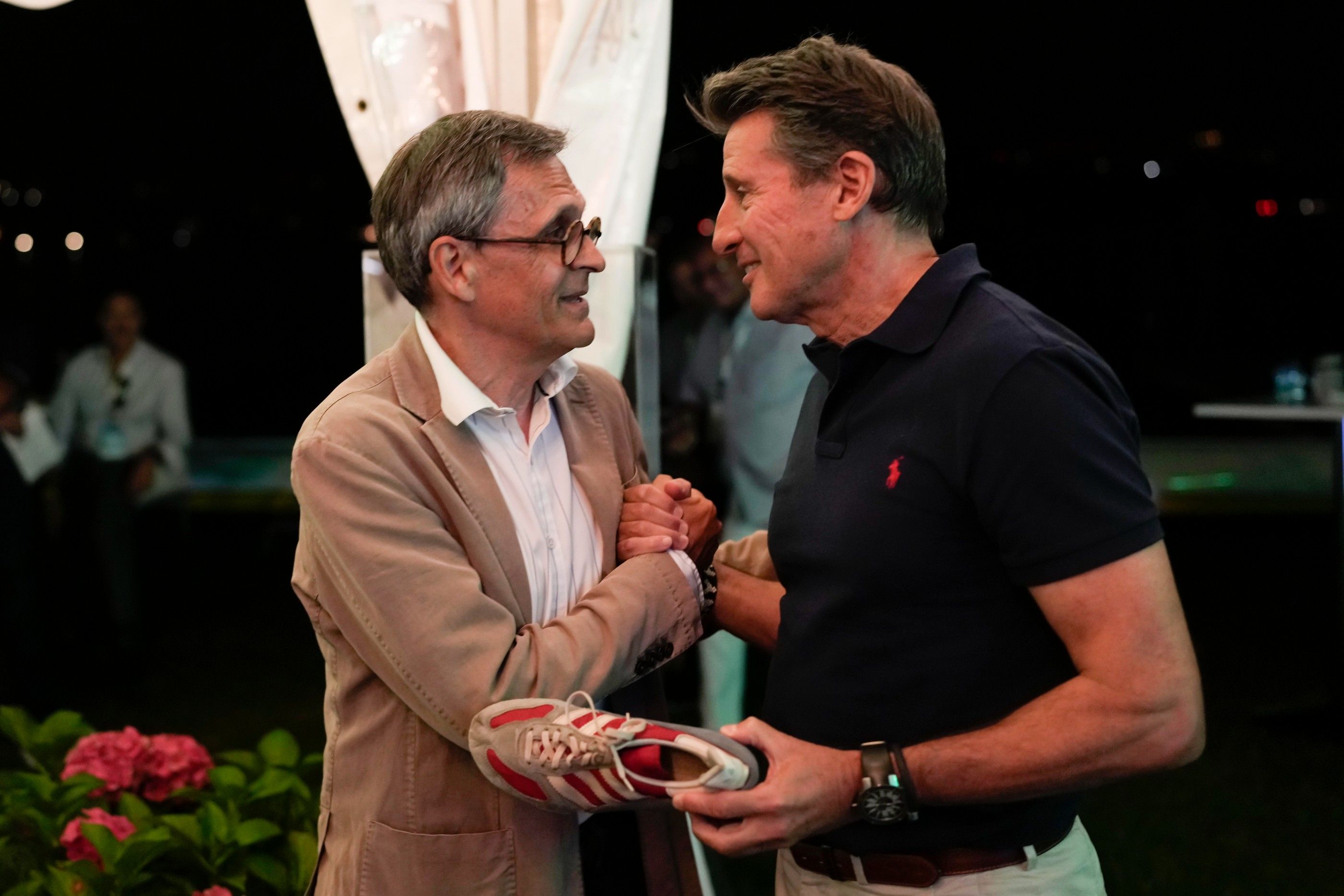 (© Valeriano Di Domenico)

Still the Swiss 5000m record
The final day of the 1984 Olympic athletics programme was hot and damp. The Swiss spectators among the 90,000 crowd in the Memorial Coliseum started to sweat even more as Ryffel geared up for his final sprint, 300 metres from the finish line of the 5000m final.
Portugal's Antonio Leitao, pre-race favourite Said Aouita of Morocco, and Ryffel were neck and neck in lanes one, two and three. For a moment, even a Swiss Olympic victory seemed possible.
Aouita, however, showed himself unimpressed by Ryffel's efforts and ran the last 400m in an unheard-of 54.7 seconds. He became the victor of a memorable race: then the third-best time in history for the Moroccan (13:05.59), with fifth place on the world all-time list for Ryffel.
Ryffel's 13:07.54 still stands as the Swiss record 37 years later. Aouita's Olympic record was only improved in Beijing in 2008 by Kenenisa Bekele.


Calf injury
While Aouita became the first man to run 5000m within 13 minutes in Rome, 11 months after his triumph in Los Angeles, for Ryffel the silver medal from Los Angeles remained the highlight of an illustrious career.
At the European Championships two years later, he was in a promising position but had to withdraw with an injury, which ended up requiring surgery. His calf muscles – including varicose veins inherited from his father – also thwarted his efforts at his last great aim, the marathon. He made several attempts at completing races, but time and again he had to give up some time after 30 kilometres with calf pain. He never made it to a fourth Olympics and retired from elite sport in late 1991.


New York comes to Uster
Ryffel was by no means bitter; quite the contrary. He had planned ahead during his active years. As a young man he had been a fan of Frank Shorter, the 1972 Olympic marathon champion. So it was not surprising that, aged 22, he accompanied his older brother Urs, himself a fairly successful cyclist, to the 1977 New York Marathon. He finished 16th, just ahead of four-time Olympic champion Lasse Viren.
Both of them were impressed by the "amazing atmosphere" of this mass event.
"We wanted to start something similar in our home-town Uster," said Ryffel. And so, they established the race around the idyllic Greifensee near Zürich which has been running since 1980, initially 19km long, and over the half marathon distance since 1992. In 1998, Uster even hosted the World Half Marathon Championships, where Paul Koech and Tegla Loroupe from Kenya were the winners.


Running weeks
By the end of the 1970s, Ryffel began organising running weeks in St Moritz and trips to the New York Marathon, alongside his friends and training partners Dietmar Millonig of Austria and Thomas Wessinghage of West Germany.
The trio of runners still work together. Although the goal of the original 'running weeks' was to help participants achieve a 3:30 marathon time, the events have now morphed into more general running and fitness holidays in St Moritz and other alpine destinations.
Around the same time, Ryffel opened his first Ryffel Running Shop in Bern together with his brother Urs and business partner Markus Bill. A second shop in Uster followed shortly after, and the business later employed up to 28 people.
"It started in a cow shed next to my parents' restaurant," remembers Ryffel. He has since sold the shops to a larger company, and now organises running events, active holidays, trips to marathon races and private coaching.


'The bike really shaped me'
Ryffel learned early that it was important to be decisive and work hard towards one's aims. "My parents had a restaurant and a butcher shop, and we had a delivery service. Without it, I would never have become such a good runner. The kilometres on the bike really shaped me because the heart does not distinguish between cycling and running.
"Even in primary school, I did 20 or 30 km on my bike," he added. "I had my 17 customers to whom I delivered cordon bleu and other meats."
Ryffel's parents, however, were not supportive of their son's sporting ambitions at first. So it was lucky that Ryffel moved to Bern for an apprenticeship in typesetting, where he could be near his supporter and coach Heinz Schild. There he started running in the uniform of the City of Bern gymnastics club.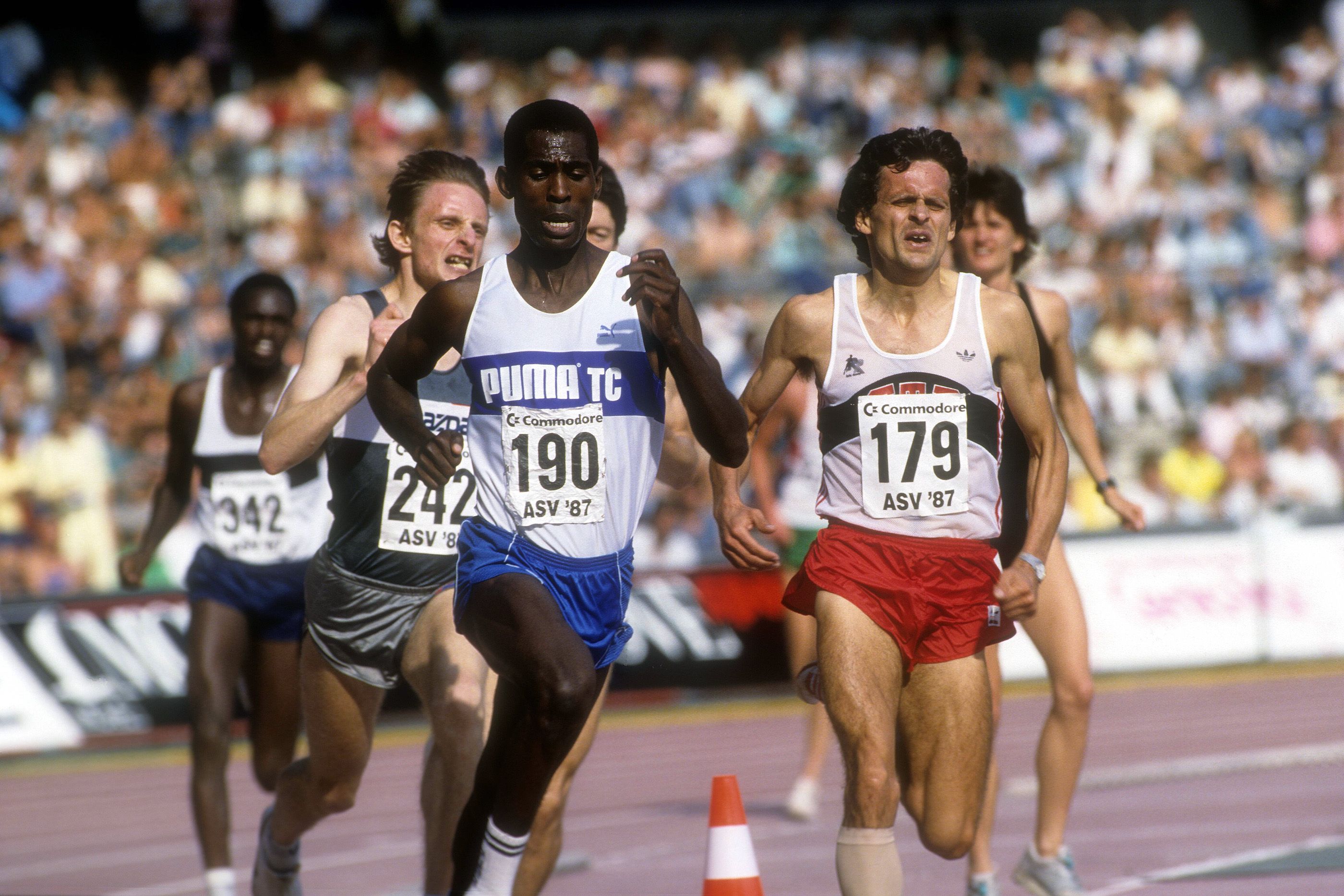 Sydney Maree (190) and Markus Ryffel (179) in action at the ASV Sports Festival in Cologne (© IMAGO)
European outdoor silver and two indoor golds
He progressed quickly for someone who, back at school, had been beaten by girls in sprinting events: at 19 he had his first start at Weltklasse Zürich, at 20 he was Swiss champion for the first time, at 21 he qualified for his first Olympics in Montreal, where he finished 11th in his 5000m heat.
Then the first medals: silver in the 5000m at the 1978 European Championships in Prague, gold in the 3000m at the 1978 and 1979 European Indoor Championships. He also represented Europe at the 1979 World Cup in Montreal.
However, after finishing fifth at the 1980 Olympic Games in Moscow, injuries and over training stopped him from continuing this early path of success. Until Los Angeles 1984, that is.


'Who are you again?'
Ryffel worked hard for his successes. He kept trying to improve his final sprint. However, like Aouita in 1984, there were others who sprinted faster on several occasions: Venanzio Ortis at the 1978 European Championships, Eamonn Coghlan over 3000m at Athletissima Lausanne in 1979, and Dick Quax, Marty Liquori and Henry Rono at Weltklasse Zürich.
There in Lausanne, Ryffel ran his oldest Swiss record that still stands today after 42 years: 7:41.05. In Zürich, his 1978 race against Rono, who was setting one world record after the other that season, has become the stuff of legend. Ryffel ran the victory lap with him when Rono asked: "Who are you again?" That year, Ryffel ended Rono's winning streak of 28 races.


Five times around the earth
Ryffel is now 66. He still runs and has calculated from his paper training log that he jogged his 200,000th kilometre in 2020. That's five times around the earth.
"I can still run regularly – and, most importantly, without pain," he said. "And if all goes well, I will be running my 98th marathon in Chicago this year." Because of Covid, the usual group trip to New York cannot happen, and Ryffel wants to participate in this marathon with a group aiming at a 4:30 finish time.
Times have changed. "Just being there is everything now," he says.
Dieter Ringhofer for World Athletics