Ryan Whiting headed to the World Indoor Championships in the Polish coastal resort of Sopot in 2014 as clear favourite to retain the crown he had claimed in Istanbul two years previously.
At the US Indoor Championships in Albuquerque, the Pennsylvanian had uncorked a stunning 22.23m, the fifth best men's indoor shot mark in history at that time.
Having finished the 2013 outdoor season at the top of the world list but with 'only' silver from the World Championships in Moscow, where Germany's David Storl took the gold, Whiting was determined to secure a second global indoor title to reaffirm his standing as the world's pre-eminent male shot putter.
The final proved to be a gripping affair, Storl snatching an opening round lead with 21.35m, Whiting hitting back with 21.47m and his German rival – twice a world champion outdoors – responding with 21.79m in the second round.
It took a mighty fourth-round effort of 22.05m to settle the outcome in favour of a mightily relieved Whiting.
"I came in the favourite and I'm glad I just did execute this time, because I was the favourite last summer and didn't," he said.
World Athletics Heritage is proud that one of the recent giants of the shot has generously donated the tee-shirt, number and implement he used in the process of taking a grip on pole position in Poland, as well as a competition number from Istanbul two years before.
Whiting's artefacts are now on display in the 3D virtual Museum of World Athletics (MOWA) and will be exhibited in March during the World Athletics Indoor Championships Belgrade 22.


Whiting – Walsh: 'Common ground wherever we go'
Taking bronze behind Whiting in Sopot was New Zealand's Tomas Walsh.
Looking back now, three years into his retirement, 35-year-old Whiting will doubtless reflect with satisfaction on one of the high points of his international career – and with great affection on the emergence of the young Kiwi who has since become one of the big shots of the event, and with whom he has forged a close personal and business relationship.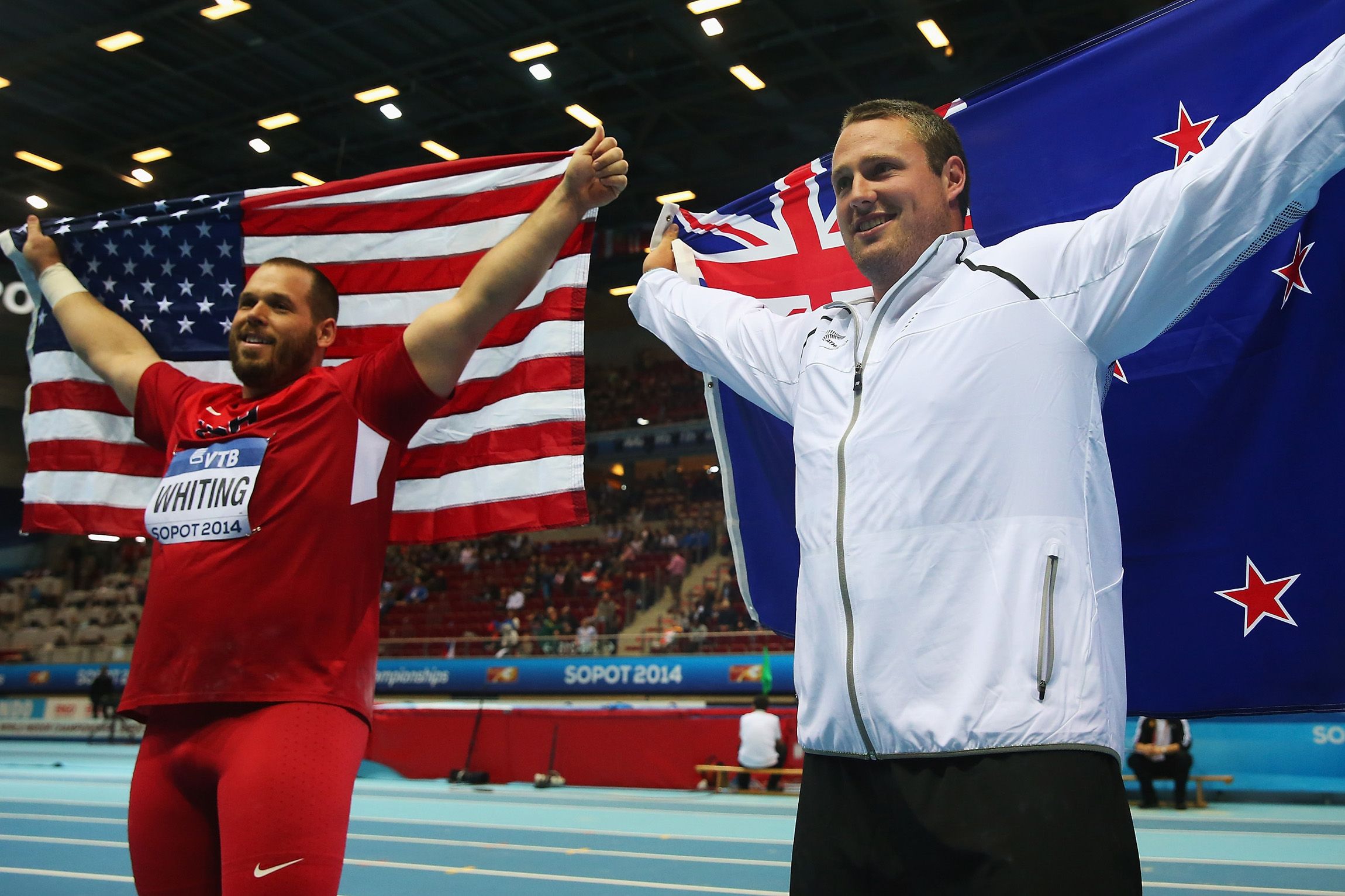 Whiting and Walsh had already become acquainted before they clashed in Sopot.
Their first encounter was at the Athletissima Diamond League meeting in Lausanne in July 2013. Whiting prevailed with 21.88m. Walsh, making his Diamond League debut, was eighth with 19.61m.
At the 2014 World Indoor Championships the following March, Whiting was at the top of his game at 27. Walsh was making his senior international championship debut six days past his 22nd birthday.
In the final round, in his first ever competition indoors, Walsh snatched the bronze medal from the big home hope, two-time Olympic champion Tomasz Majewski, in dramatic style.
Walsh improved the New Zealand indoor record for a fourth time in the course of the qualifying competition and the final, his 21.26m heave nudging Majewski down to fourth with 21.04m. In doing so, the pride of South Canterbury Athletic Club also broke the Oceania indoor record.
Whiting had already taken the young Kiwi under his wing as a mentoring pal, the pair having fast formed a kinship that stretched well beyond the shot put circle.
"Ryan was a guy that I looked up to," Walsh reflected in an interview with FloTrack in 2018. "Back in 2013, he was at the top of the game at that point in time, and I was a young guy cutting my teeth.
"Ryan and I both like eating food and we both like drinking beer, so we usually have common ground wherever we go. We get on well and appreciate what one another is trying to accomplish.
"We'll weigh in on things for each other. We respect each other and try to help each other out."


Designed in New Zealand, made in America
The pair regularly lodged and trained at each other's home base – in Port Matilda, Pennsylavnia, and in Timaru on New Zealand's South Island – until Whiting retired in 2018. Their partnership endures, though, as co-owners of the throwing implement manufacturer Walshot.
"Made by throwers, for throwers," the Walshot motto proudly proclaims. "Designed in New Zealand, made in America."
In terms of the competitive relationship between the pair, Whiting held the upper hand in their early tussles, coming out on top in eight of their first 11 head-to-heads outdoors and in.
After Whiting edged third place ahead of his good friend at the Prefontaine Classic in Eugene in May 2015, however, Walsh assumed lasting top dog status.
The part-time builder won all 25 of their subsequent meetings, right up to and including the Weltklasse Diamond League final in August 2018.
The annual track and field fest in Zurich marked Whiting's competitive farewell to the sport. He finished eighth with 20.56m in a cracking contest that produced the best-ever marks for placings from second through to fifth.
Walsh won the Diamond trophy that night with a Diamond League record of 22.60m, the third best of his still-thriving career.
He did so using a shot loaned to him by Whiting: the one with which his friend struck world indoor gold in Sopot, and which has now been kindly passed on to the Museum of World Athletics.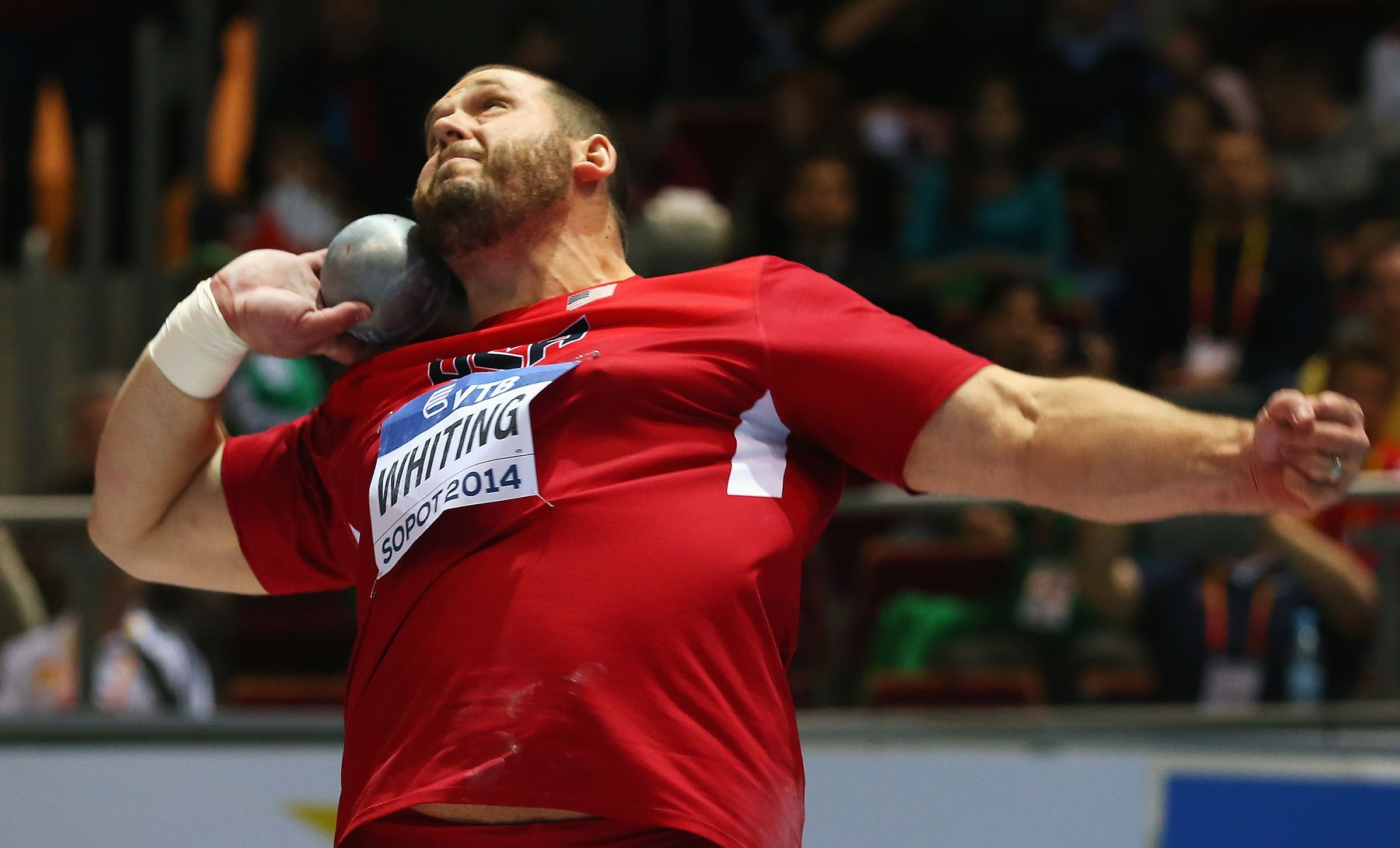 That 22.23m in Poland proved to be the second best throw of Whiting's career. He only bettered it once: with 22.28m outdoors at the 2013 Doha Diamond League meeting.
In all, the civil engineering graduate from Arizona State University notched six throws in the 22-metre bracket. The first was the 22.00m effort that nailed his first world indoor title. That was in Istanbul in 2012, where Storl took silver with 21.88m and Majewski bronze with 21.72m, in what was at the time the finest indoor shot competition in history.
Whiting's only Olympic appearance came later that same year. He finished a disappointing ninth in the final at London 2012 with 20.64m. Aside from his silver medal performance in Moscow in 2013, he made two other world outdoor finals, placing sixth in Daegu in 2011 and seventh in London in 2017.
Fittingly, his final global championship outdoors was won by his prodigy, Walsh striking gold in the British capital with 22.03m. Whiting's final World Indoor Championships appearance, in Birmingham in 2018, was also won by Walsh.
The New Zealander's 22.31m throw bettered Timmermann's 1987 championship record by seven centimetres. It also earned him back-to-back world indoor titles, just like Whiting before him, having succeeded his good friend as champion in Portland in 2016. Whiting finished seventh in Birmingham with 21.03m.


'At the end of the day, you're throwing a ball'
Walsh has pushed on into what has become a golden shot era, racking up 25 marks beyond 22 metres, three of them beyond 22.50m.The best (so far) came in the epic 2019 World Championships final in Doha, where Walsh's opening round 22.90m temporarily placed him fourth on the world outdoor list – before Joe Kovacs took gold with a 22.91m championship record and Ryan Crouser nailed his own 22.90m, relegating the Kiwi to the bronze medal position on countback.
Walsh would be the first to admit that his business partner has played a pivotal role in the stellar progress he has made since they first met in Lausanne back in 2013 – not least in lightening the heavy load of training for elite throws.
"Yesterday, Ryan had to wear a dress in training because he lost a bet to me," Walsh told FloTrack in 2015. "That was good. Also, he'll need to show up for the Tuscon Elite Throws meet with either a permed beard, a dyed black beard or with painted fingernails.
"We like to make it fun, as well as serious. At the end of the day, you're throwing a ball. If you try to take it too seriously – and I've been guilty of this – you lose the reason why you do it."
Simon Turnbull for World Athletics Heritage