Haile Gebrselassie wins the 10,000m at the Sydney 2000 Olympic Games (© Getty Images)
On Monday 25 September 2000, the Stadium Australia was packed with 112.524 spectators. Most were still basking in the afterglow of Cathy Freeman's gold medal in the 400m as the field lined up for the men's 10,000m final.
Few had left. There were nine gold medals decided that night, the Magic Monday of the Sydney Olympic Games. There was no divine ruling that each of the nine finals had to be a cracker: they just were.
The men's 10,000 final – there were still heats of the '10', in those days – was seen to be about two men: Haile Gebrselassie and Paul Tergat. And, a corollary to that, it was about what tactics Tergat, as perennial a second place-finisher to 'Geb' as was Alain Mimoun to Emil Zatopek, would adopt.
What would Tergat do? For the longest time, it seemed the answer would be: "nothing". Then, along the final back-straight coming up to 250 metres from home, Tergat played his trump card.
In five years of unbroken victories over Tergat and all others, Gebrselassie's finishing speed had been the decisive factor. Now, at his last chance to take an Olympic victory over his toughest rival, Tergat decided to play to Gebrselassie's greatest strength. What sort of madness was this, 100,000 people wondered at once.
The doubters were ultimately shown to be right. Of course, Tergat, an athlete who had looked to be a comparative plodder as Gebrselassie blew past him at three previous World Championships and in the Atlanta 1996 Olympic final, was mad to think he could now out-sprint him.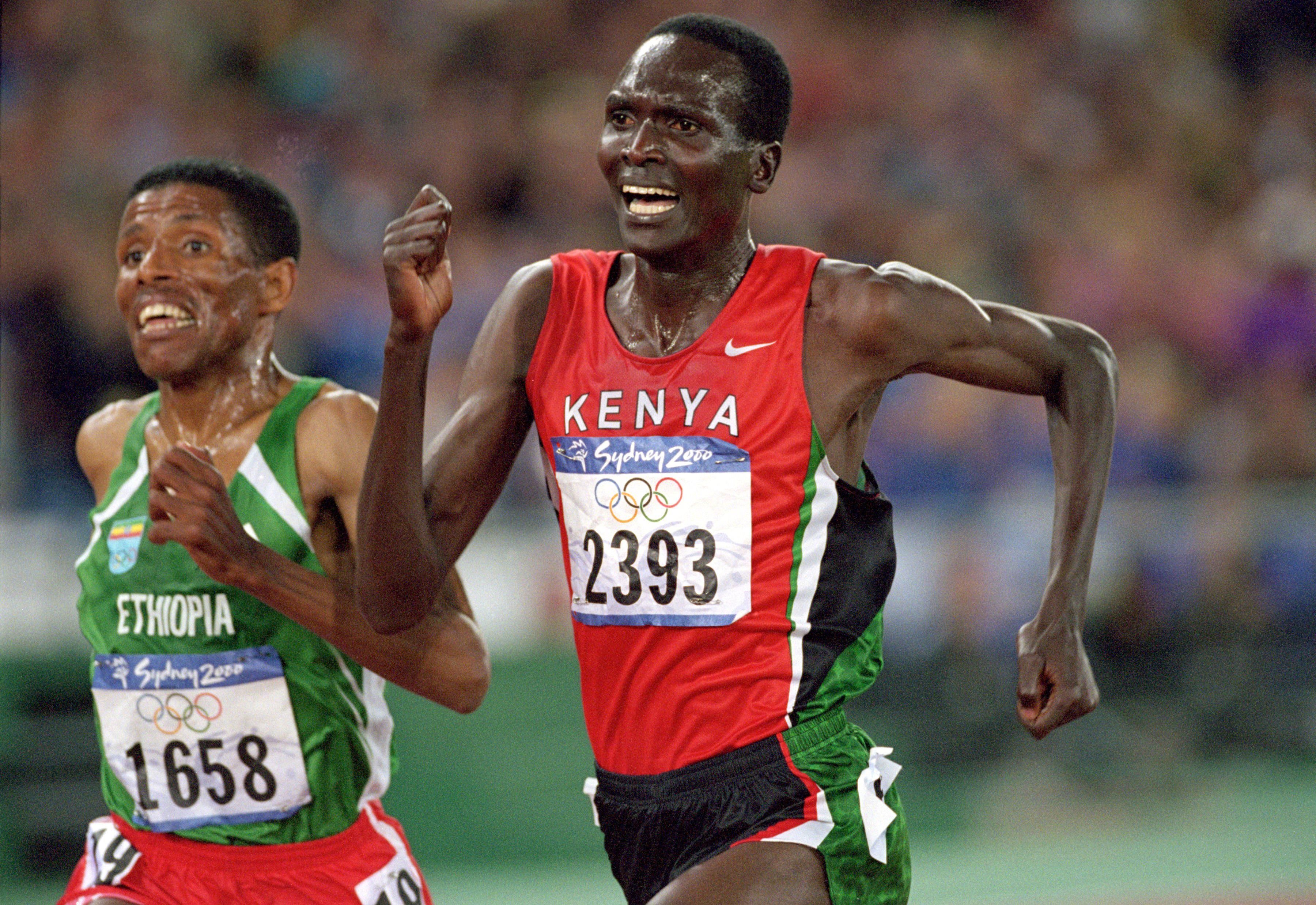 Paul Tergat tries to hold off Haile Gebrselassie in Sydney (© Getty Images)

Mad, maybe, but also cunning like a fox: not until the final 20 metres did Gebrselassie draw level with Tergat. Not until the final 10 did he edge ever-so-slightly ahead. Not until the final line had he won. The margin was 0.09 seconds – the closest of all their titanic battles.
It was a narrower margin than the men's 100m final at the same Games (0.12). Indeed, of the Sydney Games' 12 track events raced over one lap or less – where winning margins of centimetres are more commonly found – only three produced a closer finish.
Tergat had tried everything to beat Haile Gebrselassie. Everything else had failed. This was not madness, though it may have been an inspired act of desperation. How could it be mad? Tergat's tactics in Sydney took him closer to success than any others he had employed in four major championship finals.
Out of nothing, Tergat almost created something very big.


One of the best final sprints in history. Happy birthday Haile Gebrselassie! 🎂#StrongerTogetherpic.twitter.com/GguoS7yuqo

— Olympics (@Olympics) April 18, 2021

How did we get to here?
The rivalry between Tergat and Gebrselassie was a rare one. It spanned 14 years, from 1993, when Gebrselassie finished three places ahead of Tergat at the World Cross Country Championships in Amorebieta, until the 2007 London Marathon when they lined up alongside each other for the last time with Tergat eventually placing sixth and Gebrselassie recording a 'DNF'.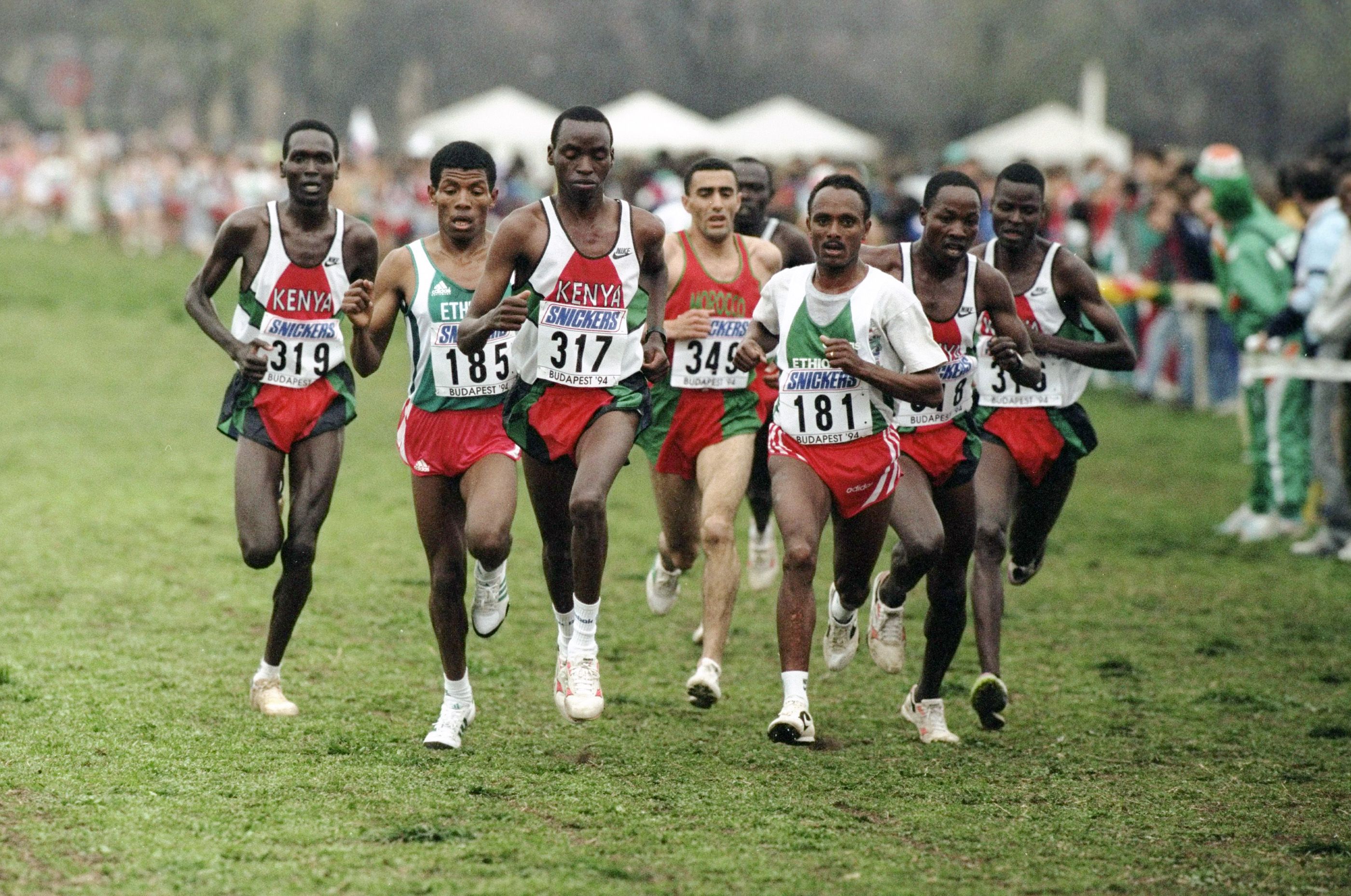 Paul Tergat (319) and Haile Gebrselassie (185) in action at the 1994 World Cross Country Championships in Budapest (© Getty Images)
Even in this professional era, it's rare to find other examples of two athletes who have dominated an event – in this case, the 10,000m – for so long. Others intruded at times – 1992 Olympic champion Khalid Skah finished between the pair at the 1995 World Championships – but it was almost invariably Tergat and Gebrselassie fighting it out at the end of the 'ten'.
Fittingly, given the pre-eminence of the Olympic Games in public perception, Atlanta and Sydney were the highpoints. Atlanta was a battle fought in sweltering heat and humidity over the final 5000m; the greatness of the Sydney race, by contrast, crept up on spectators until its surprising and amazing final crescendo.
For the most part, the rivalry was played out on the track. After a second loss to Tergat in 1996, Gebrselassie gave up on the World Cross. Their battles were fought solely on the oval track and almost exclusively over 10,000m. The pair swapped world records, but it was always Gebrselassie on the top step of the podium.


Gebrselassie vs Tergat
The distance legends met 19 times during their career. Tergat had the better record on the cross country, winning two world titles, and on the roads, winning two of their three encounters. But Gebrselassie's dominance on the track gave him the edge in their overall head-to-head record.
Another connection between the pair is that they have both donated artefacts to the World Athletics Heritage Collection. Gebrselassie has donated his singlet and bib numbers from the 1999 World Championships, which can also be seen in the Museum of World Athletics, while Tergat donated his kit from the 1997 World Cross Country Championships.
| | |
| --- | --- |
| Haile Gebrselassie | Paul Tergat |

7th

1993 World Cross

10th

3rd

1994 World Cross

4th

1st

1994 Brussels 10,000m

4th

4th

1995 World Cross

1st

1st

1995 World Champs, 10,000m

3rd

1st

1995 Zurich 5000m

8th

5th

1996 World Cross

1st

1st

1996 Olympics, 10,000m

2nd

2nd

1996 Zurich 5000m

3rd

1st

1997 World Champs, 10,000m

2nd

1st

1997 Zurich 5000m

3rd

1st

1998 Monaco 3000m

9th

1st

1998 Zurich 5000m

4th

1st

1999 World Champs, 10,000m

2nd

1st

2000 Zurich 5000m

2nd

1st

2000 Olympics, 10,000m

2nd

1st

2002 Lisbon Half Marathon

3rd

3rd

2002 London Marathon

2nd

DNF

2007 London Marathon

6th

Sydney v Atlanta
Statistically, at least, Atlanta was superior to Sydney. Conditions – the height of summer versus the moderate southern hemisphere spring – were tougher. The racing was savage: after a 13:55 first half, the kickdown generated by the three Kenyans – Paul Koech, Josephat Machuka, then, with six laps to go, Tergat – led to a 13:11.4 second half.
On almost every measure of the second half – last 800m, 1600m, 3000m and 5000m – Atlanta was quicker. The last lap is the exception, reflecting Tergat's frantic, unavailing sprint and Gebrselassie's desperate, successful chase. The final time was an Olympic record 27:07.34 (since broken by Kenenisa Bekele) compared to Sydney's 27:18.20. Gebrselassie was tired after his epic sprint to win in Sydney: he was very tired after the Atlanta final which left him clinging to the finish post for support.
"I have never been so tired after an important race," Gebrselassie said then.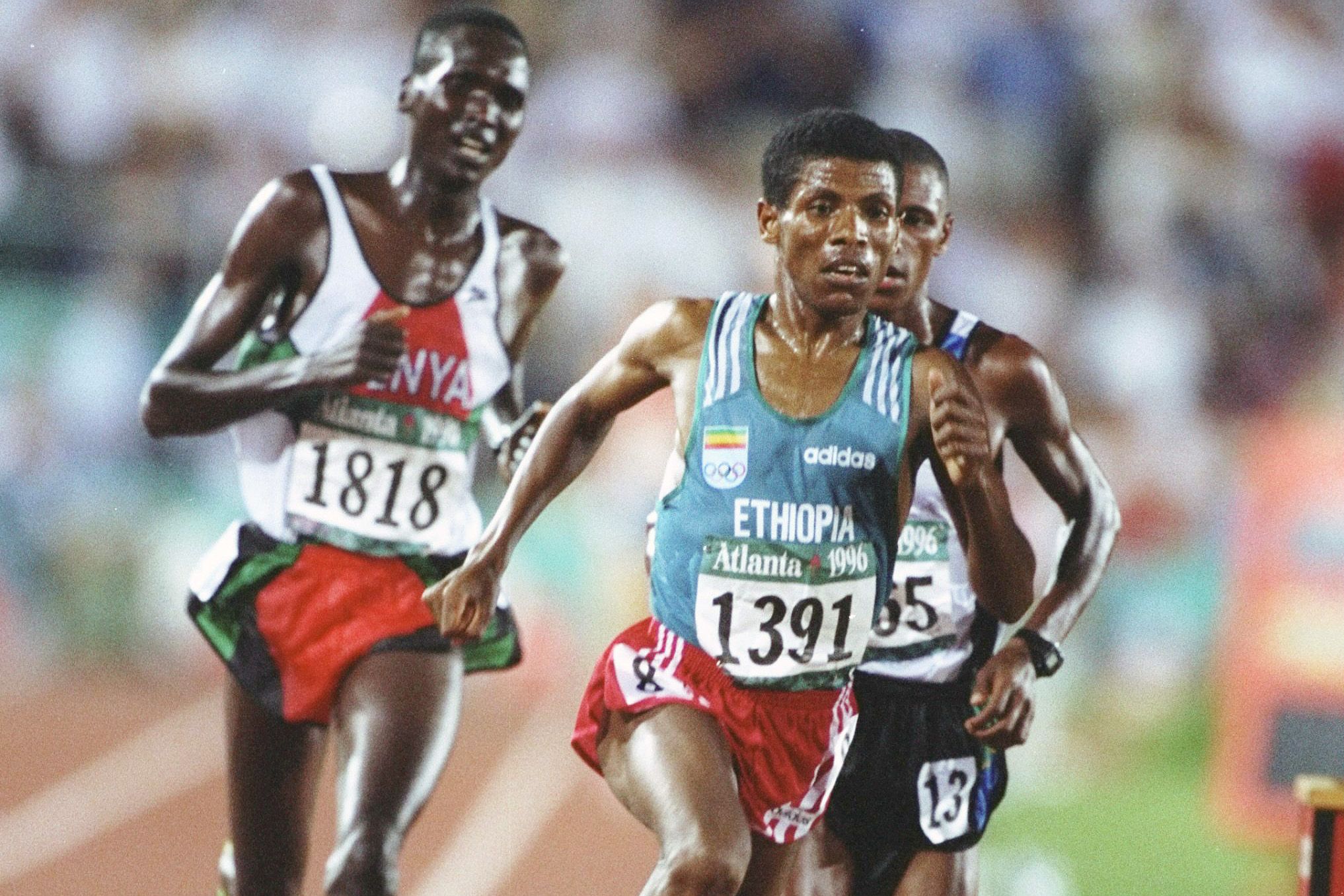 Haile Gebrselassie and Paul Tergat in the 1996 Olympic 10,000m final (© Getty Images)
But timing, and other intangibles, give Sydney the edge in any comparison. The rivalry was coming to an end. Tergat had already made public his intention to move up to the marathon.
Both protagonists seemed to be showing the first signs of running mortality. Tergat had to convince the Kenyan selectors he should run the 10,000m rather than the 5000m. It took a 27:03.87 which, poignantly, remained the year's fastest, to win the argument. "I wanted to prove I'm worthy of representing my country in this event," he said post-race.
Gebrselassie, who struggled to overcome an achilles injury to get to the line, had to dig deep, perhaps deeper than he had ever gone and ever would again, to get past his rival.
Few in Stadium Australia that night would have thought Tergat could win. Of those few, hardly any would have suggested he try to out-sprint him. The up-ending of our usual perceptions by Tergat's going against type provided a tantalising element of surprise similar, to draw an example from another sport, to when Muhammad Ali, on his way to a famous upset victory, absorbed a pummelling against the ropes in conning George Foreman to punch himself out in the famous 'Rumble in the Jungle' heavyweight title fight.
Across the finish line, surprise and relief were etched on Gebrselassie's face; despair, perhaps tempered by the satisfaction that he had now tried everything, on Tergat's. The pair shared a brief embrace, the respect almost palpable. They would never meet on a track again, but the two greatest of their generation brought down the curtain on their era with a tour de force.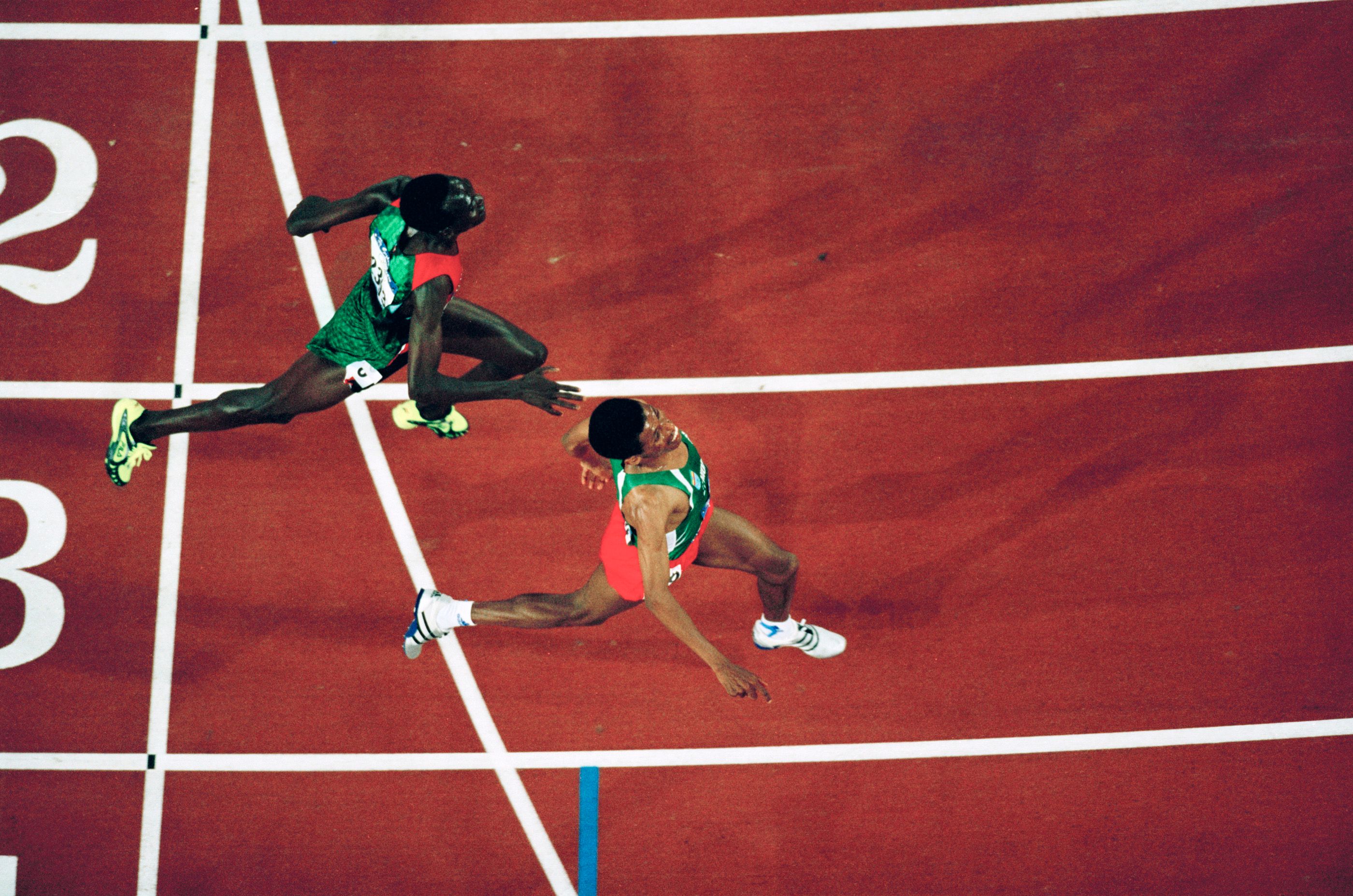 Haile Gebrselassie wins the 2000 Olympic 10,000m title (© Getty Images)
Did the Mezgebu shuffle kill Tergat's chances?
As Tergat lurked in the pack of five runners still in contention at the bell, he was boxed in when Assefa Mezgebu moved alongside. To get out to launch his final sprint, Tergat had to execute a side-step shuffle between the Ethiopian and Kenyan teammate Patrick Ivuti.
Tergat still got to the curve before the 200 and, heaven knows, Gebrselassie might somehow have found more had it been required. Could the manoeuvre have cost Paul Tergat nine-hundredths of a second? We will never know.
Post-script
True to his word, Paul Tergat moved up to the marathon after Sydney. He ran the marathon at the Athens 2004 Olympics, fading to tenth after looking a winning chance late in the race.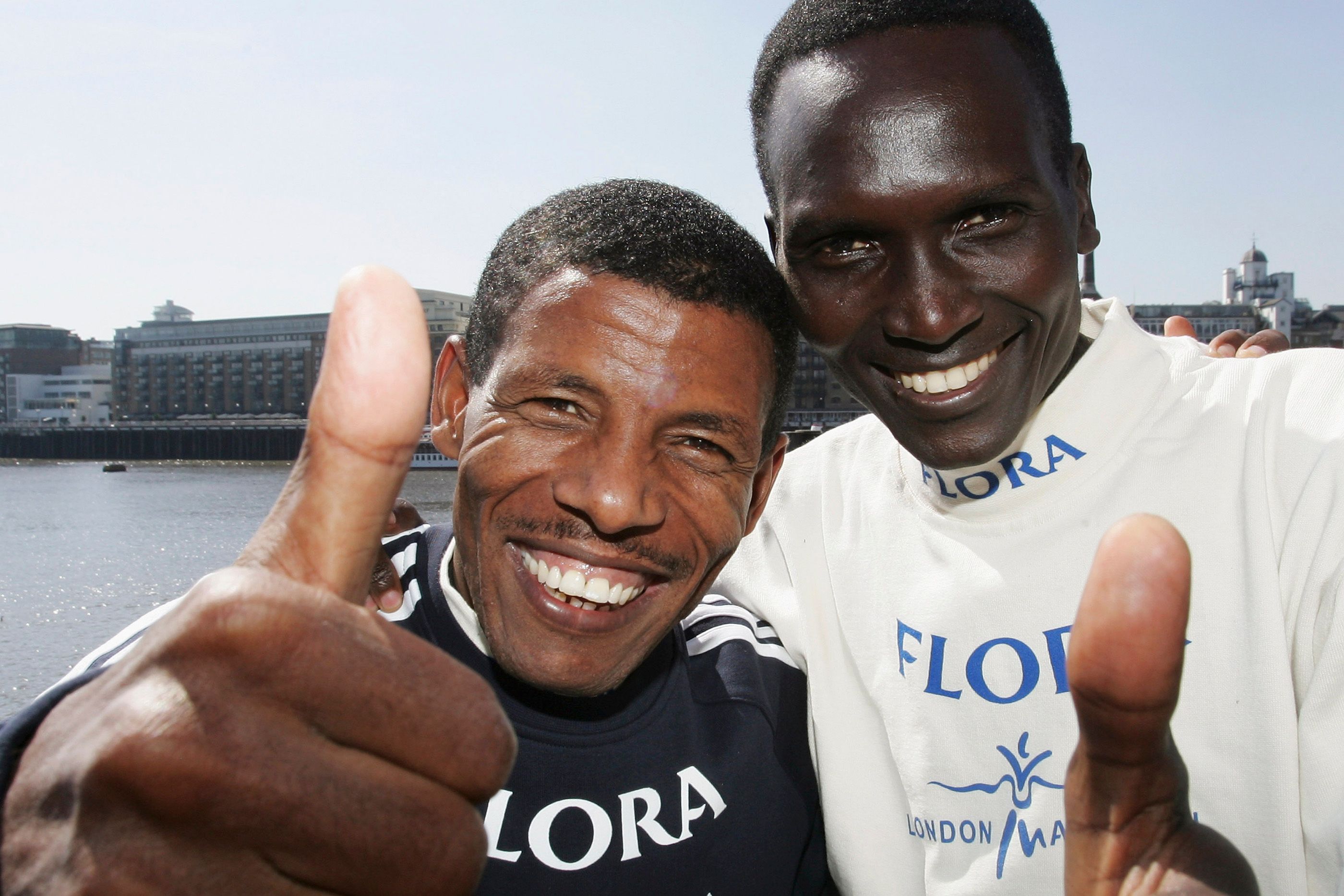 Haile Gebrselassie and Paul Tergat in 2007 ahead of their final clash (© Getty Images)
The marathon also featured prominently in Gebrselassie's post-Sydney career, but he could not quite bring himself to run it at a major championships. He ran the 10,000m at the 2004 Olympics in Athens, finishing fifth behind Bekele, and in 2008 in Beijing, for sixth place again behind Bekele.
Both men set marathon world records (Tergat, one; Gebrselassie, two), but neither established pre-eminence in the event in the same manner they had dominated the track.
Len Johnson for World Athletics