Marija Vukovic celebrates her silver medal at the European Championships (© Getty Images)
It's not easy being a standout athlete from a small nation. Marija Vukovic knows that only too well.
The 30-year-old high jumper is Montenegro's leading track and field exponent. And while she is always honoured to represent her nation of 620,000 on an international stage, with that comes a certain level of pressure, of wanting to do her country proud.
Alongside that, Vukovic also had the weight of expectation that many young athletes face after early success. Back in 2010 she won high jump gold at the World U20 Championships, becoming the first athlete from Montenegro to earn a global title in athletics.
Montenegro had, it seemed, discovered a real talent. And now, more than a decade later – and thanks to Vukovic's perseverance – that star is beginning to shine.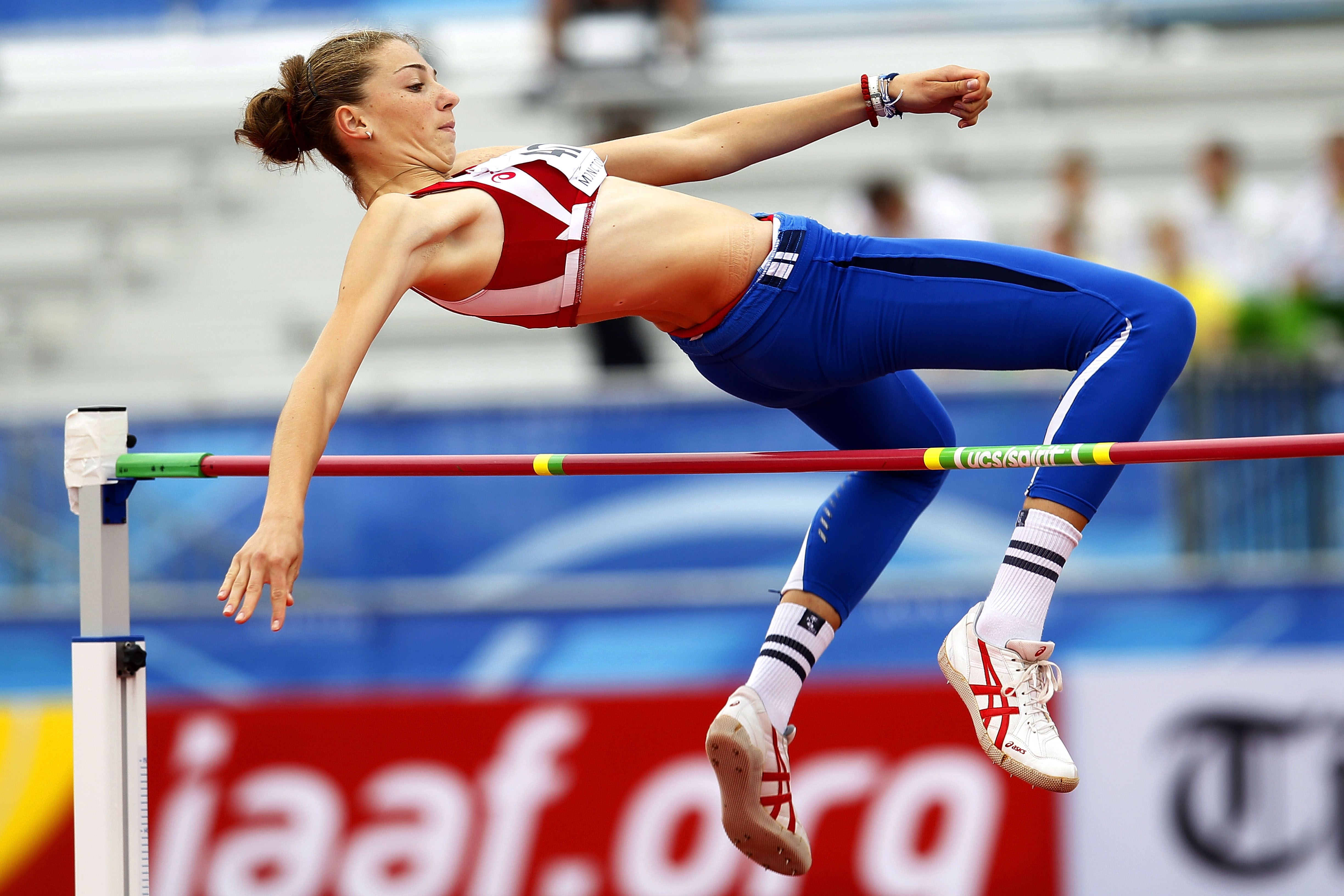 Marija Vukovic in the high jump at the 2010 World Junior Championships (© Getty Images)

"I've had a long journey in the sport," said Vukovic. "There have been many changes – changing country, changing coaches. I was trying to find myself, and I found it difficult to believe in myself. But at the end of 2019, after the World Championships, I moved to Greece."
Vukovic started training at the Olympic Stadium in Athens with Ioanna Siomou, whose group includes Greek high jumper Tatiana Gusin and sprint hurdler Elisavet Pesiridou. The 2020 season ended up being a write-off in terms of competition opportunities, but for Vukovic it worked in her favour.
"We lost a year due to the pandemic, but maybe I needed that year to connect with the coach and the group," she says. "Towards the end of 2020, something clicked. I started enjoying the high jump again. That was the most important change – enjoying it, and training every day for it. I'm loving every day now."
When the 2021 season got underway and international competitions returned, Vukovic started to thrive. She set a national indoor record of 1.93m in just her second competition of the year, then placed seventh at the European Indoors – her first major championships final as a senior at a continental level. Outdoors, she added two centimetres to her own national record, jumping 1.97m to win at the Balkan Championships. And while the improvement in height wasn't staggering in and of itself, the difference in her outlook and confidence was notable.
She headed to Tokyo for what would be her first Olympics. She missed out on the Rio Games in 2016 because she didn't have the qualifying standard of 1.93m. She jumped a national record of 1.95m in late July but it was 13 days after the qualification deadline.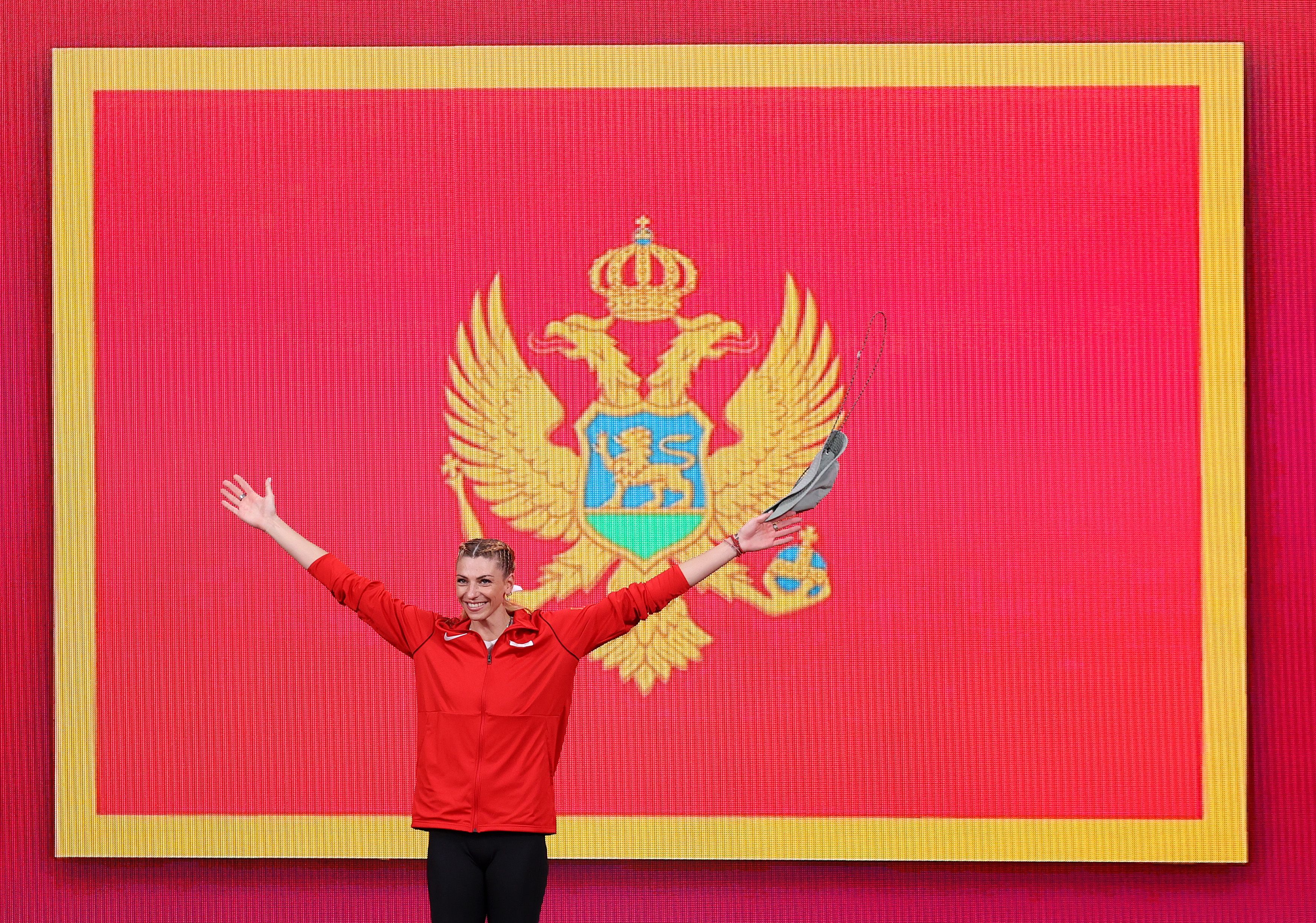 Marija Vukovic at the Olympic Games in Tokyo (© Getty Images)

Thankfully, in 2021, her 1.97m leap guaranteed her a place in Tokyo. And once there, she acquitted herself well; she jumped 1.95m in qualifying with no failures to lead the list of qualifiers for the final. Then in the final she cleared 1.96m – the same height as the fifth-place athlete, but eventually placing ninth on countback in a competitive final.
But whatever mark she achieved that day, Vukovic would have made history regardless, as she became the first athlete from Montenegro to reach an Olympic final.
It marked the start of a new chapter for Vukovic and she continued that level of performance in 2022. She set national indoor records of 1.95m and 1.96m, then went on the place fourth at the World Athletics Indoor Championships Belgrade 22.
Despite missing out on a medal by one place in the Serbian capital, Vukovic was delighted with her performance.
"Fourth place was really big for me," she said. "I knew the first two places were pretty much decided because (Yaroslava) Mahuchikh and (Eleanor) Patterson had been jumping really well, so I told myself, 'ok, third place is open, let's go for it'.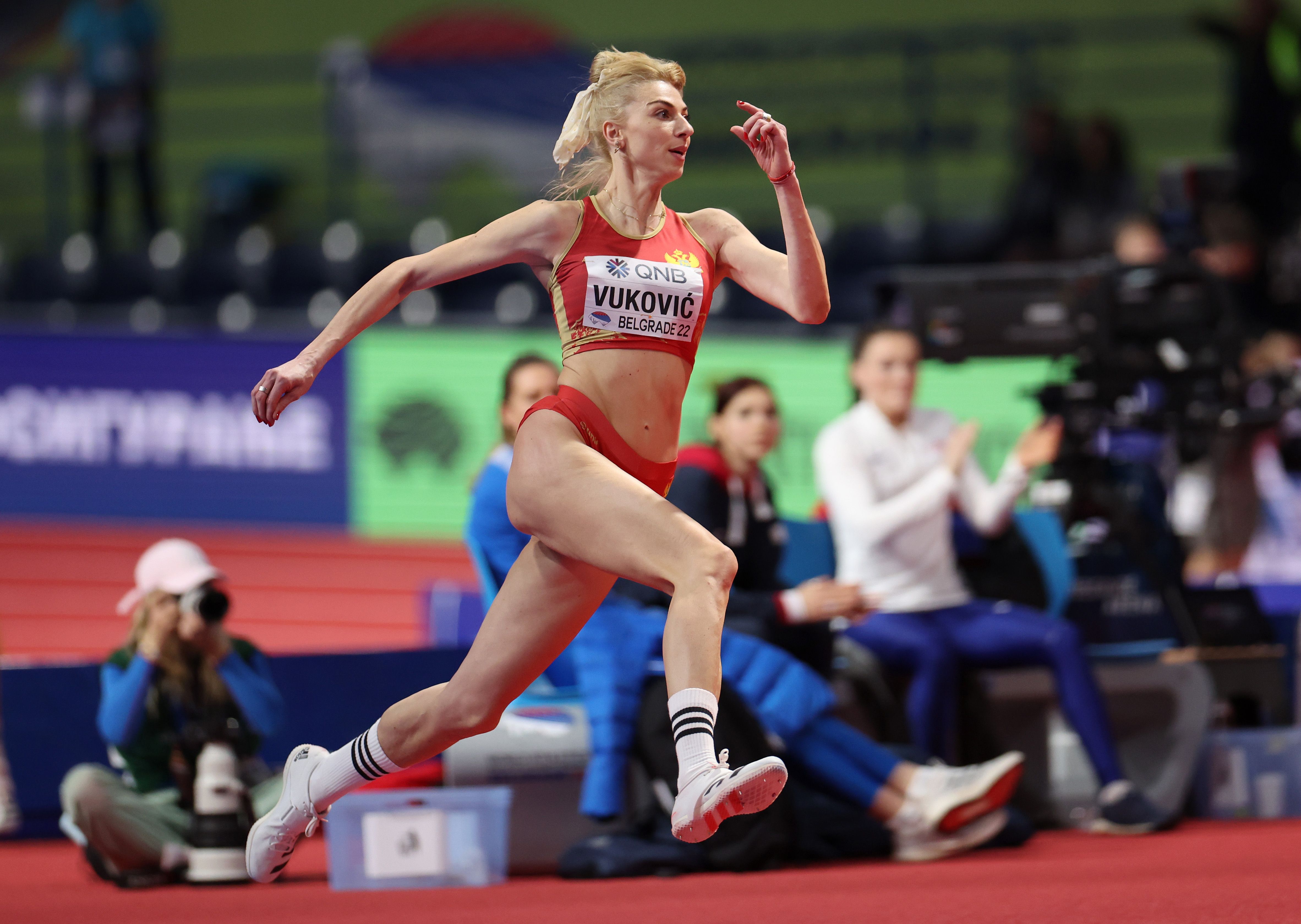 Marija Vukovic in the high jump at the World Athletics Indoor Championships Belgrade 22 (© Getty Images)

"It didn't quite work out, and maybe that's because I didn't believe it 100%, but I'm still really happy. And it was a nice jump at 1.95m, which is only one centimetre less than my indoor PB, so that gave me confidence for the outdoor season.
"I was so close to a medal, but I wasn't ungrateful," she added. "This was big for me."
What made the moment more special is that, for the first time since the pandemic, she was able to compete in front of her family and friends. And with Serbia being so close to her home country, she was made to feel very welcome.
"I'd been training in Belgrade before the championships, so I felt at home there," she says. "People also speak the same language, and my family were there, so I felt more confident and I wanted to show them a better me. It felt like a home crowd to me."
Vukovic went on to clear 1.95m four more times during the 2022 outdoor season. The only real disappointment came at the World Championships in Oregon, where a second-time clearance at 1.90m meant she missed out on making the final on countback (a first-time clearance at that height would have been sufficient to progress).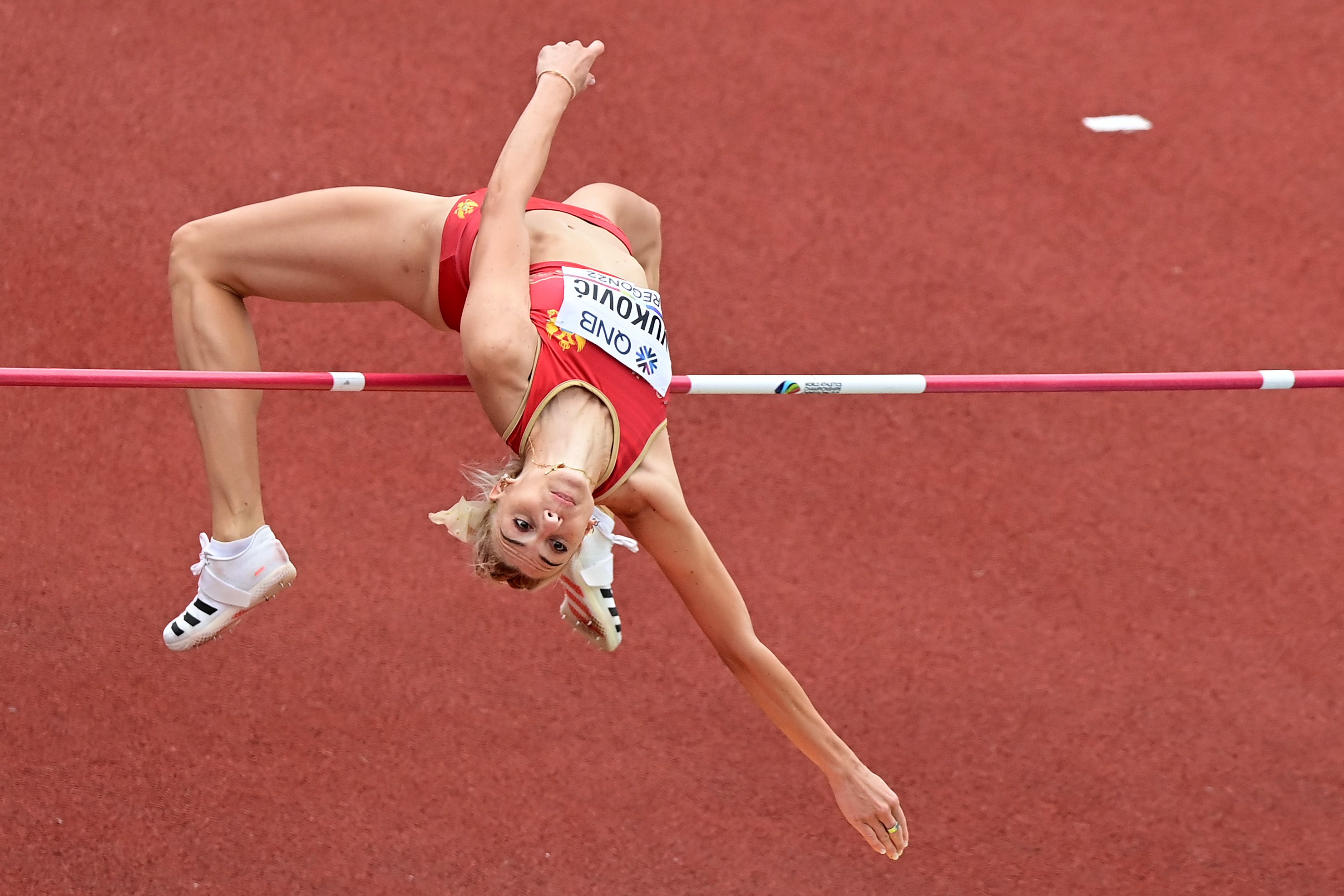 Marija Vukovic in the high jump at the World Athletics Championships Oregon22 (© Getty Images)

But she regrouped and refocused her energy on the European Championships in Munich one month later. This time there were no mistakes in qualifying – she led the group of qualifiers for the final – and she went on to match her 1.95m season's best to secure the silver medal, once again making history for her home country by becoming Montenegro's first ever medallist at the European Championships.
"I'm really happy that I'm able to continue this good form following on from last year and that I didn't lose myself," she said.
"After so many years of jumping, I feel as though I'm still not fully aware of my potential and what I can do. I don't like to make predictions. I'm just aiming to believe more in myself and to show that in my jumps. I'm now older and more experienced and I want to use the next few years to make sure I give my best at the Paris Olympics.
"After the next Olympics, I want to look back on those Games and say that I gave it my all," she added. "That's my main goal."
Jon Mulkeen for World Athletics