Veronica Campbell-Brown wins the 200m at the Beijing 2008 Olympic Games (© Getty Images)
Jamaican sprinter Veronica Campbell-Brown, winner of eight Olympic medals and five world titles, has announced her retirement from competitive athletics.
The 39-year-old's international career has spanned more than two decades, during which time she competed at five Olympic Games. She is the only track and field athlete in history to win medals at five successive Olympics.
She earned her first major medals at the 1999 World U18 Championships in Bydgoszcz, where she won the 100m and 4x100m. Just one year later, aged 18, she made her Olympic debut in Sydney as part of Jamaica's 4x100m team and came away with a silver medal. Just a few weeks later, she won the sprint double at the World U20 Championships in Santiago de Chile.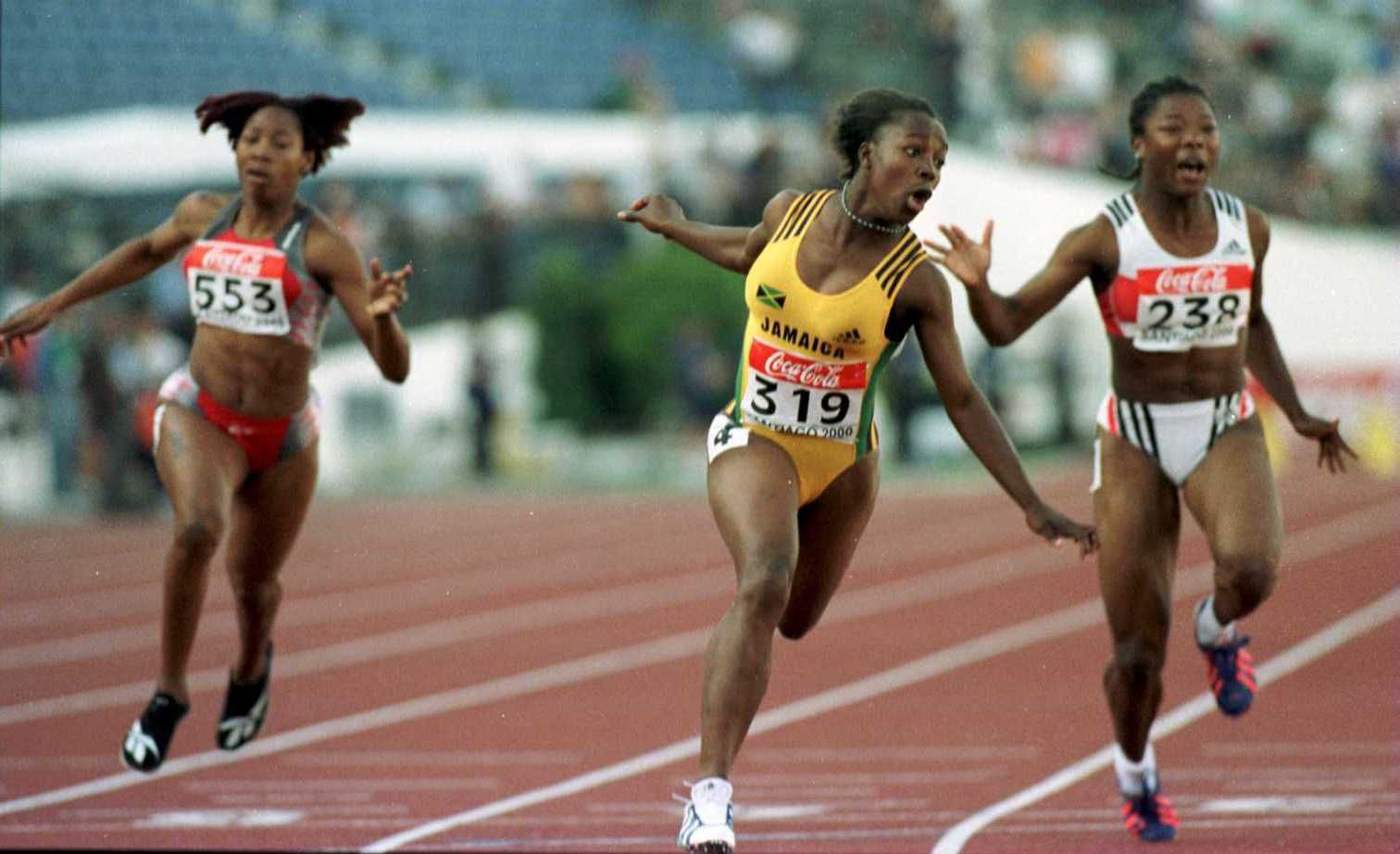 But her first major triumph came at the 2004 Olympics, where she won the 200m, becoming the first Jamaican woman to win an Olympic gold medal in a flat sprint event. For good measure, she followed it with victory in the 4x100m. The vest Campbell-Brown wore when winning 200m gold is in the Museum of World Athletics.
Three years later in Osaka, she won the 100m in what was one of the closest sprint finals in World Championships history. She added to her medal haul by taking silver in the 200m and 4x100m.
Campbell-Brown successfully defended her 200m title at the Beijing Games in 2008, becoming just the second woman in Olympic history to win back-to-back gold medals in the event.
During the peak of her career, Campbell-Brown's biggest rival was Allyson Felix. The US sprinter had won the world 200m titles in 2005 and 2007, while Campbell-Brown beat Felix to the Olympic crowns in 2004 and 2008.
Felix got the better of Campbell-Brown again at the 2009 World Championships, but the Jamaican gained revenge two years later in Daegu, winning her first world title over 200m. Having also won the world indoor 60m title in 2010, it meant that Campbell-Brown became the first woman in history to win world titles over 60m, 100m and 200m.



She successfully defended her world indoor title in 2012, then went on to earn 4x100m silver and 100m bronze at the Olympic Games in London later that year.
Her final individual global medal came at the 2015 World Championships in Beijing, where she took bronze in the 200m. She then teamed up with 100m winner Shelly-Ann Fraser-Pryce and 200m silver medallist Elaine Thompson for the 4x100m, taking gold in a national record of 41.07.
The three women joined forces again at the 2016 Olympic Games, emerging with a silver medal.



In February 2019, Campbell-Brown gave birth to a daughter, Avianna, and she returned to action this year, recording season's bests of 7.34 for 60m, 11.20 for 100m and 23.73 for 200m.
Campbell-Brown retires with a collection of eight Olympic medals, three of them gold, and 13 World Championship medals, including five gold. Her PBs of 10.76 for 100m and 21.74 for 200m rank her 11th on the world all-time lists for both events. She has broken 11 seconds for 100m on 49 occasions – a tally beaten only by sprint legends Fraser-Pryce and Merlene Ottey.
"I have climbed from a small town in Trelawny, Jamaica up the ladder of success to become one of the most decorated women in the Olympic Games and World Championships history," she said in an Instagram post, announcing her retirement. "As I climbed, I passed the rung of hurt, that of injuries and rejection not to mention tears, but they never quenched my aspiration to grasp the fruits of success and satisfaction. For that I am proud and grateful.
"I want to thank everyone who contributed to my successes: my family, especially my husband Omar Brown, who in the latter years served as my coach. I must mention friends, fans, supporters, sponsors, coaches and my agent Claude Bryan.
"As I take off my spikes never to put them on again, this girl from Clarks Town walks away happy and contented with a race well run."
World Athletics