Maude Mathys at Sierre-Zinal (© Marco Gulberti / Corsa in Montagna)
Maude Mathys and Kilian Jornet have had a stranglehold on The Race of the Five 4000s in recent years and they are among the athletes returning to the Sierre-Zinal event on Saturday (13) looking for further success.
The 2022 World Mountain Running Association (WMRA) World Cup hits the half way point with this Gold Label race in Switzerland.
Since the first edition in 1974, the best of the best of have been gathering in the Swiss Canton of Valais every August to race the 31km from Sierre to Zinal. From the long grind of the monstrous opening climb to the final, frantic downhill, every year The Race of the Five 4000s provides fierce racing and high drama. Weisshorn, Zinalrothorn, Obergabelhorn, Matterhorn and Dent Blanch; these giants of the Alps have watched on as the giants of mountain running do battle on this historic, iconic course.
In the women's race, Mathys returns on the hunt for her fourth win, clearly as fit as ever after claiming double gold at the European Championships in La Palma. Mathys has been unstoppable here, running the three fastest winning times in the last three editions, culminating in last year's 2:46:03.
She will be joined on the start line by another three-time winner, Lucy Murigi, who will be looking for her first World Cup win of the year after second places at Grossglockner Berglauf and Giir di Mont. Camilla Magliano, third in the World Cup standings, will also start.
There are a number of previous podium finishers looking for an upgrade. Anais Sabrie, second in 2020 and third in 2021, will be looking to move up to the top step, while Simone Troxler and Emma Pooley, third in 2018 and 2020 respectively, are also back for more.
Joyce Njeru has been the standout performer on the Valsir Mountain Running World Cup this year, winning four Gold Label races from four starts. Only one woman has beaten her in Europe this season, Kisang Philiaries at Thyon-Dixence just last weekend. Both women will start among the favourites.
Sara Alonso will look to extend her lead in the Golden Trail World Series standings, after a win at the Mont Blanc Marathon and third place at Zegama-Aizkorri. Third place finisher in the Golden Trail World Series, Fabiola Conti, also starts, as does Sophia Laukli, winner of last weekend's Stranda Fjord Trail Race.
Also in the race are Nuria Gil and Mathilde Sagnes, silver and bronze respectively in the trail race at the European Championships, as well as previous World Cup winners Sarah Tunstall, Sarah McCormack and Alice Gaggi.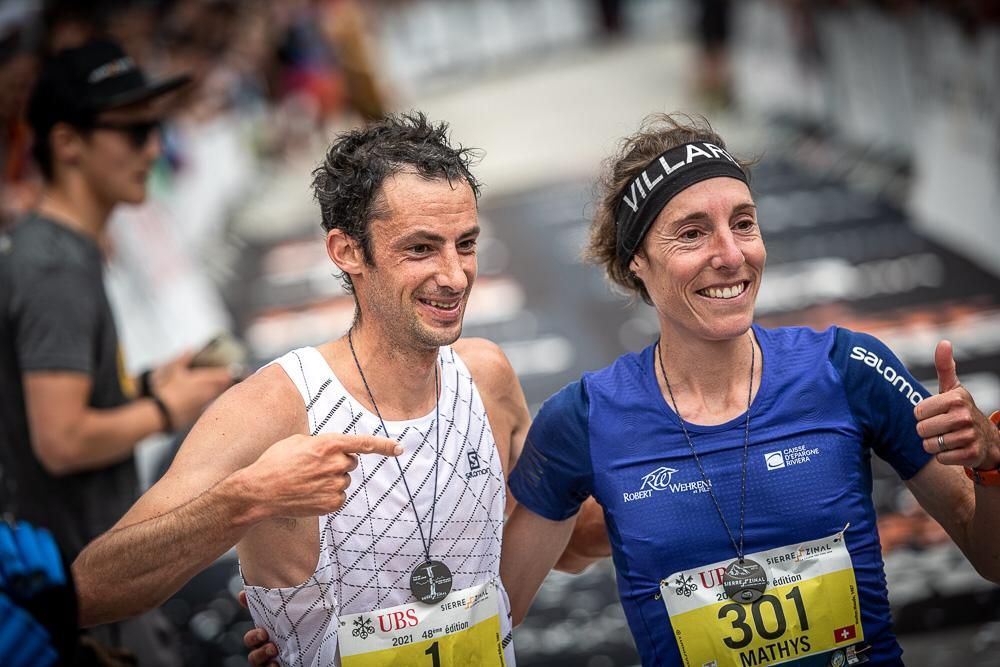 Kilian Jornet and Maude Mathys at Sierre-Zinal (© Marco Gulberti / Corsa in Montagna)
If Jornet wins the men's race this weekend, it will be an unbelievable 10th victory for the Catalan at Sierre-Zinal. For anyone else, a win at the Hardrock 100 four weeks before the race would be enough to count them out of contention, but it's a double that Jornet has done three times before. His 2:25:35 from 2019 is the course record.
Petro Mamu, the 2016 champion, returns, as does the great Mexican, five-time winner Ricardo Mejia, and USA's Pablo Vigil, who won four times in a row between 1979 and 1982.
The other most consistent men's performer at this race in recent years is Robbie Simpson. He'll be looking to take a first win after four second places, including last year. Cesare Maestri was third in 2021 and comes into the race on the back of gold and silver medals at the European Championships. Other returning podium finishers include Fred Tranchand and Remi Bonnet, second and third respectively in 2020.
Patrick Kipngeno hasn't put a foot wrong this year. On top of his perfect record in the Valsir World Cup, last weekend he broke the great Jairo Correa's 1990 course record at Thyon-Dixence. Also under the course record at that race was Mark Kangogo, who lines up here too. Kipngeno's teammate Philemon Kiriago has hardly been less impressive and will come into the race on a high after taking the win at Fletta Trail on Sunday following a string of second places.
The top three from the Golden Trail World Series will all be on the start line: Elhousine Elazzaoui, trail world champion Jon Albon and Davide Magnini, who has twice made the top five here.
European champions Sylvain Cachard and Maximilien Drion will start, alongside bronze medallists Dominik Rolli and Danial Osanz.
As ever at Sierre-Zinal, there are plenty of wild cards shuffled into the pack. Olympic marathoners have had plenty of success here and a few more will look to have an impact this weekend, including Anna Hahner of Germany and Hassan Chahdi of France, who set his marathon best of 2:08 in February of this year. US cross country legend Garrett Heath is another one to watch as he continues his journey into trail and mountain running.
Ally Beaven (WMRA) for World Athletics