Athlete turned sports journalist Christiane Schwalm (© WDR Awounou)
"I never really wanted to go into sports journalism" isn't exactly a phrase you'd expect from an ex-international-level athlete who had always dreamt of becoming a journalist.
However, such was the case for Germany's former 400m hurdler Christiane Schwalm (née Klopsch). She has, thankfully, since revised her career path and has made gender parity in sports media – in front of and behind the lens – her mission.
While completing her degree in German philology and art history, Schwalm was exposed to work at a sports desk during a traineeship which required her to work across all different editorial departments of her local broadcaster.
"I realised that actually as someone with a background in sport, no matter which sports I was covering, I would automatically develop a very good connection with the people I was interviewing and reporting about," recalls Schwalm, who represented Germany in finals at European Championships as well as World University Games.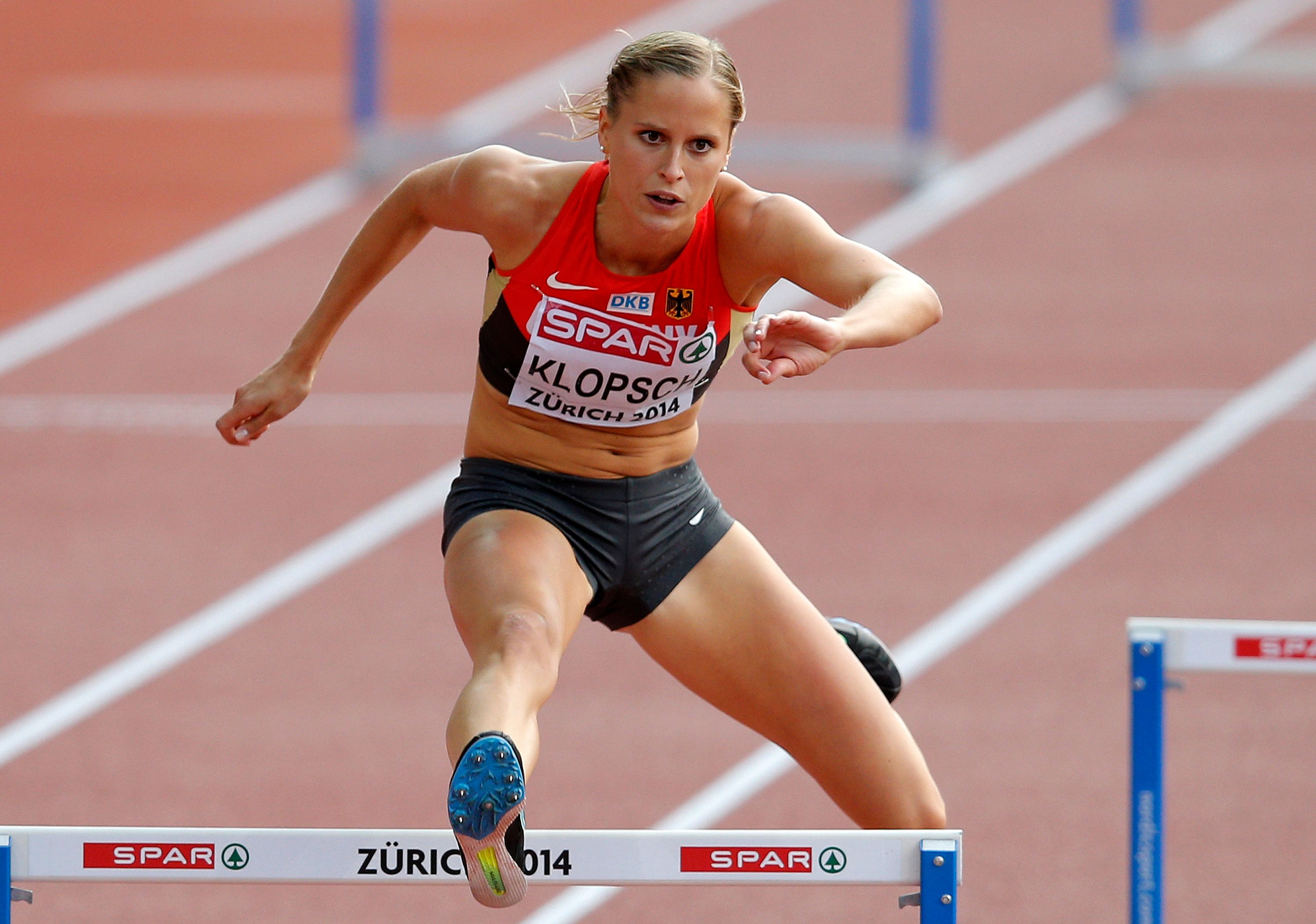 Christiane Schwalm (née Klopsch) in the 400m hurdles at the 2014 European Championships (© Getty Images)

"You have an understanding of what kind of life they lead, the sacrifices they're making, the work they're putting in. Suddenly I found myself falling in love with sports journalism."
Her sudden change of heart had a ripple effect: not only did it further highlight the large discrepancies in coverage of women's sport compared to men's, something Schwalm had already noticed during her career as an athlete, she also noticed the gaping absence of women across most sports desks.
"I've found, since I've ended up in sports journalism, I have changed," she explains. "I've become a lot more aware towards gender equality, women's rights and wanting to empower women across all levels, but especially within the sports world.
"That applies to the protagonists in front of the camera, as well as making sports desks a more welcoming place for the women who do dare venture in this arena."
Schwalm's quest for gender parity in sports reporting reached a new level over the past year when she began working on a new project titled Generation F – Time for Sportswomen, commissioned by public service broadcasters WDR/ARD. The documentary series follows a number of elite athletes across different sports on their journey to major events and is produced by a team of writers, documentary makers and directors largely, but not exclusively, made up of women.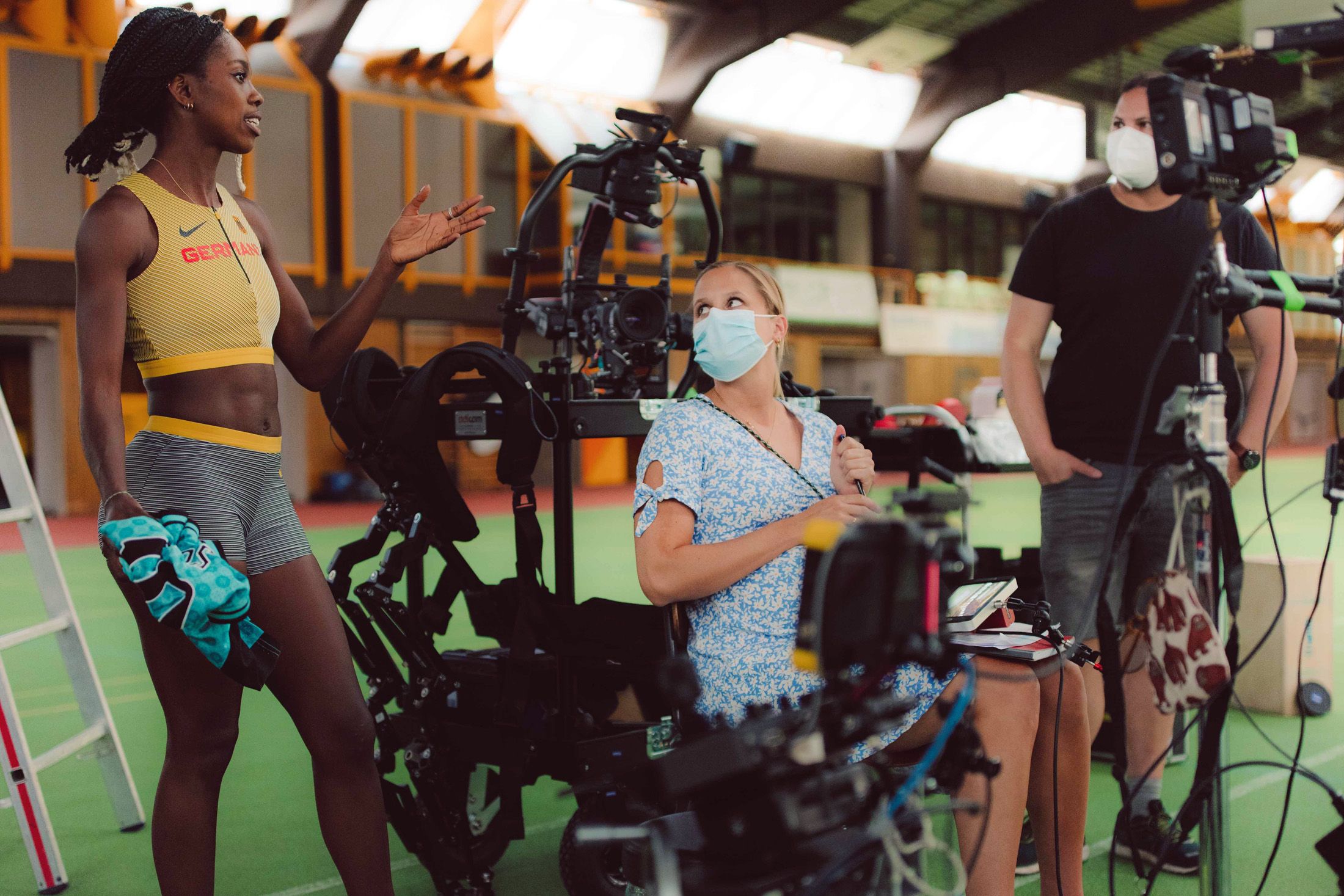 Christiane Schwalm works with Maryse Luzolo (© WDR Awounou)
"When it came to the selection process of which athletes we would feature, for me it was obvious from the start that I would choose someone from within athletics," says Schwalm.
Her film accompanies German long jumper Maryse Luzolo on her way to the Tokyo Olympics. The pair knew each other from both their active careers on the track as well as some short news pieces Schwalm had previously produced for local media, but it was Luzolo's incredible story of perseverance in the face of adversity that convinced the team to document her journey in greater detail.
Luzolo had a promising junior career. Aged 18, she set a long jump PB of 6.45m, earned bronze at the World U20 Championships in Oregon 2014, and in 2017, aged 21, extended her lifetime best to 6.61m. Then her career was brought to a dramatic halt.
A freak accident in training involving a falsely adjusted, fully-automated leg press not only tore apart her sporting ambitions, but also quite literally her entire knee. She suffered ruptures of her ACL, LCL and numerous tendons, as well as a partial tear of the TCL, a capsular rupture, and some damage to the cartilage.
The doctors' diagnosis was bleak: "Her chance of ever being able to participate in high-performance sport was at zero," recalls her coach Jürgen Sammert in the documentary. "We were told Maryse would be lucky if she could return to walking in an unimpeded manner."
Maryse herself, however, didn't let the doctors' prognosis affect her dreams. "I never believed that this would be it. It only meant that it would be a lot harder for me to achieve my goal," says Luzolo. And her goal did not lack in ambition: to participate in the Olympic Games in Tokyo.
Schwalm and her team followed Luzolo over months, documenting her return to competition, coping with the physical and mental scars of the accident, but also taking the viewer behind the scenes of the long jumper's life away from the track. She proudly gives insight to her Congolese roots and openly discusses her family, culture, and racism.
"This has been a project very close to my heart," says Schwalm. "As cheesy as it sounds, Generation F is about showcasing the athletes in all facets of their lives. The things that move them and that they care about, so people really get to know the person behind the athlete."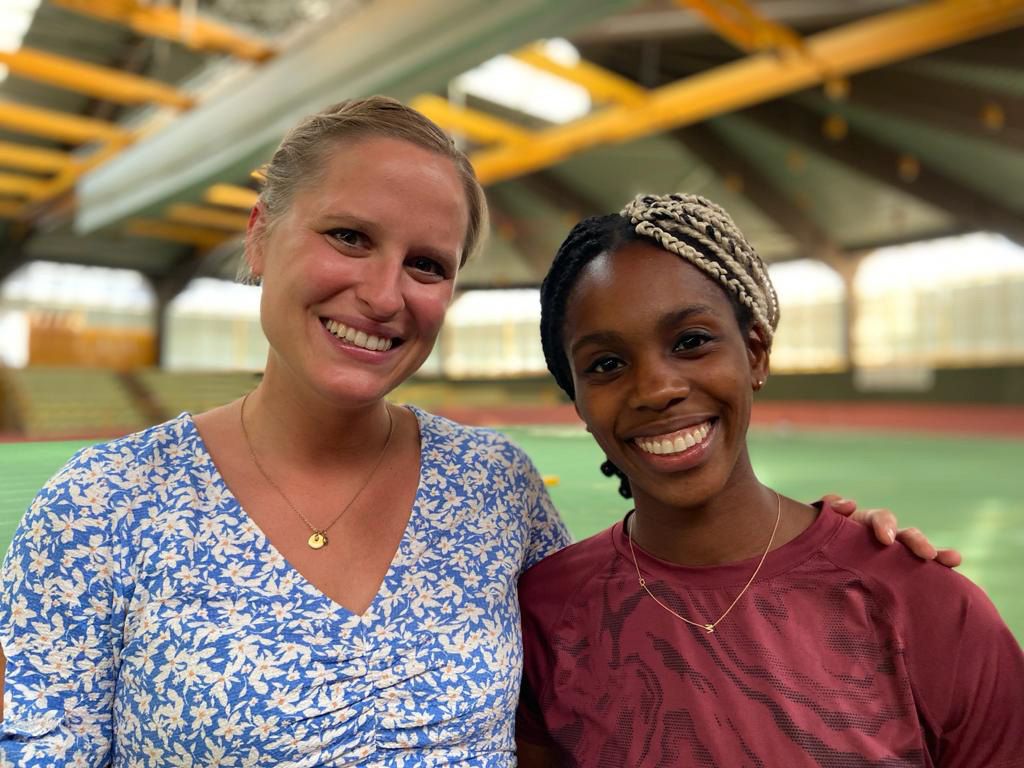 Christiane Schwalm and Maryse Luzolo

You don't have to be a sports fanatic to enjoy the series. Luzolo's strength inspires and never-give-up attitude is contagious. And it is this attitude Schwalm and the team want to convey to the viewers.
"I hope there are young girls or women out there watching our film or the series on YouTube, and think 'wow, this long jump thing looks amazing, I'd love to try that'. […] Or on a more metaphorical level, look at Maryse, of whom many doubted she'd ever return to the sport, and draw inspiration from her story and realise that some things are worth fighting for."
Just how important it is to raise the profile of women in sport is highlighted by a recent study analysing media consumption among children in 2020. It found that among six to 13-year-old girls in Germany, only 4% said they had a role model in the sports world. Among boys the same age, that number is 42%. At the same time, studies found that 90% of sports coverage in Germany focuses on male athletes. Children are great imitators. But they need to see something to imitate.
While the series' protagonists – which also include athletes from swimming, downhill mountain biking, bobsleigh, and cheerleading – are inspiring future generations to become involved in sports, it is also the team behind the lens that is driving change.
"Role models play an incredibly important role in getting more women into the industry. Even for me now, if you look around female sports journalists – who even has children?" asks Schwalm, who herself became a mother in October last year.
"Even without kids, sports journalism is not exactly a family-friendly profession, and it's easy to feel lost, wondering 'how do other women manage?'. I've never thought of myself as a role model as such, but if I can be that person to someone in this next generation and show you can combine family and work in sport, then that would make me really proud."
Just like Luzolo defied her doctors' damning diagnosis – she did qualify for Tokyo and is hoping to return to Oregon for the World Athletics Championships this summer – Schwalm continues to defy the status quo across sports desks.
"I'd love to move away from the 'pick-me syndrome' of seeing another woman as a competitor, someone who could take something away from you because you both may look the same or have a similar background and instead recognise the opportunity this presents to support one another and help each other grow."
With women like these, the next generation will not have to look far to find role models in sport.
Michelle Sammet for World Athletics