Olena Borysiuk and Valeriya Sholomitska in Muscat (© Dan Vernon)
Two weeks can be a lifetime.
Just 14 days ago, young Ukrainian coach Olena Borysiuk and her 17-year-old star athlete Valeriya Sholomitska had a simple dream. They wanted to win a medal in the U20 women's 10km race walk at the World Athletics Race Walking Team Championships, held in Muscat last week.
At their winter training camp in the Turkish resort city of Antalya, Sholomitska was training well and they were increasingly confident. Everything seemed to be on track for a good performance.
"We trained well and we felt good, but on the morning of February 24 it all changed," Borysiuk recalls. "It changed her life and it changed my life."
That was the morning when Russia invaded Ukraine, and they were left stranded in a foreign land, far from home and family, separated by a war they never expected. Borysiuk, 31, became the temporary guardian of a teenager in a frighteningly uncertain situation. They could not go home but they belonged nowhere else.
However, the Ukrainian Athletics Federation and World Athletics provided them with the support they needed to continue preparing for the World Race Walking Team Championships and to arrive in Muscat as the only representatives of their war-torn country.
Borysiuk said the dream of a medal in Muscat became even more important under those circumstances, as a symbol of their country's pride and potential, even under the daily threat of the Russian attack.
Sholomitska was understandably emotional before the race but composed herself at the start line as her fellow competitors unfurled a Ukrainian flag to demonstrate the strong international support for her country.



Athletes observe 'a Moment for Ukraine' before the start of the U20 women's 10km race walk in Muscat (© Dan Vernon / Jon Mulkeen)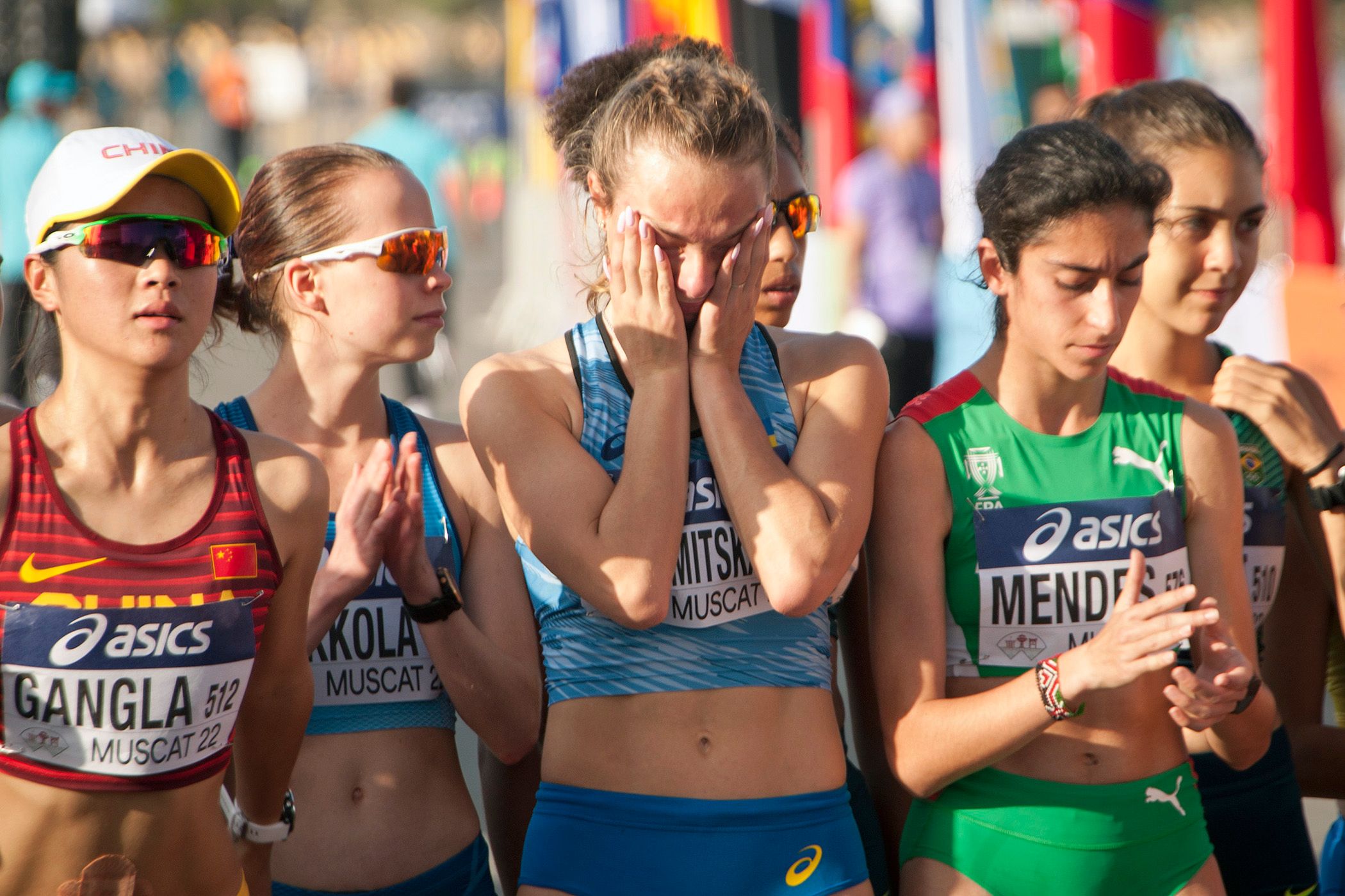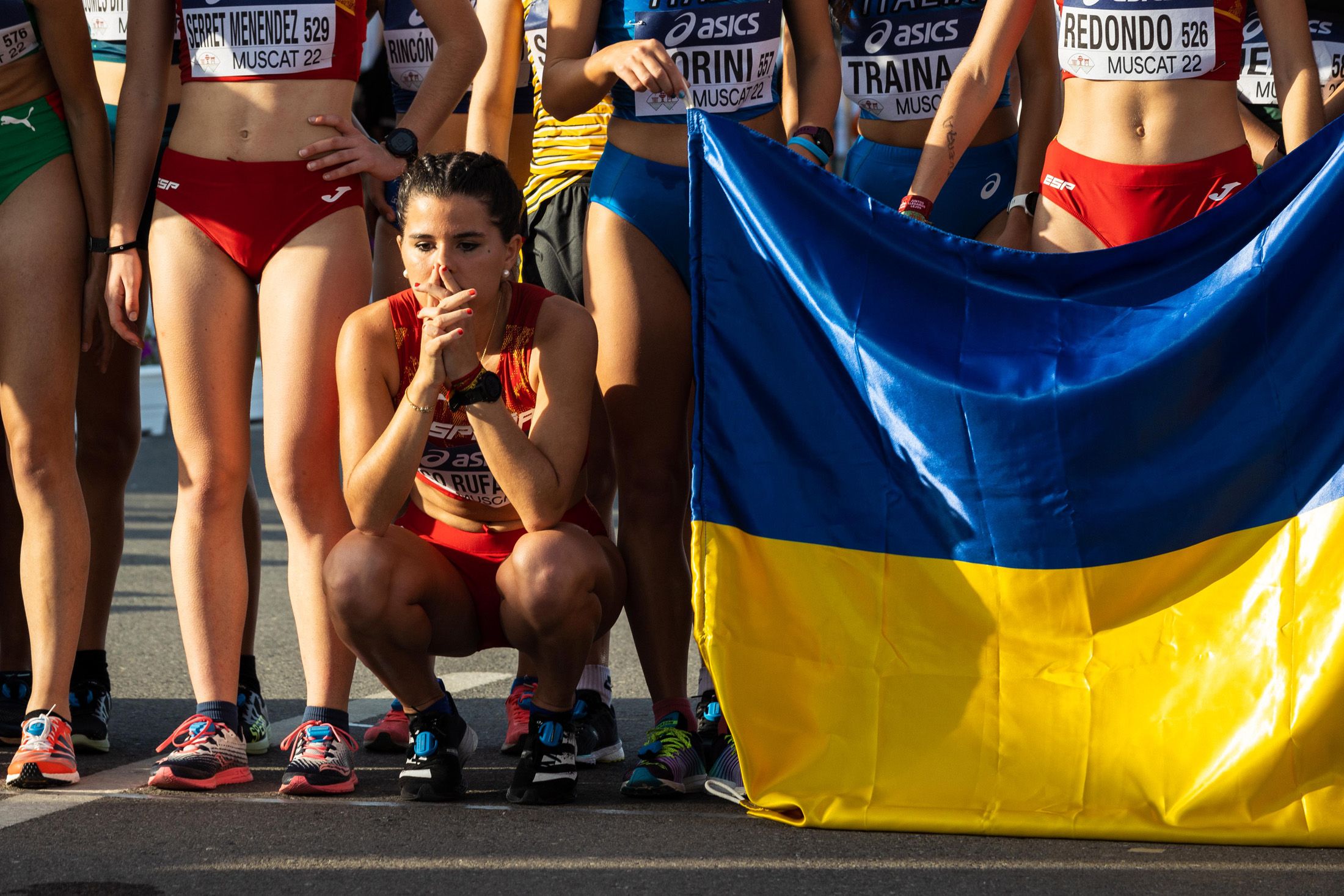 She began aggressively and held the lead through the first 5km, but faded slightly over the back half of the race to finish fourth, just one place short of the medals.
She was initially disappointed, but it was a fine effort from a young athlete in her first year of under-20 competition and competing under the type of duress that few elite athletes have ever experienced.
Borysiuk has since helped her to put the result into context.
"Now I think it's a good position because she's young, first year in juniors, and maybe in Cali (the World U20 Championships will be held in Cali, Colombia in August), if Ukrainian politics is good and maybe there is peace, we will have a good place and a medal."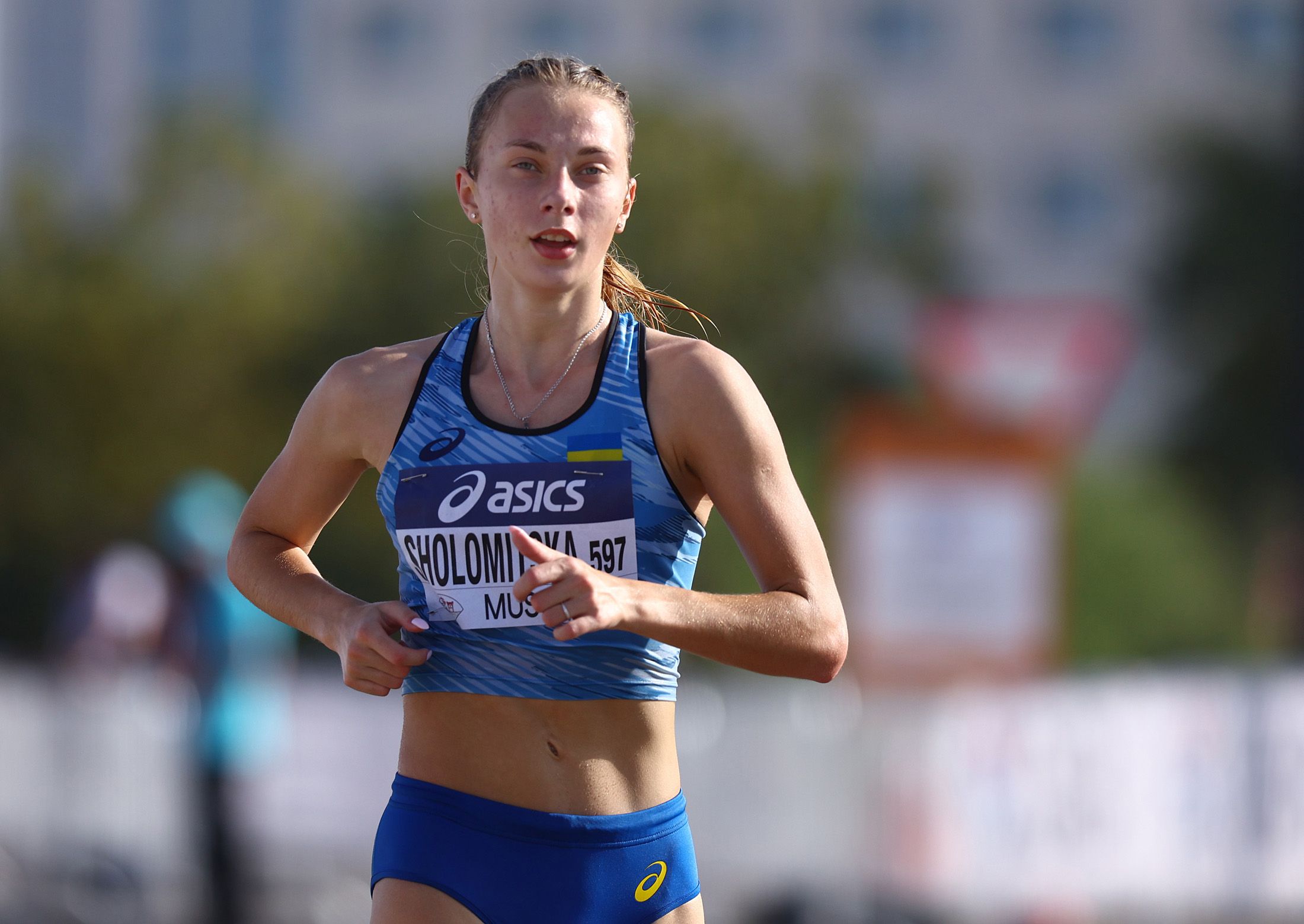 Valeriya Sholomitska in action in the U20 women's 10km race walk in Muscat (© Getty Images)
Borysiuk and Sholomitska are from Lyubeshiv, a town of 6000 people in the north west of Ukraine, near the border with Belarus. It's a rural part of Ukraine and the war has not touched it directly yet. But their families are still there, supporting their fellow Ukrainians as best they can.
Borysiuk's mother, Valentina, is Russian and her father, Stepan, is Ukrainian and they are an athletics family. Her father was a marathon runner and her mother a race walker. They both became coaches and their children, Olena and her brother Alexander, have followed in their footsteps. They all work at Lyubeshiv Sports School, a leading sports school in their region.
Olena was a 1500m runner as a teenager but retired early due to injury and started her coaching career at 22. At 26 she began working with a then 11-year-old Sholomitska and they started the climb to the elite ranks together.
After six years working together, their bond is strong but they are now in a situation they could never have imagined.
They both fear for their families, grieve for their country, and face an uncertain future outside it while the war continues.
"The problem now is the war," Borysiuk said, in her halting English. "Many people have died… But my country wants to be free, wants to be in Europe for life."
She said the Ukrainian president Volodymyr Zelensky had become a beacon for his people, representing their hope for a free and peaceful future.
"All Ukrainians love Zelensky, all Ukrainians believe in Zelensky and he just wants peace," she said.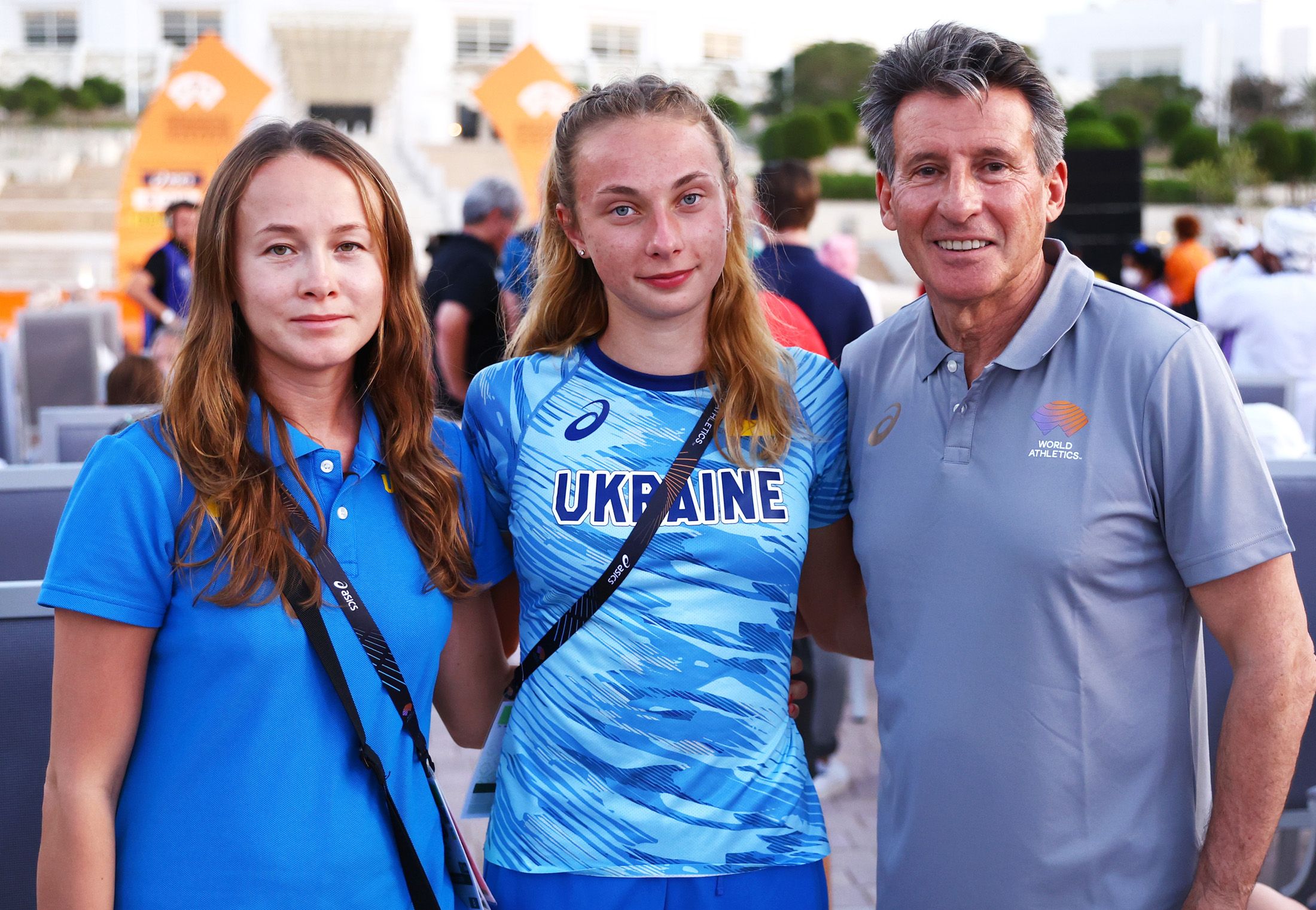 Olena Borysiuk and Valeriya Sholomitska meet World Athletics President Sebastian Coe in Muscat (© Getty Images)
Coach and athlete have returned to Antalya in Turkey this week but it was a journey to the unknown.
"After that I don't know what we will do," Borysiuk said. "I have friends in France who say 'come to us' but I don't know, maybe another country. I hope the war will stop and there will be peace."
The invasion has disrupted their dreams but it has not killed them.
After a short break this week, Borysiuk will focus her young charge on the World U20 Championships in Cali. No matter what, they want to represent their country on the world stage and make it proud.
"I believe we'll go to Cali and I hope we'll win a medal, but we'll need to work hard. I think if she wins a medal it will be super for my country. It's good for the people."
From there, they plan to compete at the European Championships next year and then qualify for the 2024 Olympic Games in Paris.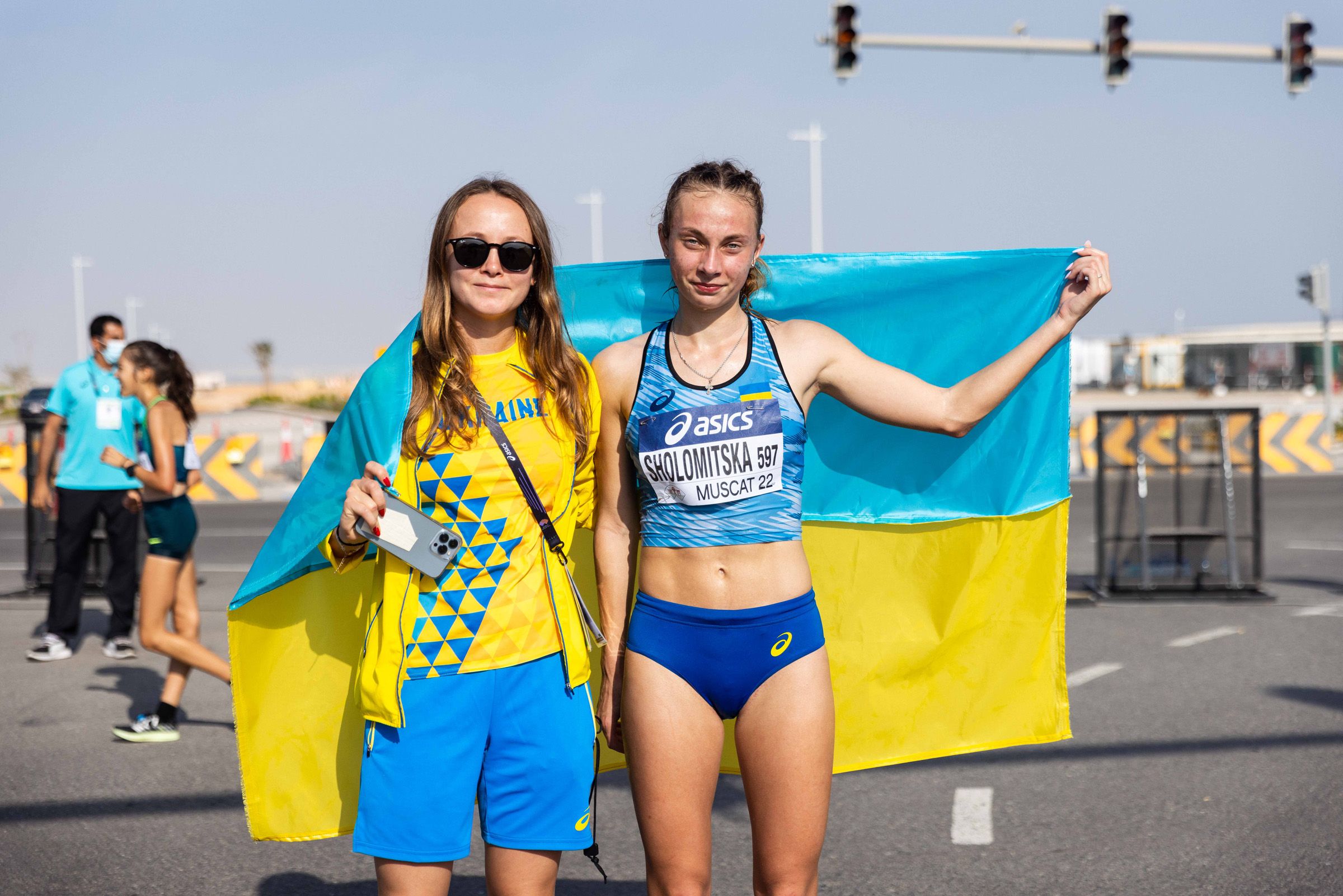 Olena Borysiuk and Valeriya Sholomitska in Muscat (© Dan Vernon)
Borysiuk is a young coach, with a great young athlete, and their future, now under the shadow of war, still shines bright.
"I think she's a very good athlete," Borysiuk said of Sholomitska. "We will take it step by step and I hope there's a good future for her and I hope we go to Paris."
What better place to put these dark times behind them than in the City of Lights.
Nicole Jeffery for World Athletics