Nijel Amos in the heats of the men's 800m at the Tokyo 2020 Olympic Games (© Getty Images)
Athletes like setting the bar high. Nijel Amos raised his impossibly high nine years ago when, at just 18, he clocked 1:41.73 to finish second in David Rudisha's epic world record-breaking run at the 2012 Olympic Games in London. That performance made the young Botswanan the fourth fastest man of all-time, a clocking Amos has been chasing since.
"In 2012 I was just a young kid who was running with nothing to lose," Amos recalls. Lining up against Rudisha, who went on to smash the world record in 1:40.91, was like toeing the line with a big brother rather than an untouchable foe. He felt unafraid. He even knew what Rudisha was planning.
"He told me before the race. He told me in the warm up area: 'Young boy, I'm going to go fast. So just take it easy.' He was like an older brother looking after his little brother. So, I knew Rudisha was going to go for it. I just needed to be in a position where I could come home strong."
He's also been chasing that youthful confidence since that dazzling London run, over a career that's taken him through a series of peaks and valleys, collecting plenty of fast times and three African titles but always short of another global medal. Injuries and other health issues have left their mark physically, and what he calls "brain scars" psychologically, to impact his confidence.
From 2012 to 2016, Amos said, he spent more time in hospitals than he did at competitions.
"I was never healthy," he says. "So when I joined the Oregon Track Club (in 2016), my focus was to get healthy first. That was the most important thing.
"Eventually the brain gets some scars," he continues. "You're thinking a lot. I'm trying to go back through those scars and find that little boy and say: 'Now I have the experience of the game, I can use it this way and that way.' I'm much more mature now. I'm more healthy than I've been in recent years so that should count for something."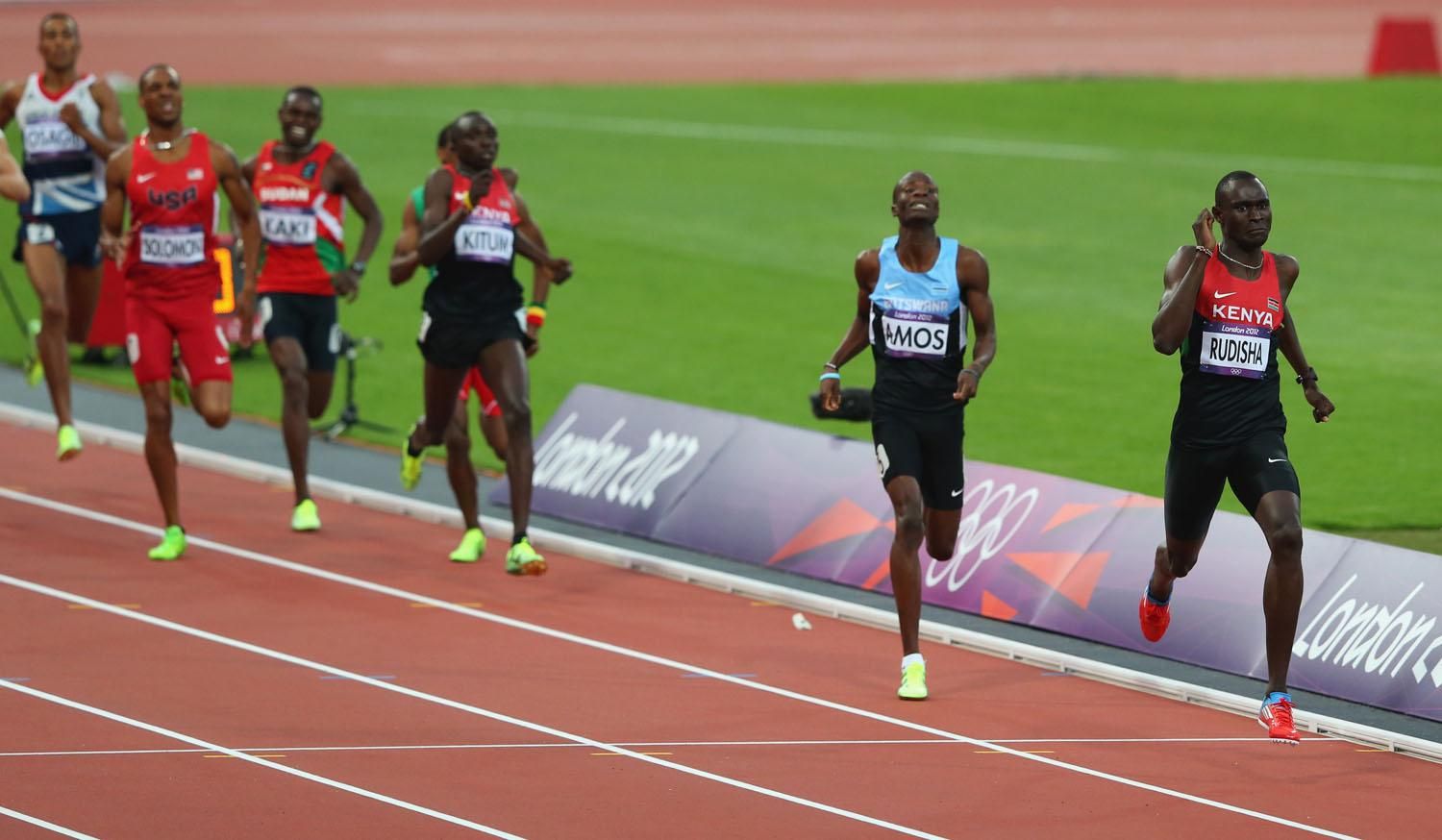 That also means that he's arrived at his third Olympic Games with boosted confidence. He clocked a world-leading 1:42.91 in Monaco earlier this month, the sixth fastest time of his career, and on Saturday morning (31) breezed through the Tokyo opening round with an unpressed 1:45.04 win.
"I'm now at a point in my career where I need to give myself a chance," he explains. "I believe I'm one of the best in the world, one of the most consistent 800m runners in the world. I'm the only man still standing from the 2012 world record race so that should say something about who I am. So now it's about giving myself a chance."
He readily admits that he often thinks back to that race in London, but not in an effort to cling on to a glorious moment from the past.
"I do look back sometimes and try to get in the mind zone of that young boy again. But it's hard to get by those brain scars so I'm looking to build on where am now and look ahead."
Amos is one of just three men to have dipped under 1:42 more than once, and he managed the feat seven years apart. That, he believes, also sets him apart.
"That's something very particular, I don't think anyone's ever done that. So it shows that I've got something special. I just need to get it right and get the right day," he says.
He was convinced that would come at the 2019 World Athletics Championships in Doha, at the tail end of a year he felt unstoppable, a season that included a near-PB 1:41.89.
"I was in the best shape in the world," he says. "I was going to be unbeatable at the World Championships. But it wasn't my time. In the last training session I got hurt."
That was an ill-timed hamstring injury but he's built his strength back to the point where's doing what he calls "impossible sessions".
"Now I know I can do it. I just need the right conditions," he adds. "But most importantly, I must be in the right state of mind. Like today. I just got in the race, stayed calm and enjoyed the race."
What would he describe as his ideal final scenario?
He answers with a wide grin.
"As fast as it could be. The faster the race the better for me. But I've got the speed back too, so I'm not worried about a slower race.
"I have nothing to prove in the 800 anymore. As I said, I'm the last man standing from 2012. I've run 1:41 twice. I've just got to get some championship medal again."
Where better than at an Olympics, nine years after his first?
Bob Ramsak for World Athletics
The semi-finals of the men's 800m are on Sunday 1 August. The final is on Wednesday 4 August.