Cuba's Alberto Juantorena wins the 800m at the 1976 Olympics (© Getty Images)
Cuba can claim many athletics heroes, especially from the 1970s through to the present day, but the man who is often spoken of as being inspiration for establishing the sport on the island was a humble mailman called Felix Carvajal.
Athletics in Cuba during the last decades of the 19th century had no formal organisation and the events that did take place were often head-to-head endurance races for wagers over no uniform distance.
Against this background, so the legend goes, the 14-year-old Felix de la Caridad Carvajal y Soto, to give him his full name, was already working as a mailman and developing a reputation as an impressive distance runner, first came to island-wide attention.
One day in 1889, Carvajal was challenged to a race by a Spaniard named Mario Bielsa.
The contest was of the 'run-until-you-drop' variety and consisted of the two men running laps around the main square in Carvajal's hometown of San Antonio de los Banos.
After around 10 hours, Bielsa quit but Carvajal continued until he had been running for 12 hours and could collect his prize purse. Into the bargain, he gained additional kudos as his victory was at the expense of a well-known representative of the unpopular Spanish colonial power.
Hitchhiking into the history books
For the next 15 years, Carvajal continued to supplement his meagre regular income with other endurance feats – not dissimilar to the pedestrian exponents in Britain during the early 19th century – which were usually performed in his work boots, long trousers, and long-sleeved shirt.
Along the way, he picked up the nickname El Andarin, The Walker.
Having heard of the 1904 Olympics Games in St Louis, Carvajal decided to try his luck in the marathon but en route he lost what little money he had gambling in New Orleans and then hitchhiked to the host city, arriving just before the start of the race on 30 August.
Having just the clothes on his back, with the help of his fellow competitors and officials, he cut down he legs of his trousers to make them more like shorts and had a number 3 pinned to his shirt.
Once the gun went, he was up with the leaders in the early stages of the 40km race but not having eaten in almost two days, Carvajal stopped and ate some apples which he found in an orchard, but which turned out to be rotten and caused him to have stomach cramps and forced him to lie down.
Carvajal still managed to finish fourth although his finishing time and how far behind the third-placed Arthur Newton, from the USA, remain unknown but the official report of the 1904 Olympic Games adds further colour to Carvajal's eccentric participation and obvious innate talent.
"His pace was slow, less than a dog-trot, but strong. Wherever a crowd had assembled along the road to see the runners pass, Carvajal would stop to chat in broken English, and must have lost almost 60 minutes in time. On one occasion he stopped at the author's automobile, where a party were eating peaches, and begged for some. Being refused, he playfully snatched two, and ran along the road, eating them as he ran. Had Carvajal had anyone with him – he was totally unattended – he would not only have won the race, but would have lowered the Olympic record."
News of Carvajal's performance slowly filtered back to Cuba and partly inspired by his achievement of 3 December 1905, University of Havana students and members of the Vedado Tennis Club held what's now recognised as the first athletics meeting in Cuba in the centre of Havana with reports listing the events as: 50 yards, 100 yards, 440 yards, 880 yards, 100 yards hurdles, high jump, long jump, shot put and a relay over 880 yards.


Federation foundation
Over the next two decades, organised athletics became more popular – although still mostly restricted to students and the elite social clubs, with baseball and boxing enjoying more popularity among the working classes – and on 22 March 1922 the Union Atletica Amateur de Cuba (Cuban Amateur Athletics Union) was created.
Two years later this organisation became affiliated the International Amateur Athletic Federation, the forerunner of World Athletics.
Another milestone in Cuban athletics history came on 24 March 1928 when the first competition for women was staged at the University of Havana stadium between teams from the National Institute of Physical Culture and the Jose Marti Institute of Physical Culture.
In addition to the 50m, 100m 100m hurdles and long jump, curiously there was also a 1500m race, an event which was not to appear on the Olympic programme for women until 1972.
Having not had athletes at the Olympics since Carvajal, Cuba returned to the global stage later in the summer of 1928 when the sprinter Jose Barrientos – who twice ran 10.4 to equal the 100m world record although his marks were never ratified and for whom the famous Memorial Barrientos meeting, the oldest annual meeting in the Caribbean, is named – was sent to Amsterdam.
Barrientos was considered a 100m medal contender but had the misfortune to find himself in a loaded quarterfinal with Canada's Percy Williams and Great Britain's Jack London, who were to go on and take gold and silver. He could only finish fourth behind the two soon-to-be medallists and failed to progress.
With Cuba not participating in the 1932 and 1936 Olympic Games, the next great luminary of Cuban athletics was another sprinter Rafael Fortun, who reached the semifinals of the 100m and 200m at both the London 1948 Olympic Games and in Helsinki four years later and triumphed in both sprints at the inaugural Pan American Games in 1951.
Figuerola climbs the podium
Finally, in 1964, a Cuban athlete stood on the podium at an Olympic Games. Enrique Figuerola, who had finished fourth in Rome, took the 100m silver medal in Tokyo behind the USA's unstoppable Bob Hayes.
Figuerola – who became the first Cuban athlete to set an official world record when he ran 10.0 in Budapest in June 1967 – added to his medal collection four years later in Mexico City when he anchored the Cuban 4x100m quartet to silver medals.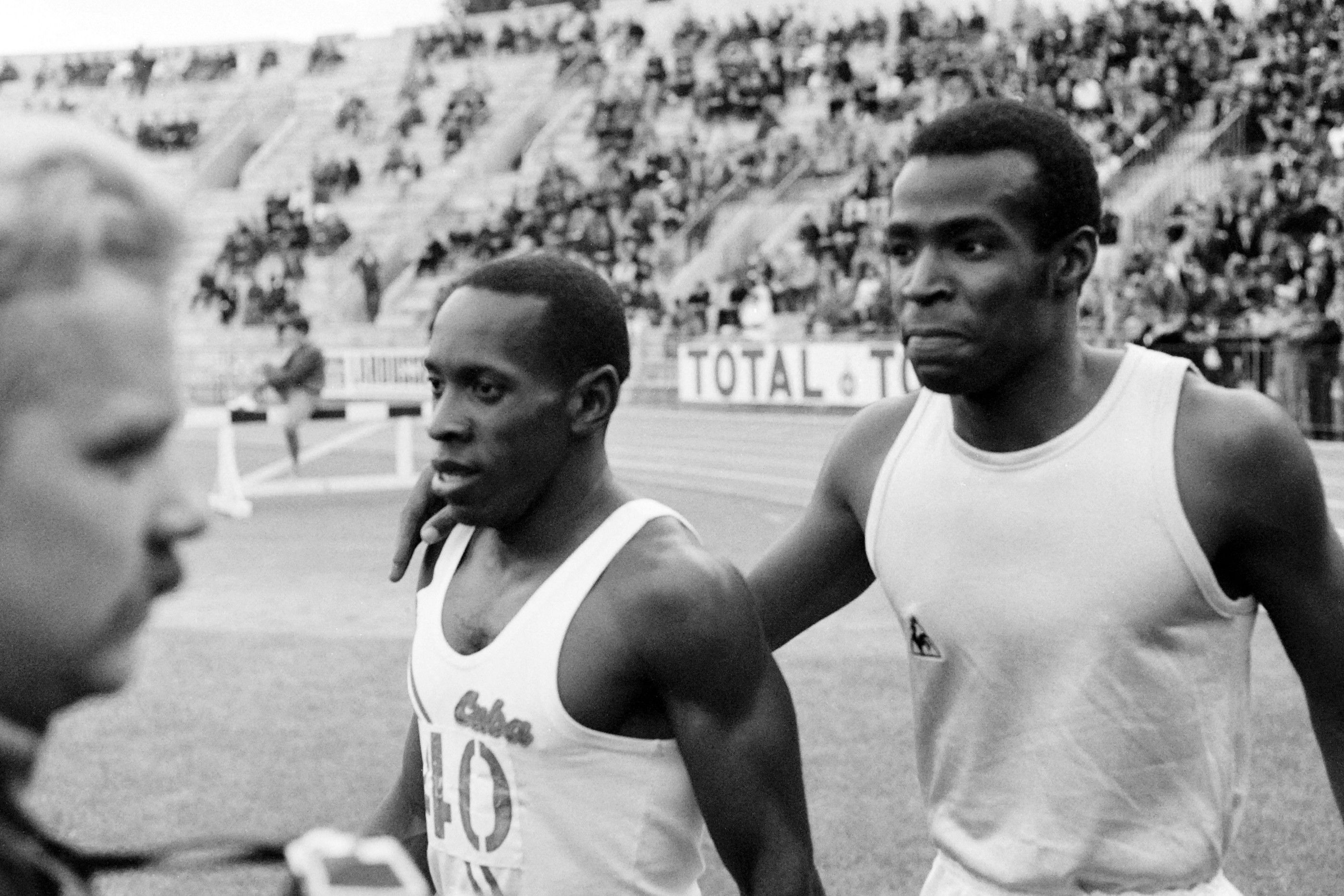 Cuba's Enrique Figuerola pictured with Roger Bambuck of France in 1968 (© AFP / Getty Images)

Thirty minutes later, Cuba's women's 4x100m team also finished second to become the country's first female Olympic medallist in any sport.
Cuban athletes were now making the world sit up and take notice, an impression enhanced when triple jumper Pedro Perez bounded out to 17.40m at the 1971 Pan American Games in Cali, Colombia.
Gold was struck at the 1976 Olympic Games in Montreal when Alberto Juantorena – now a World Athletics Council member – achieved a memorable double, firstly winning the 800m in a world record time of 1.43.50 then, three days later, taking the 400m gold in 44.26, the fastest ever time over one lap of the track not run at altitude.
Juantorena was to reduce his 800m world record to 1:43.44 the following year at the World University Games in Sofia.
Following Juantorena's acquisition of the Midas touch, Cuban athletes were to triumph at the Olympic Games and World Athletics Championships on a regular basis.
Between 1980 and 2008, another nine Olympic victories were achieved, although the Cuban national anthem hasn't been heard in the athletics stadium at the last three editions of the Olympic Games.
It would be impossible to detail all the victories in detail in the short amount of space available but even among this long list of luminaries there are several athletes that have etched their names particularly deeply into the annals of Cuban athletics history.
Colon captures first women's Olympic gold
Maria Caridad Colon became Cuba's first female Olympic champion in any sport at the Moscow 1980 Olympic Games when she launched her javelin out to an Olympic record of 68.40m with her first throw.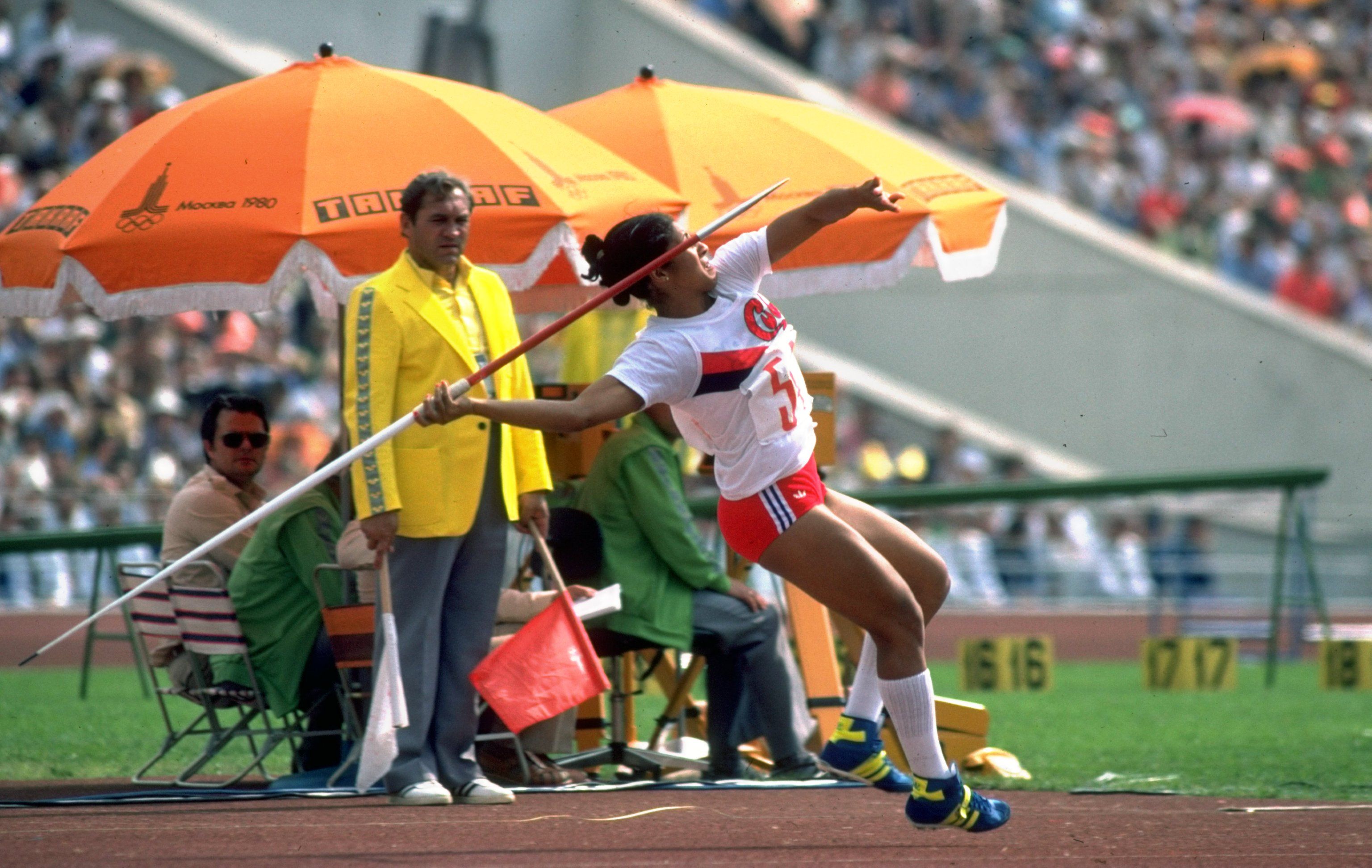 Maria Caridad Colon at the 1980 Olympic Games (© Allsport / Getty Images)

In 2020, Colon became a member of the International Olympic Committee.
Cuba boycotted the 1984 and 1988 Olympic Games, but high jump world record-holder Javier Sotomayor fulfilled his role as the favourite – which he would have been four years earlier in Seoul as well – and won the 1992 Olympic gold medal.
Prior to Barcelona, Sotomayor had set world records of 2.43m and 2.44m in 1988 and 1989, the latter clearing the imperial milestone of eight feet, and had won the 1989 World Athletics Indoor Championships with 2.43m, which remains the world indoor record to this day.
He was to be the dominant high jumper for much of the 1990s and many consider him the be the best high jumper that ever lived.
Sotomayor achieved his third world record in 1993 when he cleared 2.45m in the Spanish city of Salamanca – a mark which has survived almost 29 years so far – and he went on to win at the 1993 and 1997 World Athletics Championships as well as add three more world indoor titles.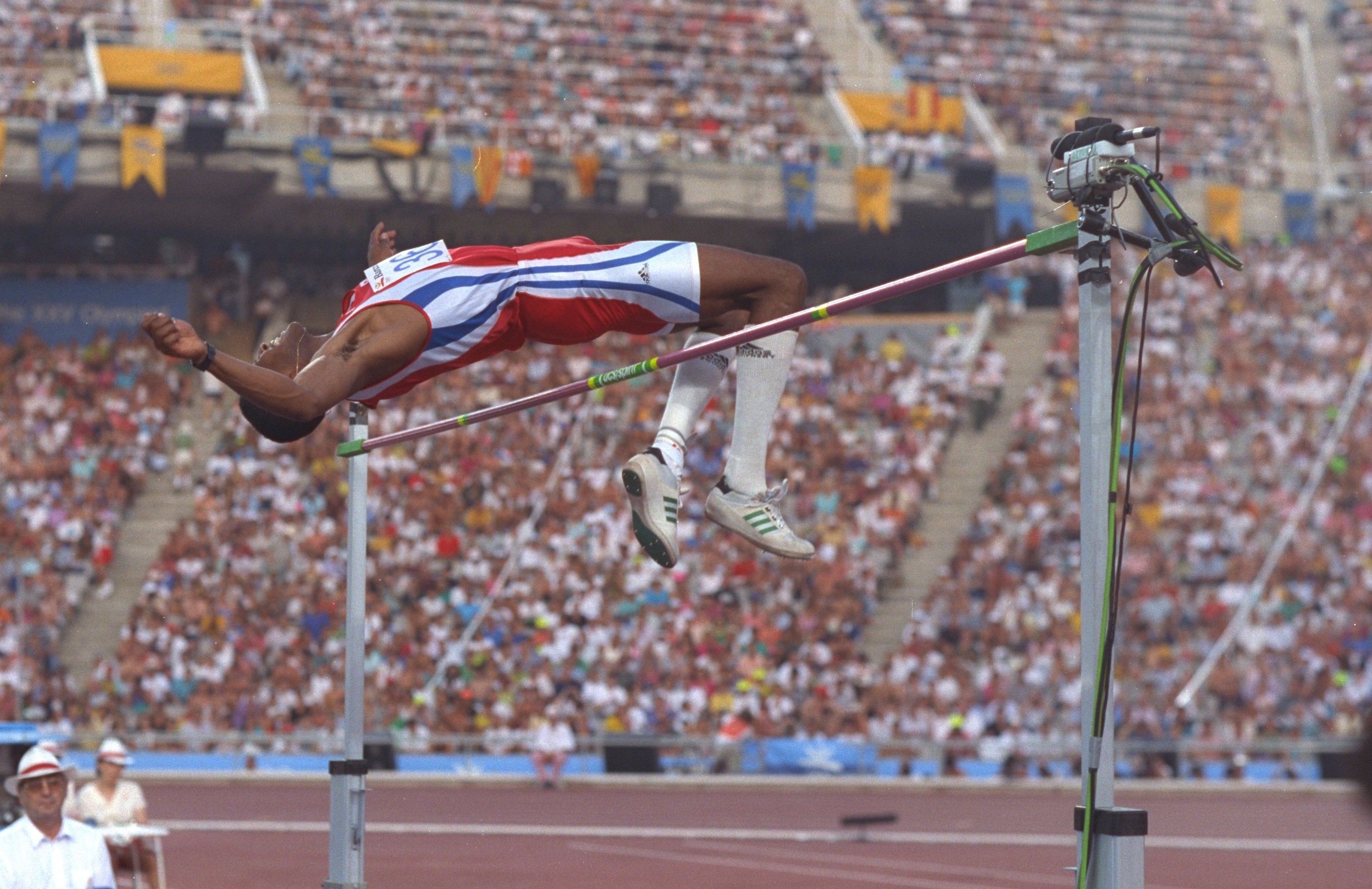 Javier Sotomayor at the 1992 Olympic Games (© Allsport / Getty Images)

A world record eluded long jump great Ivan Pedroso, although he did jump 8.96m at altitude in Sestriere, Italy with an invalid wind reading, but otherwise his gold medal collection even trumps that of Sotomayor's with four outdoor world titles between 1995 and 2001, five consecutive world indoor victories between 1993 and 2001 as well as gold at the 2000 Sydney Olympic Games.
When the women's javelin specification changed in 1999, Osleidys Menendez was one of the quickest to adapt and she set the first official world record with the new implement when she threw 71.54m just a few weeks before she won at the 2001 World Athletics Championships.
After taking another global gold medal at the 2004 Olympic Games, Menendez improved her own world record to 71.70m when regaining her world title in 2005.
Dayron Robles is the most recent of Cuba's 10 Olympic athletics champions – at least on the track as three-time world champion Yipsi Moreno was elevated to the 2008 hammer gold in 2016 following a retrospective doping ban of the original Belarusian winner – when he followed up his 110m hurdles world record of 12.87 in June 2008 by flying over the barriers to victory just over two months later in Beijing.
At the most recent World Athletics Championships in Doha three years ago, discus thrower Yaime Perez was Cuba's only winner.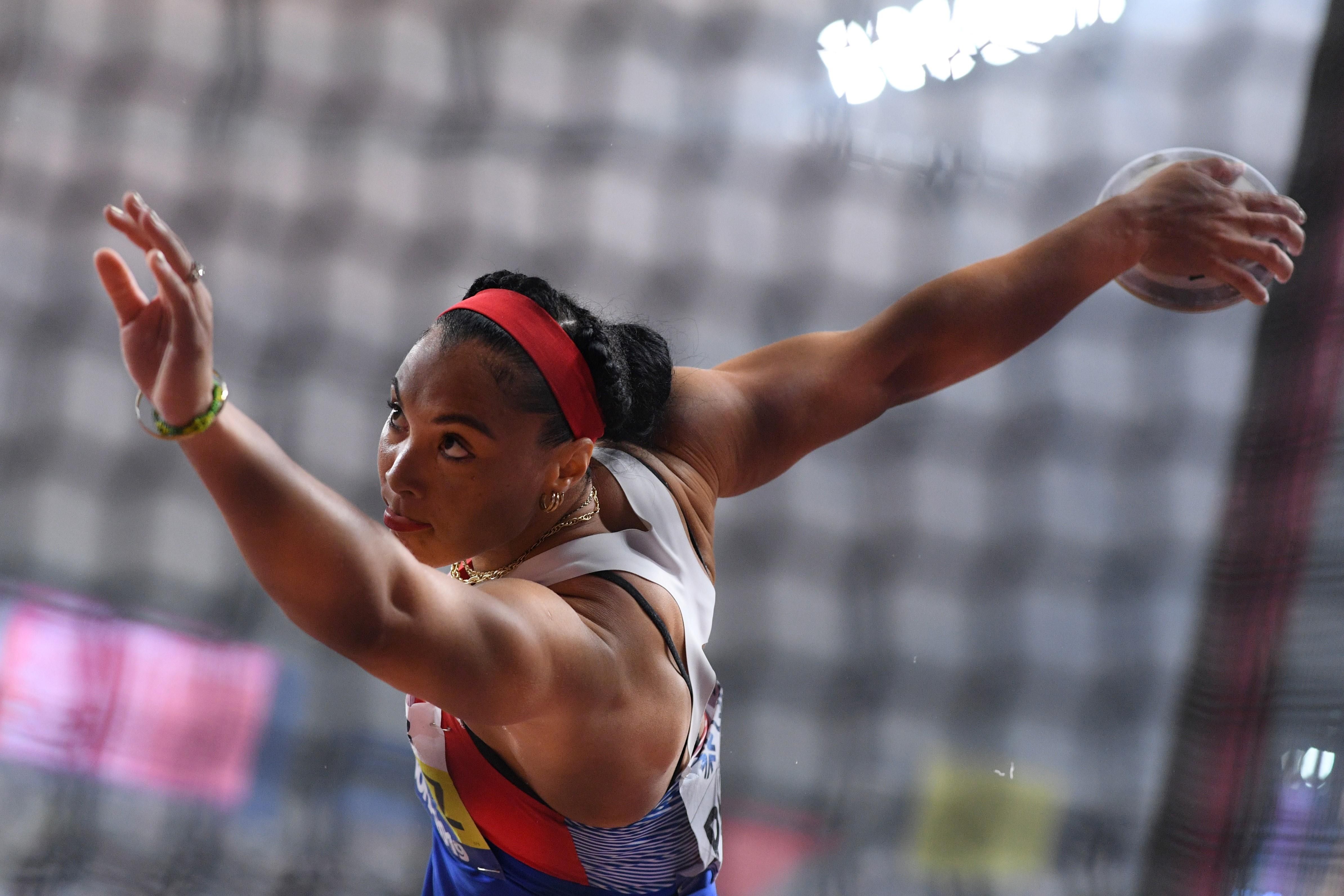 Yaime Perez at the World Athletics Championships Doha 2019 (© AFP / Getty Images)

However, in the Cuban federation's centenary year, their athletes will be looking to add to the 22 gold medals and 80 medals overall at the World Athletics Championships Oregon22 this summer.
Phil Minshull for World Athletics Heritage