Karl-Hans Riehm competes at the 1984 Olympic Games (© Getty Images)
Marking a historic anniversary, Germany's Karl-Hans Riehm has become the latest world record-breaker to make a generous donation of competition kit to the World Athletics Heritage Collection.
Riehm, the 1984 Los Angeles Olympic Games silver medallist and multiple world record-breaker in the hammer throw, has not only kindly gifted his Olympic singlet but also the club vest which he wore when he created athletics history 46 years ago today.
Uniquely all six throws surpassed the old world record!
Karl-Hans Riehm's autographed blue singlet of the TV Germania Trier club was worn by him when he broke the hammer world record no less than three times in a single competition on 19 May 1975.
In Rehlingen, Germany, in front of a crowd of 4000 spectators, the West German opened with 76.70m to add four centimetres to the world record that had been set by the USSR's Aleksey Spiridonov the previous year.
On his next attempt, Riehm improved further to 77.56m. A third-round effort of 77.10m followed before he added almost another metre to the world record with a massive effort of 78.50m.
His final two throws reached 77.16m and 77.28m, making Riehm the only athlete in any field event to ever exceed the prevailing world record with all six attempts.
Riehm holds another rare and distinguished place in athletics history. Along with the USA's Mac Wilkins in the discus throw in San Jose in 1976 and Italian Alessandro Andrei in the shot put in Viareggio in 1987, he is one of three men to have set three world records in one event, in the same competition, on the same day.
A family wager of 1000

Deutsche Marks

Reflecting on his day of days, Riehm this week recalled: "It was really the extent of my success which made it such a huge surprise. I had an idea that a world record might be possible because I had thrown slightly further in training once. But you can never be sure what the conditions will be like, and humans are not machines.

"I phoned my grandfather ahead of the competition and told him that I might be able to throw a world record at the meeting. He did not think that it would be possible and promised me 1000 German Mark if I did it.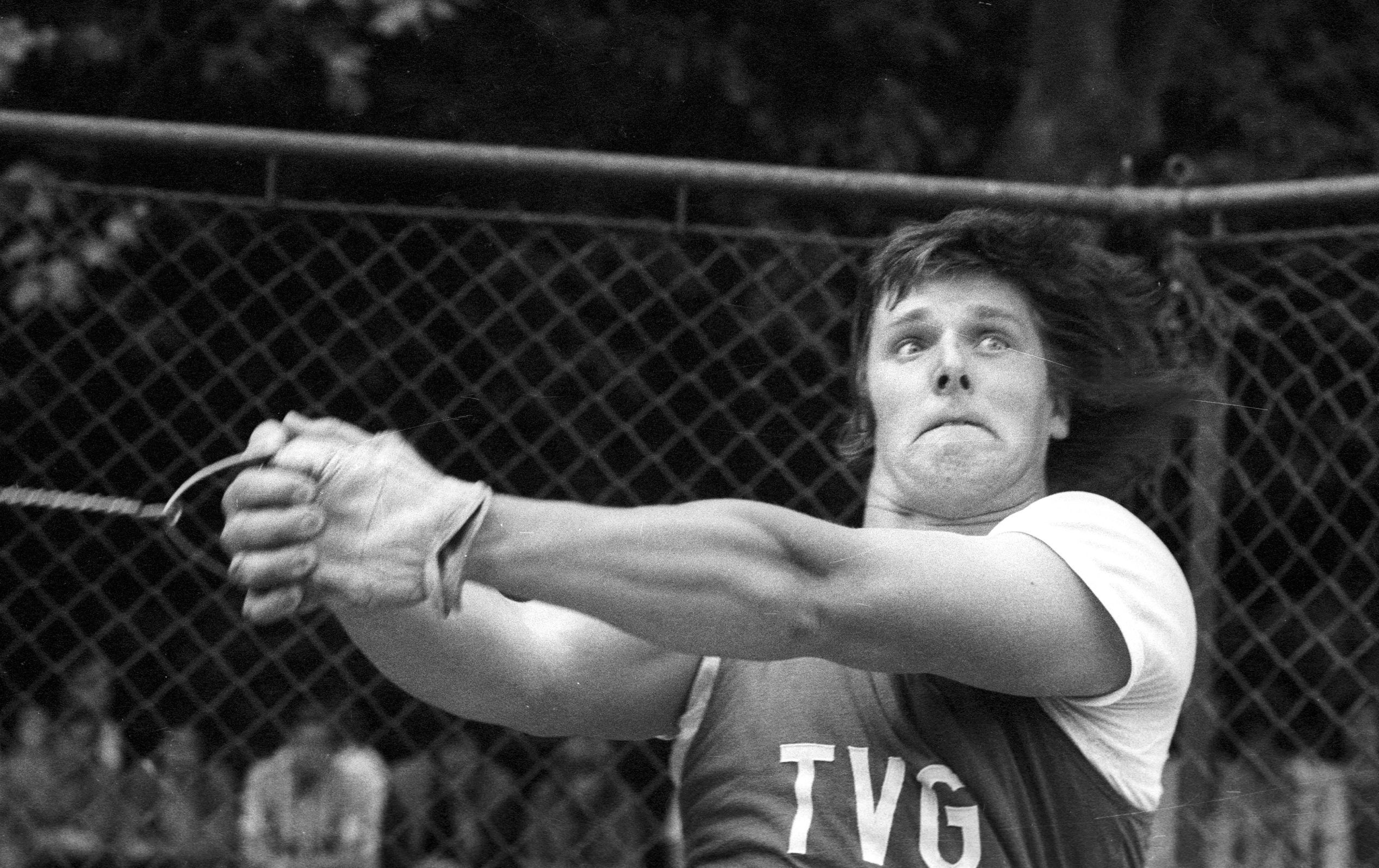 Karl-Hans Riehm during his world record-breaking competition in Rehlingen (© IMAGO)

"The night before the meeting, there was a big party in our home, my parents were celebrating their twenty-fifth wedding anniversary. I went over to the neighbours' house to sleep, at around 10pm.
"The next day, tensions were running high. I came close to the world record distance in the warm-up already.

"On the first attempt, I threw 76.70m, which was four centimetres over Spiridonov's record. They say that all the tension just evaporates after a world record, but for me it was the opposite. I did not let up. It was as if the floodgates had been opened.

"On the second attempt, I threw almost a metre further (77.56m) and on the fourth, 78.50m. Over the old world record in all six attempts – it was incredible."
He added: "The funny thing was that after each world record, the competition had to be interrupted. For each world record, the distance had to be measured for a second time with a second steel tape, which was 100m long. Each time, my equipment had to be re-weighed as well, but the scales were in the stadium, so the judges had to run over there each time.

"After the second world record, they brought the scales over from the stadium and placed them right next to the field, so things sped up after the third world record!"
The

Rehlingen

crowd went crazy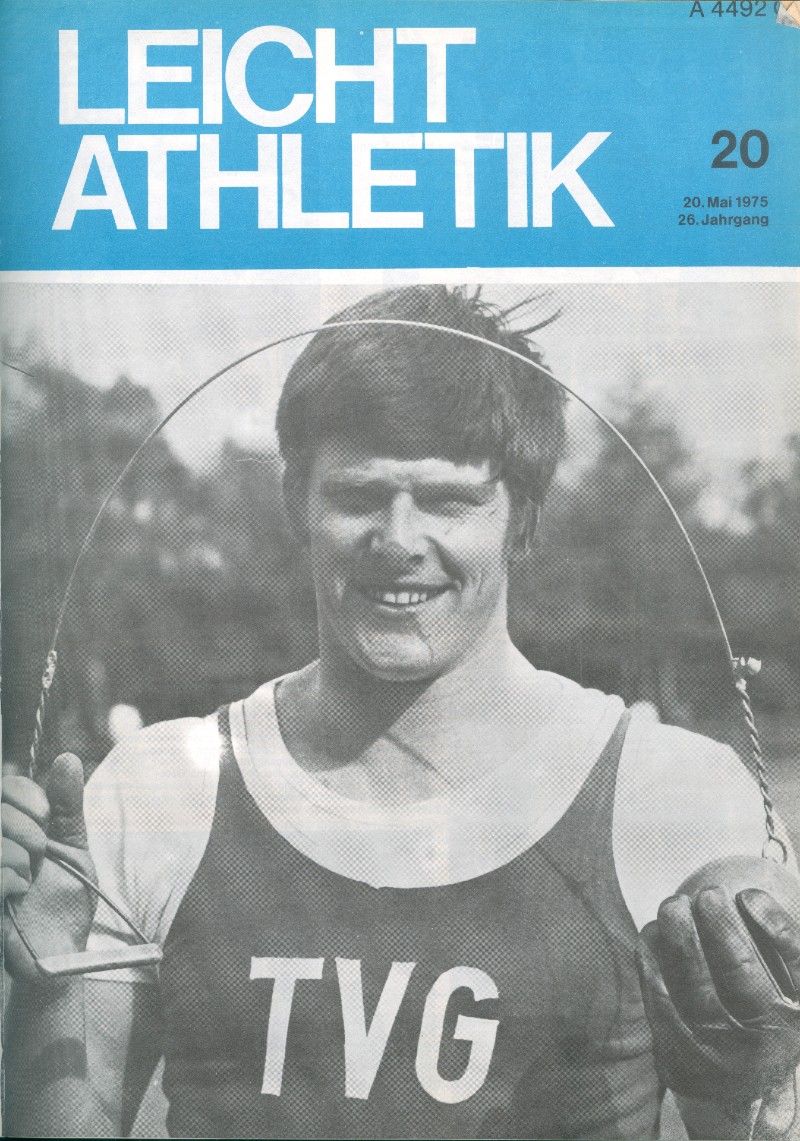 "There were 4000 people there and all the spectators were obviously going crazy," Riehm remembered.

"Afterwards, I drove home with my wife and I just kept shaking my head and saying: 'I will never be able to match this again'.
"None of this would have been possible without the amazing training conditions that we had at the German army's sport development group in Warendorf. We trained 13 sessions a week. Sleep, train, eat. Sunday off to spend time with our families.
"To my family's amusement, my grandfather did pay up and give me the 1000 Marks, as promised!"
Moscow boycott and a medal at last
Riehm went on to throw another world record of 80.32m in 1978. To date this is the last global mark set by a non-Soviet male hammer thrower.
At the age of 33, and at his third Olympics, Riehm finally climbed the podium at the Los Angeles 1984 Olympic Games.
He had finished 10th and then fourth at the 1972 and 1976 Olympic Games but the West German boycott of the Moscow 1980 Olympic Games, when he had thrown over 80 metres and was the best thrower in the world outside of the Soviet Union, had robbed him of his best chance for a medal up to that point.
However, in a reversal of circumstances, the Soviet throwers were absent from the 1984 Olympic Games and Riehm took full advantage. He threw 77.98m to take the silver medal, just 10cm behind the Finnish winner Juha Tiainen.
On public display from July
Riehm's two donated singlets will go on permanent exhibition in the Museum of World Athletics (MOWA) in July.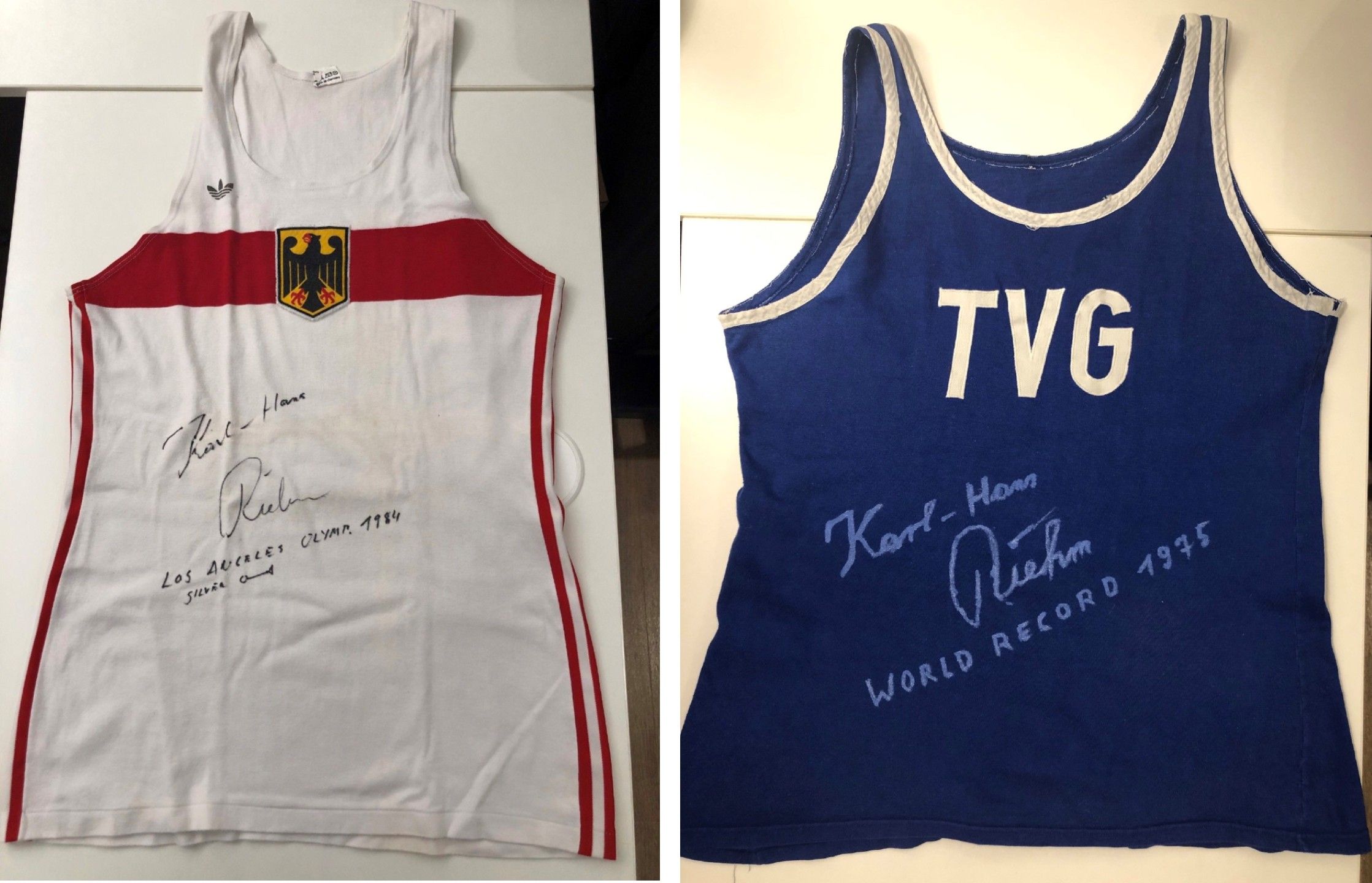 The vests will be introduced to the museum's displays along with another 60 new artefacts, when phase 2 of the world's first 3D virtual sports museum is launched.
Post-pandemic, when actual public exhibitions are again possible, the singlets will also be displayed at major global athletics events.
Chris Turner for World Athletics Heritage
With many thanks to Olaf Brockmann for his assistance in coordinating the donation.