Mark Plaatjes wins the marathon at the 1993 World Championships in Stuttgart (© Getty Images)
On 4 May 1985, Mark Plaatjes ran the fastest marathon of his life: 2:08:58.
At the time, only 11 men in history had been faster at the classic distance. And yet the performance barely registered on the global athletics stage.
Plaatjes raced that day in the dark green vest of his homeland, emblazoned with the springbok national symbol. He broke the South African record wearing a South African singlet in the South African Championship marathon race in Port Elizabeth. Today the donation of that same vest to the Museum of World Athletics (MOWA) will open the MOWA Track & Field Heritage Exhibition Oregon22 in Portland, Oregon, USA. Plaatjes' running top will be on display with the competition artefacts of more than 30 fellow world champions in Pioneer Place shopping mall – 700 SW 5th Ave, Portland, OR 97204 – where the MOWA exhibition will be hosted until the end of the World Athletics Championships Oregon22 on 24 July.
A second MOWA exhibition will open at the EMU building in the University of Oregon in Eugene on 23 June.
'You are as good as anyone'
Back in 1985 – 37 years ago – Plaatjes' performance was not welcomed in the wider athletics world. South Africa and its athletes were outlawed from competing on the international stage.
For athletes like Plaatjes, it was a dual punishment.
As someone classified as "coloured" or "mixed race", under South Africa's Apartheid system of racial separation, Plaatjes – from a family of part-Portuguese origin – had marginally more privileges than black people but did not enjoy the freedoms of white citizens.
After crossing the finish line in Port Elizabeth, even as his country's fastest ever marathon runner, he was barred from making use of the nearby toilet facilities.
That he managed to end up, eight years later, as the internationally-acclaimed marathon champion of the world bore testament to his indomitable spirit – and to his exceptional talent.
Plaatjes was born in 1961 in the Johannesburg township of Coronationville. He was one of 10 children crowded into three bedrooms with their shoemaker father and seamstress mother. The only heat came from a coal stove.
At the age of three, he went to live with his brother, Ralph, and Ralph's wife, Johanna. They gave him the drive to succeed in life, instilling in him a disdain for second-class citizenship.
"You are as good as anyone," they repeatedly told him.
Plaatjes made his debut as a runner in a high school 3000m race on a cinder track in 1978. He won in a pair of Converse high-top basketball shoes. Three months later he became national coloured high school champion.
He was only 17 when he entered his first long distance event: a 31-mile race from Johannesburg to Pretoria. He had never run farther than four miles before.
In preparation, Ralph drove him 18 miles from home and told him to run back. He did so but couldn't walk for two days afterwards. He won the junior section of the race, earning a medal, a tracksuit and a pair of waffle-soled running shoes.
'You look people in the face'
Plaatjes became one of his country's leading distance runners but could not compete outside of his homeland because of the international sporting sanctions imposed on his homeland from 1964 to 1992. He won two South African marathon championships and three national cross-country titles.
Despite death threats from anti-apartheid groups who labelled him "a sell-out" for competing against white people, he kept running and racing, "seeking liberation in his own personal achievement," as the excellent Jere Longman put it in a New York Times Magazine feature.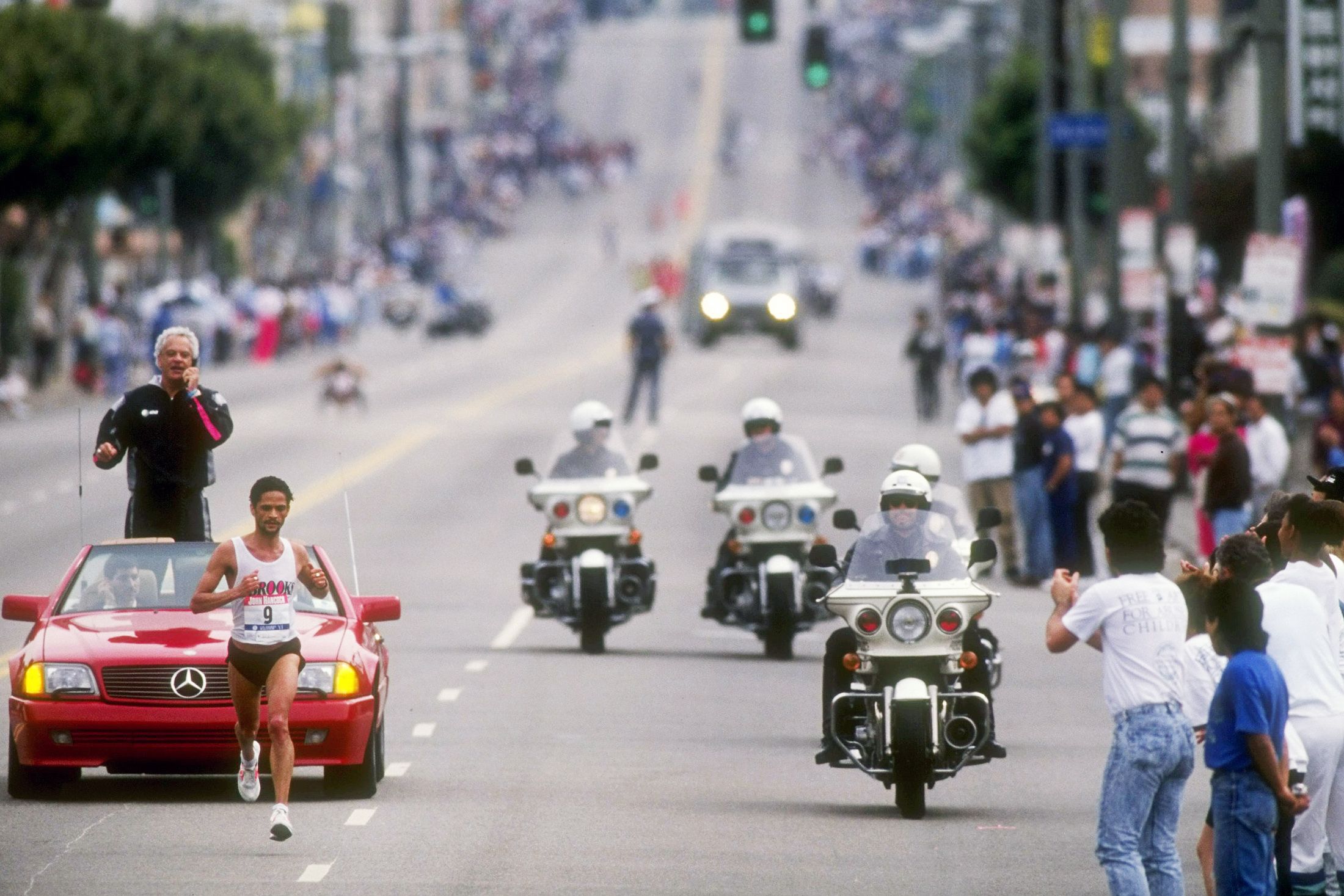 "What better way was there to show the authorities up: to show that you were just as good as anybody," Plaatjes told Longman. "That's all racism is: ignorance.
"If you show people what they don't know, they will change. I invited white people home, to show that we slept in beds, not on rocks; that we ate the same food they did.
"You don't solve conflict by turning the other way. You look people in the face."
Political asylum
Nonetheless, with no sign of the apartheid system being lifted, Plaatjes took the decision to move to the United States in 1988. It was the future of his young daughter, Gene, that drove him to leave South Africa, rather than the prospect of one day competing internationally.
"How do you explain to a three-year-old that she can't go to an amusement park because of the colour of her skin?" he told Longman. "Young children are so innocent. Gene would go up to white children, and the parents would reprimand her for talking to them or touching them. I didn't want her to grow up feeling inferior."
Thanks to Glenn Latimer, one of the leading lights of the marathon scene in the United States and beyond, Plaatjes took a job as a physical therapist at a school for the disabled in suburban Chicago. He applied for political asylum, which was quickly granted, but had to wait five years for US citizenship.
He had long moved on to the distance running haven of Boulder, Colorado, with young Gene and his wife, Shirley – setting up a physical therapy practice there – by the time he received his citizenship papers.
That was on 24 July 1993. Thanks to his sixth-place finish at that year's Boston Marathon, he had already been provisionally selected for the US team for the World Championships in Stuttgart, which took place just three weeks later.
And so, at the age of 32, Plaatjes finally made his international debut – not in the Springbok vest of his homeland, which by then had been readmitted to global competition after the fall of apartheid, but in the red-white and blue of the United States.
'Don't let it go! Don't let it go!'
On an oppressively humid day in southern Germany, he bided his time but never lost sight of his goal of a place on the podium.
After 25km of the 42km race, Luckets Swartbooi of Namibia broke clear and Plaatjes found himself in the second chasing pack. At 33km Plaatjes was up into second place but still some 90 seconds back.
"I didn't think I'd catch Luckets," he told 1976 Olympic 10,000m bronze medallist Brendan Foster in an emotional post-race interview with BBC television.
"I thought I was running for second. At 38km I was told that Luckets had a 50-second lead. Then I got to 39km and I was told he had a 40-second lead.
"I said, 'Yes! Yes!' I made up 40 seconds in one kilometre. I'm going to catch him.
"And then I caught him at 41.5km. I felt sorry doing that because he made the race. He was so gutsy and so brave.
"Unfortunately there's only one winner but, hey, I'm glad it's me."
Plaatjes crossed the line in the Gottleib-Daimler Stadium in 2:13:57 – 14 seconds ahead of the spent Swartbooi.
"Until this year, I thought I'd remain in limbo all my life," Plaatjes told Foster.
"Last year I was completely devastated that they decided I couldn't run the Olympics. I was just emotionally drained after 12 years of fighting.
"And then, after running in Boston, I had a goal. I had a goal in mind. All of a sudden, I was on the team and I had a focus.
"When I was out there today, every time anyone made a move I was like, 'Work your ass off. You've waited 12 years for this. Don't let it go! Don't let it go!' I just kept hanging on."
Foster asked if a little bit of his victory was for South Africa. "Absolutely," Plaatjes replied. "This means so much to the US, but in the back of my mind there was a little bit of something that I was doing for South Africa too."
'Running gave me everything I have in life'
The 1993 marathon world champion turned 60 in June last year.
He still lives happily in Boulder with his wife and family. In 2018 he opened Motion Running, a store that offers much more than shoes and kit – physical therapy, training, inspiration, support – at the heart of what Plaatjes calls "one of the world's most special running communities".
And yet, after 35 years in the United States, he has never forgotten his South African roots.
"Running gave me everything I have in life," Plaatjes told Stephen Granger in an interview in The Cape Times on a trip back to his homeland. "In the early days in Johannesburg, the money we could earn in road races each week made all the difference.
"It paid for the deposit on my house, my education [as a medical student at Witswatersrand University in Johannesburg] and my subsequent opportunities in life.
"Running also got me my wife! Shirley had seen me on my training route, running with the dogs, and one day she stopped me to ask where I was running to. We chatted a bit and the rest is history.
"Road running in South Africa was on a high in the 1980s – probably the glory days, in spite of the international isolation. Every week I was racing against the likes of Matthews Temane, Gibeon Moshaba and Ernest Seleke.
"We had the extra incentive of showing we were as good as the athletes in the rest of the world. We could not race against them but we could record world-class times and make comparisons."
Like on 4 May1985, when Plaatjes became the first South African marathon man to break 2:09.
It would have put him 12th on the world all-time list – just 53 seconds behind Steve Jones' 2:08:05 that had stood as the world record until Carlos Lopes' 2:07:12 run in Rotterdam just the month before.
Even now, 37 years on, Plaaatjes' 2:08:58 stands 10th on the South African all-time list. None of his native compatriots have run faster in the past six years.
Simon Turnbull for World Athletics Heritage