Blanka Vlasic and Mike Powell are inducted into the Memorial Van Damme Hall of Fame (© Memorial Van Damme / James Arthur)
On Wednesday (1) at the Memorial Van Damme Gala, Croatia's Blanka Vlasic and the USA's Mike Powell were inducted into the meeting's Hall of Fame, which was created in 2017.
Belgian middle distance running ace Ivo Van Damme and the meeting, which was founded in his memory in 1977 following his tragic death the previous year when aged 22, were also honoured with the presentation of the World Athletics Heritage Plaque.
Two-time world champions, high jumper Vlasic (2007 and 2009) and long jumper Powell (1991 and 1993), were recognised by the Memorial Van Damme for their contribution to the meeting's storied history of world class athletics.



Wilfried Meert and Mike Powell at the site of the World Athletics Heritage Plaque, King Baudouin Stadium, Brussels (© World Athletics)

Beijing countback
Vlasic made her debut at the Memorial Van Damme at the age of just 17, going on to compete eight times in Brussels and triumph three times.
In Belgium she is best remembered as the big rival of their national heroine Tia Hellebaut. The two memorably met in an epic encounter at the 2008 Olympic Games in Beijing. Both cleared 2.05m, with the Belgian winning the gold on countback. Vlasic had to settle for silver. She also took a bronze in Rio 2016. Along with her two global titles, Vlasic also won two silvers at the World Championships (2011 and 2015).


Unbeatable
Powell made his debut at the Memorial Van Damme in 1985, at 21 years of age with a fifth place. At his seven next appearances – in 1987, 1988, 1989, 1990, 1992, 1993 and 1994 – Powell was unbeatable. Every time he outclassed his opponents with efforts between 8.20m and 8.58m.
Like Vlasic, the US athlete is also a two-time Olympic medallist, with silvers behind Carl Lewis in 1988 and 1992.
However, it is Powell's historic battle with Lewis in Tokyo on 30 August 1991 at the World Championships that is his greatest claim to fame. On that magical evening Powell defeated the then reigning two-time champion with a 8.95m leap which added 5cm to Bob Beamon's historic world record set at the 1968 Olympic Games. Thirty years since Tokyo and Powell's mark remains the current world record.


Legend
On Thursday (2) in Laeken, adjacent to the King Baudouin Stadium, a permanent sculpture celebrating that world record will be inaugurated in the presence of Powell by the Mayor of The City of Brussels, Philippe Close.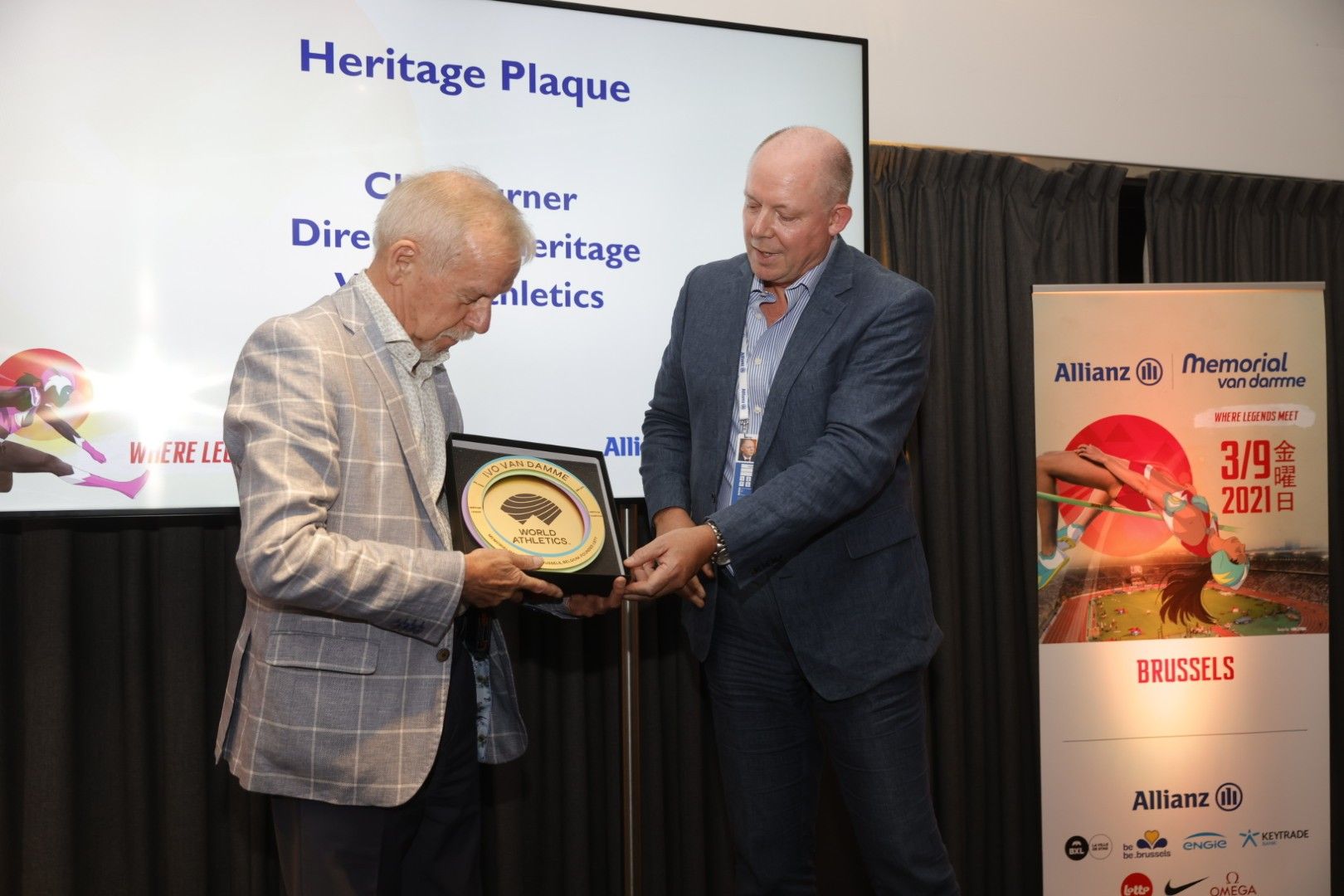 Wilfried Meert receives the World Athletics Heritage Plaque from Chris Turner (© Memorial Van Damme / James Arthur)

The Mayor will also unveil the World Athletics Heritage Plaque, which in November 2019 was awarded by World Athletics President Sebastian Coe to the Memorial Van Damme. The plaque was bestowed in two categories, that of 'Competition' and 'Legend', the latter specifically in honour of two-time 1976 Olympic medallist Ivo Van Damme.
On Wednesday, on behalf of President Coe, World Athletics Heritage Director Chris Turner officially presented the Heritage Plaque to the Memorial Van Damme and it was accepted on behalf of the meeting by Wilfried Meert, a long-time Memorial Van Damme meeting director and himself a member of the Hall of Fame.
The World Athletics Heritage Plaque, which is awarded for "an outstanding contribution to the worldwide history and development of the sport of track & field athletics" is a "location-based recognition which highlights, celebrates and links together iconic and historic athletics competitions, careers, performances, cities, venues, landmarks and culture around the world."
Chris Turner for World Athletics Heritage