Portugal's 1984 Olympic marathon champion Carlos Lopes (© Getty Images)
The Federacao Portuguesa de Atletismo – the Portuguese athletics federation – celebrates its centenary on 5 November and it is fitting that it will come just a few months after its athletes had their most successful ever Olympic Games.
Tokyo saw Portugal get its biggest ever haul of medals at a single Games, with four in total, and athletics contributed half thanks to outstanding performances from triple jumpers Pedro Pichardo and Patricia Mamona.
Pichardo and Mamona took gold and silver respectively in the Japanese capital and with Pichardo's triumph, all five of Portugal's Olympic Games victories have now come courtesy of athletics.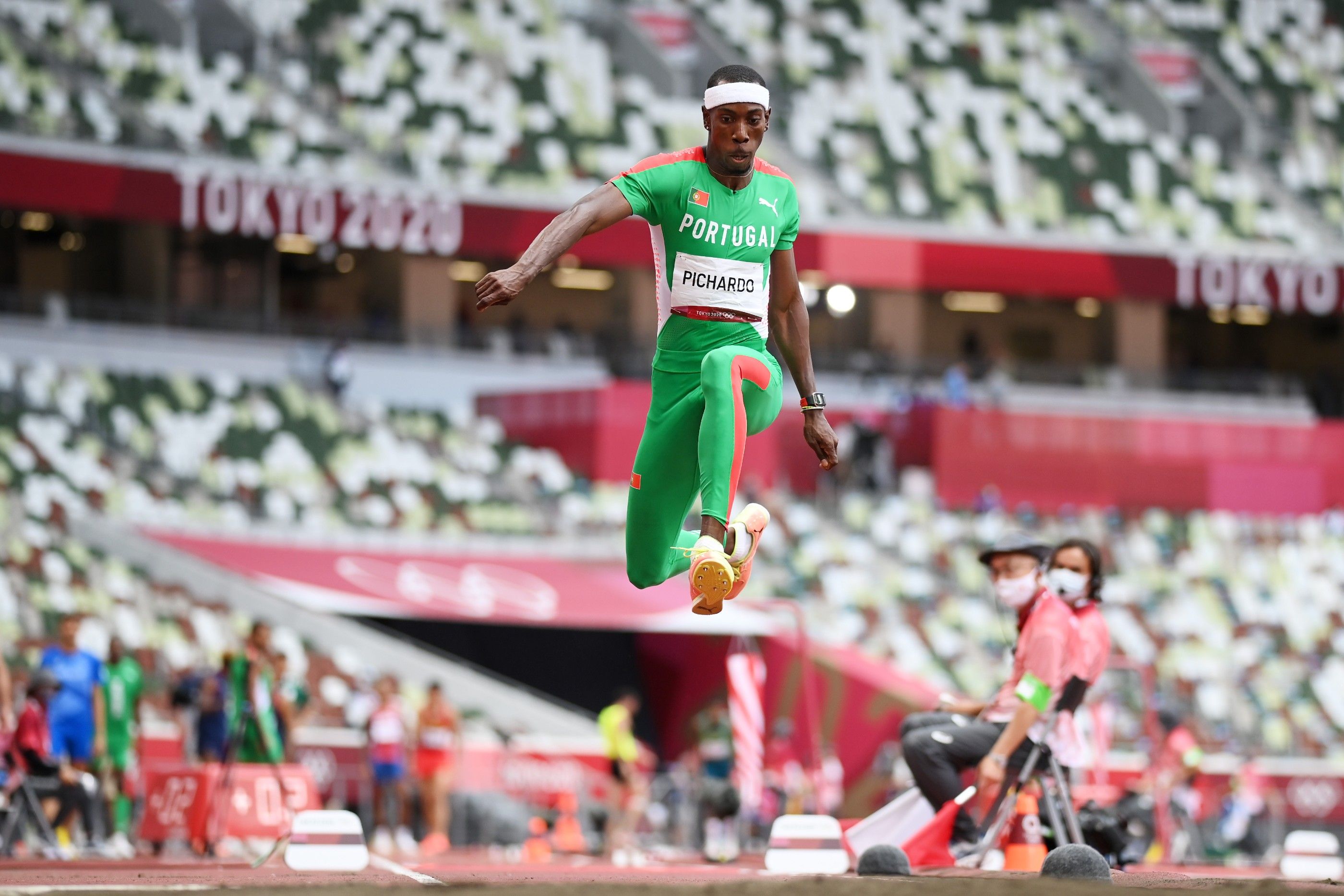 Athletics in Portugal can trace its origins back to the end of the 19th century when, like many other countries around the world, the influence of the British expatriate community was felt as they set up sports clubs in and around Lisbon with athletics events sometimes part of their activities.
The Portuguese magazine Tiro e Sport – which otherwise dedicated most of its coverage to field sports but was later an active organiser of athletics meetings – provided a short report on a 15km race in 1895 along paths between Paco de Arcos to Alges to the west of the centre of Lisbon, organised by the Walkim Race Club from Alges.
This race, grandly called at the time the Portuguese championship, was won by a certain Artur dos Santos, and is usually considered as the first officially organised athletics event in the country. It went on to be organised at different venues around Lisbon on an annual basis for several more years.


Olympic omission
It seems appropriate that the modern-day Portuguese federation offices are barely two kilometres from where this first race finished and nearby is the well-known Oeiras cross country course, which staged the 1997 European Cross Country Championships.
Moving into the 20th century, more and more athletics competitions were held during the first decade of the new century but the failure of the Portuguese authorities to send representatives to the London 1908 Olympic Games led to the formation the following year of the Sociedade Promotora de Educacao Fisica Nacional (National Society for the Promotion of Physical Education), with one of its aims to ensure participation at the next Olympic Games.
The SPEFN subsequently organised the first National Olympic Games, which included athletics events, on 26 June 1910.
Athletics continued to develop at a pace. On 7 May 1911, the first Portuguese cross country championships were held in the Campo do Lumiar in the north of Lisbon and were won by 1908 and 1910 Portuguese marathon champion Francisco Lazaro, without doubt the country's best distance runner of this era.
Having won the Portuguese marathon title for a third time in 1912, Lazaro was selected to go to Stockholm as part of an inaugural Olympic delegation of six men in three sports, which also included sprinter Antonio Stromp and middle-distance runner Armando Luzarte-Cortesao, the latter making the 800m semifinals.
However, on a hot day in Stockholm with the temperatures above 30°C, the unfortunate Lazaro collapsed at around 29 kilometres and tragically died that night.
Debate still reigns as to the cause of his death, whether it was dehydration, as noted after his autopsy; the fact that he had smeared tallow on his legs leaving him unable to sweat; or the fact that he was thought to have included in his diet a mixture of turpentine essence and vinegar.


Jumping into the spotlight
Despite the tragedy of Lazaro, Portuguese athletics continued to progress and prosper in the coming decades, albeit rather slowly.
At the Helsinki 1952 Olympic Games, the nation had its first finalist in an athletics event when Rui Ramos finished 12th in the triple jump, perhaps an early precursor to the county's contemporary success in this event.
Twelve years later in Tokyo, Manuel de Oliveira went closest yet to getting a long-sought medal for Portugal when he finished fourth in the 3000m steeplechase, but it was to be another 12 years before Carlos Lopes became the first Portuguese athlete to stand on an Olympic podium.
Lopes had been a surprise world cross country winner in Chepstow, earlier in 1976, but in Montreal was by now a known quantity.
He led for much of the 10,000m final, gradually increasing the pace over the second half of the race and dropping most of his rivals, but couldn't shake off Finland's legendary Lasse Viren, who went past him just before the bell and on to victory.
Nevertheless, Lopes went on to amass further honours over the next decade.
He was to get silver at the 1977 World Cross Country Championships before a series of injuries took him out of the limelight for several years, but he returned to form in 1982 and succeeded his compatriot Fernando Mamede with a European 10,00m record of 27:24.39.


Lopes becomes a legend
In 1983, he got another world cross country silver medal, and the following year he regained his world cross country title in East Rutherford, New Jersey, before achieving what many people consider to be the greatest moment in Portuguese sport.
At the age of 37, Lopes won his county's first Olympic gold medal in any sport when he won the marathon in Los Angeles in an Olympic record of 2:09:21, despite hot conditions which many thought would mitigate against fast times.
Lustre was added to Lopes' career in 1985 when he won his third world cross country title and a few weeks later won the Rotterdam Marathon in a world best of 2:07:12, taking 54 seconds off the previous best.
For many years, Portuguese athletics success was synonymous with an array of long-distance runners, not just Lopes.
Rosa Mota had taken a bronze in the Los Angeles marathon and also won European titles in 1982 and 1986 as well as the 1987 world title.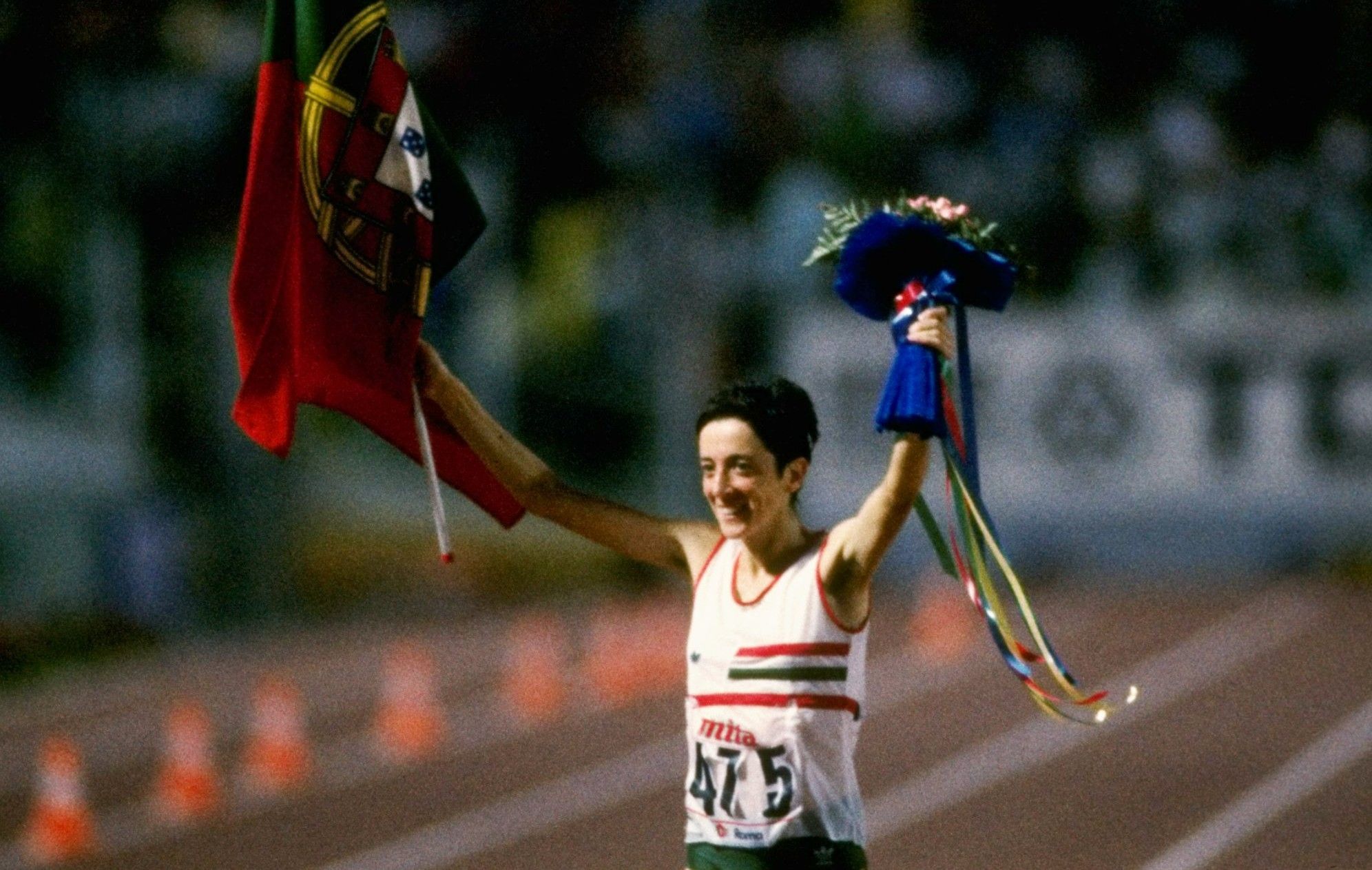 Rosa Mota celebrates her 1987 world marathon win in Rome (© Allsport / Getty Images)

She followed in the footsteps of Lopes when she won the marathon at the Seoul 1988 Olympic Games and then took a still unprecedented third successive continental title in 1990.
Albertina Dias won the 1993 world cross country title while Fernanda Ribeiro won the 1994 10,000m European title and then, in 1995, a world title over the same distance in Gothenburg before becoming Portugal's third Olympic gold medallist when she triumphed over 25 laps of the track in Atlanta.

Manuela Machado's 1995 World Championships marathon win and Carla Sacramento's 1500m title at the 1997 World Athletics Championships also demonstrated how much Portuguese women were to the fore during this decade.


Sliva strikes first indoor gold
Into the new millennium, Rui Silva won the 2001 World Athletics Indoor Championships 1500m title, Portugal's first gold medal at these championships, and a victory achieved to huge acclaim as the event was on home soil in Lisbon.
Later in the decade, Naide Gomes and Nelson Evora were to bound on to the global stage.
Gomes won pentathlon gold at the 2004 World Indoor Championships and triumphed in the long jump at the same event four years later, while Evora was memorably to take the trip jump gold at the 2007 World Athletics Championships and Beijing 2008 Olympic Games and, after years of injury problems, returned to the top of the podium a decade later when he won the 2018 European title.
Continuing the triple jump success story, Pichardo – a nominee for Male World Athlete of the Year 2021 – supplanted Evora as the Portuguese triple jump record-holder in 2018 when he jumped 17.95m and then went further still when he won Olympic gold this summer with 17.98m. All three of his valid jumps in Tokyo were further than anyone else could manage.
Portugal has also, for more than a century, been a willing host of international athletics events. An early indicator of this was when an international club competition was staged in Lisbon in 1909, with teams coming from France and Spain.
Fifty years later, the Portuguese capital was the venue for the 1959 International Cross Country Championships and then the World Cross Country Championships were held in Lisbon again in 1985 followed by Vilamoura on the Algarve in 2000.
A memorable World Athletics U20 Championships were held in Lisbon in 1994. Under cover, the 2001 World Athletics Indoor Championships were a huge success while the European Cross Country Championships has been held three times in Portugal, most recently in 2019, and a plethora of other continental competitions such as the European 10,000m Cup, European Throwing Cup and European Mountain Running Championships have also been held in the country.
Portugal can look back with pride at a century, and more, of being part of the global athletics family.
Phil Minshull for World Athletics Heritage