Athletes compete in the decathlon 100m heats at the Olympic Games in Tokyo (© Getty Images)
Day seven in athletics at the Tokyo 2020 Olympic Games is crammed full of action, with a total of eight gold medals to be won on Thursday (5).
After two days of events, the heptathlon and decathlon will come to their conclusion, while titles will also be claimed in the men's 400m, triple jump, shot put and 110m hurdles, plus the women's pole vault, and over in Sapporo the first of the road events – the men's 20km race walk – will be contested.
Strap yourselves in! Here are five things to watch on day seven…


Multi events magic
Women's heptathlon and men's decathlon
Heptathlon 800m – 9:20pm Tokyo time | 2:20pm CEST
Decathlon 1500m – 9:40pm Tokyo time | 2:40pm CEST



After two days and a total of 17 disciplines, the champions in the heptathlon and decathlon will be crowned.
The list of contenders does not include reigning world champions Niklas Kaul and Katarina Johnson-Thompson, however, as their competitions ended early through injury on Wednesday.
USA's Annie Kunz headed to Tokyo as the world leader, while her teammates Kendell Williams and Erica Bougard make up a formidable US trio.
At the end of the first day, Dutchwoman Anouk Vetter led with 3968 points from Belgians Noor Vidts (3941) and Rio Olympic champion Nafi Thiam (3921). Day two features the long jump, javelin and 800m.
Over in the decathlon, world record-holder Kevin Mayer of France will be looking to claim a second global gold after his 2017 World Championships win, having claimed silver in Rio five years ago.
A decathlon can be unpredictable at the best of times, however, and also among those battling for the title are set to be Canada's Damian Warner, who has finished in the top five at the past six outdoor global championships, picking up Olympic bronze in 2016 as well as world silver in 2015 and world bronze in 2013 and 2019.
Warner led the decathlon overnight on 4722 points from Australia's world U20 champion Ash Moloney (4722) and a second Canadian Pierce LePage (4529), with world record-holder Kevin Mayer sitting in fifth (4350).
The events contested on day two are the 110m hurdles, discus, pole vault, javelin and 1500m.
More hurdles history?
Men's 110m hurdles final
11:55am Tokyo time | 4:55am CEST
Following two consecutive days of world 400m hurdles records, could Grant Holloway do the same in the 110m hurdles?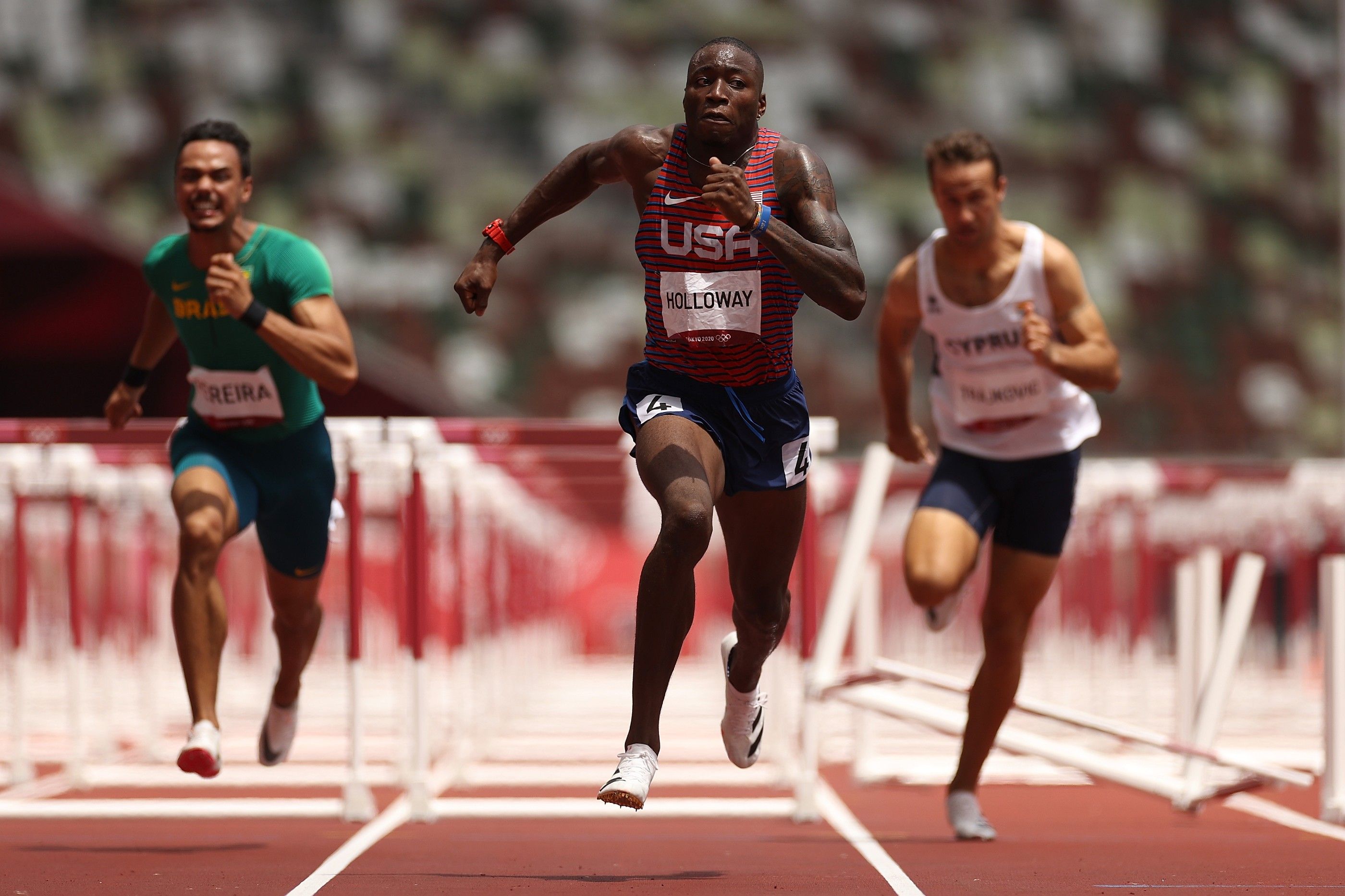 The reigning world champion broke the world indoor record over 60m hurdles this year, and missed the 110m hurdles record by just 0.01 at the US Olympic Trials. He is the clear favourite but this is of course an event which regularly throws up unexpected results.
The other sub-13-second men in the field are Jamaica's Hansle Parchment (12.94) and France's Pascal Martinot-Lagarde (12.95), however neither of them has shown that form this year.
Holloway won his heat in 13.02 – faster than the winning time in Rio five years ago – and he advanced to the final after clocking 13.13. His US teammate Devon Allen was second-quickest in the semifinals, running 13.18 and that quartet will be joined in the final by Jamaica's Ronald Levy, Frenchman Aurel Manga, Spain's Asier Martinez and Andrew Pozzi of Great Britain.
Field events frenzy
Men's triple jump final, men's shot put final and women's pole vault final
Triple jump – 11:00am Tokyo time | 4:00am CEST
Shot put – 11:05am Tokyo time | 4:05am CEST
Pole vault – 7:00pm Tokyo time | 12:00pm CEST
The last time they met in a championship circle Ryan Crouser, Joe Kovacs and Tom Walsh combined to stage the most spectacular shot put competition in history. Kovacs ultimately triumphed with a PB of 22.91m in a contest that offered Oscar-worthy drama with an unforgettable late twist, however Crouser has since taken the world record to 23.37m at the US trials. They all meet again in the final in Tokyo.
An exciting contest is also in store as Hugues Fabrice Zango of Burkina Faso, Portugal's Pedro Pichardo and the USA's Will Claye – who have all leapt 18 metres – are among those to clash in the men's triple jump.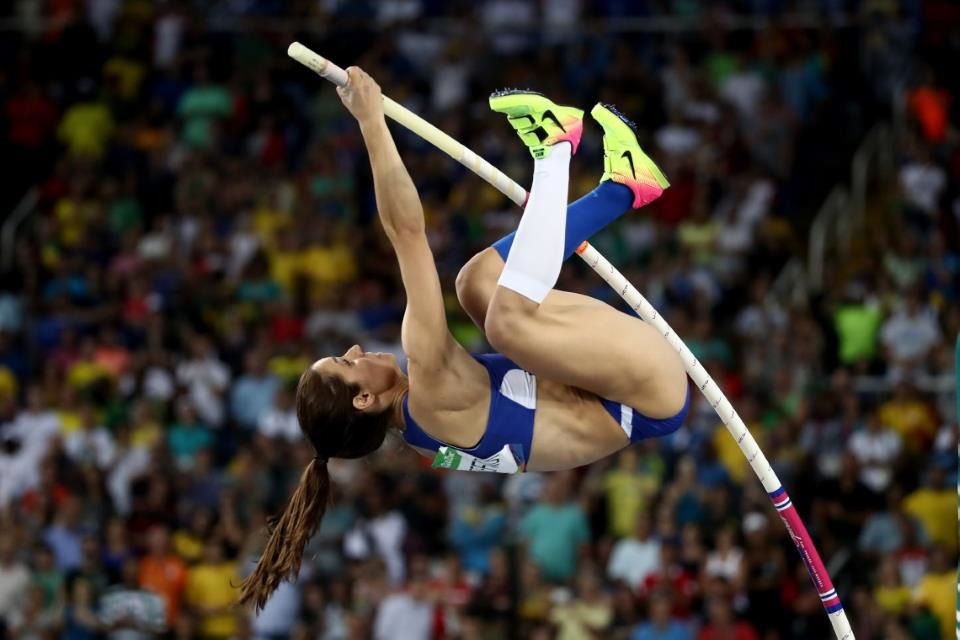 In the women's pole vault later on in the day, reigning world champion Anzhelika Sidorova, the USA's world leader Katie Nageotte and defending Olympic champion Katerina Stefanidi of Greece will be among those going for gold. The USA's 2016 Olympic silver medallist Sandi Morris will not join them after her pole broke during qualifying and she was clearly hampered by a hip injury as she took her second and third attempts.
Race walkers seek success in Sapporo
Men's 20km race walk final
4:30pm Tokyo time | 9:30am CEST
The men's 20km race walk is the first of the events held in Sapporo and of all the athletics disciplines on the Olympic programme, it presents the host nation with the best chance of a gold medal.
In fact, such is their strength and depth in this event, it wouldn't be a surprise to see a Japanese sweep of the podium, with Tashikazu Yamanishi, Koki Ikeda and Eiki Takahashi in action. World bronze medallist Perseus Karlstrom of Sweden will be looking to get on the podium again, however, while the Chinese team is also strong, with national record-holder Wang Kaihua, 2016 Olympic silver medallist Cai Zelin and Zhang Jun.
James looks to cap comeback
Men's 400m final
9:00pm Tokyo time | 2:00pm CEST
This is set to be a competitive battle. The world's quickest man this year, Randolph Ross, did not progress from the heats, meaning Grenada's 2012 Olympic champion Kirani James is the quickest going into the final, thanks to his 43.88 semifinal win ahead of Colombian Anthony Zambrano (43.93). The USA's Michael Cherry (44.44) and reigning world champion Steven Gardiner of Bahamas (44.14) won the other semifinals, with US champion Michael Norman, Botswana's Isaac Makwala, Liemarvin Bonevacia of the Netherlands and Jamaica's Christopher Taylor the other finalists.
After a challenging few years on and off the track, James is making a comeback and will be looking to peak on the Olympic stage once again.
"I have been through a lot, on a professional level and on a personal level," he said earlier this year. "On a professional level, I had this thing called Graves' disease which is a thyroid issue, and in 2019 I lost my mother, so I went back home to be with family. It has been trying but all in all, I thank god, I am still here."