Pole vaulters Anzhelika Sidorova and Mondo Duplantis (© Getty Images)
Women's pole vault
Entries | timetable | world rankings | 2021 world list | world all-time list | how it works
A few weeks before her world title win in Doha in 2019, Anzhelika Sidorova had been in tears over her defeat in the Diamond League final. That loss helped to fuel her to a first global outdoor victory, however, and now the authorised neutral athlete is among the key contenders going for gold again.
In a world final featuring great depth, Sidorova claimed top spot thanks to her third-time PB clearance of 4.95m. This time she heads into global competition with a season's best of 4.91m – a height which puts her second on the world list – from her win at the Wanda Diamond League meeting in Florence, while she has also cleared 4.80m on two other occasions. It was the disappointment of finishing seventh with a best of 4.64m at her season opener in Doha in May which left her determined to "show I could jump much higher".
That 2019 Diamond League title win had been claimed by defending Olympic champion Katerina Stefanidi, who also won world gold in 2017 but had to settle for third two years later in Doha. After that competition she struggled with an undiagnosed heel problem which kept her out of action in 2020, and while she is not among this year's three 4.90m-plus athletes, the Greek record-holder has so far returned to a best of 4.80m which she achieved to finish third at the Diamond League in Rome. Her major championships experience will be invaluable, too, as she forms part of a field filled with quality.
Like in the 2019 world final, which featured a record 17 athletes after they all managed the automatic qualifying height of 4.60m, this year's battle for Olympic glory could go one of many ways.
Joining Sidorova in having soared over 4.90m this summer are the USA's world leader Katie Nageotte and British record-holder Holly Bradshaw.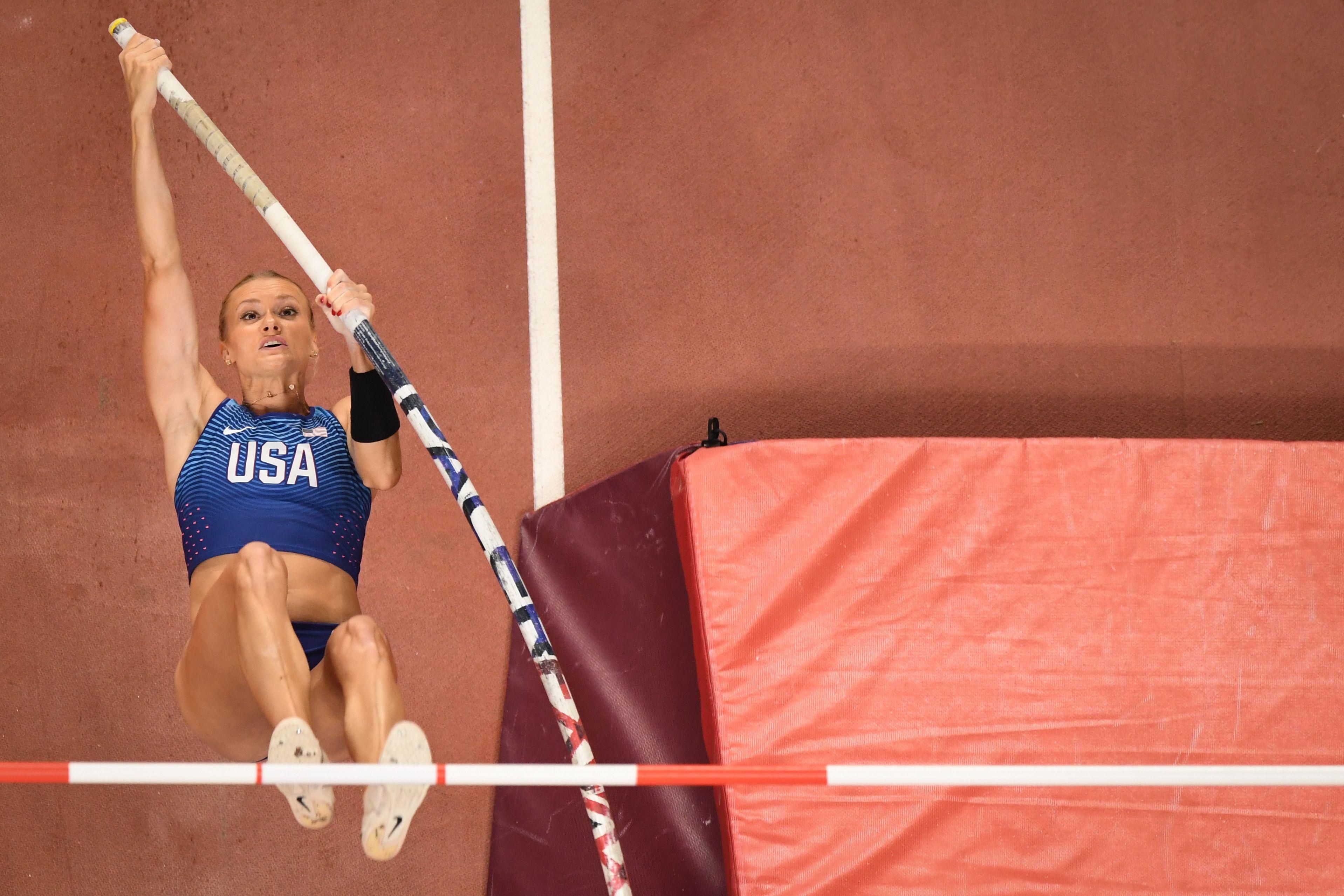 Nageotte may have less major championships experience – she made her debut at the 2018 World Indoor Championships where she finished fifth – but the 29-year-old has gone on to become one of the world's most consistent vaulters. This year she has been over 4.90m in four competitions, clearing 4.93m in May and then 4.94m during an indoor meeting in June, before adding another centimetre to that mark to win the US title. The world's best do not shy away from competing against each other, either, so she has experience of taking on the best, and winning, including at the Diamond League meetings in Doha and Monaco this year.
She's also well aware of what it may take to win in Tokyo.
"I want to bring some hardware home for Team USA," she said after her win at the US trials. "I think it may take five metres to win a medal and that's how I'm going to train."
The one athlete in the field who so far has experience of clearing a bar five metres high is Nageotte's US teammate Sandi Morris. Second on the world outdoor all-time list with her 5.00m from 2016, the 2018 world indoor champion could only finish third at the US trials but did enough to secure her spot on a second Olympic team, where she will look to build on the silver she secured in Rio, plus her runner-up finishes at the last two editions of the World Athletics Championships. Morris, who has cleared 4.88m indoors this year and 4.84m outdoors, also heads to Tokyo off the back of a win at the Diamond League in Gateshead, where she cleared 4.76m.
Bradshaw was second on that occasion, a couple of weeks after her 4.90m national record at the British Championships, and the 2012 world indoor bronze medallist also has performances of 4.85m indoors and 4.82m outdoors to back that up this year.
Nina Kennedy suffered a series of injuries in 2019 but her comeback includes a 4.82m Australian record in March, while Morgann LeLeux joins Nageotte and Morris on the US team after her second place at the trials. Slovenia's Tina Sutej and Iryna Zhuk of Belarus have both cleared 4.74m this summer.
Cuba's 2015 world champion Yarisley Silva competes at her fourth Olympic Games, nine years after securing silver in London.
Jess Whittington for World Athletics
Men's pole vault
Entries | timetable | world rankings | 2021 world list | world all-time list | how it works
Since the last World Athletics Championships in Doha the men's pole vault has been all about Mondo.
Armand "Mondo" Duplantis has carried all before him since a silver medal finish behind world champion Sam Kendricks aged 19 in 2019, graduating from wunderkind to world record-holder in the blink of an eye.
Duplantis – who has been pole vaulting virtually since he could run, under the influence of his father, former US pole vaulter Greg Duplantis – seized the global spotlight in early 2020 when he twice bettered the established world record of 6.16m with extraordinary clearances of 6.17m in Torun, Poland, and 6.18m in Glasgow, UK, in consecutive weeks in February on the World Indoor Tour.
He was soaring just as the Covid-19 pandemic was beginning to plunge the world into a series of lockdowns which prevented many athletes from training as usual for months, including Duplantis who developed a mean golf game during the break.
However, when he had the opportunity to return to training he quickly found his stride again and achieved a world best clearance of 6.15m at the Wanda Diamond League meeting in Rome in September to establish himself as the best pole vaulter in history in all conditions.
He has taken a more measured approach to start this Olympic year, while still clearing 6.10m indoors in February and again outdoors at the World Athletics Continental Tour Gold meeting in Hengelo in June, as he times his run for his first Olympic Games.
He also topped six metres in his last two competitions before the Olympics, a level of consistency above the still imposing six-metre barrier that none of his rivals can match.
The male World Athlete of the Year in 2020, he put together a perfect season of 16 consecutive wins last year and has won 11 of 12 competition this year, but that one loss – to Kendricks in horrid wet and windy conditions at the Diamond League meeting in Gateshead in May – will give his rivals hope that he is not invincible.
After all, Brazil's Thiago Braz pulled off one of the biggest upsets of the Rio Olympics five years ago, when he defeated then world record-holder Renaud Lavillenie to claim the gold medal with a personal best clearance of 6.03m.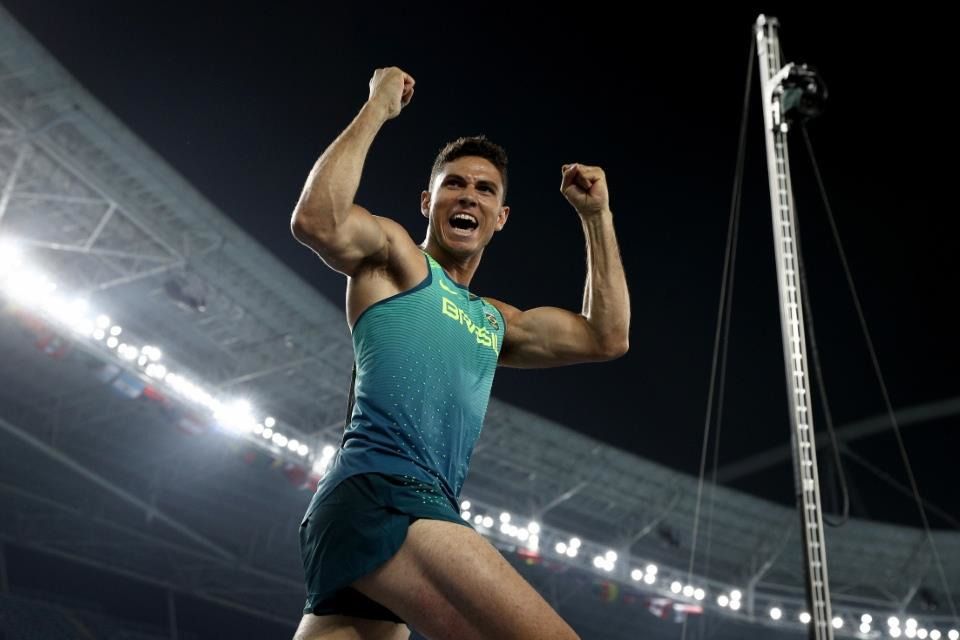 Duplantis is the only man over six metres this year but there will be five men in the field who have reached that milestone outdoors at some stage in their careers, including Kendricks (6.06m), Lavillenie (6.05m) and Poland's Piotr Lisek (6.02m).
The elder statesman Lavillenie, Kendricks and fellow US vaulter Chris Nilsen have each cleared 5.92m, with Ernest Obiena (5.87m) bidding to become the first track and field athlete from the Philippines to win an Olympic medal for 85 years.
In all, there have been 20 men over 5.80m this year – including defending champion Braz – which points to the exceptional depth in the event.
However, 34-year-old Lavillenie sprained his ankle just two weeks ago when he landed on a mat awkwardly as he prepared for a competition in France and will need all of his experience to be ready to compete near his best in Tokyo.
There is a famously collegiate spirit between the world's best pole vaulters – Duplantis held an umbrella over Kendricks to protect him from the rain as he prepared to defeat the US-born Swede in Gateshead. Meanwhile, Lavillenie treats Duplantis like he is his younger brother and coached him on-field as he set the outdoor best of 6.15m in Rome last year.
But once they hit the runway they are the fiercest of competitors, which makes for a reliably fascinating contest, and Tokyo should be no different.
Nicole Jeffery for World Athletics