Long jumpers Tajay Gayle and Malaika Mihambo (© Getty images)
Men's long jump
Entries | timetable | world rankings | 2021 world list | world all-time list | how it works
Based on 2021 form, the men's long jump looks to be one of the most wide open competitions on the Tokyo athletics programme. It will also be among the most watched, given the unique ambitions that have propelled US jumping sensation JuVaughn Harrison on to centre stage.
The 22-year-old has made a habit of successfully doubling in the high jump and long jump this year, winning both titles at the Southeastern Conference indoor championships, the NCAA indoor and outdoor championships and, incredibly, at the US Olympic Trials last month where he topped 2.33m in the high jump and sailed a lifetime best of 8.47m in the long jump. That made him the first US athlete to qualify for both events since the legendary Jim Thorpe in 1912.
So, Harrison figures, why stop there?
He'll kick off a busy four days with high jump qualifying on Friday morning (30), will return to action in the long jump qualifying on Saturday evening (31), back again for the high jump final on Sunday night (1) before concluding with the long jump final 15 hours and 10 minutes later on Monday morning (2).
His medal prospects in both events are good, but especially in the long jump where his winning mark from the US Trials is the second farthest of the year. Harrison also has an 8.44m leap from earlier in the season to back that up along with an 8.45m leap indoors which catapulted him into the No.8 spot indoors all-time.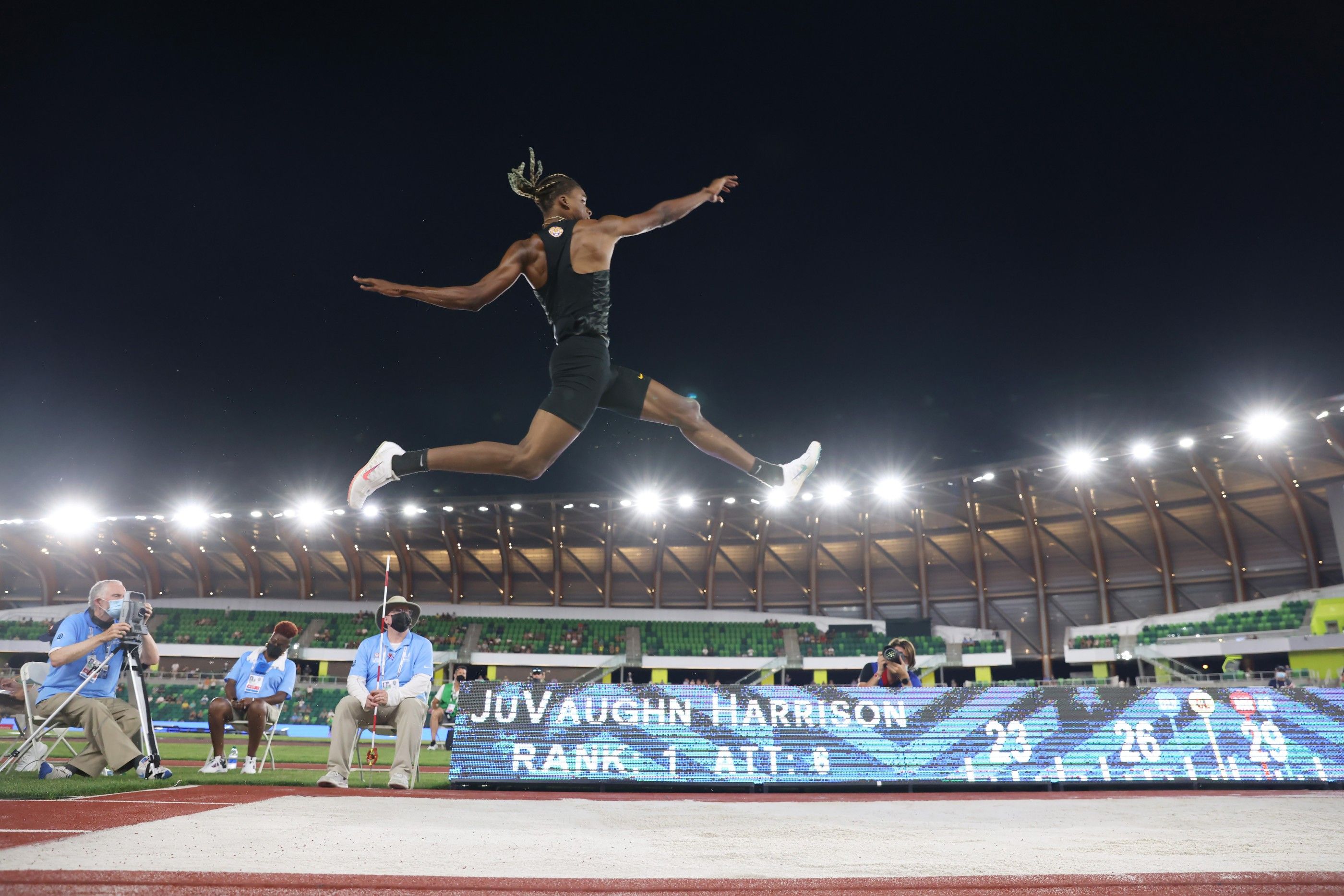 The only man to jump farther thus far this season is Miltiadis Tentoglou of Greece, the reigning European champion who sailed 8.60m at a domestic competition in late May. That leap smashed his previous PB set last year by 28 centimetres. Indoors he managed an 8.35m leap, just three centimetres shy of his lifetime best, to successfully defend his European indoor crown. He jumped 8.24m to win in Monaco on 9 July, his final pre-Tokyo competition.
We can also expect Cuban star Juan Miguel Echevarria in the chase. The 22-year-old has electrified the event since his breakout in 2018 when he won the world indoor title and flew to a wind-aided 8.83m leap in Stockholm which forced organisers to make the landing pit longer for the 2019 edition. He arrived in Doha as the favourite for the world title that year and responded to the pressure reasonably well, taking bronze in a fiercely fought competition.
That title went to rising Jamaican star Tajay Gayle who unleashed an 8.69m leap in the fourth round to steal the victory, smashing his PB by 37 centimetres in the process. He hasn't jumped nearly as far in 2021 (8.29m SB) but has managed victories in Stockholm (8.55m/+2.3m/s) and at the Jamaican championships.
A sixth place finish at the notoriously difficult US trials means that reigning Olympic champion and 2019 world silver medallist Jeffery Henderson won't be defending his title, but Harrison will be joined by Marquis Dendy (8.35m SB, 8.42m PB), the 2016 world indoor champion, and Steffin McCarter (8.26m SB, PB), who should both figure in the medal hunt.
Echevarria will be joined by Maykel Massó, also 22, a former world U18 and U20 champion who improved to 8.39m this year. Gayle, meanwhile, will be joined by Carey McLeod, a student at the University of Tennessee who jumped a lifetime best of 8.34m to beat Harrison at the SEC outdoor championships in May.
Host nation hopes lie with Yuki Hashioka, the 2018 world U20 champion who has been improving steadily since. The 22-year-old flew to the national title in June with an 8.36m effort, a lifetime best which landed him at No.7 on the 2021 world list.
Bob Ramsak for World Athletics
Women's long jump
Entries | timetable | world rankings | 2021 world list | world all-time list | how it works
Opportunity knocks in the women's long jump for whoever can produce their best performance on the day in Tokyo's Olympic stadium.
This Olympic season has thrown up a bunch of medal contenders but none has established dominance so far.
There are six women with legal jumps over the still-impressive barrier of seven metres this year, five of whom will be in the field in Tokyo.
Nigeria's Ese Brume, bronze medallist at the World Athletics Championships in Doha in 2019, has the biggest jump of the year with 7.17m, from American Tara Davis (7.14m) and the ageless 2012 Olympic champion Brittney Reese, who leapt 7.13m to win at the US Olympic Trials last month.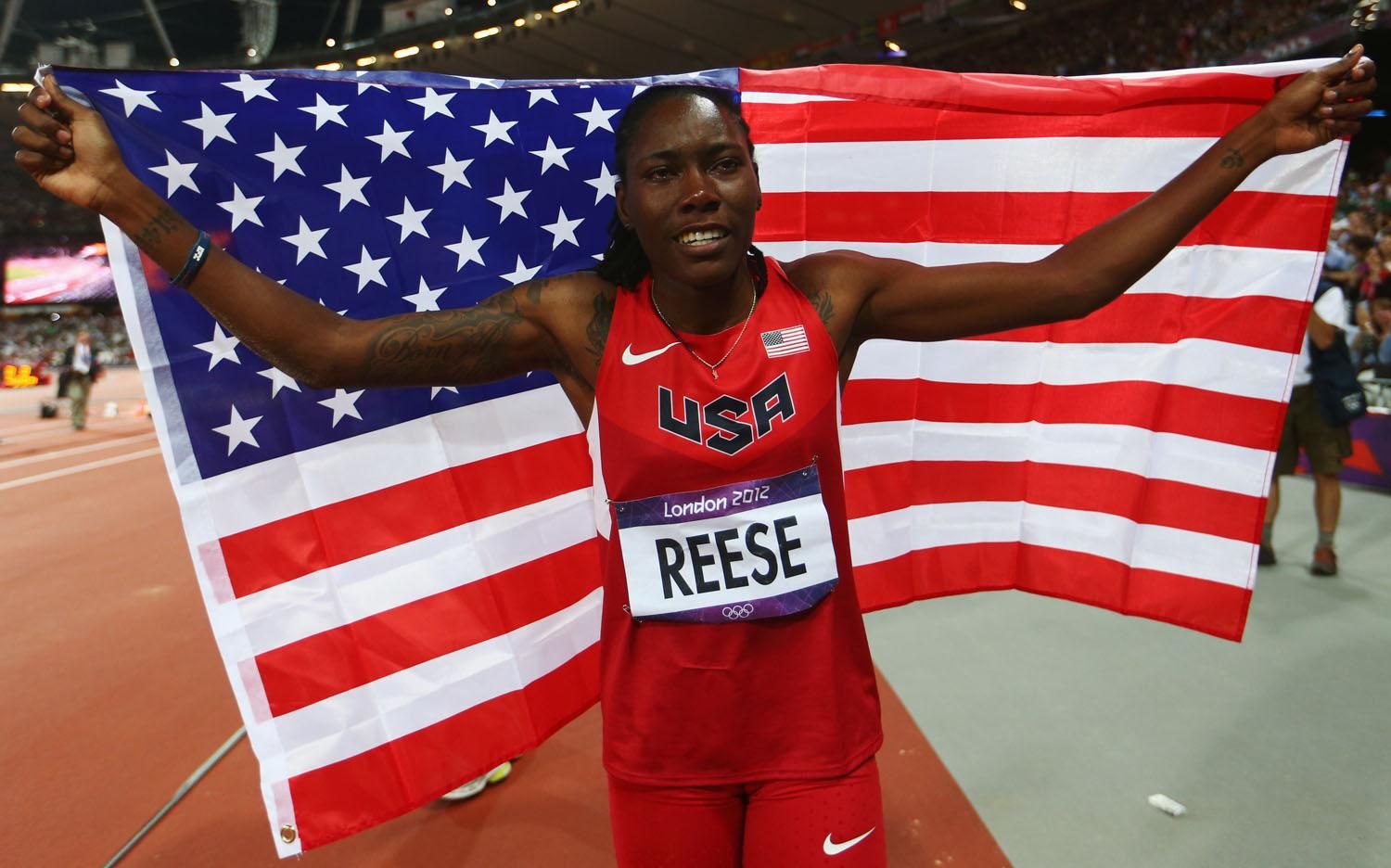 The reigning world champion Malaika Mihambo has not yet found the form that carried her to that title in Doha in 2019 and currently stands in 10th place on the list of top performers (6.92m).
However, she did register a wind-assisted 7.02m at the Wanda Diamond League meeting in Stockholm earlier this month which suggests she is finding her rhythm.
The Diamond League has produced three different winners from the four women's long jump competitions held to date this year.
Germany's Mihambo triumphed in Oslo, Doha silver medallist Maryna Bekh-Romanchuk was the most recent winner in Gateshead, while Serbian veteran Ivana Spanovic took wins in Florence and Stockholm. However these events were conducted under the experimental "Final Three" format, whereas the Olympic competition will revert to the traditional six-jump final.
All of which makes it a very unpredictable event this year.
In the absence of the 2016 Olympic champion Tianna Bartoletta, 34-year-old Rio silver medallist Reese is the best credentialed woman in the field with four world titles to her name between 2009 and 2017.
She has not competed outside the US this year, but has registered seven-metre-plus jumps at three different competitions and is still performing to the highest standard in her 14th year at the top of the game.
Meanwhile, her 22-year-old teammate Davis is just setting out on her journey as a professional athlete. The effervescent Davis won the NCAA title this year and then leapt 7.04m to finish second at the US Olympic Trials and earn her place on the Olympic team.
Outstanding college athletes sometimes find the Olympic journey a step too far after a long NCAA season and it remains to be seen if Davis can maintain, or improve on, the standard she set in the first half of the year.
Brume popped out a huge jump in California in May but has struggled to reproduce that form more recently, while Ukraine's Bekh-Romanchuk is admirably consistent just under the seven-metre mark but has yet to show she can jump big enough to win a major title.
Mihambo has not approached the massive 7.30m jump she performed to clinch the world title in 2019 but then neither has anyone else. If she can uncork that magic in the Olympic arena the gold medal will almost certainly be hers. If not then there could be plenty of contenders eyeing the medals.
Nicole Jeffery for World Athletics