David Rudisha celebrates his 800m win and world record at the London 2012 Olympic Games (© AFP / Getty Images)
Ten years on, the men's 800m final at the London Olympics remains suspended in time as 1:40.91 of sheer athletic perfection and grace.
It might have been a decade ago but David Rudisha's run in the English capital's showpiece Olympic arena on the evening of Thursday 9 August 2012 is a timeless two-lap tour de force.
If you check out the Kenyan's gait as he strides majestically up the home straight, you will see the form not so much of a master of the middle distances, but of a natural sprinter pushing back the boundaries of high-speed endurance.
That, in essence, is what the 6ft 3in Maasai warrior accomplished as he claimed Olympic 800m gold in the style of Alberto Juantorena, setting new world record figures in the process.
In Montreal in 1976, Juantorena took 0.20 off Marcello Fiasconaro's world record as he galloped to victory in 1:43.50. The great Cuban was nicknamed El Caballo, the horse.
There was more than a touch of the thoroughbred about Rudisha's stunning display of sustained pace. He blitzed through 200m in 23.5, 400m in 49.28 and 600m in 1:40.91.
A herd of 50 cattle were slaughtered in his honour at his initiation ceremony as fully-fledged Maasai warrior in 2010. Two years on, the smooth-striding powerhouse of a Kenyan slaughtered both the opposition and his own world record.
"Most extraordinary piece of running ever"
Rudisha led from gun to tape and finished 0.18 clear of 18-year-old Botswanan Nijel Amos in 1:40:91. That was precisely 0.10 inside the global mark he set in Rieti in 2010.
His average speed per 200m section was 25.22.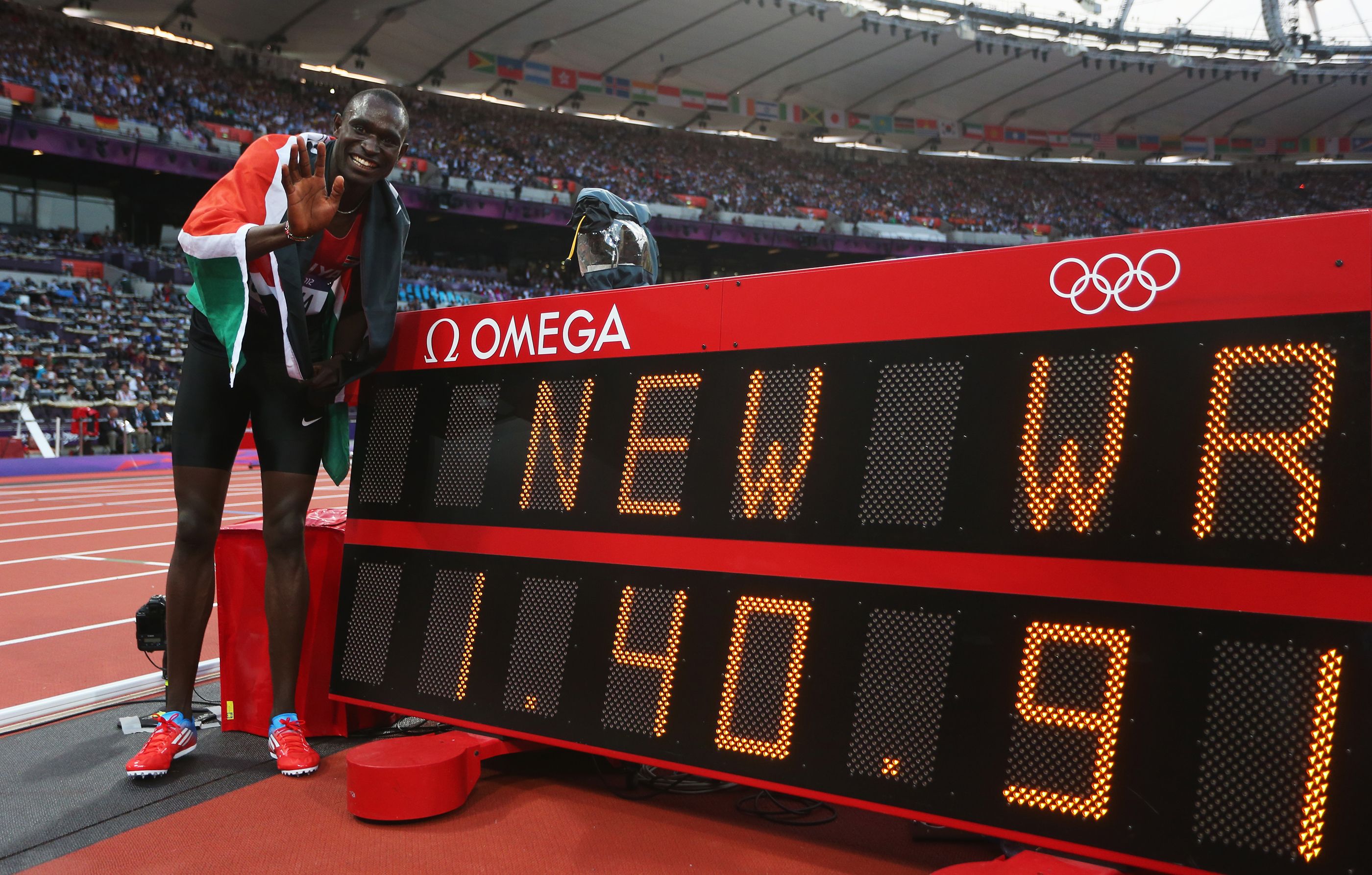 David Rudisha next to his world 800m record figures at the London 2012 Olympic Games (© Getty Images)
The 80,000 crowd watched in wonder. Up in the main stand, the chairman of the London 2012 organising committee, Sebastian Coe, was as awestricken as anyone. "It was the most extraordinary piece of running I have ever seen," he said.
The future president of World Athletics was a two-time world record-holder for the two-lap distance. His best time was 1:41.73, which Amos matched with a world U20 record in second place.
"That is one of the few races I watch back and I remember everything about it," the quietly-spoken, self-effacing Rudisha confided in a Kenyan television documentary. "It's just as fresh as yesterday.
"I ran the race exactly the way I planned, only a little faster. I wanted to run 1:41.00. When I saw 1:40-something on the clock, it was a little bit of a surprise."
"Iconic race"
Breathtaking as it was for the watching world to behold, the performance came as little surprise to the genial soul who was the chief architect of Rudisha's 2012 Olympic success – and those of countless other Kenyans on the international track and field stage.
As was his wont on the major occasions for his athletes, Brother Colm O'Connell was far from the madding crowd of London. The Irish missionary watched the fastest 800m race in history on television, while leaning against the bar of the Kerio View Hotel on the edge of the Great Rift Valley in Iten.


World record-holder David Rudisha with his coach, Colm O'Connell (© Myra McSweeney)
In keeping with his unassuming nature, Brother Colm likes his world-beating middle and long distance runners to get on with the business of winning their global titles without their coach getting in the way of the attendant fuss at major championships. He raised a quiet pint in celebration of Rudisha's awesome victory, the champagne moment of the track and field programme at London 2012.
"I didn't need to be in London to see David running in an iconic race," he said. "When my athletes develop and grow to become successful senior athletes, that's enough for me. They don't need me to be there with them at their major races.
"David had everything in place when he went to London. He was a championship runner. He was world record-holder. He was prepared mentally.
"He was on top form, on top of his game. He had everything he needed, and everything went well for him there."
Everything has gone rather well for Brother Colm since the day he arrived at St Pat's - St Patrick's High School, a boarding school for boys, 7,900 ft above sea level at Iten in Kenya's Rift Valley.
A geography teacher with no prior involvement in athletics, he learned the rudiments of middle and long distance training from the colleague he was being trained to succeed as PE coach: Pete Foster, brother of Brendan Foster.
"I arrived in July 1976, the same week the Montreal Olympics opened," he recalled. "We listened on Pete's beaten-up old radio to the BBC commentary of Brendan running in the 10,000m and winning a bronze medal."
"OK, the genes are right"
Rudisha became Brother Colm's sixth Olympic champion. His first was Peter Rono, who succeeded Coe as 1500m champion with his surprise victory in Seoul in 1988.
He first saw Rudisha run in in 2004, in a 200m race at the Rift Valley Provincial District Primary School Championships. "Soon after, I saw this tall young Maasai boy running in another race and I invited him to a training camp," Brother Colm recalled.
"I asked him what his name was and he said, 'David Rudisha'. I said, 'There's only one other Rudisha I've ever heard of: Daniel Rudisha. Are you related to him?'
"He said, 'Yeah, he's my father.' I thought, 'OK, the genes are right'."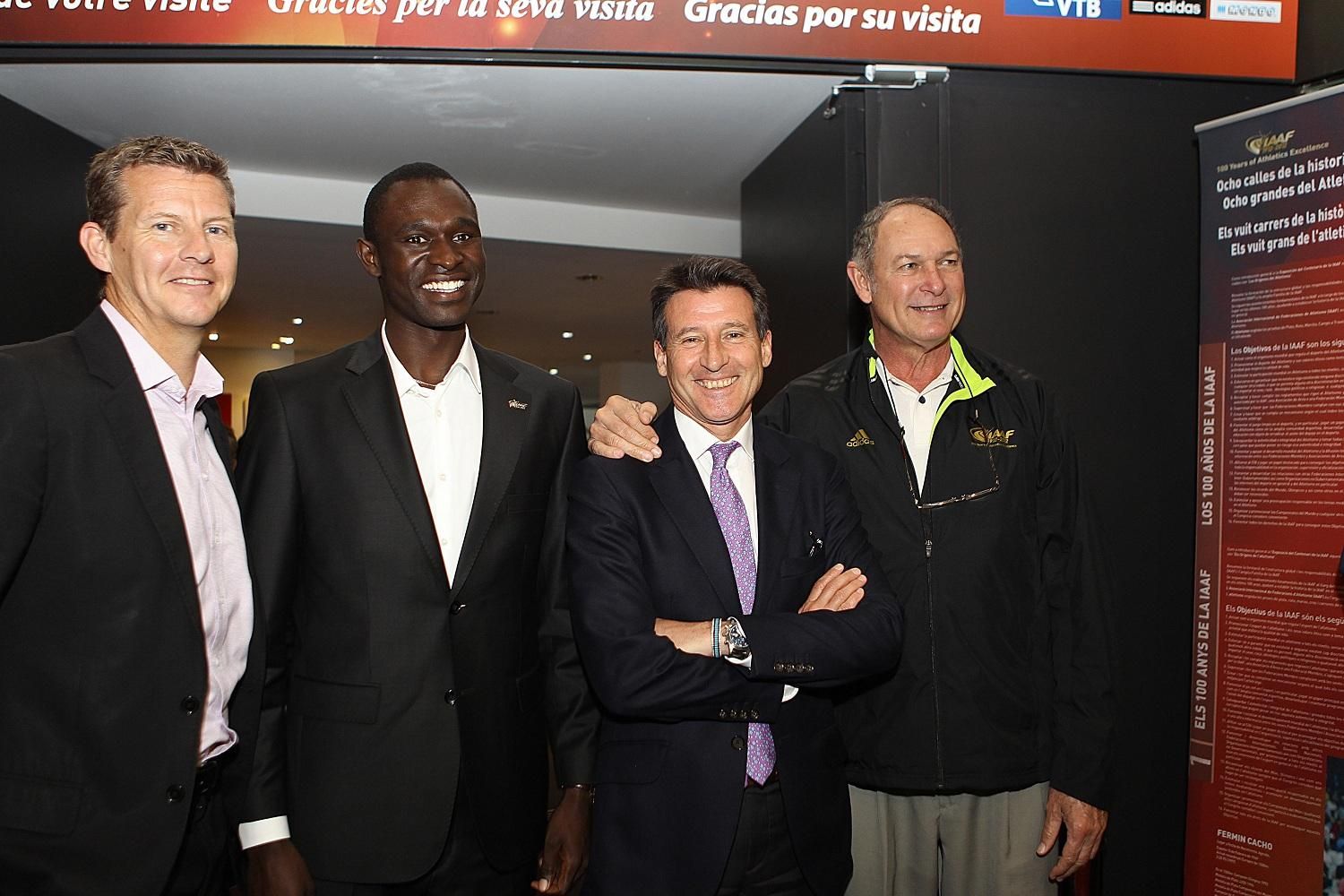 Steve Cram, David Rudisha, Sebastian Coe and Alberto Juantorena at the Centenary Historic Exhibition (© Giancarlo Colombo)
Rudisha's father anchored the Kenyan 4x400m relay team to silver medals behind USA at the Mexico City Olympics in 1968.
"David was big and strong for his age and he actually started as a decathlete," Brother Colm recalled. "When I started coaching him, he'd moved on to being a 200m/400m runner.
"That first year he ran sprints and then, almost by chance at the end of a month's training with me in 2005, I said to him, 'I'd just like to see you run 800m, just to see what you can do.'
"He ran 1:49 on the track at St Pat's."
Just a year later, in August 2006, Rudisha won the 800m title at the World U20 Championships in Beijing in 1:47.40. In 2008 he ran 1:44.20 to win the African senior title in Addis Ababa.
Two years after that, on 22 August 2010, came his first world record. His 1:41.09 in Berlin eclipsed the 1997 mark of 1:41.11 held by another of Brother Colm's St Pat's proteges, the Kenyan-turned-Dane Wilson Kipketer.
Seven days later Rudisha improved his world record to 1.41.01 in Rieti, and twelve months later he won the world 800m title in Daegu.
Successful title defence in Rio
If 2012 was to be his annus mirabilis, there were three years of heartache and toil to endure before the 800m Olympic champion and world record-holder overcame a serious knee problem and regained his world title in Beijing in 2015.
The year after that, in Rio de Janeiro in 2016, he became the first man since the great flying Kiwi Peter Snell to retain the Olympic 800m title. Then, since a final flurry on the European circuit in 2017, has he not run since run due to injury, though he has yet to announce his official retirement. He is still the fastest 800m man in history, and perhaps the finest of all the golden boys to have emerged from Brother Colm O'Connell's truly grounded school of champions.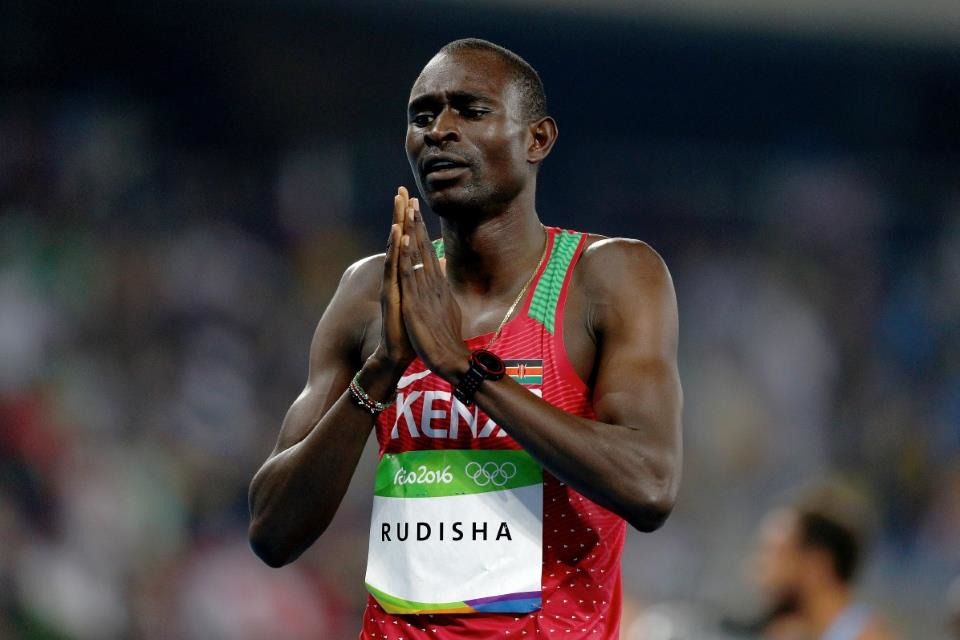 David Rudisha at the Rio 2016 Olympic Games (© Getty Images)
The long-time head coach of St Pat's chuckles at the mention of the Swedish scientist who brought him the gift of a heart rate monitor. "Yeah, it's still in my drawer," he says. "I come from a background of not being very technical, of having very basic facilities. Like other traditional coaches, I like to keep it simple.
"I think most of the Kenyan athletes will tell you that their approach is not very scientific - in terms of heart rate monitors and measuring blood and lactic acid, all these factors you have in the west. Coming from a poor background, science and facilities were never going to be big factors in their training or lifestyle."
There was, however, one piece of modern technology that Rudisha utilised to help him become the fastest two-lap runner in history. The one-time decathlete might have been cast in a similar mould to Juantorena but it was the featherweight Coe that he always strove to emulate.
"If you see the way Sebastian Coe used to run, he was small, yes, but he was a really strong athlete," Rudisha said. "I watched many videos of his races on YouTube and in his world records he was really strong, pushing in the last 200m all the way.
"He became a good friend of mine. I went to London in February of 2012 and he took me around the Olympic Stadium.
"I wanted to come back for the Games and make him proud."
When it came to the 800m final in London 10 years ago, the great Maasai warrior certainly did that.
Simon Turnbull for World Athletics Heritage