Gail Devers in Budapest in 2004 (© Getty Images)
When Gail Devers settled into her starting blocks for the women's 60m final on the opening night of the 2004 World Indoor Championships in the Budapest Sportarena, the consensus among the track and field cognoscenti was that her best days were probably behind her.
True, the great US sprint hurdler-turned-sprinter had produced a golden blast from the past on "the boards" 12 months previously, blasting to her first world indoor 60m hurdles crown ahead of Spain's Glory Alozie in 7.81, having clocked a championship record 7.80 in the semifinals.
Still, one year on, Devers had turned 37, and it had been seven years since her last success on the global stage in a flat sprint, indoors or out. The odds, it seemed, were stacked against the preacher's daughter from Seattle.
But, then, Yolanda Gail Devers always did relish a battle. The veteran campaigner produced her fastest time for five years, finishing 0.04 clear of Belgian Kim Gevaert in 7.08.
In doing so, Devers became the first woman to complete a hat-trick of world indoor 60m titles, emulating her victories from Toronto in 1993 (in 6.95, still a championship record) and Paris in 1997. She might have completed a famous double in Budapest but in the final of the 60m hurdles two days later she was beaten to the gold by Perdita Felicien of Canada, 7.75 to 7.78.
Devers has generously donated the spikes and the singlet which she wore during Budapest 2004 to the Museum of World Athletics (MOWA).


Dogged by Olympic hurdling ill fortune
The world didn't know it at the time but those 2004 World Indoor Championships were to be a final medal-winning hurrah for the odds-defying Devers. Though she made the US team for that year's Olympic Games in Athens, the ill-fortune that dogged her in her specialist event in every four-year Olympic cycle struck once again. She suffered a calf injury and failed to clear the opening barrier in the 100m hurdles heat.
The irony was that, in between Olympics, Devers had a Midas touch when it came to the high hurdles in the outdoor World Championships. As with the indoor 60m, outdoors she took 100m gold on three occasions: in Stuttgart in 1993, in Gothenburg in 1995 and in Seville in 1999. They remain unique trebles.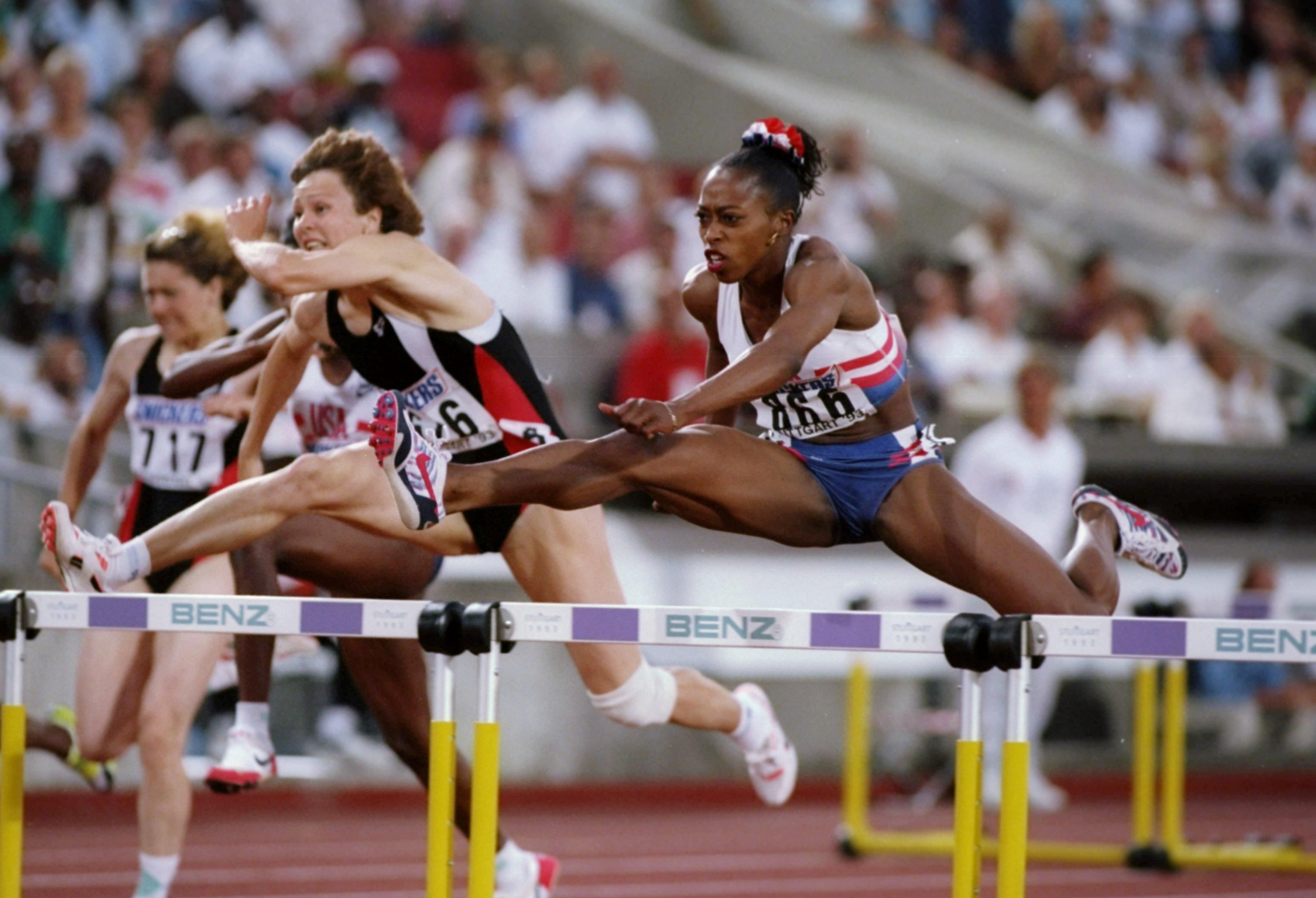 There were also outdoor silvers in Tokyo in 1991, and in Edmonton 10 years later – the former, a prelude to the remarkable success story that was to unfold in the atmospheric Montjuic Stadium, high on the hill overlooking Barcelona, at the 1992 Olympic Games.
Devers' victory in a dramatic 100m final came against all kinds of odds. At the time a 25-year-old sociology student at the University of Southern California in Los Angeles, she was ranked only fifth as she took her place on the start line in the Catalan capital.
It what was at the time the closest finish in Olympic history, the first five women flashed across the line seemingly together. There was an interminable five-minute wait before the scoreboard flashed up confirmation that Devers had won in 10.82, ahead of Juliet Cuthbert of Jamaica (10.83), Russia's Irina Privalova (10.84), Devers' US teammate Gwen Torrence (10.86) and Jamaica's Merlene Ottey (10.88).
It was, by coincidence, the third straight victory in the event by a UCLA student, following Evelyn Ashford's success in Los Angeles in 1984 and Florence Griffith-Joyner's triumph in Seoul in 1988.


Undiagnosed disorder for two and a half years
It could have been just another outsider-come-good story but it was much more than that. Just two years previously, Devers had been a physical wreck. She came within two days of having her feet amputated.
Unknown to her, she had been suffering from the symptoms of Graves' disease, an autoimmune disorder which causes an overactive thyroid gland.
The symptoms had started in June 1988, with migraines, dizziness and a temporary loss of vision in one eye. Devers still managed to qualify for the Seoul Olympics that year but exited the 100m hurdles at the semifinal stage.
Doctors diagnosed stress and athlete's foot but Devers continued to deteriorate. Only her persistence saved her. She refused to accept that her condition was not serious.
"I was finally diagnosed in September 1990," she recalled, speaking at the medallists' press conference in Barcelona. "I was told I was two weeks away from being cancerous.
"My condition had been wrongly diagnosed. They told me it was athlete's foot. I don't have a degree but I could tell there was more to it.
"My weight ballooned from 95lbs to 137lbs within a week. I suffered memory loss, migraine, loss of vision, and I had three menstrual cycles every month. I looked like a monster.
"The condition went undiagnosed for two and half years. They told me, 'You're an athlete. You're fine, just fatigued and stressed out. Take time off.'
"I did, but in February last year I started getting blood blisters on my feet. The doctor said it was just a bad case of athlete's foot, but I was crawling on my hands and knees.
"I can't describe the pain. It was so excruciating. I would get back into bed and my knees would start to itch. Twenty minutes after the itching, they would bleed.
"I was told later that if I'd walked on my feet for two more days they would have had to have been amputated."
Devers had a cyst the size of a child's fist removed from her thyroid. As she was registered on the US drug-testing programme, she was unable to take the beta blockers that would have relieved the side effects of radiation treatment.
"To be here as an Olympic champion is a miracle," she said. "I'd like people to use me as an example that anything is possible.
"Two years ago I was nearly gone. Now I believe there is no barrier I cannot get over."
That was not strictly true. In the 100m hurdles final in Barcelona, Devers surged ahead from the fourth barrier and she led by a metre at halfway – only to falter at the final flight. As she rose to clear it, she glanced to her right, clattered the hurdle with her lead leg and lost balance.
Her momentum carried her forward to the line, but she was passed with 3m remaining, finishing fifth in 12.75. Paraskevi Patoulidou prevailed in 12.64, becoming the first Greek track and field Olympic gold medal winner since Konstantinos Tsiklitiras won the standing long jump in Stockholm in 1912.


Back-to-back OIympic 100m double
Devers took the world outdoor 100m hurdles titles in 1993 and 1995 but again finished outside the Olympic medal frame in her specialist event on home ground in Atlanta in 1996, missing bronze by 0.01 in fourth place.
Instead, in the city that was to become her home in post-competitive retirement, Devers ran her way into the annals of track and field history as only the second woman to win back to back Olympic 100m titles, emulating her fellow countrywoman Wyomia Tyus, who prevailed in 1964 and 1968.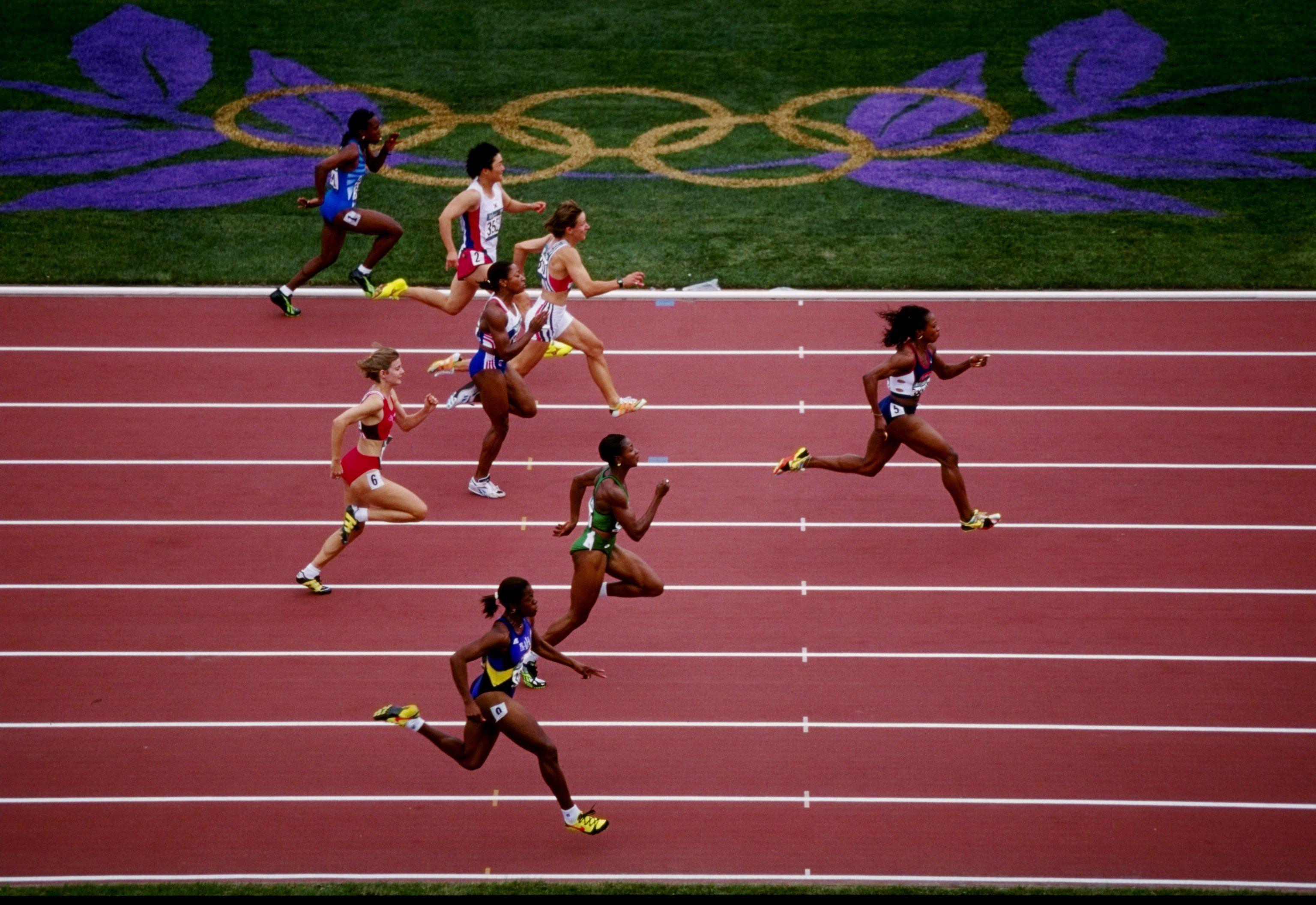 Two Jamaicans, of course, have since followed: Shelly-Ann Fraser-Pryce (2008-2012) and Elaine Thompson-Herah (2016-2021). In successfully defending her title, Devers denied the trailblazing female speed merchant from the Caribbean isle, in the most nail-biting manner.
The fast-starting Devers was caught by Ottey at 60m and the two women fought neck-and-neck all of the way through the line. Both were clocked at 10.94 but the photo-finish picture gave the verdict to the US sprinter by a margin of 0.005, just 5cm.
It was a repeat of the 100m final at the 1993 World Championships in Stuttgart. Devers and Ottey were timed at 10.82 on that occasion. The photo showed that Devers' right shoulder had cut the line fractionally first. The difference was a miniscule 0.001: 10.811 to 10.812.
The margin was more clear cut when it came to the 4x100m relay final in Atlanta, Devers collecting the third Olympic gold of her career with a second leg run in a US quartet that finished clear winners in 41.95, with Bahamas second in 42.14 and Jamaica (featuring Ottey and Cuthbert) in third.


Fighting for greater awareness of Graves' disease
Thereafter, Olympics-wise, Devers poured her energy into a quest for gold in her first-string event. It was not to be.
She started as favourite in Sydney in 2000 but suffered a hamstring injury in her semifinal and pulled up after five hurdles. In Athens four years later, her fifth Olympic appearance, she failed to clear the first barrier in her heat, the victim of a calf injury.
Now 55, the hugely decorated sprint hurdler and sprinter spends much of her time fighting for greater awareness of Graves' disease. "No-one should have to go through what I went through," Devers told CNN earlier this year. "The way you alleviate that suffering is through education."
Simon Turnbull for World Athletics Heritage