Australian race walker Kerry Saxby (© Getty Images)
Breaking the four-minute mile was the classic athletics landmark until Roger Bannister did it on a windy Oxford track in May 1954.
A lesser-known target was 1:30:00 for women in the 20km race walk. The honour went to Kerry Saxby, who plunged into unchartered water 34 years after Bannister on 13 May 1988.
And she did it almost by accident.
In fact, the Australian's 1:29:40 in the small southern Swedish town of Varnamo was little more than an endurance spin rather than a concerted effort to notch a world record. She even raced the Swedish Championships 10km the day before and won in 44:15. So, the mixed race around a lake was something of a warm down for an athlete who was on fire at the time.
"I remember it well," said Saxby, later Saxby-Junna. "There was a bunch of Mexicans in the race. It wasn't a flat course, so at times got a bit hard up some of the hills, and I didn't expect to walk that fast."
Saxby-Junna was smashing records at lesser distances almost non-stop around from 1987 to 1991. She became the most prolific world-record breaker in athletic history in Melbourne in February 1991, clocking 11:51.26 for 3000m. It took her number of world bests to 30, bettering by one the previous mark, held by the legendary Paavo Nurmi.
As former coach Craig Hilliard puts it: "She had a terrific motor and an insatiable appetite for hard work. She was one of the few athletes who all but maximised their oxygen uptake."
Varnamo was one of a number of races in Scandinavia that summer for Australian walkers who came to Europe for the northern hemisphere circuit. The programme included the famous Softeland Grand Prix in Norway, Copenhagen was another stopping off point, and Varnamo was just another race among many.
As Saxby-Junna suggested, she quickly eased away from the few women competitors, and according to Hilliard it was pretty clear by halfway, reached in "44 minutes and a bit", that she was on course to go under 1:30:00.
It wasn't a negative split, but she had plenty in the tank to re-write the record.
"I remember the course surface wasn't that good either, but she literally took it in her stride," Hilliard said.
It was all the more remarkable bearing in mind her lack of training mileage. Even 15km was considered a haul at the time, because major races for women were all at 10km.
"I was very much into specificity," Hilliard added. "It was a case of fine-tuning racing at the distance that mattered."
Unfortunately for his charge, 20km didn't become an Olympic distance until Saxby-Junna was 38 and in her third Games on home soil in 2000.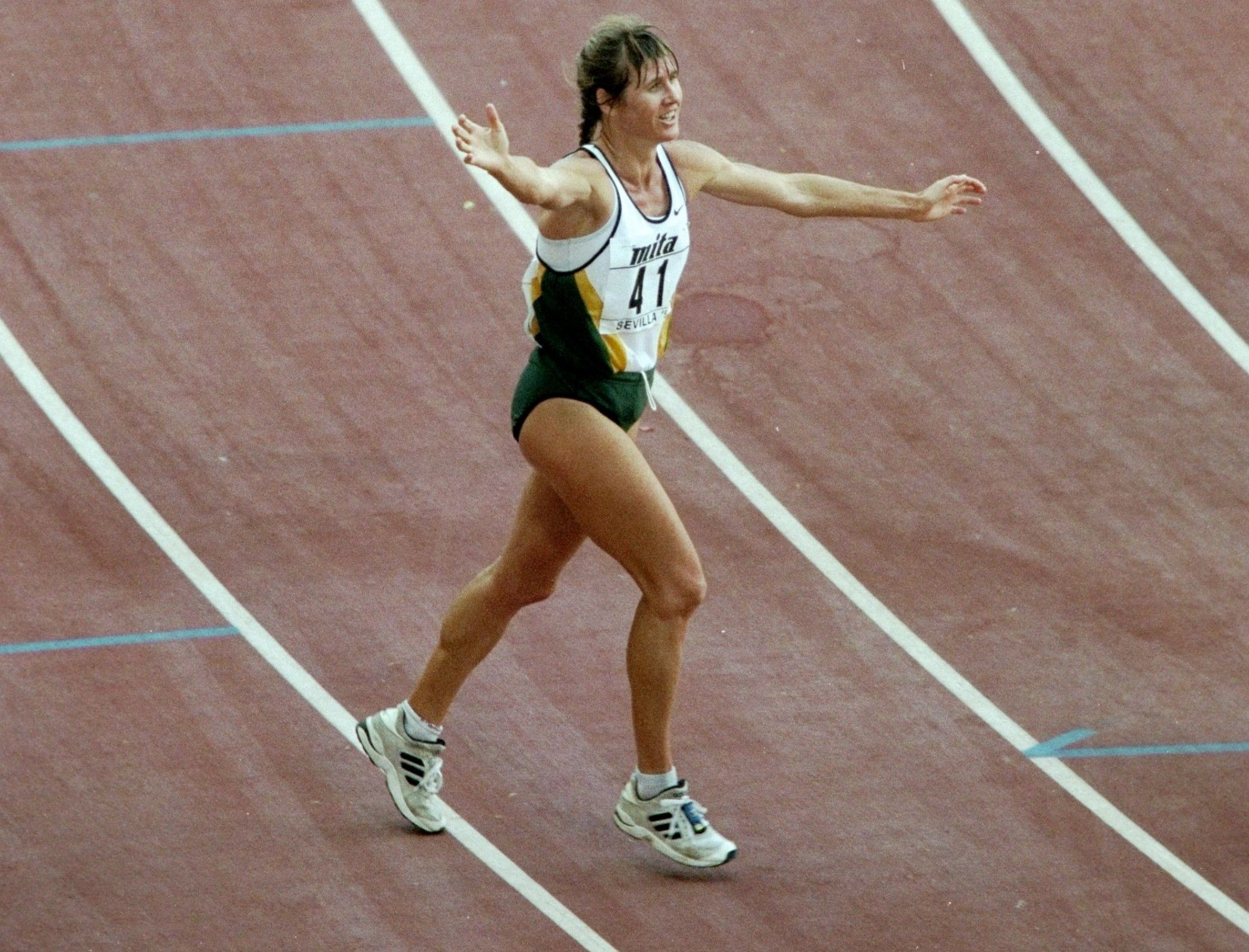 Kerry Saxby-Junna celebrates her 1999 world 20km race walk third place in Seville (© Getty Images)

Hilliard thinks they may have overcooked it leading up to Barcelona for the first women's 10km walk at the Olympics in 1992. Although the Australian was fast, there was always a nagging worry about judges heaped on top of expectations heaped from herself, media and the public at home. By 1992 many Aussie sports fans knew about the native from Ballina in northern NSW.
She was among the favourites as the women walkers lined up on the Paseo de la Zona Franca, but faded to a disappointed 15th, her lowest position in 11 major championships that preceded it.
"I overdid everything in the heat, training at Darwin, and went over to Barcelona absolutely tired," she later admitted.
A shame, because at that stage, she had racked up World Championships silver in Rome in 1987, a Commonwealth Games gold in 1990, gold and silver at the World Indoor Championships and another silver in the World Walking Cup.
She had another average day at Atlanta 1996 where she improved on Barcelona by only three places to finish 12th.
Despite another silver in the 1998 Commonwealth Games, and an even more prestigious bronze at Seville's World Championships in 1999 (for the first time at 20km), the multi record-holder took it hard when asked to parade the Olympic torch around Ballina prior to the Sydney Olympics.
She said she was "too embarrassed" to accept the honour, insisting that: "when everyone talks about sporting achievement, they measure it in Olympic medals".
But nearly 12 years after she went sub-90 minutes, she improved her 20km PB to 1:29:36 when racing in Naumburg in Germany on 30 April 2000. By the time she celebrated her 39th birthday on 2 June, she was in good shape for Sydney.
Saxby-Junna's seventh place was her best and last Olympic attempt in a slow race that found her only three minutes behind winner Wang Liping.
"Kerry was an absolute warhorse when it came to racing, and she often took for granted her earlier successes," Hilliard said. "She was a great character as well and very popular with other athletes.
"She did so much for women's race walking during her career and made it much more popular than it had been."
Saxby-Junna, now a teaching assistant in Canberra with two grown-up children and husband Ray, reckons more success at 20km eluded her because her heyday was spent racing at the shorter 10km distance.
She said: "I only had a few more chances to break that time before retiring, and I can't believe it was that long ago.
"I also remember Ernesto Canto at the (Varnamo) meet and have a photo with him. He was one of my idols, so it was sad to hear of his passing last year."
A footnote to her sub-1:30:00 was a race held 11 months earlier.
She recorded 1:32:51 in June 1987 at an event in Canberra where she was based at the Australian Institute of Sport. But lacking the requisite number of judges meant compatriot Sally Pierson's 1984 1:36:19 was still the official world best.
That was until Saxby-Junna blew it out of the water to pave the way for women race walkers, who still view sub-1:30:00 as the first rung on the ladder to greatness.
Paul Warburton for World Athletics