Derartu Tulu and Paul Tergat at the 1997 World Cross Country Championships in Turin (© Getty Images)
For Paul Tergat and Derartu Tulu, the route to victory at the 25th World Cross Country Championships in Turin 25 years ago could hardly have been much tougher.
But, then, both the tall, statuesque Kenyan king of cross country and the diminutive Ethiopian queen of distance running had become accustomed to slugging out epic duels in the course of their careers up to that particular date with destiny: 23 March 1997.


Nemesis
Admittedly, for Tergat - whose black, green, red and white Kenyan singlet from that afternoon stands on display in the Museum of World Athletics (MOWA) - his triumphs in the previous two editions of what Time magazine dubbed "the greatest footrace in the world" had been achieved in relative comfort.
In the senior men's race at the 1995 World Cross Country Championships in Durham, the Kenyan Air Force Sergeant finished with 18 seconds to spare over compatriot Ismael Kirui. In Stellenbosch in 1996, he enjoyed the luxury of a 1:12 cushion over Morocco's Salah Hissou.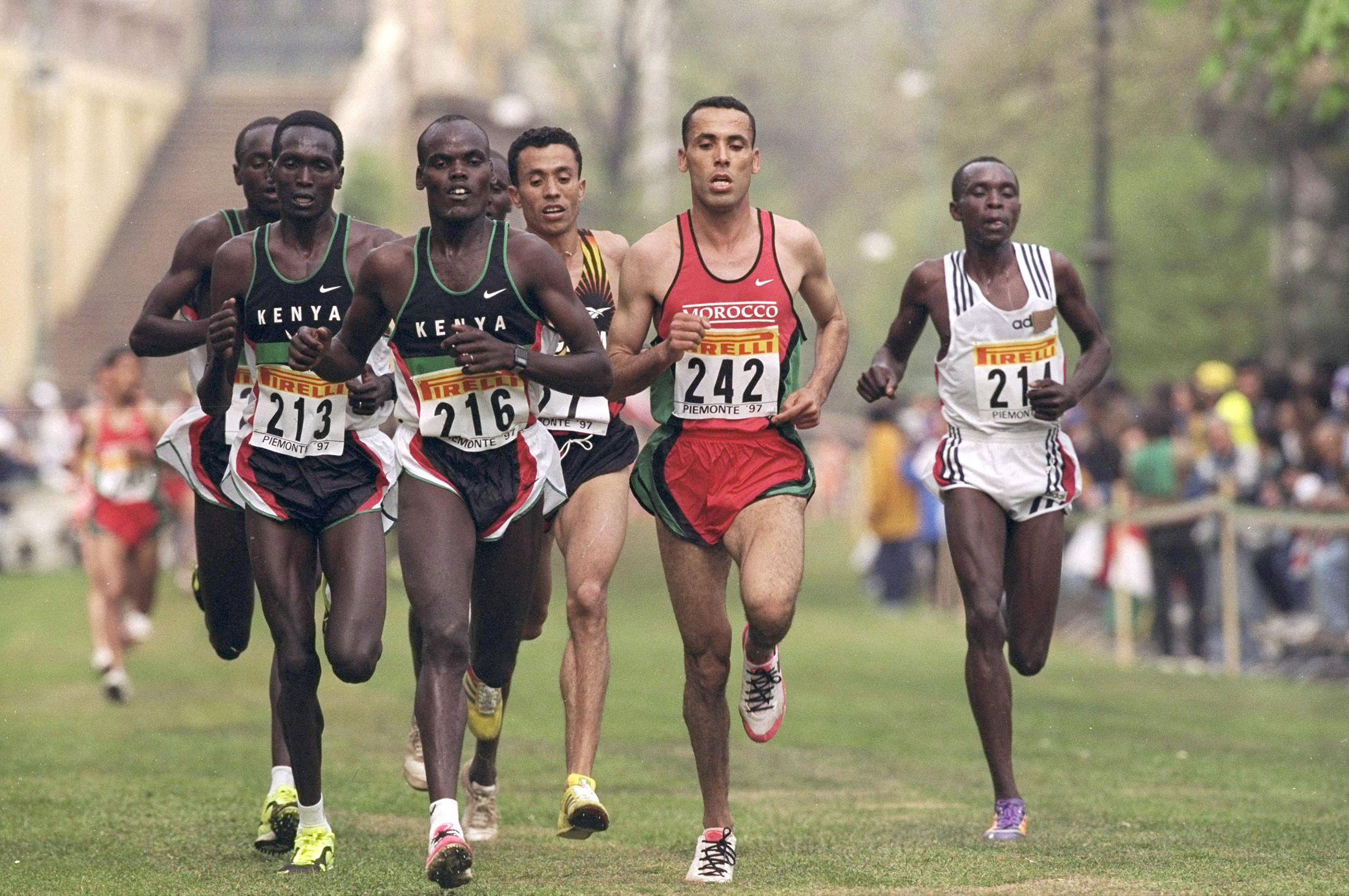 On the track in Atlanta the previous July, however, Tergat came out on the losing side in the first of his classic Olympic 10,000m head-to-heads with Haile Gebrselassie, failing to shake off his Ethiopian nemesis with the injection of a 2:02.3 800m at 8000m and getting burned off on the last lap.
Tulu had won her first world cross country title in Durham in 1995 with a convincing enough gap, eight seconds over Ireland's Catherina McKiernan - despite having arrived at the course in the north-east of England just an hour before the start after being stuck overnight in Athens airport without any sleep.
As a 20-year-old novice at the 1992 Olympics in Barcelona, however, the former shepherd girl had to dig deep to stick with South Africa's Elana Meyer before sprinting clear on the last lap and entering the history books as the first black African woman to win an Olympic gold medal.


Coming home
For Tergat, eight months on from his silver lining in Atlanta, the 12.3km race in Turin was something of a home from home.
The last four weeks of his preparation for the World Cross Country Championships were undertaken in camp with the rest of the Kenyan team in Kigari, 2100m above sea level on the south-eastern slopes of Mount Kenya. He had two 10km runs each day on the dirt trails around St Mark's Teacher Training College, with an intensive interval session on the college hockey pitch sandwiched in between.
Northern Italy, however, had been a second home to Tergat since 1992. He owned a flat in the Alpine foothills at Brescia, where he maintained a European training base under the guidance of the Italian exercise physiologist Dr Gabriele Rosa.
It was only a two-and-a-half-hour drive from Brescia to the Parco del Valentino, on the banks of the River Po in Turin, the site of a former motor racing circuit which staged the Italian Grand Prix in 1948.
On the grassland there, Tergat's aim was to become only the second man to complete a hat-trick of titles since the old international cross country championships became formalised under World Athletics as the World Cross Country Championships in 1973. Fellow-Kenyan John Ngugi, who won four times in a row - 1986,1987, 1988 and 1989 - and then for a fifth in 1992.


'I didn't worry about losing'
The major threat, Tergat suspected, would come from team-mate Paul Koech, who finished fourth the previous year but had beaten him in the big three Kenyan events of 1997.
He was also wary of Hissou, who had taken Olympic bronze behind him in Atlanta and subsequently sliced five seconds off Gebrselassie's 10,000m world record with a stunning 26:38.08 run in Brussels - plus Britain's Jon Brown and Portugal's Paulo Guerra, who had beaten him in Seville two months previously, albeit in severely muddy conditions.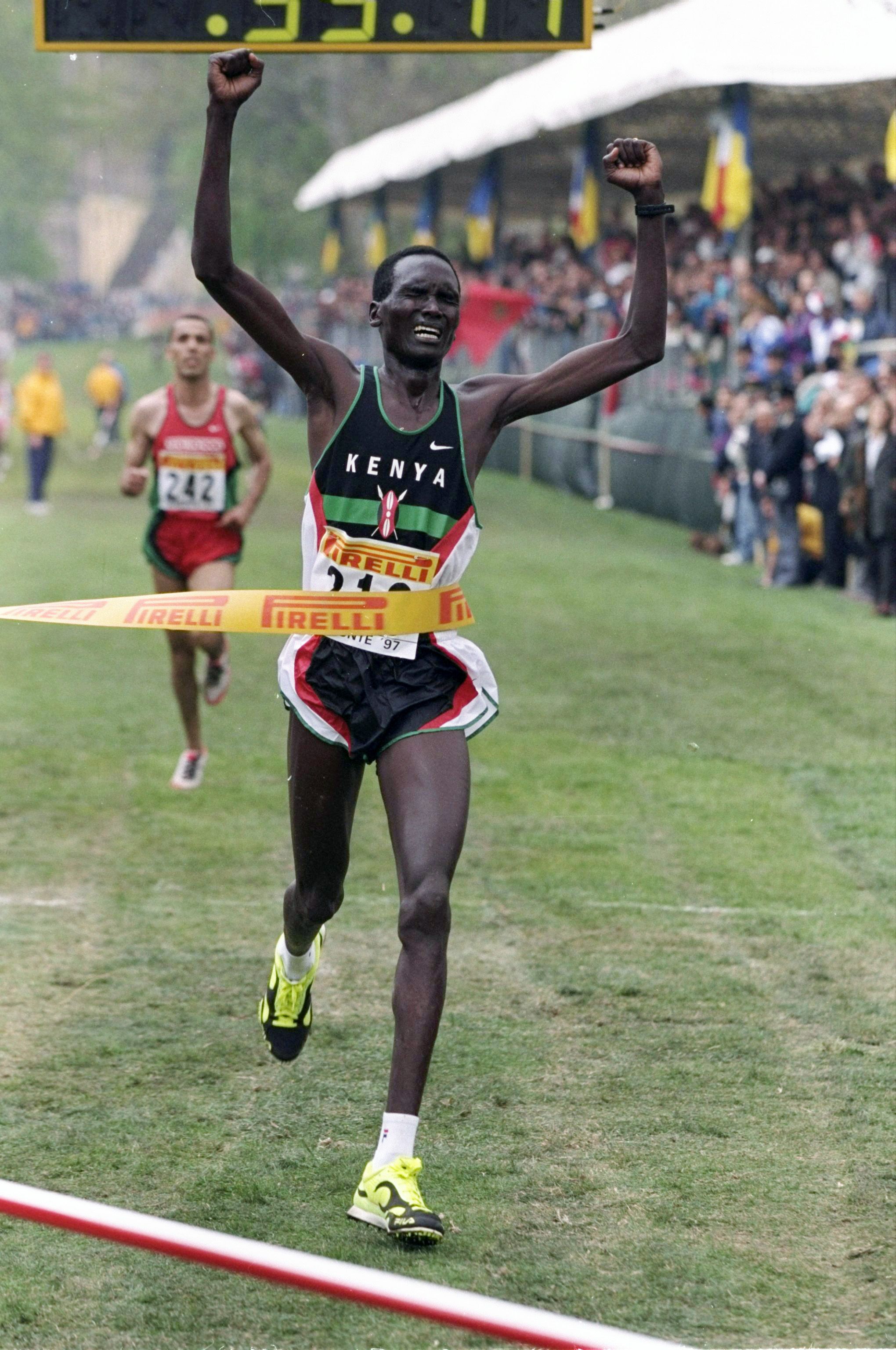 As it happened, Brown (14th) and Guerra (26th) both placed outside the top 10, while Koech finished fourth again, three seconds shy of a medal. It was the in-form Hissou who pushed Tergat all of the way.
"Never before in the history of this event has there ever been such a terrific battle between two great athletes," wrote Giorgio Reineri in his report for the World Athletics website. "Tergat ran with cold determination, with intelligence and his magnificent fluid style. Hissou sought to counter Tergat's path to glory but without success."
The race was frenetic - "led with the rhythm of a bullet-train," as Reineri put it – by Thomas Nyariki, a one-time sprinter, who had been designated as the pacemaker in the Kenyan team. With 2km to go, Hissou made his move, sweeping past Nyariki, who held on for the bronze.
At one point Hissou had a 5m advantage over Tergat but by the time the finishing stretch approached, with some 15,000 spectators gathered in expectation, the Kenyan was poised at the Moroccan's shoulder. "Tergat had wings on his feet and they carried him home on a wind of triumph," Reineri reported. "In the end, he finished a full two seconds ahead."
And so, Tergat completed his world cross country hat-trick. "It wasn't easy," he reflected, with understatement, "but I didn't worry about losing."



Avenging angel
In the equally enthralling 6.6km women's race, Britain's Paula Radcliffe looked set for a brilliant breakthrough victory after overtaking Ethiopia's Gete Wami with 300m to go.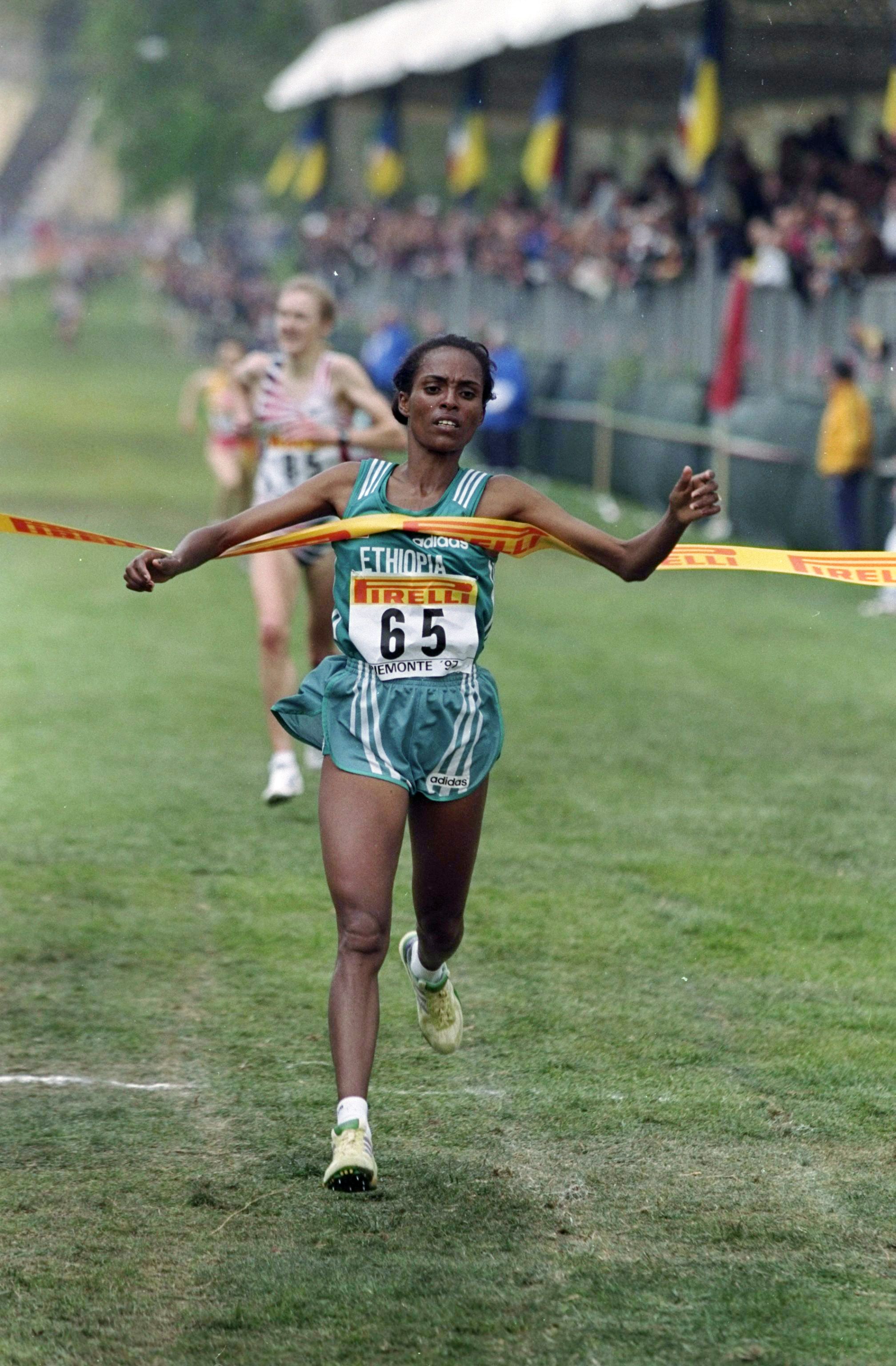 However, just 30m from the finish line, Tulu "cut her down like an avenging angel," as the distinguished athletics writer Douglas Gillon memorably put it in his race report for The Herald newspaper. As in the men's race, the margin of victory was two seconds.
Tulu proceeded to complete a world cross country hat-trick in Vilamoura in 2000, the year in which she won a second Olympic 10,000m gold. She also won a World Championship 10,000m title in Edmonton in 2001 before turning to the marathon and notching victories in London, Tokyo, and New York.
The three-time world cross country champion turned 50 this month and continues to lead from the front for her sport as president of the Ethiopian Athletics Federation.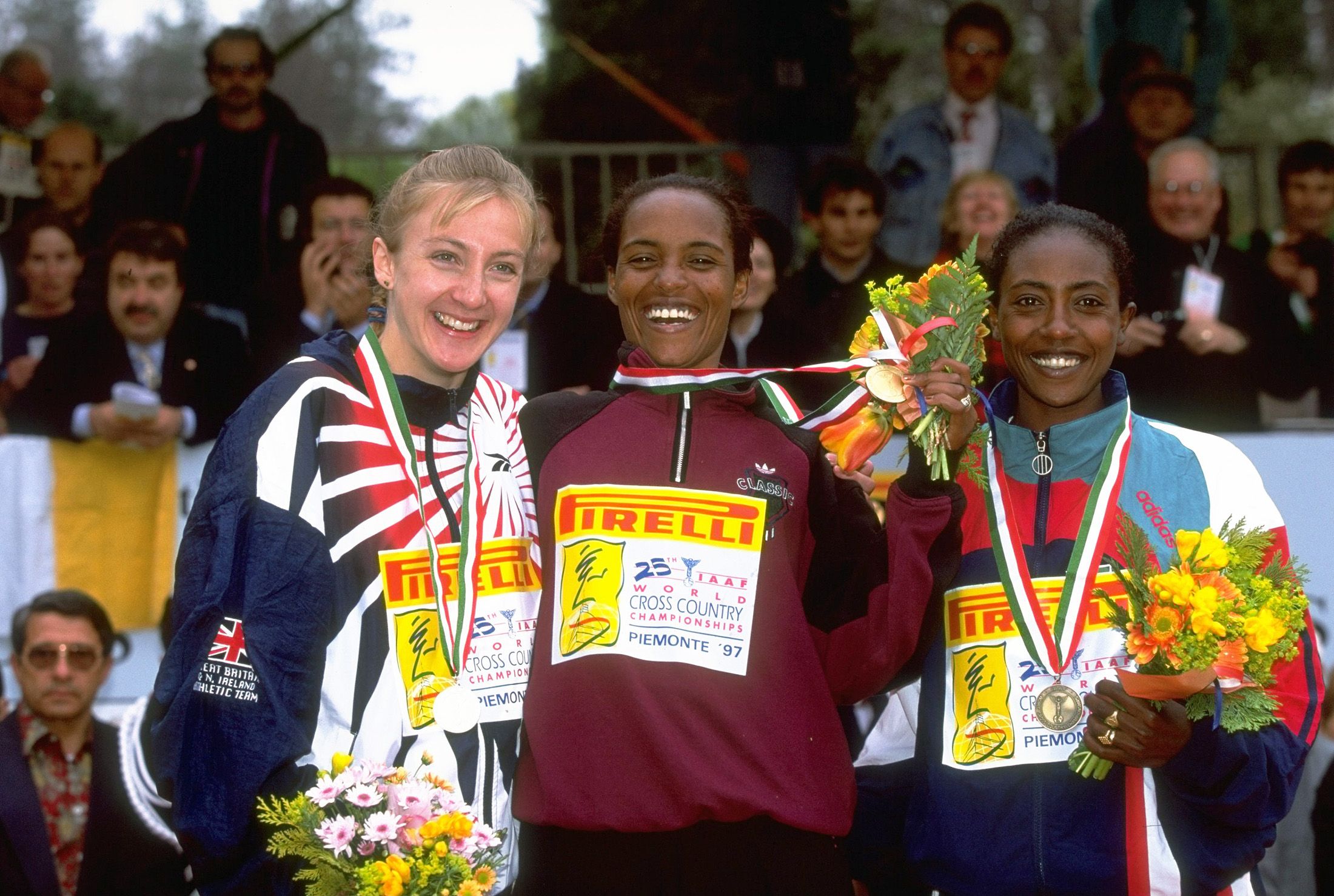 Apology from Haile
As for Tergat, he went on to complete a record five successive world cross country triumphs, prevailing in Marrakech in 1998 and in Belfast in 1999 (also taking bronze behind Belgium's Mohammed Mourhit and Assefa Mezegebu of Ethiopia in Vilamoura in 2000). It was a feat matched by Kenenisa Bekele between 2002 and 2006 and trumped with a sixth win by the Ethiopian in 2008.
On the track, Tergat continued to slug it out with Gebrselassie in pursuit of a global 10,000m title. It was ultimately a vain pursuit. He took silvers again at the 1997 and 1999 World Championships, then – most agonisingly of all – lost out by a tantalising 0.09 in a truly titanic tussle at the 2000 Olympic Games in Sydney. "I can do no better than that," Tergat reflected. "I had nothing left at the end."
In August 1997 Tergat had the satisfaction of eclipsing Gebrselassie's six-week-old 10,000m world record, becoming the first man to crack 26:30 with his 26:27.85 run in Brussels. The following June, Gebrselassie regained it in Hengelo, clocking 26:22.75.
Moving up to the marathon after winning the world half marathon titles in 1999 and 2000, Tergat became the first man to break 2:05 in Berlin in 2003, despite hurting his foot and momentarily veering off course towards the finish. Averaging 2:57 per kilometre, 4:46 per mile, he finished in 2:04:55.
After running 2:04:26 in the German capital four years later, Gebrselassie could be overheard offering an apology while receiving a congratulatory phone call. "It was my friend, Paul Tergat," he explained. "I am sorry to break his record. "I am sorry because this record belonged to him." Gebrselassie improved the record to 2:03:39 on the same course in 2008.
One of the all-time, all-round greats of distance running in his own rights, Tergat runs a foundation to help disadvantaged sportspeople in his homeland. Now 52, he continues to play an influential role in sport as a member of the International Olympic Committee.
Simon Turnbull for World Athletics Heritage