Megan Tapper at the Tokyo Olympic Games (© Getty Images)
For Megan Tapper, inspiration can be drawn from all manner of sources.
"I am inspired by anything," says the Olympic 100m hurdles bronze medallist with a smile. "I will see an ant walking with something on their back and I'm like, 'wooow, look at that ant. He is so tiny, with that big rock on his back. If he can do it, I can do it too!'"
That mentality has helped the Jamaican 27-year-old to make history in the sport and, in the process, become a role model herself. With her third-place finish in Tokyo last summer, Tapper became the first Jamaican woman to ever win an Olympic 100m hurdles medal. She's determined to keep blazing a trail.
"It's one of my biggest goals in life: to show people that all those limits you have been told, that you put on yourself – they don't need to be there," she says. "If you can get past all the reasons why you can't and just focus on that one reason why you can, then absolutely anything is possible."
It's about breaking free from preconceptions, whether self-imposed or external. "I am not even 5ft 1in, and I am out there with an Olympic bronze medal," Tapper said in Tokyo, later adding: "All the reasons why you can't, they are not really reasons – they are just fears that other people have projected on to you because when they tried, probably it didn't work out for them. So, zone in on that one reason why it is possible, and the world is your oyster."


Megan Tapper in Tokyo (© Christel Saneh)

That's exactly what she did in Tokyo. It took her a while to find her rhythm in 2021 but Tapper and her team never lost focus. Her previous personal best had been the 12.61 she ran in the semifinals of the 2019 World Championships in Doha, where she was left devastated after a fall in the final. But she returned to the global stage in superb style in Tokyo, improving her PB to 12.53 in the heats and then running 12.62 in her semifinal. The next day she clocked 12.55 in the final to finish third behind Puerto Rico's Jasmine Camacho-Quinn and USA's world record-holder Kendra Harrison, making history for her nation.
"It was amazing," she says. "I mean, as all athletes, you want the gold, but knowing that I was the first Jamaican woman to ever get an Olympic medal in the 100m hurdles when we have had so many amazing hurdlers, and still have amazing hurdlers now – that just completely blew my mind. The feeling was one of relief because I have been doing this a long time with, in my opinion, little or nothing to show for it. So, I finally proved to myself and to everyone that believed in me that it is possible."
Tapper was about seven years old when she discovered athletics but until the age of 12, gymnastics was her focus. "I trained for probably five hours a day, six days a week, and it was hard," she remembers. "But I know that the strength, discipline and determination that I have needed to get where I am now in track and field, I attribute it 80% to gymnastics and my coach Yasunori Ishimoto. He definitely moulded a warrior."
On the track, that warrior started out in the sprints and while she loved the feeling of going fast, something was missing. "I would get a good start but I would finish at the back and I was tired of losing," she says. So she sought an event that would play to her strengths and found the hurdles.
"It progressed slowly at first," she says. "I would have liked to have been winning races constantly, but it didn't come as quick as that. Then, I had a coach in high school that believed in me. At the time, because I was short and they had pretty good hurdlers on the team already, no one really cared that I had joined the hurdles side or wanted to nurture my talent, but that coach did. He was also young and needed someone to believe in him as well, I think."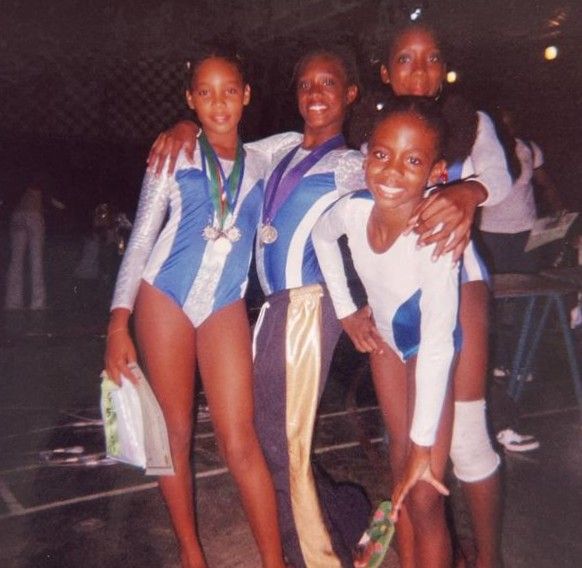 Megan Tapper's sporting journey started out in gymnastics (© Megan Tapper)

Her next aim was to win a medal at Jamaica's legendary 'Champs' – the National Boys' and Girls' Schools Athletics Championships.
"A person yay high," she says, gesturing with her hands, "only one year in the hurdles, asking you to trust her to get her a medal at the championships? Looking back, it's crazy that he actually said yes. As a team, we moved forward with that goal and we made it happen. I got silver, 0.001 behind Chrisdale McCarthy. I can't forget!"
Missing out on that gold left her hungry. "To this day!" she adds with a laugh.
Although she jokes about it now, the fire had been lit. After reaching the final at the 2011 World U18 Championships, Tapper's aspirations soon evolved from Champs to World Championships and the Olympics. She made her senior international debut at the 2016 Games in Rio and then raced again on the global stage in London in 2017 and Doha in 2019, where she was one of three Jamaican women in the final.
"I mean, that's crazy – you know?!" says Tapper, who lined up in Doha alongside 2015 world champion Danielle Williams and Janeek Brown. "I do feel like more attention can be given to the fact that three (Jamaican) women in 2019 made it to the 100m hurdles final. We are doing really, really well, but it's like, 'okay, it's the norm'. But it's not! We are full of talent. It goes deep."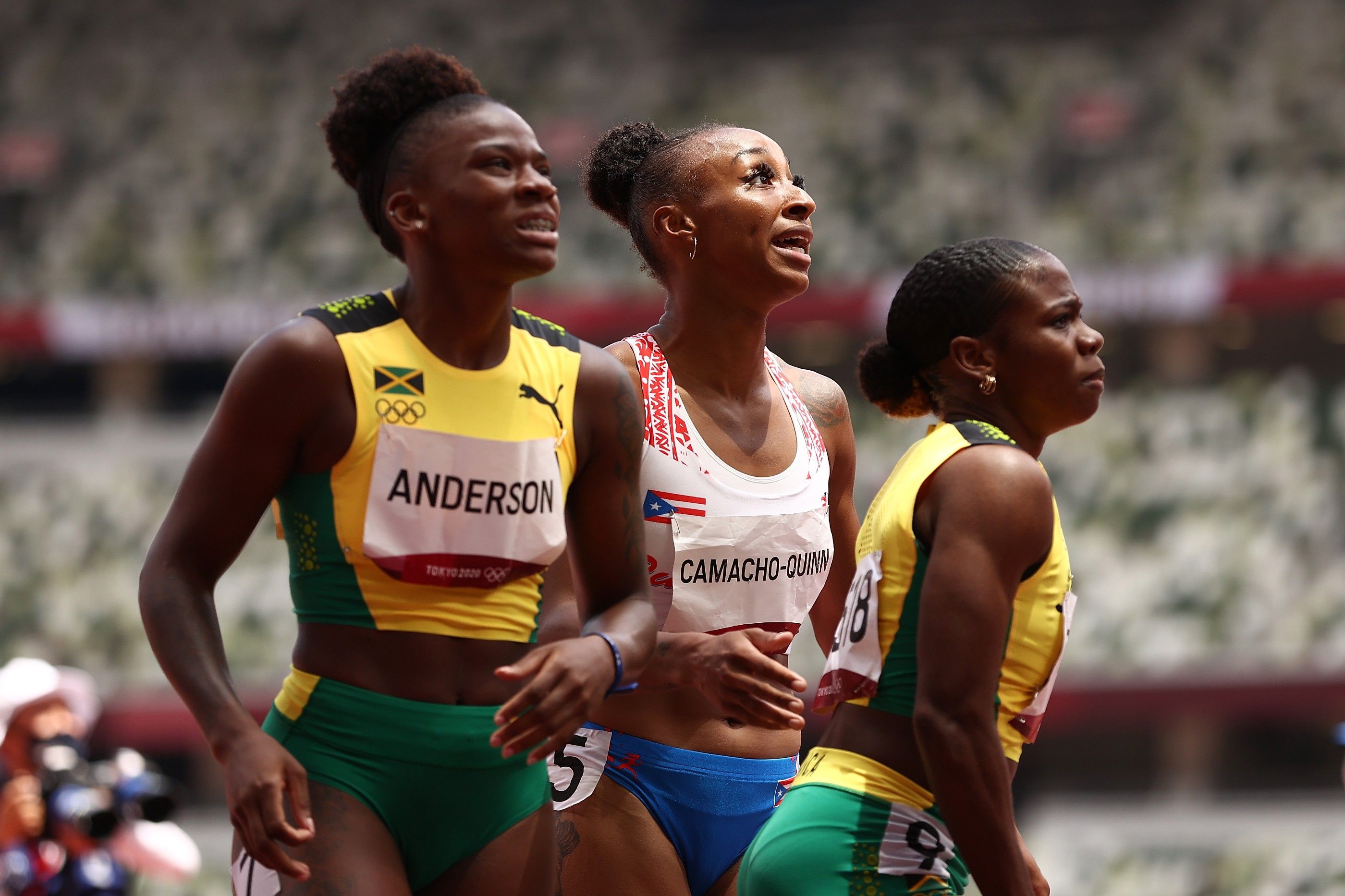 Megan Tapper with her Jamaican teammate Britany Anderson and winner Jasmine Camacho-Quinn of Puerto Rico after the Olympic final in Tokyo (© Getty Images)

Jamaican major championships success in the 100m hurdles
Three Jamaican athletes – Janeek Brown, Megan Tapper and Danielle Williams – made the final of the World Athletics Championships in Doha in 2019. Tapper is passionate about highlighting her nation's success in the event on the global stage.


Olympic Games
| | | |
| --- | --- | --- |
| Tokyo, 2021 | 🥉 Megan Tapper (12.55) | 8th Britany Anderson (13.24) |
| Beijing, 2008 | 5th Delloreen Ennis-London (12.65) | 6th Brigitte Foster-Hylton (12.66) |
| Athens, 2004 | 5th Lacena Golding-Clarke (12.73) | |
| Sydney, 2000 | 4th Delloreen Ennis-London (12.80) | 8th Brigitte Foster (13.49) |
| Atlanta, 1996 | 5th Dionne Rose (12.74) | 6th Michelle Freeman (12.76) |

World Athletics Championships
| | | | |
| --- | --- | --- | --- |
| Doha, 2019 | 🥉 Danielle Williams (12.47) | 7th Janeek Brown (12.88) | Megan Tapper |
| Beijing, 2015 | 🥇 Danielle Williams (12.57) | 7th Shermaine Williams (12.95) | |
| Berlin, 2009 | 🥇 Brigitte Foster-Hylton (12.51) | 🥉 Delloreen Ennis-London (12.55) | |
| Osaka, 2007 | 🥉 Delloreen Ennis-London (12.50) | 7th Vonette Dixon (12.64) | |
| Helsinki, 2005 | 🥈 Delloreen Ennis-London (12.76) | 🥉 Brigitte Foster-Hylton (12.76) | |
| Paris Saint-Denis, 2003 | 🥈 Brigitte Foster (12.57) | 8th Lacena Golding-Clarke (12.87) | 9th Vonette Dixon (12.87) |
| Edmonton, 2001 | 6th Dionne Rose-Henley (12.79) | 8th Vonette Dixon (13.02) | |
| Seville, 1999 | 6th Dionne Rose (12.80) | 7th Delloreen Ennis-London (12.87) | |
| Athens, 1997 | 🥉 Michelle Freeman (12.61) | 5th Dionne Rose (12.87) | |
| Gothenburg, 1995 | 6th Gillian Russell (12.96) | 7th Dionne Rose (12.98) | |
| Stuttgart, 1993 | 7th Michelle Freeman (12.90) | | |

It was also in 2019 that Tapper decided a change to her coaching set up was needed. Having been based in Jamaica up to that point, she reached out to Austrian coach Philipp Unfried and now splits her time between Jamaica and Austria, guided by Unfried as well as her husband, Mathue Tapper.
"It is a huge sport centre, it has absolutely everything," she says of her set up in Austria, where she forms part of a training group that includes heptathlete Ivona Dadic. "Austria is literally my second home, and I am super grateful for them."
It's also clear to see how grateful she is for Mathue and her whole support network.
"In the middle of trying to figure out who was going to be my overseer of the programme in Jamaica, my husband, who was an athlete at the time, said he would stop training and coach me," she explains. "It was monumental because we both knew how much he wanted to be an athlete and how talented he was, but he believed that I was closer to getting a medal in the Olympics and achieving my goal than he was, and so it would mean a lot to him to help me and be more of an active part in that process. It worked out brilliantly."
And it was that wider support network that helped to get Tapper to the Olympics in the first place.
"I realised that I didn't just want to go around and ask people for money, although at that time I was relying on external sources to keep afloat in my track and field journey," she explains. "My friend had an online shop that sold shirts and hats and things. I collaborated with her to create my own brand. So instead of asking people for money, I would say, 'okay, you can buy this shirt but it's not just about the shirt, it's about supporting me and my journey and in that process, you get a shirt. So everybody who supported me before the Olympics can say literally, 'I helped her get there'."
So too has her faith, and the support she has received from her sponsors. "I'm so happy now to be working with Trushake Ja and Ataqfuel Ja and to continue working with Puma, as we work together to achieve goals and prove that, with the right ingredients, anything is possible," she adds.
Now her goal is to build on her breakthrough 2021, with the World Athletics Championships Oregon22 this year's main aim.
"It's just about improving, seeing what I can do to better last year," she says. "Because at the end of the day, that's all that matters. You want medals, you want times, but what can you control? You can't control any of those.
"There are so many variables that can cause it to go sideways and so focusing on yourself is the best thing and the most important thing. So, that's what I'm doing."
And by doing so, she is providing another source of inspiration to those looking to follow in her footsteps.
Jess Whittington for World Athletics