Ditaji and Mujinga Kambundji (© Athle.ch)
It's more often at the dining room table, when they are a few hours into an enthralling board game, that the Kambundji sisters unleash their most competitive fervour against one another.
Many think that these two Swiss sprinting icons get better from competition in training, but this could not be further from the truth. For 29-year-old world 200m bronze medallist Mujinga Kambundji, her 19-year old sister Ditaji, and the family as a whole, training is more supportive than combative. On the track, they genuinely want each other to succeed.
"When Ditaji was younger breaking my club records, people would speculate that Ditaji would be faster than me, and made it seem like we would have some sort of rivalry," Mujinga said. "But it's actually the opposite. I want her to be better than me, to break my records. I want her to experience everything I have had and more."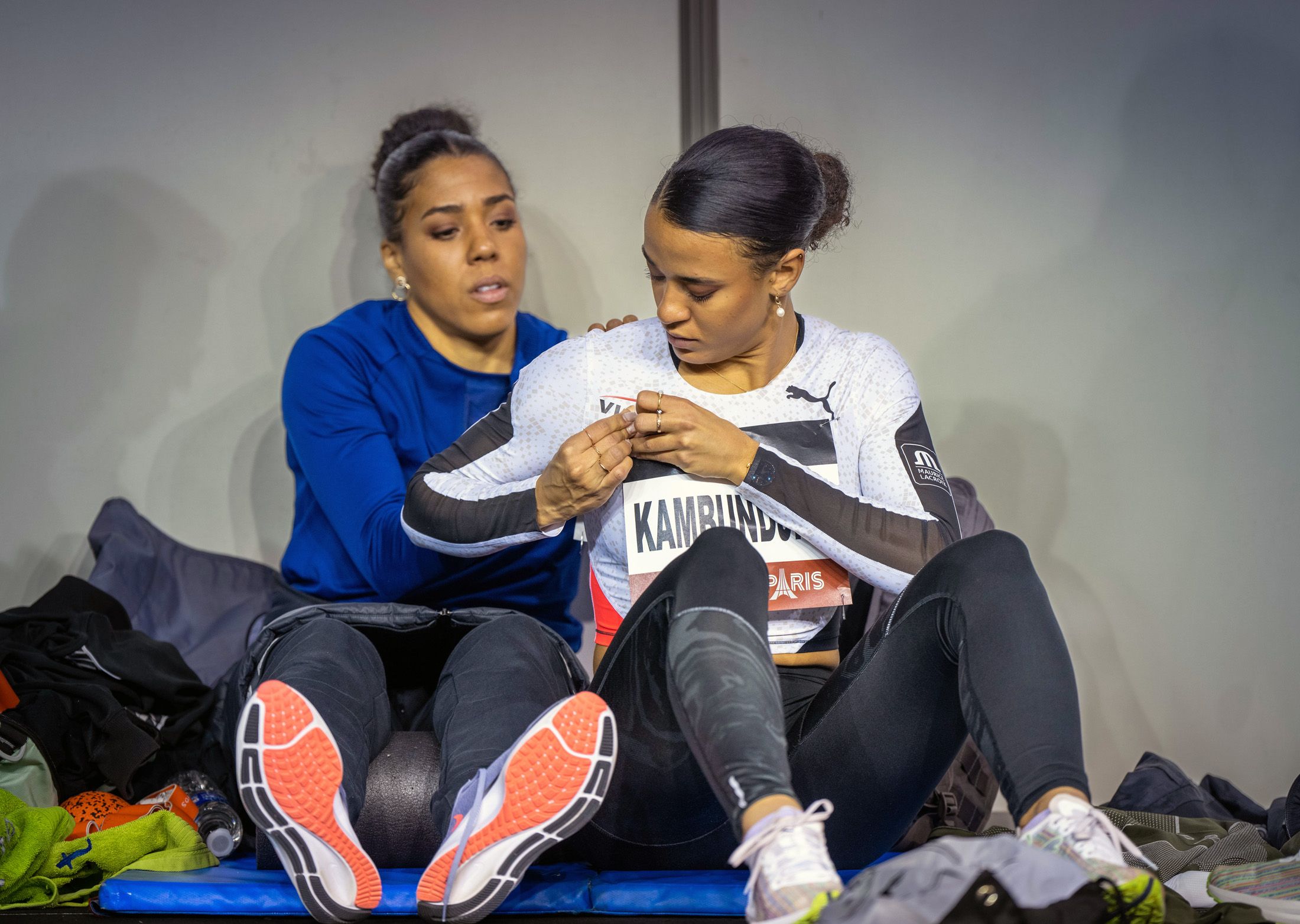 Mujinga and Ditaji Kambundji have enjoyed travelling to the same competitions on the international indoor circuit this year (© Athle.ch)
The sibling rivalry narrative is a relatable one, and something that many fans like to grasp on to. It is understandable, of course, to think that child athlete prodigies might grow up pitted against each other, trying to outdo one another, leading to a healthy dose of competition. Biblical and mythological lore teach us to believe that siblings are naturally sworn enemies, even if they are good friends. But the Kambundji family has taken a different approach.
Mujinga and Ditaji are the second and fourth daughters to their father, Safuka – a Congolese-Swiss track-and-field afficionado (and well-known charismatic fan in the Swiss running scene) and a Bernese mother, Ruth. As such, they grew up speaking fluent French, German, and English, and are readily accepted as Swiss icons countrywide, despite admitting that their Italian could use a little bit of work. In addition to cultivating a multi-lingual facility, their parents encouraged them to try sports.


View this post on Instagram
The eldest Kambundji daughter, Kaluanda, began a track programme, and found herself to be quite talented. Then Mujinga joined the club, then Muswama (who missed out on last year's season due to injury), and by the time Ditaji came of age it seemed like the natural thing to do.
"I've basically been on the track my whole life," Ditaji said. "I tried a few other things, but because my sisters were finding success, it only made sense for me to join. And it's been much easier for me because they laid the path."
Now Ditaji is old enough to travel the international circuit, but they actually grew up mostly training in different environments, mainly due to the age gap.


View this post on Instagram

In 2009, Mujinga won the European Youth Olympic Festival and showed an exceptional degree of potential. In 2013, she moved to Mannheim, Germany, for several years to train, and eventually broke national records at 100m and 200m. From 2016-2019, Mujinga earned bronze medals at the European Championships (100m), European Indoor Championships (60m), World Indoor Championships (60m) and the World Championships (200m).
All this time, Ditaji was at home in Bern, going to school and performing well. She always had natural speed, but when she tried the hurdles, she realised she could be one of the greatest. Ditaji won the European U20 title last year and qualified for the Olympics, where she finished eighth in her heat. She then went to the World U20 Championships in Nairobi as a favourite going into the 100m hurdles final, but an unfortunate DQ meant she lost out on podium glory. She ended her season on a high, though, by competing at the Wanda Diamond League final in Zurich, where she and Mujinga finally travelled to a professional competition together.


Above: Mujinga Kambundji in action at the 2019 World Championships in Doha. Below: Ditaji Kambundji in action at the Muller Indoor Grand Prix Birmingham (© Getty Images)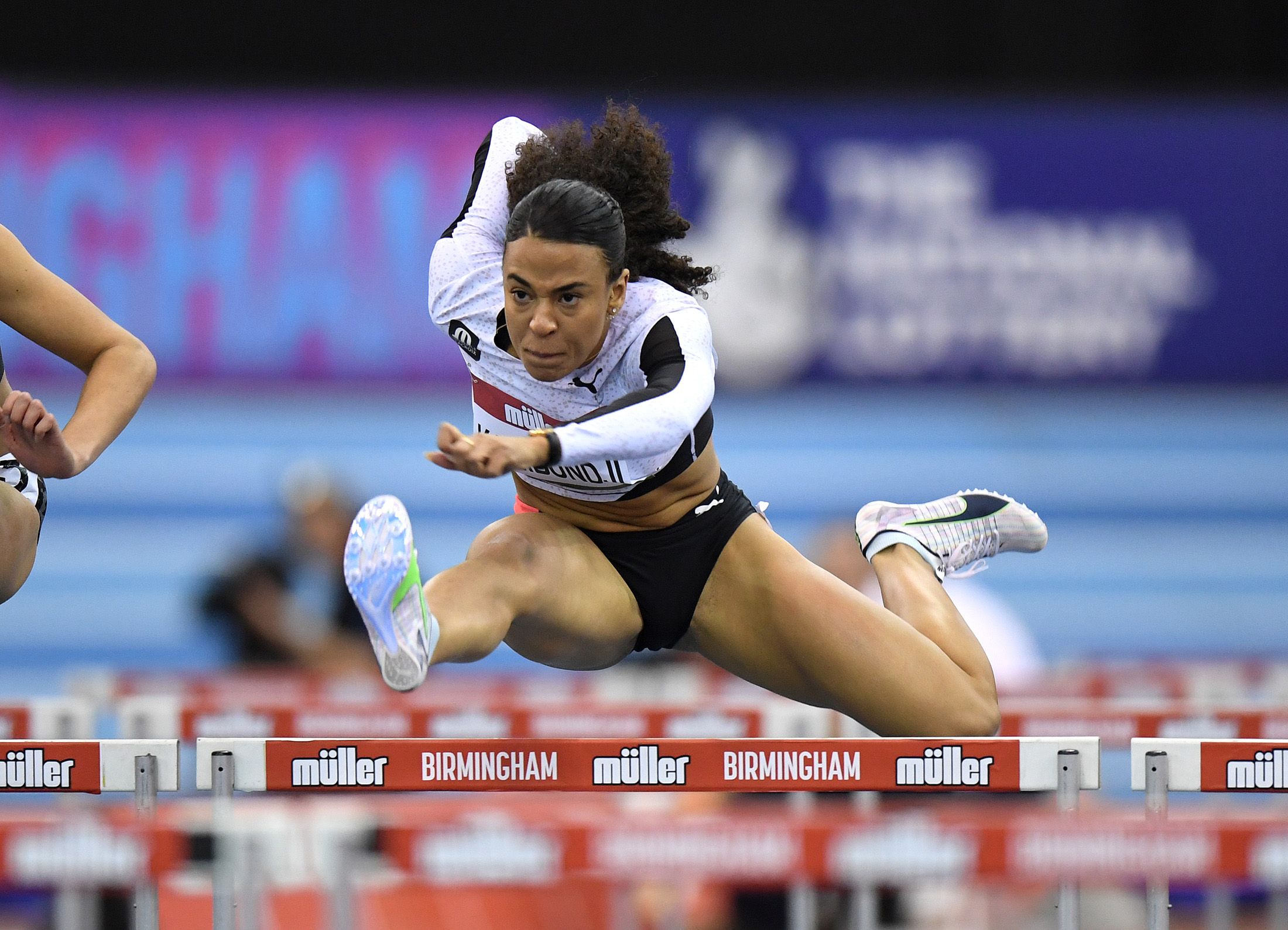 "Over the past few years I remember going to competitions and seeing other sisters, like Jodie Williams (28) and her sister, Hannah (23), and thought, 'That looks fun, I'd love to do that with my sister one day'," Mujinga said, who was mostly traveling alone.
Track and Field has other famous thriving sisters, like Ethiopia's Diababa sisters, who share four Olympic Gold medals and 15 world titles among them in middle and long-distance running. There's also Sweden's Jenny and Susanna Kallur, the Swedish twins who were dominant together on the European sprint hurdling scene in the early 2000s.
In addition to competition, one advantage siblings might have is travelling the circuit with some familiarity. Travelling around the world as an elite athlete is exciting, but it can get lonely. Moving from hotel to hotel, often not knowing the language, can be physically and mentally taxing. Being there with someone who understands you in the way that only a sibling can.
Ditaji, too, recognises how special it is that she gets to share all of these experiences alongside Mujinga moving forward, both to use her as a resource and have fun. "I have all of these first experiences with my sister which makes it special," she says, "but I also get to ask a lot of advice on a lot of things now, but we're really good at reminding each other to have fun.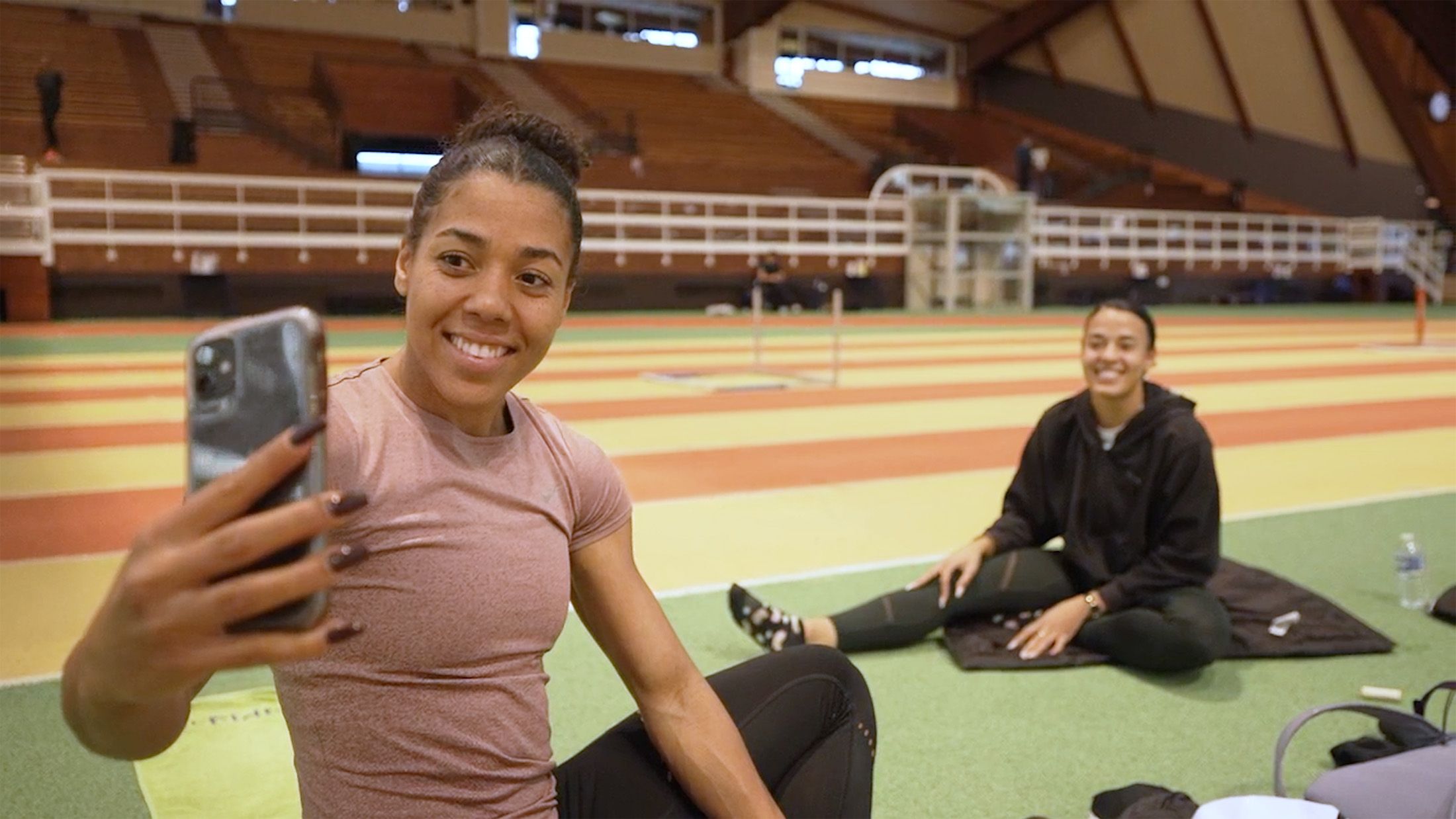 Having a sibling and friend around makes travelling to international competitions a less lonely experience for Mujinga and Ditaji Kambundji (© Athle.ch)
Having a burst of youthful energy helps Mujinga experience cities around the world, and the competitions, with fresh eyes. As Ditaji begins a full-time life on the international circuit, they are making it a priority to at least get a glimpse into the lives of people who live in the cities in which they compete. They try to carve out time to at least go on a walk and get a cup of coffee or tea in each city they travel to. And while Mujinga sees Ditaji's light-natured approach to competition as a virtue, and something that will likely taker her far (including breaking Mujinga's records), Mujinga seems to be hitting her stride more strongly than ever.
When they return to Bern together to train, they enjoy returning to a simple life, where their main off-track hobby is gardening, tending to plants, and buying new ones. After training sessions and wanting to conserve energy, they often go to the plant store to browse for plants. This has created a fun side hobby, but one that introduces new logistical problems when it comes to regular international travel. In addition to the stress of world-class competition, Ditaji is learning from Mujinga the stress that comes with leaving plants unattended. Luckily, between their mother and two other sisters, they can usually find willing plant-sitters in a pinch.
Both sisters have their main sights this year set on the World Athletics Championships Oregon22 and the European Championships in Munich in August. Before that, though, they'll both head to the Serbian capital later this month for the World Athletics Indoor Championships Belgrade 22.
Ditaji follows a saying Mujinga repeats frequently: "Just get to the final, because then anything can happen."
Regardless of what does happen this year and moving forward, the two sisters will be smiling, and truly, genuinely, wishing the other one does her best.
Hannah Borenstein for World Athletics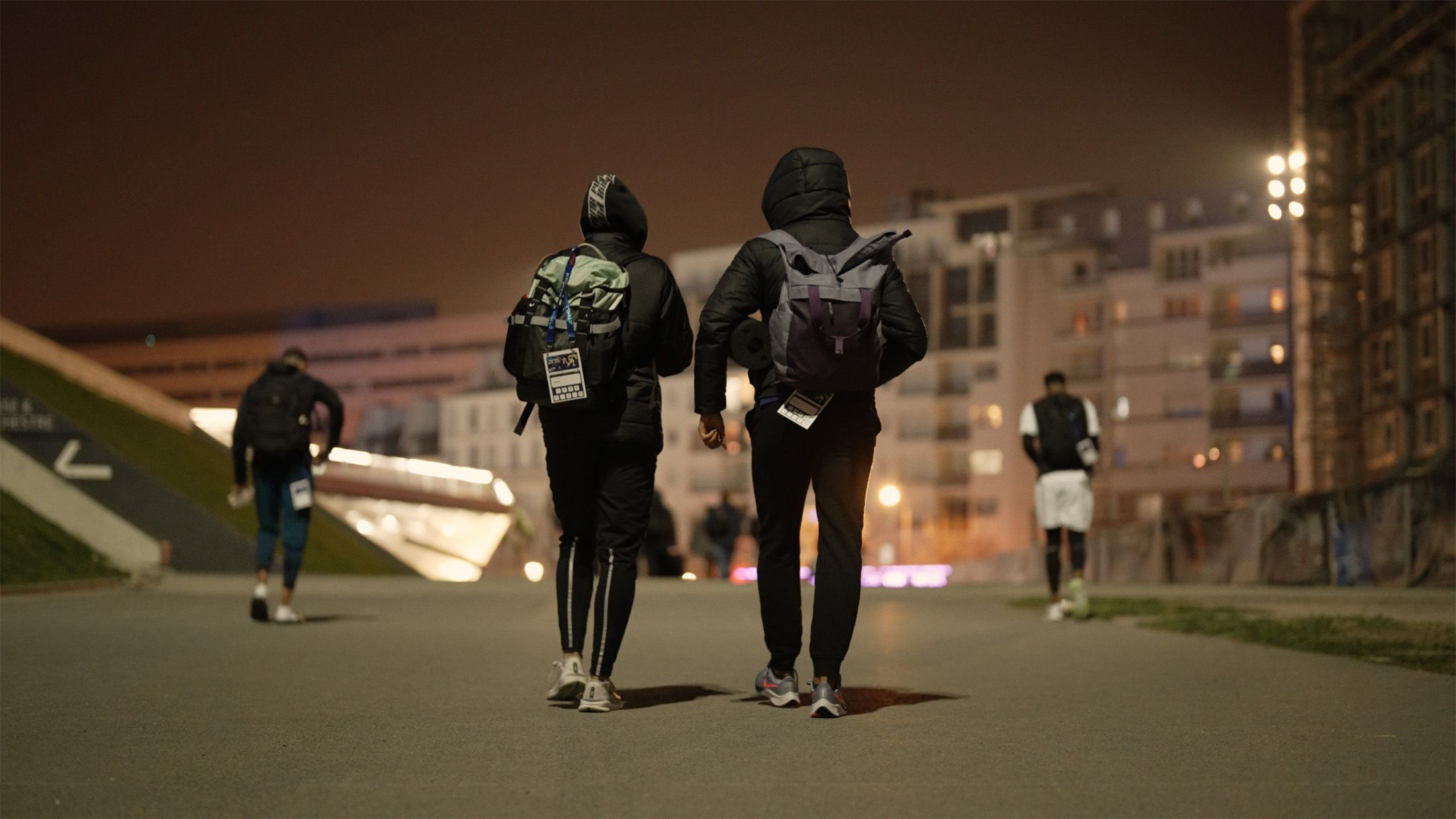 Ditaji and Mujinga Kambundji: siblings and friends for life (© Athle.ch)