Femke Bol celebrates her win at the Wanda Diamond League meeting in Gateshead (© Diamond League AG)
To break a national record once in a career is an amazing achievement. To set 12 of them in one year alone is something else. But that's exactly what Dutch star Femke Bol has done so far in 2021, during a year in which her specialist event – the 400m hurdles – has been launched to another level.
The 52.37 Bol ran to win at the Wanda Diamond League meeting in Stockholm earlier this month made her the fourth-fastest ever in the history of the women's 400m hurdles, but such is the strength in the event, she is not the quickest this year. The top spot is of course filled by Sydney McLaughlin thanks to her remarkable world record of 51.90 at the US Olympic Trials, while Bol is one of four women to have gone sub-52.50 this season.
"We have such an amazing field," Bol said. "I mean, the world record for women and men was broken in one week for both – it's amazing to see the level of the 400m hurdles keep going up and that with my time I am now second in the world this year, not even first. Of course, you want to be first, but when the level in your event is so high, I think that is the best."
It certainly makes things exciting, and it is that level of competition which the 21-year-old partly has to thank for her progress. After running 53.33 in Oslo, Bol said she was "curious" to find out what she might be capable of when really being pushed and she didn't have to wait long to find out. Her 52.37 in Stockholm came just three days later as she narrowly held off the USA's 2015 world silver medallist Shamier Little, whose PB of 52.39 in that race moved her to fifth on the world all-time list.
"When you have someone that you compete against, it always helps to push each other and I think that's what makes it so beautiful, when competitors are really going against each other," Bol had said before her race in Stockholm. "Like at the (US) trials, you see amazing times come from that. It is nice if you can be really competitive in the last metres, when you are full of lactic."
The next day, after taking almost a second off her PB, a delighted Bol added: "I knew I was running against a really strong field and my coach and I said to each other: 'Okay, I'm going to show that I can also do it under this pressure and when we push each other'. Shamier was coming so close, and I don't think I have ever pushed as much in the last few metres. I am extremely happy and also that I did a good dip to win it.
"When I run these times, I am in the mix against the real good girls and I didn't expect it, to be honest. I hoped I could do 52.9 maybe this year and I felt I was getting close to that, and now I have run one second faster (than her previous PB). It's not yet making sense in my head!"


Targeting Tokyo
Bol's major breakthrough this year has forced her to reassess her goals for the upcoming Olympics, with her progress during the one-year postponement of the Games in Tokyo seeing her become a strong medal contender.
The plan behind Bol's race programme this month had been to mimic the rounds of Olympic competition, starting with the Oslo Bislett Games on 1 July before the Bauhaus-Galan in Stockholm three days later and the Gyulai Memorial in Szekesfehervar another two days after that. Victories at all of those events, plus in her 400m hurdles season opener in Hengelo and Diamond League meetings in Florence and Gateshead, has taken her winning streak in the discipline to 12 competitions, but that is only part of Bol's journey this past year. As well as her three national records in the 400m hurdles, the 2020 world leader has this year set five national records in the indoor 400m and two in the outdoor 400m, while she also formed part of the 4x400m teams to set Dutch records in the indoor relay and outdoor mixed relay.
Bol's 400m hurdles in 2021 (all winning times)
54.33, Hengelo, 6 Jun
53.44, Florence, 10 Jun
53.33, Oslo, 1 Jul
52.37, Stockholm, 4 Jul
52.81, Szekesfehervar, 6 Jul
53.24, Gateshead, 13 Jul


Bol's Dutch records in 2021
5 at indoor 400m (50.63)
3 at outdoor 400m hurdles (52.37)
2 at outdoor 400m (50.37)
1 at indoor 4x400m (3:27.15)
1 at outdoor mixed 4x400m (3:18.04)



Her quickest indoor 400m time over the winter came at the European Indoor Championships in Torun, where she won gold. So as well as the top level of competition helping to push her to faster times, what else has added to this recipe for success?
"I started training at the national sport centre at Papendal one-and-a-half years ago and I think that really helped a lot," explained Bol, who is guided by Swiss coach Laurent Meuwly. "After that I started to run 53 seconds (for the 400m hurdles), because you have everything you need there – you have a good team, when you need a physio it's just one minute away. Small things like that are really all helping and our team spirit, by motivating and pushing each other in every training session, I really think that helps to push me to a higher level."
She has also been inspired by the success within Dutch athletics. "Dafne Schippers – she had a breakthrough and I think that inspired a lot of athletes in the Netherlands to be like okay, we're from the Netherlands, but we can also achieve high things," she added, reflecting on the impact of the two-time world 200m champion.
Bol's 400m hurdles stride pattern has changed this year, to 15 strides between the barriers, and it also helps that she is not afraid of that lactic she mentioned before her Stockholm run. "I think I learned to deal with it," she explained. "To say I 'like' it is maybe not the right word but going through it is really something nice, I think.
"When you run alone, you feel it more because you are more focused on yourself, but when you are really in a battle with someone the adrenaline takes over and you feel the lactic less, although it's always there. And when you are really happy you will feel it less after a race."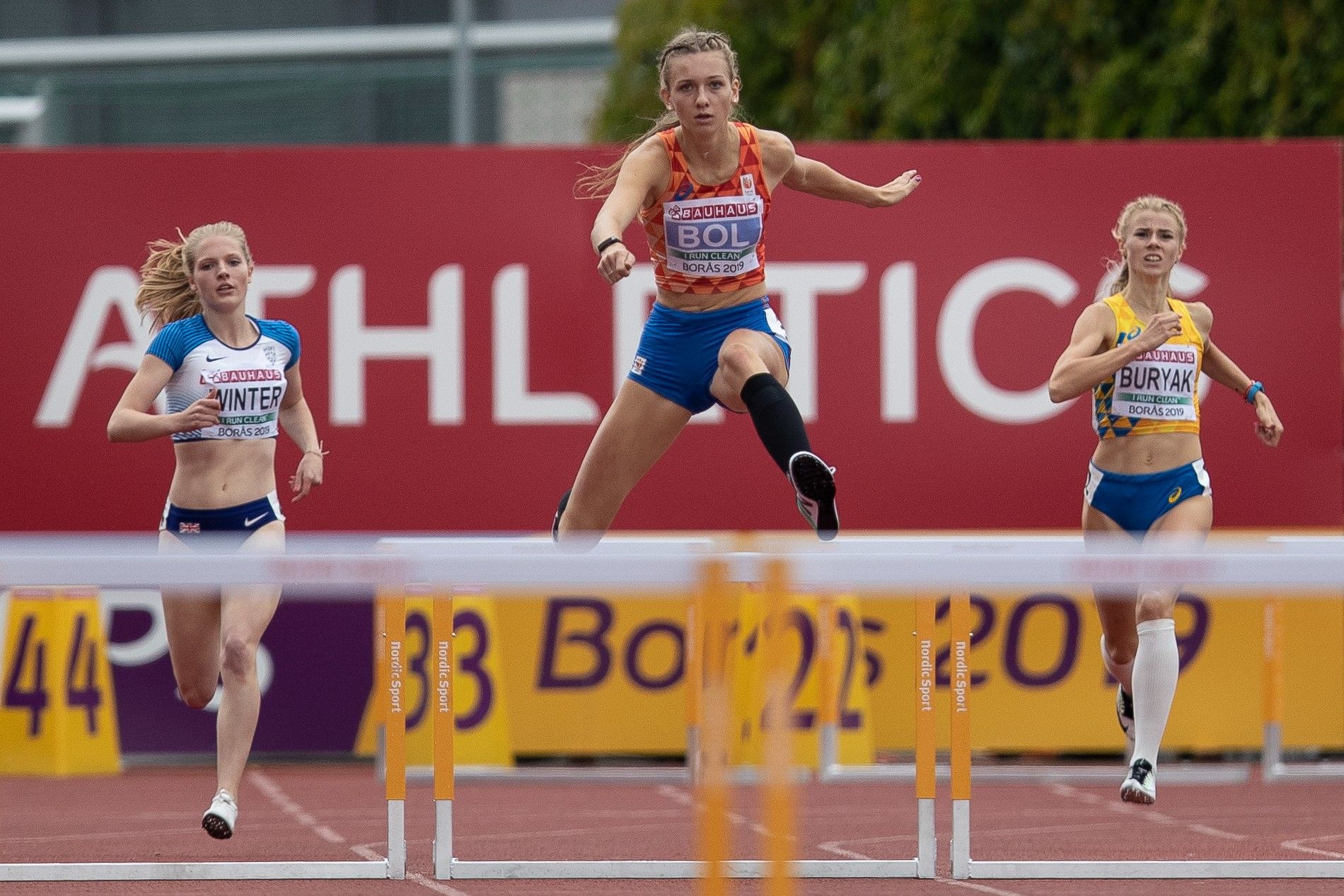 Until 2019, Bol's focus had been on the 400m flat – the event in which she made the semifinals of the 2017 European U20 Championships. But in that first year of taking on the 400m hurdles the communication sciences student won the European U20 title and competed at her first World Athletics Championships, having started her senior international career by forming part of the Dutch team for the 2019 World Athletics Relays in Yokohama. Much has changed since then and she has the benefit of major event experience as she prepares to make her Olympic debut in Tokyo.
"Dafne once said to me: 'Everywhere you go, it's a track and you do your 400m hurdles' and that's really something I always keep in mind," Bol revealed. "Okay, I'm at the Olympics, but it's again just the 400m hurdles I have to do and do my best race. That's mostly what I think, and having that experience of knowing how to recover between the heats, semis and final."
So what is her focus during these final few weeks? "Just to keep cool, do my own thing and focus on the things I have to do, to do well at the Olympics," Bol replied with a smile.
"I couldn't have had a better preparation for Tokyo and I cannot wait now."
Jess Whittington for World Athletics