Elaine Thompson-Herah wins the 100m in Szekesfehervar (© Gyulai Memorial)
A bounceback 100m victory for Elaine Thompson-Herah, another sub-53-second run from Femke Bol in the 400m hurdles and an African 100m record from Akani Simbine were among the many highlights at the Istvan Gyulai Memorial – a World Athletics Continental Tour Gold meeting – in Szekesfehervar on Tuesday (6).
Thompson-Herah, who finished third at Jamaica's Olympic Trials just two weeks ago, was able to recapture the form that carried her to a sprint double in Rio five years ago. She pulled away from world champion Shelly-Ann Fraser-Pryce in the latter stages to stop the clock at 10.71 (0.6m/s) – just 0.01 shy of her PB and equalling the time she ran to win Olympic gold in 2016.
Fraser-Pryce was second in 10.82, finishing just ahead of Marie-Josee Ta Lou (10.86) and Blessing Okagbare (10.89).



"I'm very happy with 10.71," said Thompson-Herah "It's not quite a PB, but I'm very grateful."
This was Thompson-Herah's and Fraser-Pryce's first 100m clash outside of Jamaican Championships and global championship finals. They now have one win apiece over the short sprint this year; the decider between the two could come at the Olympic Games in Tokyo.
Simbine, winner of the men's 100m here, is also looking forward to Tokyo. He finished fifth in Rio five years ago, matched that position at the World Championships one year later, then came even closer to the podium at the 2019 World Championships, placing fourth.
But he looked every bit the Olympic medal contender in Szekesfehervar, where he defeated a quality field to win in an African record of 9.84 (1.2m/s). Some way behind, USA's Michael Rodgers took second place in 10.00, 0.02 ahead of Marvin Bracy.
"This gives me a lot of confidence," said Simbine, who went on to win the B 200m in 20.25. "We were hoping for something to happen this week. And to break the African record is really great; it's something we've been working towards for a number of years."



Just two days after their gripping duel at the Wanda Diamond League meeting in Stockholm, Femke Bol and Shamier Little enjoyed another close battle in the 400m hurdles, once again smashing through the 53-second barrier.
As she had done in Stockholm, Bol went out hard and made up the stagger on Little, one lane outside her, on the back straight. Little was focused on running her own race, however, and gradually made up the deficit on her Dutch rival by the time of the final hurdle. In a desperate sprint for the line, Bol just got the edge, winning in 52.81 to Little's 52.85. Jamaica's Janieve Russell was a distant third in 53.68.
"It's another 52, but I'm very tired now," said Bol. "It's nice to race against someone who's so close to you."


Meeting records for Pichardo and Walsh
On an outstanding night in Szekesfehervar, a total of nine meeting records fell across a range of disciplines.
Pedro Pablo Pichardo and Hugues Fabrice Zango enjoyed an enthralling duel in the men's triple jump, pushing one another to record-breaking marks.
Pichardo bounded out to 17.82m (0.9m/s) in round two, breaking Christian Taylor's meeting record of 17.68m. Zango responded with 17.66m later that round, then equalled Pichardo's leading mark in round three to set an outdoor African record, gaining the edge on countback. In the fourth round, though, Pichardo went even farther, sailing out to 17.92 (0.4m/s) to regain the lead once and for all.
Tom Walsh sent his shot out to a meeting record of 22.22m, his best throw since taking the bronze medal in the epic World Championships final in Doha in 2019. The 2017 world champion opened his series with 21.73m and then produced his best mark in the second round, breaking the Hungarian all-comers' record in the process.
He produced one more throw beyond 22 metres, 22.09m in round three, and closed out his series with 21.74m. Croatia's Filip Mihaljevic was second with 21.77m and USA's Josh Awatunde third with 21.70m.
Shericka Jackson continued her impressive run at 200m, handing Shaunae Miller-Uibo her first defeat over the distance since the 2017 World Championships. They came off the bend level, but Miller-Uibo couldn't quite catch Jackson down the home straight as the Jamaican crossed the line in 21.96 (-0.3m/s). Miller-Uibo was second in 22.15 and two-time world champion Dafne Schippers was third in 22.70.
Two-time world 5000m champion Muktar Edris rebounded from the disappointment of missing a spot on Ethiopia's Olympic team, setting a PB and meeting record in the 3000m.
Led through the first 1000m in a swift 2:27, the pace settled in the middle of the race as Tadese Worku led from Edris. The duo passed through 2000m in 5:01.42 before Edris started to push ahead on the last two laps.
He crossed the line in 7:30.96, breaking his four-year-old PB to win by almost four seconds from Tadese (7:34.75).
The other track meeting record came in the men's 400m hurdles, which was won by 2016 European champion Yasmani Copello in 48.35.
The first meeting record of the day came in the women's javelin, where European bronze medallist Liveta Jasiunaite produced a well-timed season's best in the final round of the javelin to snatch victory with 62.73m, the second-best throw of the Lithuanian's career.


Nedasekau equals world lead, Camacho-Quinn continues hurdles dominance
The men's high jump enthralled the fans who were sat around the first bend, as five men sailed clear at 2.30m with Maksim Nedasekau going on to win with 2.37m, equalling the best leap in the world so far this year.
World bronze medallist Ilya Ivanyuk held the upper hand for most of the competition. It was only when the bar reached 2.35m that the neutral athlete registered his first failure. Nedasekau, meanwhile, went clear on the first try, moving the Belarusian into the lead.
Ivanyuk and Mikhail Akimenko ended with bests of 2.33m, while Nedasekau went on to clear a national record of 2.37m. The European indoor champion ended his series with three unsuccessful tries at 2.41m.
World leader Jasmine Camacho-Quinn notched up another victory in the 100m hurdles. The Puerto Rican won comfortably in 12.34 (0.2m/s) – her third sub-12.4 clocking of 2021 – with European champion Elvira Herman placing second in 12.67.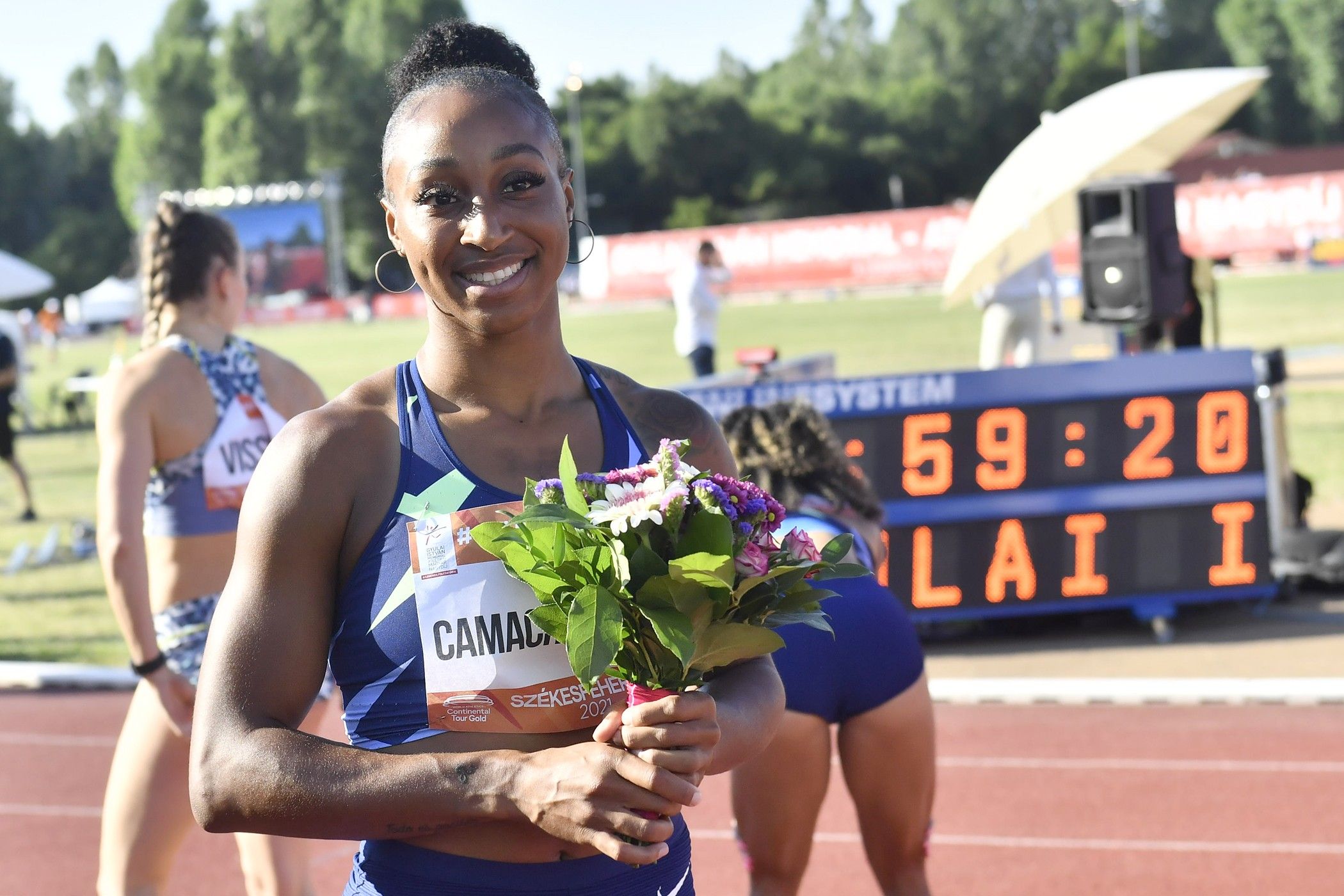 The men's event was a closer affair, but world champion Grant Holloway emerged with his winning streak intact. The world indoor record-holder crossed the line in 13.08 (-0.1m/s) to beat Orlando Ortega by 0.07.
World and Olympic silver medallist Andre De Grasse won a highly competitive men's 200m. USA's Kenny Bednarek had the slight advantage at half way, but De Grasse came through in the second half to edge it on the line in 19.97 (1.2m/s), 0.02 ahead of his US rival. World U20 record-holder Erriyon Knighton, racing in Europe for the first time, was a highly respectable third in 20.03.
World champion Steven Gardiner achieved his fourth 400m victory in Szekesfehervar, though he was made to work for it. USA's Bryce Deadmon came off the final turn with the slight advantage, but Gardiner gritted his teeth and clawed back the deficit on the home straight, winning in 44.47 to Deadmon's 44.58.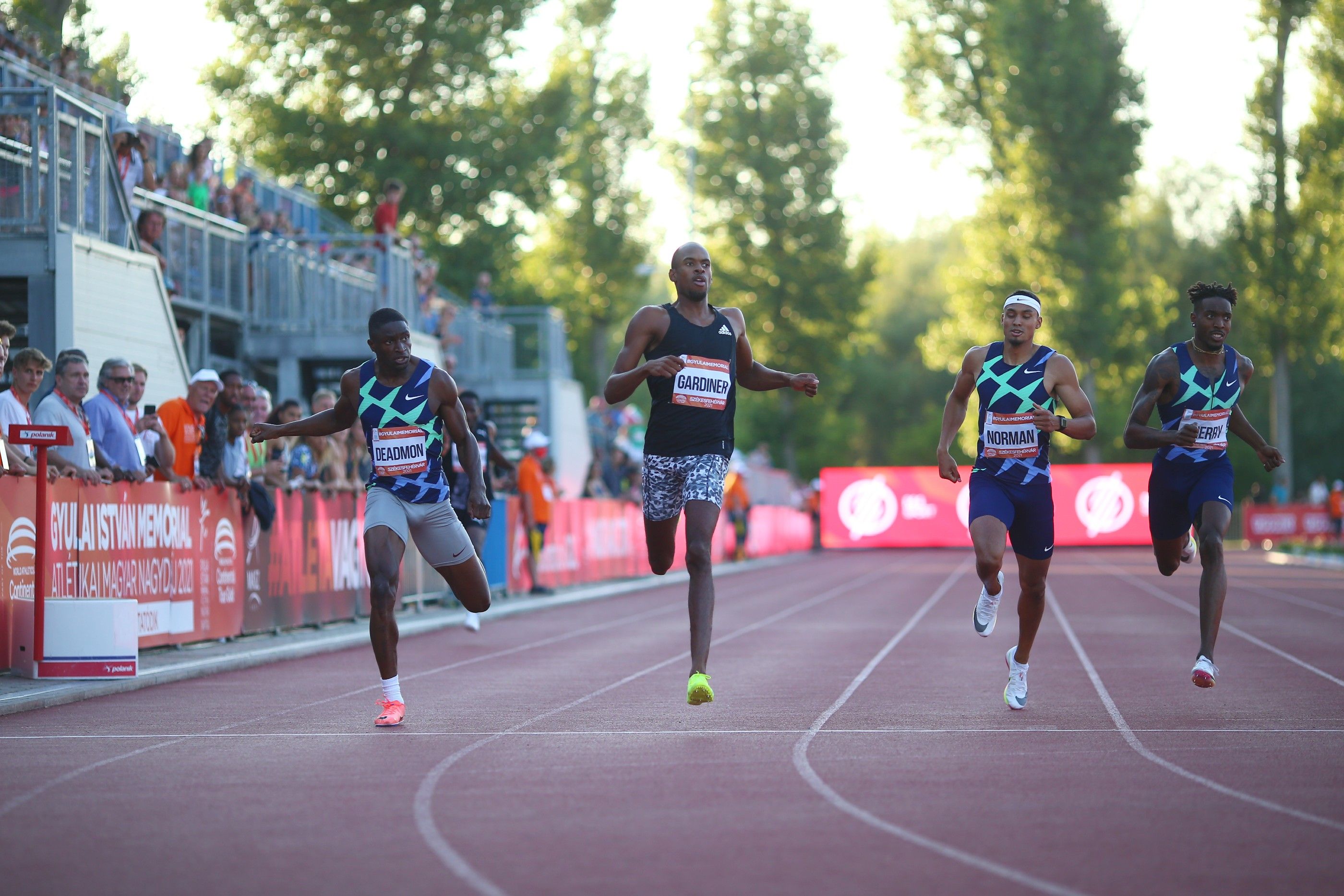 US Trials winner Michael Norman couldn't quite get on level terms with the leading duo, while Olympic champion Wayde van Niekerk was a late withdrawal from the race.
Fresh from her 49.61 PB at the Jamaican Championships, Stephenie-Ann McPherson produced another sub-50-second run to win the women's 400m. The 2013 world bronze medallist crossed the line unopposed in 49.99 while USA's Wadeline Jonathas was second in 50.70.
Britain's Elliot Giles ran a well-executed race in the 800m to catch early leader Cornelius Tuwei. The Kenyan managed to open up a big lead on the first lap, which at 51.05 wasn't unusually fast, but Giles moved on to his shoulder on the final bend and held off a challenge from US champion Clayton Murphy.
Giles won in 1:44.89 with compatriot Jamie Webb coming through to take second in 1:45.12, 0.08 ahead of Murphy.
Elsewhere, Daniel Stahl's discus domination continued, this time a 67.71m being sufficient to see off the challenge of 2017 world champion Andrius Gudzius (66.71m), and European indoor champion Maryna Bekh-Romanchuk won the women's long jump with 6.89m.


Kokhan and Wlodarczyk take hammer titles
Held on the eve of the main competition, as has often been the case at this meeting in recent years, the men's and women's hammer contests were won by rising Ukrainian star Mykhaylo Kokhan and Polish throwing icon Anita Wlodarczyk.
Kokhan opened with 78.50m to take a short-lived lead before European champion Wojciech Nowicki threw 80.58m. Kokhan closed in on Nowicki's lead with 79.76m in round three, but then produced the throw of his life in the fourth round, sending his hammer out to 80.78m, scoring one of the biggest victories of his burgeoning senior career. His winning mark is the best ever throw by a 20-year-old.
Four-time world champion Pawel Fajdek, meanwhile, struggled to find his rhythm all evening and finished third with a best of 78.78m.
"Eighty metres was my goal for this competition and I'm pleased that I did it," said Kokhan, who finished fifth at the 2019 World Championships at the age of 18. "It's good to beat Pawel and Wojciech, but they're probably in heavy training at the moment."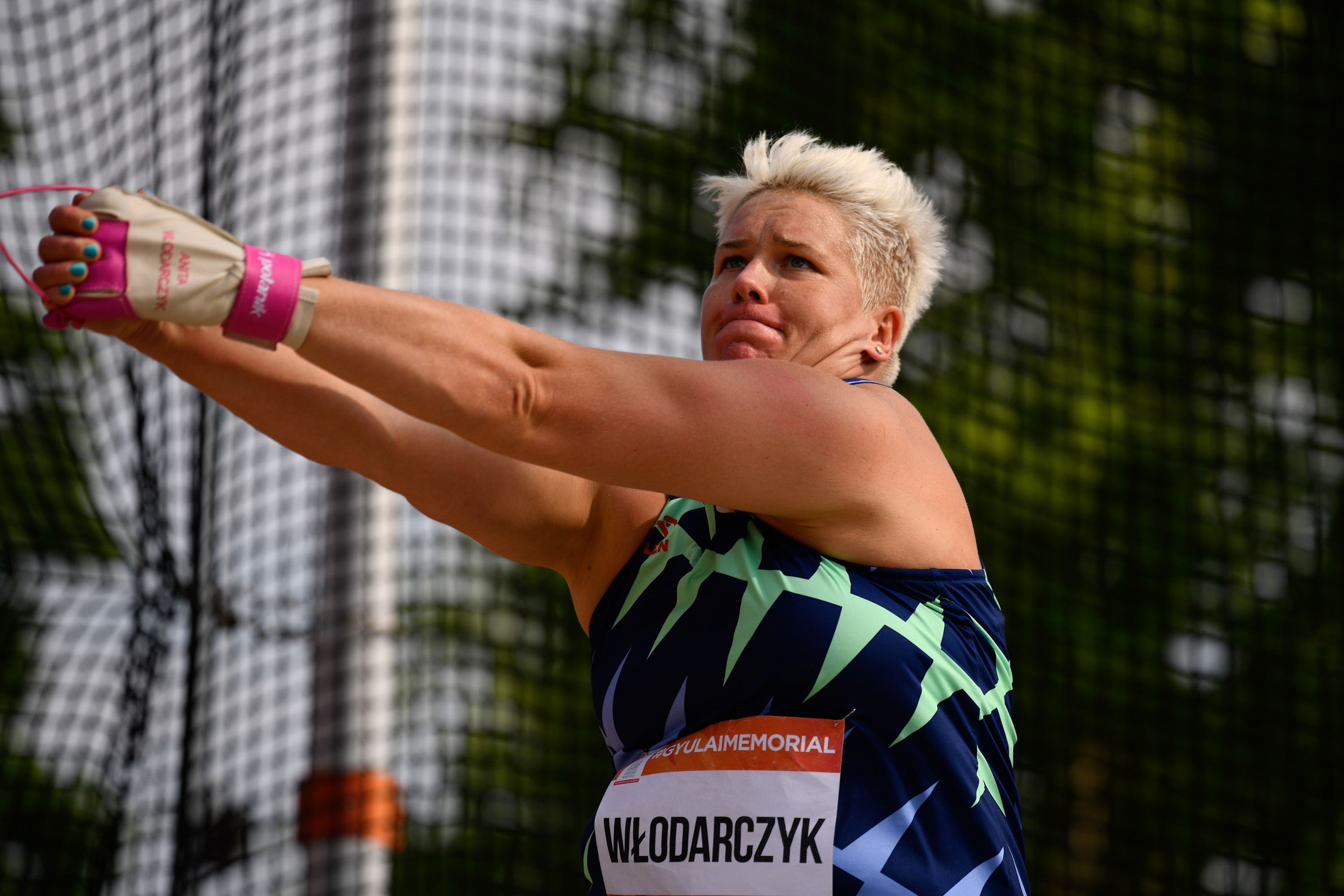 In the women's event, France's 2015 world bronze medallist Alexandra Tavernier opened her account with 71.29m, but just moments later Wlodarczyk threw 71.34m to close out the first round with an early lead.
Poland's Malwina Kopron, the 2017 world bronze medallist, then took the lead in the second round with 71.72m, but again it was short lived as Wlodarczyk responded with 73.52m. Kopron improved to 74.02m in round three, but Wlodarczyk saw off the challenge with a 74.76m effort later that same round.
This was Wlodarczyk's sixth victory in Szekesfehervar. The world record-holder and double Olympic champion had won here every year from 2014 to 2018 and set the meeting record of 78.10m in 2016.
Jon Mulkeen for World Athletics