Margaret Chelimo Kipkemboi wins the Cross Internacional de Italica in Seville (© Asociación ANOC)
The 17th Cross Internacional de Atapuerca, the fourth Gold standard meeting in the World Athletics Cross Country Tour, will be held on Sunday (14) near the northern city of Burgos and features the most prominent line-up so far this season.

Burundi's Rodrigue Kwizera will start the 9000m men's race as the man to beat following his three consecutive wins in recent weeks. The 22-year-old had previously claimed 11th place at the 2019 World Cross Country Championships in Aarhus and seems determined to be a key player during this winter campaign.
Yet the Burundian will face stiff opposition on Sunday and the main danger should come from the Ugandan trio of Thomas and Joel Ayeko plus Hosea Kiplangat. The former pushed Kwizera to the finish line at the San Sebastian permit and will be eager to take revenge here, while Joel Ayeko is rounding into form having finished fourth in Amorebieta and third in Soria, and Kiplangat is fresh from a 28:20 10km best.
Ethiopia will be well represented by 18-year-old Abeje Ayana, who achieved this season's quickest U20 half marathon performance in Poznan last month thanks to his 59:39 for second place. Not to be discounted is Bahrain's Birhanu Balew, who was sixth at the Tokyo Olympics over 5000m, although the 25-year-old had to settle for 11th on his last outing when he was timed at 28:20 for 10km in Herzogenaurach in September.
The Eritrean contingent is also powerful and comprises Aron Kifle, Awet Habte and Yemane Hailesilassie. Kifle, fourth in Aahrus, clocked 1:00:53 at the Barcelona Half Marathon one month ago, while Habte won the Amorebieta cross country and might be a factor on Sunday. Olympic 3000m steeplechase fifth-place finisher Hailesilassie, meanwhile, will compete for the fourth consecutive time in this cross country season and should record a top 10 place.
The finest Spanish specialists will also be in contention, led by Ouassim Oumaiz, who was runner-up in Amorebieta, and Abdessamad Oukhelfen, third in San Sebastian. The two 22-year-olds will be accompanied by Tokyo Olympic 1500m fifth-place finisher Adel Mechaal and Carlos Mayo, a 27:25.00 10,000m performer who was 13th in Tokyo.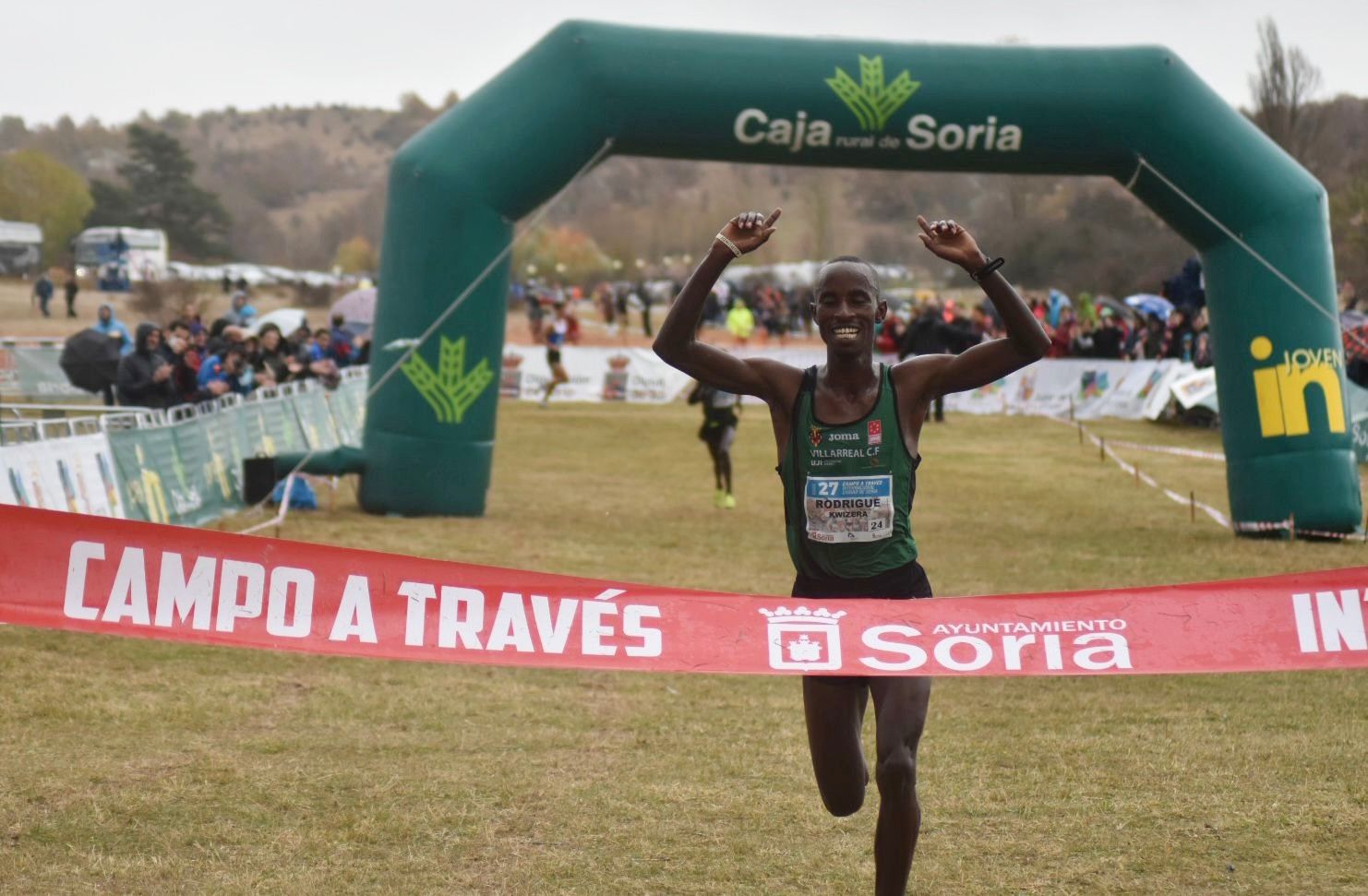 Rodrigue Kwizera wins the Cross Internacional de Soria (© Asociacion ADOC)

The women's 8000m contest will be headed by a strong Kenyan armada, which includes Margaret Chelimo, Norah Jeruto, Celliphine Chespol and Beatrice Chebet. World 5000m silver medallist Chelimo came relatively close to the world 10km best on 3 October on Spanish soil in Valencia, where she clocked 29:50 to win ahead of Jeruto, who was runner-up in 30:08.
The 26-year-old Jeruto boasts a 29:51 lifetime best for the distance, however, and an impressive 8:53.65 time for the 3000m steeplechase. Her last appearance came in Lille last weekend, when she was runner-up over 5km in 14:42, a time under the previous world record for 5km in a mixed race which was improved to 14:39 by race winner Dawit Seyaum.
As for Chespol, she's also an accomplished steeplechaser, having the world U20 record to her credit with a 8:58.78 clocking. The 22-year-old has proven to be competitive in road races as well and she is fresh from a career 10km best of 30:19 set in Lille last Saturday. Chebet completes the big Kenyan quartet in contention, having enjoyed a fine track campaign with times of 8:27.49 and 14:34.55 for the 3000m and 5000m respectively.
Trying to deny a Kenyan clean sweep of medals will be the Ethiopian triumvirate of Fantu Worku, Fikadu Zenebu and Zerfe Wondemagegn. The former came sixth at the Doha World Championships over 5000m and boasts a 14:26.80 PB, while Zenebu and Wondemagegn signed a brilliant double at last Sunday's San Sebastian cross country race and should fight for a top five berth here, the latter having also recently been nominated for the World Athletics Rising Star Award.
Watch out too for Kenya's Lucy Mawia Muli, Ethiopia's Likina Amebaw Ayel and Burundi's Francine Niyomukunzi. They completed the Soria podium and the Burundian won the Amorebieta race the following weekend.
Europe will be led by Italy's reigning European U23 5000m champion Nadia Battocletti, with the 21-year-old having made a major breakthrough last summer when she came a surprise seventh at the Tokyo Olympics, improving her lifetime best to 14:46.29, while Carolina Robles, who made the 3000m steeplechase final in Tokyo, will be fighting for a top 10 spot.
Overall, more than 4100 athletes from 16 countries will take part in the event which promises to be an athletics party on Sunday. Weather forecasters predict a cloudy day with temperatures between 6-8°C and 80% chance of rain.
Emeterio Valiente for World Athletics