Ethiopia's Seifu Tura (© Getty Images)
With strong fields, both course records are under threat at the Schneider Electric Marathon de Paris, a World Athletics Elite Label road race, on Sunday (3).
Six months after its 46th edition, which was rescheduled due to the pandemic, the Paris event returns to its more usual place in the calendar.
The men's line-up features six men who have already clocked sub-2:05 times, meaning the course record of 2:04:21 set by Elisha Rotich in 2021 could be improved. Ethiopia's Asefa Mengstu is the fastest man in the field courtesy of his 2:04:06 clocked in Dubai three years ago, but his compatriot Seifu Tura would look to be the favourite, having recently shown his good shape. The winner of the 2021 Chicago Marathon ran a half marathon personal best of 58:36 in February.
Tura's marathon PB of 2:04:29 is 16 seconds faster than Hillary Kipsambu's. The Kenyan, who turned 37 in February, will also be a serious threat. The Paris streets must be vivid in his memory, as he ran his PB of 2:04:44 last October in the French capital. On that occasion he placed third, finishing nine seconds ahead of Ethiopia's Abayneh Degu, who set a PB of 2:04:53 that day and will also be in contention on Sunday.
Abayneh Degu and Deso Gelmisa will likely have a say as well. Degu ran 2:04:53 in Paris last year, while Gelmisa has a personal best of exactly the same time, run in Valencia in 2020.
Morhad Amdouni of France, who finished eighth at the 2020 World Athletics Half Marathon Championships, could target the French record of 2:06:36.
Julien Wanders will make his debut over the distance. The Swiss athlete is the European half marathon record-holder with 59:13.
The PB of Namibia's Helalia Johannes – 2:19:52 set in 2020 – is more than a minute faster than the women's course record set by Purity Rionoripo in 2017. Kenya's Judith Jeptum should be the world bronze medallist's main contender. Jeptum, who is 14 years younger than Johannes, proved her current form by clocking a half marathon PB of 1:05:28 one month ago.
The Kenyan is the third-fastest athlete in the elite women's field with 2:22:30, 1:27 off Besu Sado's personal best. The Ethiopian, who clocked that time of 2:21:03 in 2019, will also be looking for a top spot.
Not to be discounted are Ethiopia's Tigist Abayechew and Beyenu Degefa. Abayechew has run 2:22:45 at her best, while her compatriot finshed third in Valencia in December in 2:23:04.
Quentin Guillon for World Athletics
Kipkemboi and Teklu to strike in Barcelona
Kenya's Margaret Chelimo Kipkemboi and Ethiopia's Haftu Teklu will be among the leading athletes at the eDreams Mitja Marató de Barcelona, a World Athletics Elite Label event, on Sunday (3). While world 5000m silver medallist Kipkemboi tackles the distance for the first time, Teklu will be aiming to retain his title.
In the absence of multiple world record-holder Genzebe Dibaba, who withdrew from the entry list a few weeks ago due to injury, her fellow Ethiopian Asnakesh Awoke, third last year in 1:07:47, emerges as one of the favourites. The 26-year-old was runner-up the previous year in a PB of 1:07:04 and should be eager to improve on her previous appearances and take top spot.
However, Kenya's Kipkemboi, a 29:50 10km specialist, should not be discounted for the win. The 29-year-old has shown great form this winter with podium places at the Atapuerca and Italica cross country races on Spanish soil and more recently came second at the national championships in Eldoret. Ethiopia's Gete Alemayehu, holder of a 1:08:23 personal best, might well complete the podium.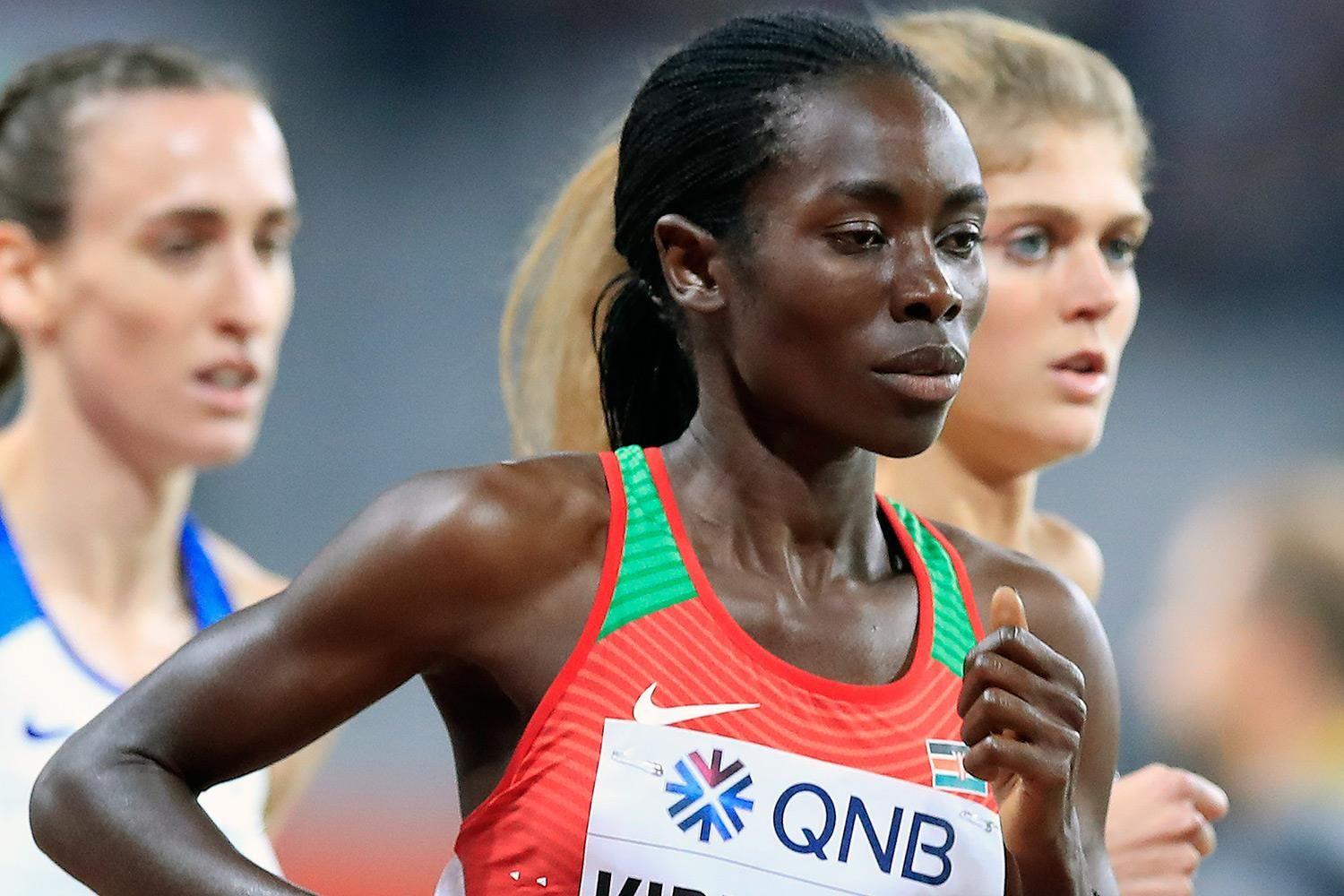 Margaret Chelimo Kipkemboi (© Getty Images)

Spain's Alejandro Rodriguez, a former 1:45:97 800m specialist, will be in charge of the pacing duties, aiming to cover the opening 10km at 3:06/3:08 pace in the hunt for a sub-1:06:00 final time. The course record stands at 1:05:09, which was then a world record, set by Kenya's Florence Kiplagat in 2015.
The defending champion Teklu should be regarded as the main favourite in the men's race. The 26-year-old won in style last October, setting a course record of 59:39 on his debut over the distance. Teklu has competed twice in 2022 over shorter distances indoors, setting PBs of 3:39:47 for 1500m in Sabadell and 7:52:10 for 3000m in Torun last month.
Back to his specialist event, the Ethiopian athlete will be aiming for an improvement on his performance last year to grab back-to-back titles.
"Last year, the organisers gave me the chance to make my debut here and I managed to win," he said. "I'm now a more experienced athlete, I already know the circuit and I'll be targeting a quicker performance on Sunday."
Teklu heads a powerful Ethiopian squad which includes another two athletes who have dipped under the 60-minute barrier – Abe Gashahun (59:46) and Antenatyehu Dagnachew (59:48) – alongside last year's third-place finisher Regasa Chala (1:00:38) and debutants Gebru Redahgne and Teresa Nyakora.
Kenya's Titus Mbishei, fresh from a 1:01:53 clocking in Ras Al Khaimah in February, joins them, as do Eritrea's Berhane Tesfay (1:00:54) and Uganda's Ali Chebres.
Burundi's Thierry Ndikumwenayo, recent victor in Serradilla at the closing event of this season's World Athletics Cross Country Tour, will be the opening pacemaker, while Kazakhstan's Shadrack Koech, a 1:00:12 athlete, should lead the front group to 15km at a brisk rhythm.
Overall, more than 13,000 runners will take place in the event. Weather forecasters predict an ideal morning for running with a very slight wind, sun and a 10°C temperature by the time of the event.
Emeterio Valiente for World Athletics
Kiplimo eyes record in Prague
Kenya's Philemon Kiplimo and Brenda Jepleting lead competitive fields at the Sportisimo Prague Half Marathon, a World Athletics Elite Label road race, on Saturday (2).
Kiplimo, with the 58:11 he ran in Valencia in 2020, leads the list of eight athletes on the entry list to have dipped under the hour for a half marathon, while Jepleting is among the six athletes in the women's field with sub-70-minute PBs.
Kiplimo, who has won half marathons in Boston and Bahrain over the past few years, will be looking to go one better than his runner-up finish in Prague in 2020 (59:56) and improve his PB, a time that currently places him eighth on a world all-time list led by Uganda's Jacob Kiplimo with the 57:31 world record he ran in Lisbon last year.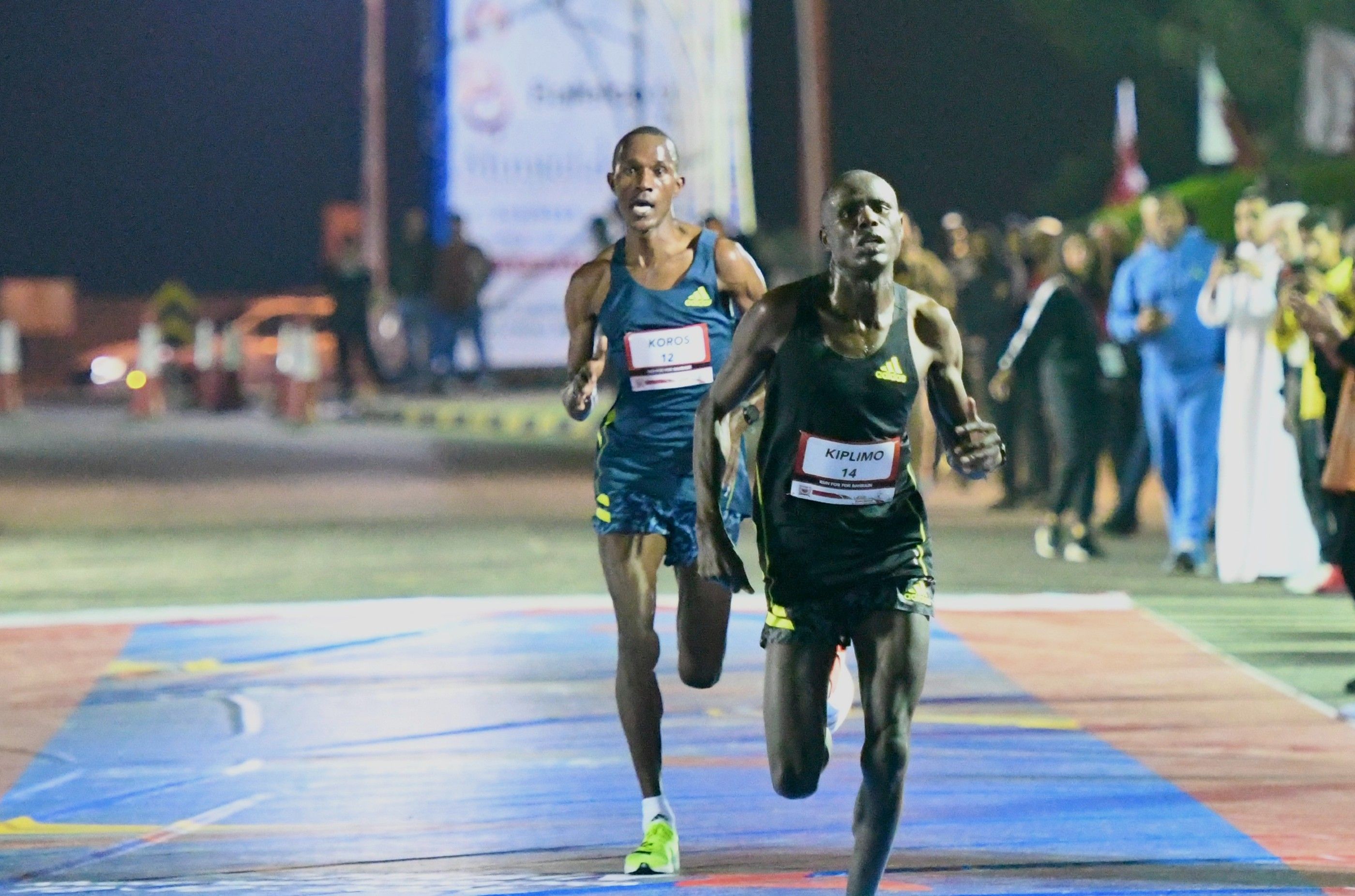 Philemon Kiplimo (© Mahmood Al Hamadi)

Among the leading challengers will be Kenya's Kennedy Kimutai, who sits three places below Philemon Kiplimo on the world all-time list with the 58:28 he ran for fourth place in Valencia last year.
Another athlete to watch for is their compatriot Keneth Renju, who ran 58:35 in Ras Al Khaimah in February, while Mathew Kimeli joins them with a sub-59:00 PB having run 58:43 in Valencia.
The event record is the 58:47 set by Ethiopia's Atsedu Tsegay in 2012.
In the women's race, Jepleting looks set to be joined by her compatriots Irene Cheptai and Nelly Jepchumba in challenging for the top spot.
Jepleting ran 1:05:44 to finish fourth in Valencia in October and won in Herzogenaurach the month before. Cheptai is the 2017 world cross country gold medallist who finished sixth in the 10,000m at the Tokyo Olympics and her half marathon best is the 1:06:43 she clocked in New Delhi in 2020.
Jepchumba, meanwhile, improved her PB to 1:07:46 to set a course record at the Madrid Half Marathon last year.