Alicia Monson wins the 3000m at the Millrose Games (© Getty Images)
There are many metrics that can make a good distance runner: a high VO2 max; a wealth of slow-twitch muscle fibres; a hyper-efficient running economy. But beyond all of those, there's a key ingredient that's far more difficult to quantify: the ability to hurt.
In the summer of 2020, Dathan Ritzenhein first learned how good Alicia Monson was in that latter department.
"Until you spend the time with her, you don't realise how special an athlete she is," says Ritzenhein, the former US record holder at 5000m who's now head coach of On Athletics Club. "She's a real nice, sweet girl, but she's a killer on the track. Alicia has this amazing instinct and ability to push herself to a different place and is one of the toughest people I know. I don't know many who can go to that dark place."
Monson laughs as her coach's assessment is put to her.
"I'd agree with that," she says. "I didn't really uncover that (ability) until the past year. But training at a higher level as a pro has shown me I can push even harder during workouts, I can run faster for longer. It became clear at the (US Olympic) Trials I could do that when I literally almost ran myself unconscious."
That race is one that will live long in Monson's memory, even if its aftermath is largely a blur.
Eugene isn't renowned for heat, but in late June last year it was utterly oppressive, with temperatures climbing north of 100°F/37°C on the day of the women's 10,000m final and the race moved to 10am as a result, when temperatures were 85°F/29° but the sun already high in the sky.
Monson, 23, had spent the 10 days prior doing what she could to prepare for it, training with warm jackets on to simulate the overheating she'd experience. As she warmed up, Ritzenhein handed her frozen socks to cool her hands and, shortly before taking to the track, she put some ice cubes inside her racing uniform.
"That helped," she says. "Obviously I still ended up with heat stroke, but it helped me go a little farther than I otherwise could have."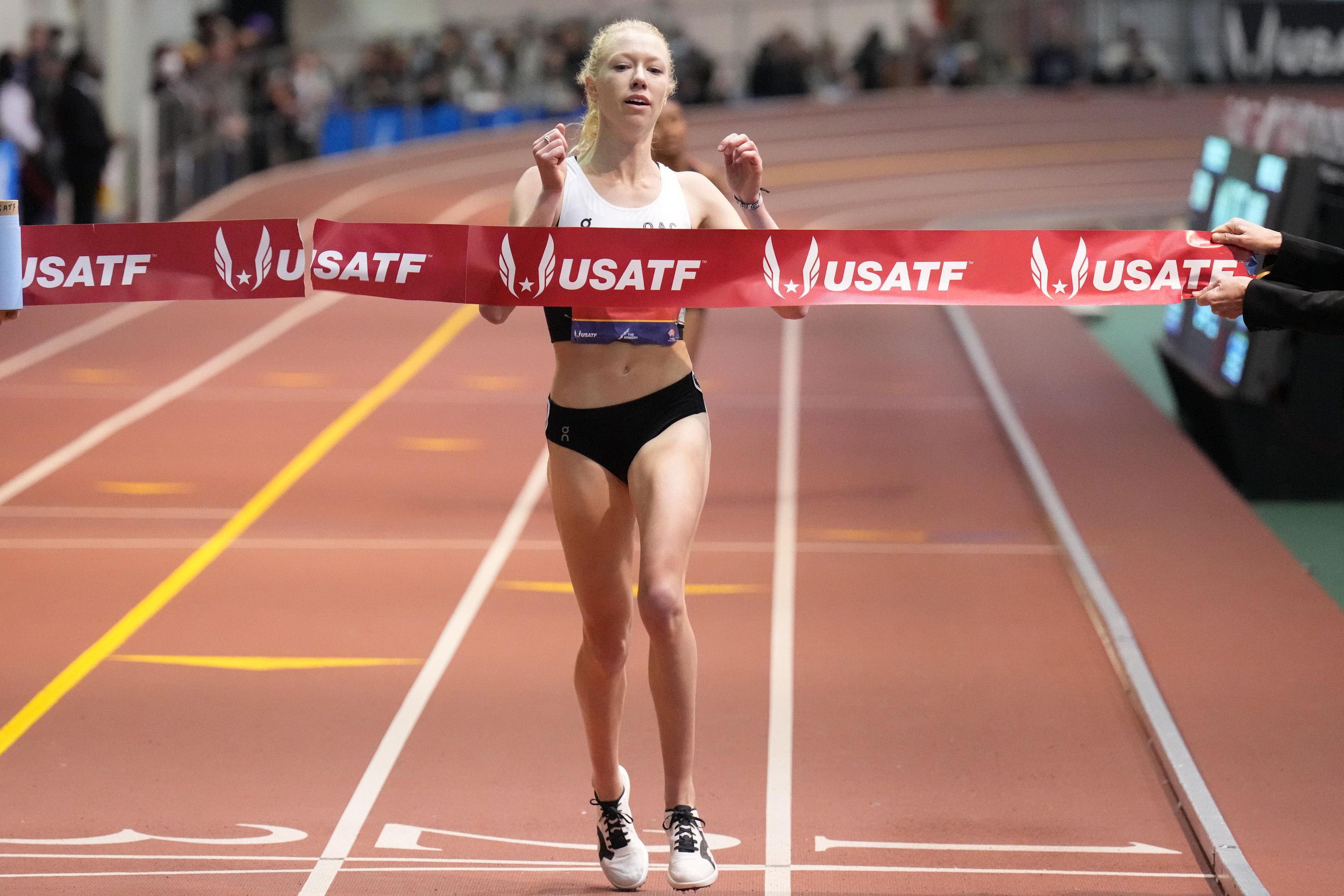 It proved a breakthrough race for Monson, who finished third in 31:18.55 to book her spot at the Tokyo Olympics. But she didn't have much time to celebrate. Monson wobbled around following the race and blacked out on her lap of honour. After a period in a cold-water tank she became hypothermic, an ambulance transporting her to hospital, where she spent the night.
"It was weird to go to the hospital," she says. "People were taking care of me and my Mom was like, 'she just made an Olympic team!' They were all happy but I was like, 'yeah, here I am in a hospital'."
It had been a long road to reach that point.
Monson grew up in Amery, Wisconsin, and found athletics in middle school, following the lead of her older sister and joining the local club. State titles at cross country and on track as a high school senior earned her a scholarship to the University of Wisconsin, where she matured into one of the brightest distance-running prospects in the NCAA.
In 2019 she won the NCAA indoor 5000m title and finished second at the NCAA Cross Country Championships, and the following year she turned pro, joining the On Athletics Club in Boulder, Colorado.
Much of that decision was based on her Wisconsin teammate, Ollie Hoare, committing to the same group, though given Ritzenhein's limited coaching experience at the time, Monson also reached out to Leah Falland, who'd been working with him since 2018.
"Leah had all good things to say," says Monson, who moved to Boulder in June 2020 and finished her final semester of classes online. Over the past 18 months, Ritzenhein has steadily built her aerobic engine with an emphasis on consistency, with Monson averaging 82 miles (131km) a week since October.
"I don't like to take them to the well too much in practice, but you never have to worry she won't get the most out of herself," says Ritzenhein. "She's been very healthy and that's something I'm conscious of. She had success in college but most seasons she was injured in the spring so I'm trying to maintain growth because she's young and has a bright future."
Monson's choice of coach is one she's never regretted.
"He's very hands-on as a coach," she says of Ritzenhein. "He's really good at knowing what each athlete needs. It's not one-size-fits-all training and he tailors specifically to each of us. He made three Olympic teams so he knows exactly what it takes."
Monson had virtually no 10,000m experience before December 2020, but after a strong block of base training she clocked 31:10.84 in San Juan Capistrano to put herself in contention for an Olympic place.
"I was like, 'okay, I'm actually good'," she says. "We shifted our mindset to what it would take to make the Olympic team and what sort of training and races that would look like."
The shutdown of racing in 2020 actually worked to her advantage, giving her "a chance to just train and get better," she says. "Coming out of college there are just so many people who are better than you, so to have Dathan's experience was helpful. A lot of time people have difficulties in their first year (as a pro) so it was a helpful transition."
Ahead of the Tokyo Games, Monson was nervous about the combination of heat and humidity, particularly just six weeks after she suffered heat stroke in Eugene. But in her international debut she turned in a strong showing, finishing 13th in the women's 10,000m in 31:21.36.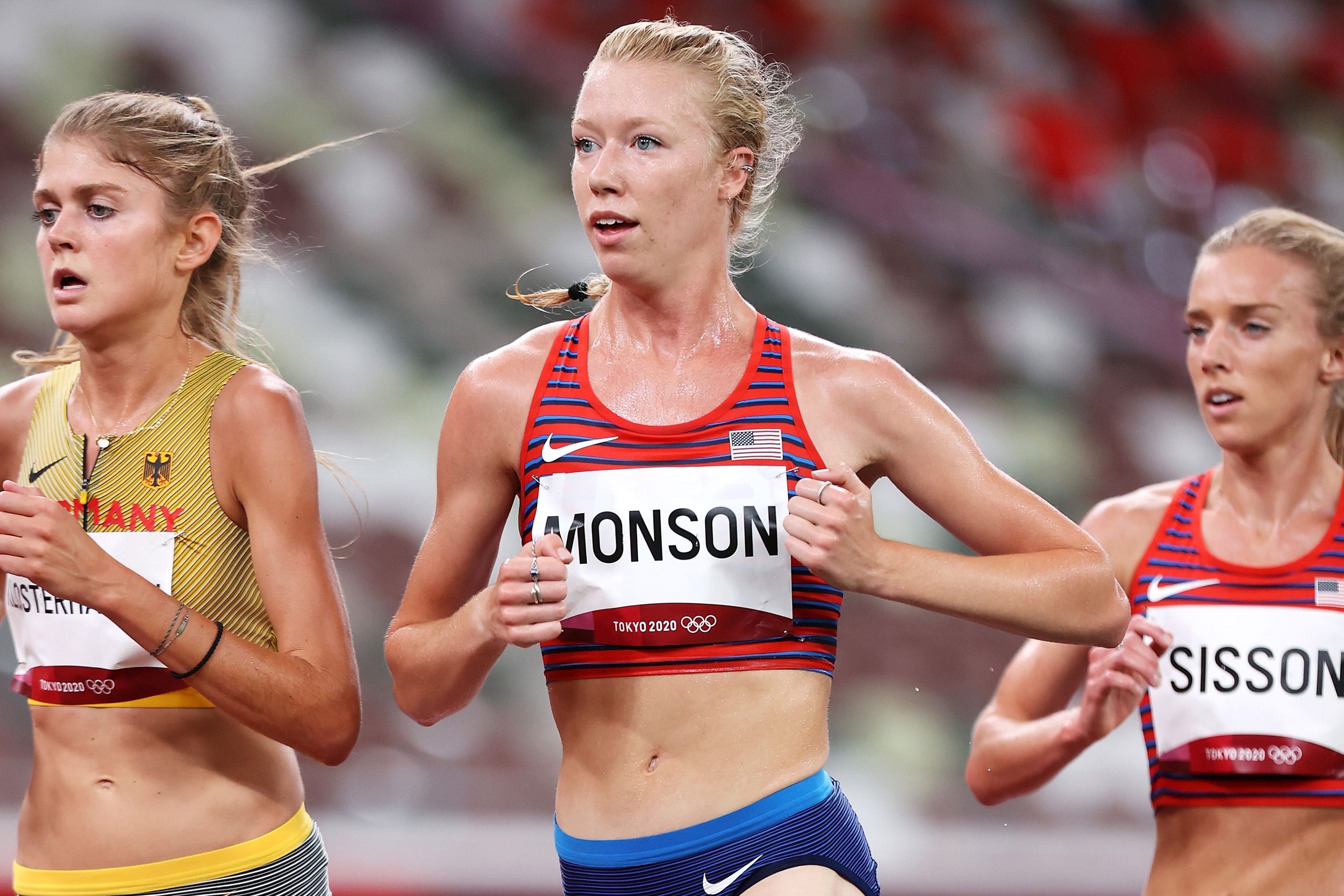 "It was about as good as I could expect," she says of her Olympic run. "Obviously I wanted to do better, but this was literally my first international competition and I had so much potential to get better. I was happy with it but also hungry for more."
After lowering her 5000m PB to 14:42.56 at the Wanda Diamond League meeting in Brussels and finishing sixth at the Fifth Avenue Mile in New York, she took her end-of-season break. She strung together an uninterrupted block of base training in the autumn, then emerged in 2022 looking better than ever, winning the US Cross Country title by 17 seconds in January before smashing her 3000m PB to win at the Millrose Games in New York, clocking 8:31.62.
After a brief training stint in Florida, she returned to Colorado, where she's preparing for the 3000m at the US Indoor Championships on 26-27 February in Spokane, Washington. Monson is targeting qualification for the World Athletics Indoor Championships Belgrade 22 but admits the "3000m team is going to be so hard to make."



After that, her big goal is to secure qualification for the World Athletics Championships Oregon22, with Monson targeting the US 10,000m trial on 27 May, which will be held in conjunction with the Prefontaine Classic, a Wanda Diamond League meeting. She'll then have four weeks to prepare for the US Championships, but she'll wait until after the 10,000m trial to decide on a tilt at 5000m.
And beyond that?
"I see her one day being a marathoner," says Ritzenhein. "But she's so young and has so many other things to do that if we keep getting her faster at 5K and 10K, she has all the tools to one day be good at the marathon. But it's a long way off."
For now, both coach and athlete are building on last year's breakthrough and looking to climb a few steps higher on the global ladder. During his career Ritzenhein – a medallist at the World Cross Country Championships as an U20 and World Half Marathon Championships as a senior – was renowned for being able to run himself to a standstill, and his promising protegee clearly has a similar pain tolerance.
"She has more of that than me," he says. "She trusts me a lot and has all the tools to be as good as she wants. She's surprisingly fast, she's strong, she's tough. She's kind of got the whole package."
Cathal Dennehy for World Athletics