Adel Mechaal breaks the European indoor record to win the 3000m at the 2022 New Balance Indoor Grand Prix (© Jason Suarez)
A European indoor 3000m record of 7:30.82 by Spain's Adel Mechaal highlighted a thrilling afternoon of action at the New Balance Indoor Grand Prix in New York, a World Athletics Indoor Tour Gold meeting, on Sunday (6).
The event, relocated from its traditional home in Boston for the second straight year, saw a number of big performances at the Ocean Breeze Athletic Complex in Staten Island, but best of all was the 15-lap exhibition put on by Mechaal, who carved two seconds off the previous record of 7:32.41, set by his fellow Spaniard Sergio Sanchez in 2010.
Britain's Andrew Butchart came home second in an indoor PB of 7:37.42, with Guatemala's Luis Grijalva setting a national record of 7:37.42 in third. Britain's Jake Wightman set a PB of 7:37.81 in fourth, while in sixth Switzerland's Jonas Raess broke his national record with 7:39.49.
Want to see @adelmechaal 🇪🇸 set a national and European record AND run the fastest 3K on U.S. soil?

Look no further. 👇 pic.twitter.com/g1SNgRpHS9

— World Athletics (@WorldAthletics) February 6, 2022
"I was sure I could do 7:33," said Mechaal, who passed 1000m in 2:32.47 and 2000m in 5:04.91 before unleashing a blazing 2:25.91 final kilometre. Mechaal will next chase the Spanish indoor 1500m record in Birmingham later this month, and plans to target the 3000m at the World Athletics Indoor Championships Belgrade 22. "With somebody pushing me the last few laps I could have run 7:29, but not better than that today," he added.
There was more joy for the Spanish in the men's 800m, where Mariano Garcia powered to a national indoor record of 1:45.12, coming home well in front of USA's Bryce Hoppel (1:46.08) and Tony van Diepen of the Netherlands, who set a PB of 1:46.49 in third.
Natoya Goule turned in a commanding front-running performance to win the women's 800m in a world-leading 1:59.62, the 30-year-old Jamaican passing 400m in 58.16 and holding on to her advantage over the closing laps.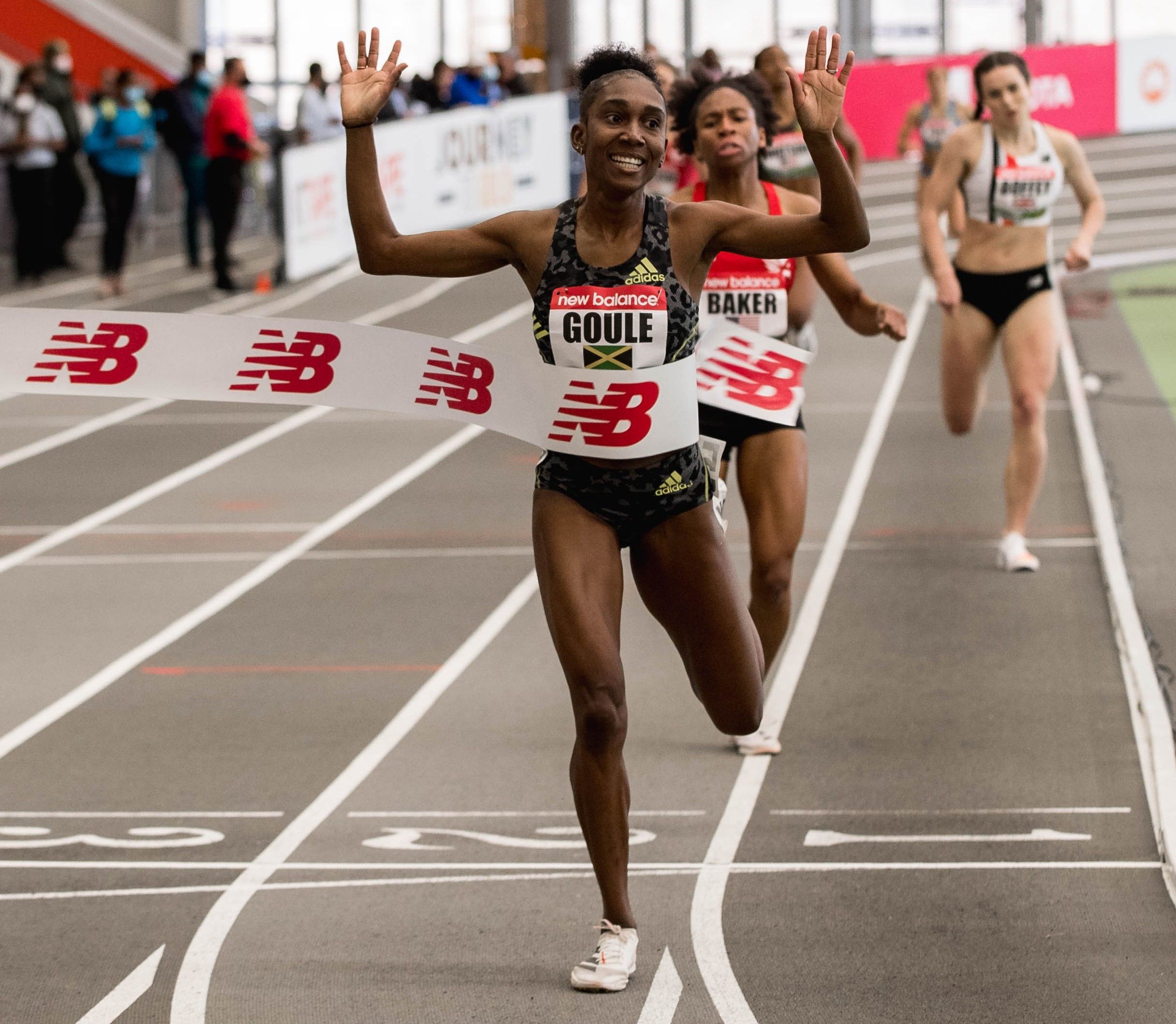 (© Jason Suarez)

"I was expecting to go under two minutes, it was a great run," said Goule, who's also targeting the World Indoor Championships in Belgrade. "I've been training hard this week so I can go faster. This time I went out and controlled it and I knew to get under two minutes I had to. Last week my coach was not happy. He said, 'you have to get out.'"
Spain's Esther Guerrero sprinted to victory in the women's 1500m in 4:11.87, showing too much speed on the final lap for US rivals Heather Maclean and Nikki Hiltz, who finished second and third respectively in 4:12.29 and 4:12.32.
Gabriela DeBues-Stafford was a dominant winner of the women's 3000m in a Canadian indoor record of 8:33.92, the 1500m specialist followed home by Ethiopian steeplechaser Mekides Abebe in 8:36.31, with USA's Josette Norris continuing her fine form with a PB of 8:37.91 in third.
"We haven't done many specific sessions yet but I feel really good about this race and where my training is at," said DeBues-Stafford, who is "flirting with the idea" of a 1500m-5000m double at the World Athletics Championships Oregon22 and also plans to chase a medal in Belgrade next month.
Ireland's Andrew Coscoran played a patient, but ultimately successful, game to take victory in the men's mile. The Olympic semifinalist came from well back early in the race to seize command when it counted, clocking 3:53.64 to beat USA's Colby Alexander (3:53.83) and fellow Irishman Luke McCann (3:53.87).
"I was a bit tired coming off (the Millrose Games) so I sat towards the back and I was able to come through," said Coscoran. "I wasn't expecting to run that fast, but I felt like I was strong in the last 200 and if someone came up to my shoulder, I felt like I had another gear."
Grant Holloway proved the king of Staten Island in the speed events, the Olympic silver medallist maintaining his eight-year unbeaten streak at the 60m hurdles and powering to victory in a world lead of 7.37, beating fellow US athletes Trey Cunningham (7.47), Devon Allen (7.51) and Daniel Roberts (7.60).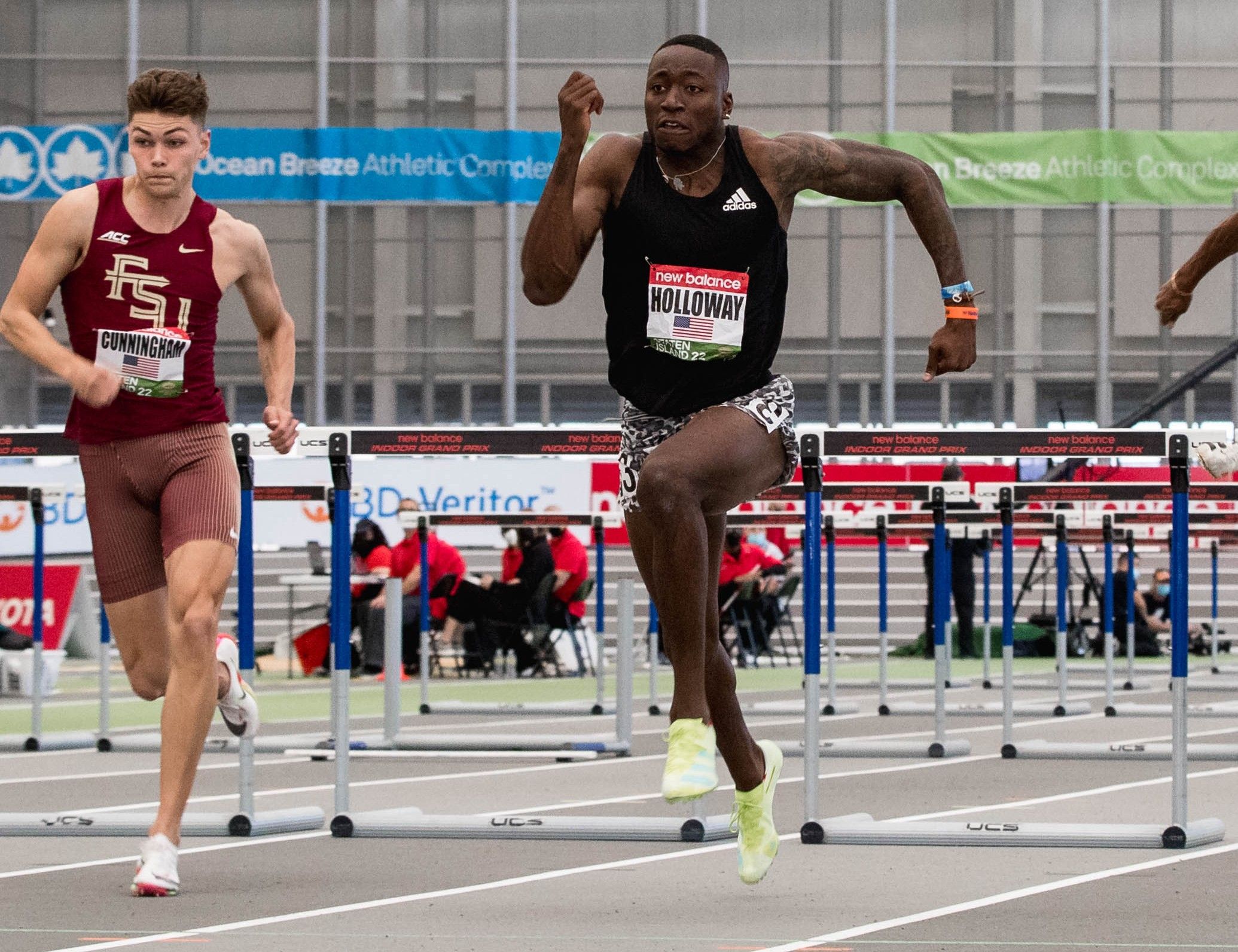 (© Jason Suarez)

"It's my first race of 2022 so it was about getting out there and having some fun," said Holloway, the world indoor record-holder and reigning world indoor champion. "That shows where we're going: 7.37 is a fast time for me. The world record is right there so it's about continuing to keep my head down. Winning world indoors is the main goal and whenever I have a great indoor season I have a great outdoor season, so it's about continuing to work hard and do everything right."
Jamaica's Danielle Williams set a PB of 7.83 to win the women's 60m hurdles ahead of compatriot Britany Anderson, who set a PB of 7.88 in second, with USA's Gabriele Cunningham third in 7.92.
"I was hoping to execute a much better race, it was very sloppy in terms of what I was working on in practice," said Williams, who's targeting success in Belgrade next month. "A personal best in a sloppy race – I'll take it. My rhythm just wasn't there today."
Trayvon Bromell was a class apart in the men's 200m, the short sprint specialist seizing command over the first half of the race and holding his advantage to the finish, hitting the line in 20.64 ahead of Jamaica's Christopher Taylor (20.81) and fellow US sprinter Elijah Hall (20.82).
"I had a goal to run something crazy but my last indoor 200 was 2016, and six years later trying to do it was tough," said Bromell. "Me and my coach train to run 9.70 (for 100m) or faster, and I want to keep progressing, take the lessons from last year and attack every race. Right now indoors is not really my mindset. This year I want to home in on doing my best outdoors."
USA's Mikiah Brisco blasted to victory in the women's 60m in a world lead of 7.07, the quickest time she's run at sea level. Jamaica's Briana Williams followed her home in 7.11 with USA's Destiny Smith-Barnett third in a PB of 7.14.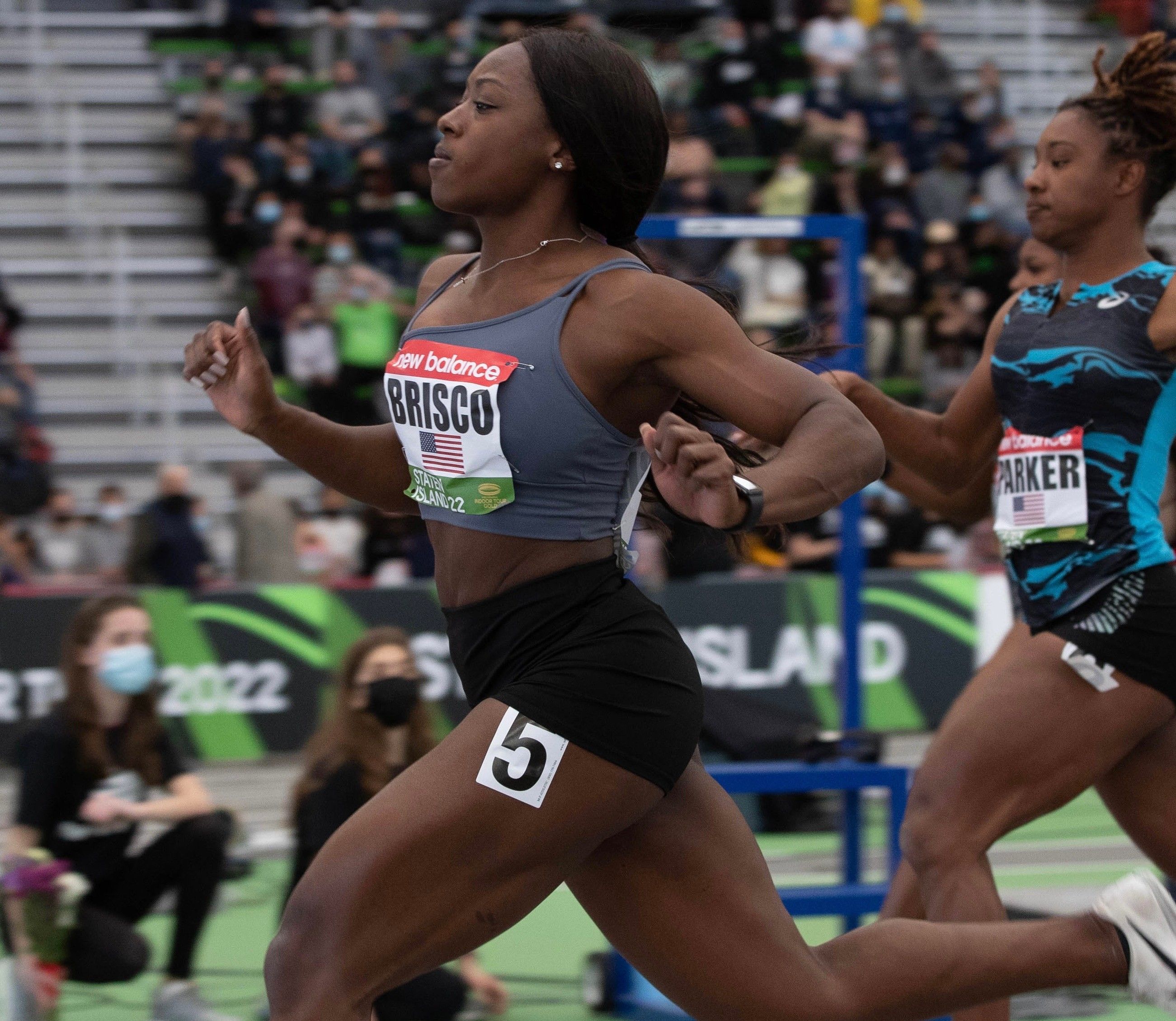 (© Jason Suarez)

"My latter half of the race was better than my first half, but I'm pretty happy with it," said Brisco. "My start was okay, I didn't get out first, but I've been working on my front-side mechanics the last few weeks and it felt good. If I get the start together (the time) is going to drop."
In the men's 60m, Noah Lyles demonstrated a noteworthy improvement in both his start and drive phase, a combination of the two helping to power him to victory in a PB of 6.56, with Mario Burke of Barbados second in 6.63 and USA's Travis Collins third in 6.64.
"It felt so good to actually be in the mix of the race instead of having to run from behind," said Lyles, whose previous best of 6.57 dated back to 2018. "We've been analysing Trayvon (Bromell) and Christian (Coleman) a lot more in that first 20 metres, rethinking the idea of getting the most out of your stride. This means everything for the 100 and 200, making sure I'm in it from the beginning and not struggling to get back in the race."
Jereem Richards of Trinidad and Tobago utilised his 200m speed to great effect to power to the front at the halfway mark of the men's 400m, holding on to win in a PB of 45.83, with US duo Vernon Norwood (46.06) and Kahmari Montgomery (46.24) next best.
Richards paid tribute afterwards to his late friend Deon Lendore, the Olympic 4x400m medallist who lost his life in a car accident last month. "I'd like to dedicate every single race this season to Deon – he was a brother, a mentor, an inspiration," said Richards. "In my generation of track and field in Trinidad and Tobago, everybody looked up to Deon. He was the pioneer for us. He was my motivation today."
Jessica Beard took the women's 400m in 52.88 ahead of Canada's Kyra Constantine (52.96) and Jamaica's Roneisha McGregor (53.01).
In the women's 300m, Gabby Thomas again underlined her class with a dominant victory, the 200m Olympic bronze medallist clocking 36.21 to edge US compatriot Lynna Irby (36.42). "It was alright," said Thomas. "It was a good competition and I think I competed well, but I was really hoping to run faster. I'm more fit than that, but I need to turn it on mentally."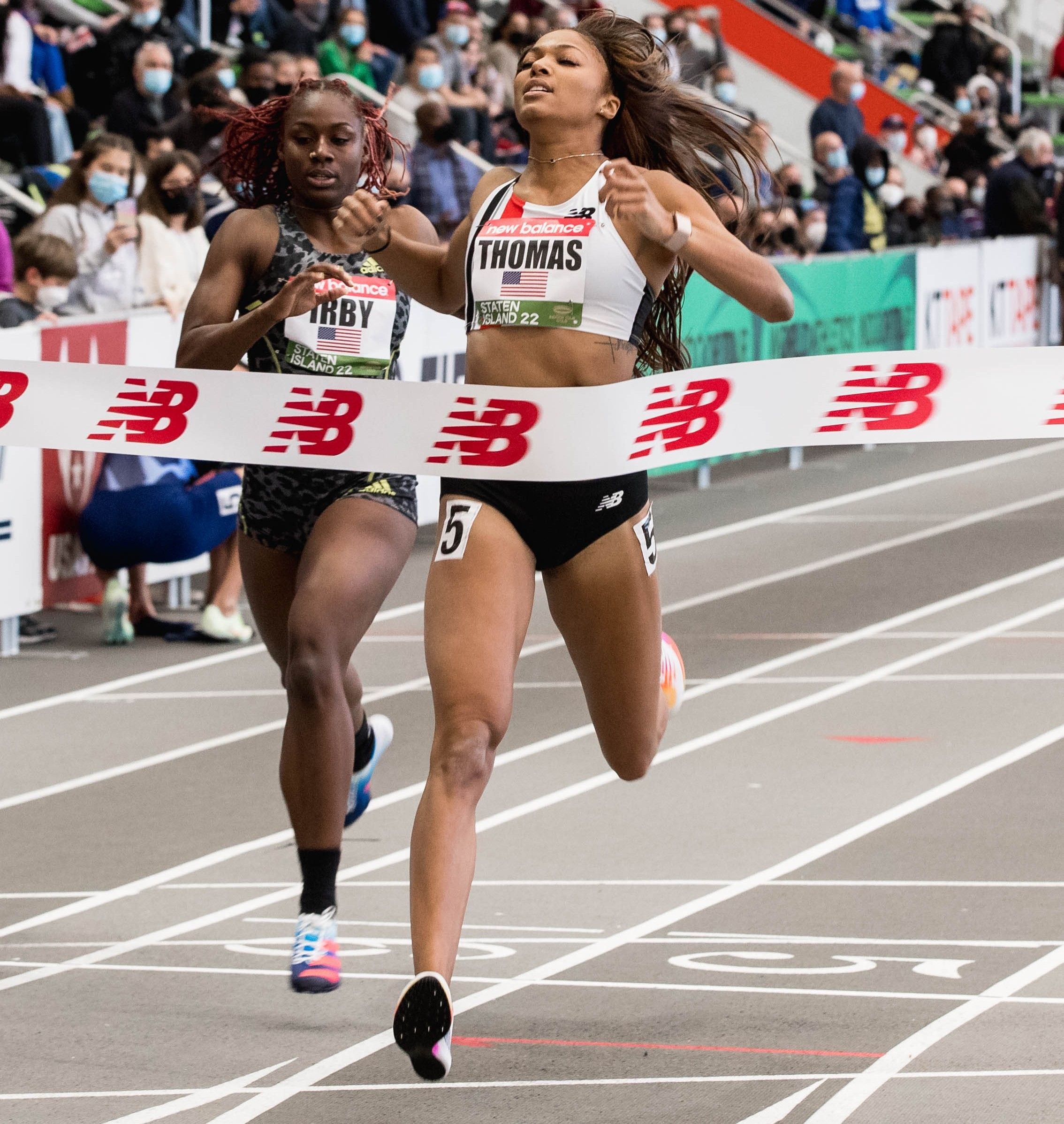 (© Jason Suarez)

In the women's long jump, Britain's Lorraine Ugen's 6.71m in the fourth round was enough to seal victory ahead of USA's Quanesha Burks, who had a best of 6.65m in second.
USA's Donald Scott left it late to take the men's triple jump, his 16.68m in the final round seeing him overtake Jahnhai Perinchief of Bermuda, who had a best of 16.55 in second, while USA's Will Claye was third with 16.46m.
"It was hard to find my rhythm until the last one but I was glad to get the win," said Scott. "I had to perform under pressure and I was ready for it. Now it's about trying to stay consistent and do better than last year."
The U20 mile races were won by Ellie Shea in 4:48.60 and Gavin Sherry in 4:05.10.
Cathal Dennehy for World Athletics