Ryan Crouser at the press conference for the Wanda Diamond League final in Zurich (© Chiara Montesano)
An already highly impressive year for Ryan Crouser and Mariya Lasitskene could go up another notch when the Olympic champions compete on the streets of Zurich on Wednesday (8).
For the first time all 32 Wanda Diamond League finals are being held at the Weltklasse Zurich meeting in Switzerland, with seven of them taking place on a temporary track and arena on Sechselautenplatz. Two-time Olympic shot put winner Crouser and Olympic high jump gold medallist Lasitskene are among the many global gold medallists in action and they are relishing the opportunity to add Diamond League victory to their list of 2021 successes.
"It has been a great year for me," said Crouser, who broke the world record with a 23.37m throw at the US Olympic Trials before getting gold in Tokyo with an Olympic record of 23.30m and then setting a Diamond League record of 23.15m in Eugene.
"Up to this point I have done everything that I could possibly have hoped to accomplish and I'm still looking for that elusive Diamond League final victory. I'm probably the only two-time Olympic gold medallist and world record-holder that doesn't have a Diamond League Trophy! So I am hoping to get out there and compete and have a chance to really put the capstone on what has been a year that I am really proud of."
On the prospect of achieving that in an innovative street athletics setting, which will see a 560-metre track set up alongside Lake Zurich and three separate platforms for the men's and women's shot put, men's and women's long jump and women's high jump competitions, Crouser added: "I have done multiple city centre meets, essentially taking the shot put to the people, and I love those events.
"I think when people are sitting in the (stadium) stands 50 metres away watching us throw, it's like 'oh that's pretty good', but when you can stand right next to it and see – I'm two metres and 145kg and I'm not the heaviest guy, not even close, and so I feel like that perspective is something that gets lost in the stadium. If we can bring that out to the people I think it's great exposure for the event and the sport of track and field."
While Crouser has taken part in street meetings before, it will be a new experience for authorised neutral athlete Lasitskene, who cleared a world-leading height of 2.04m to win her Olympic title in Tokyo.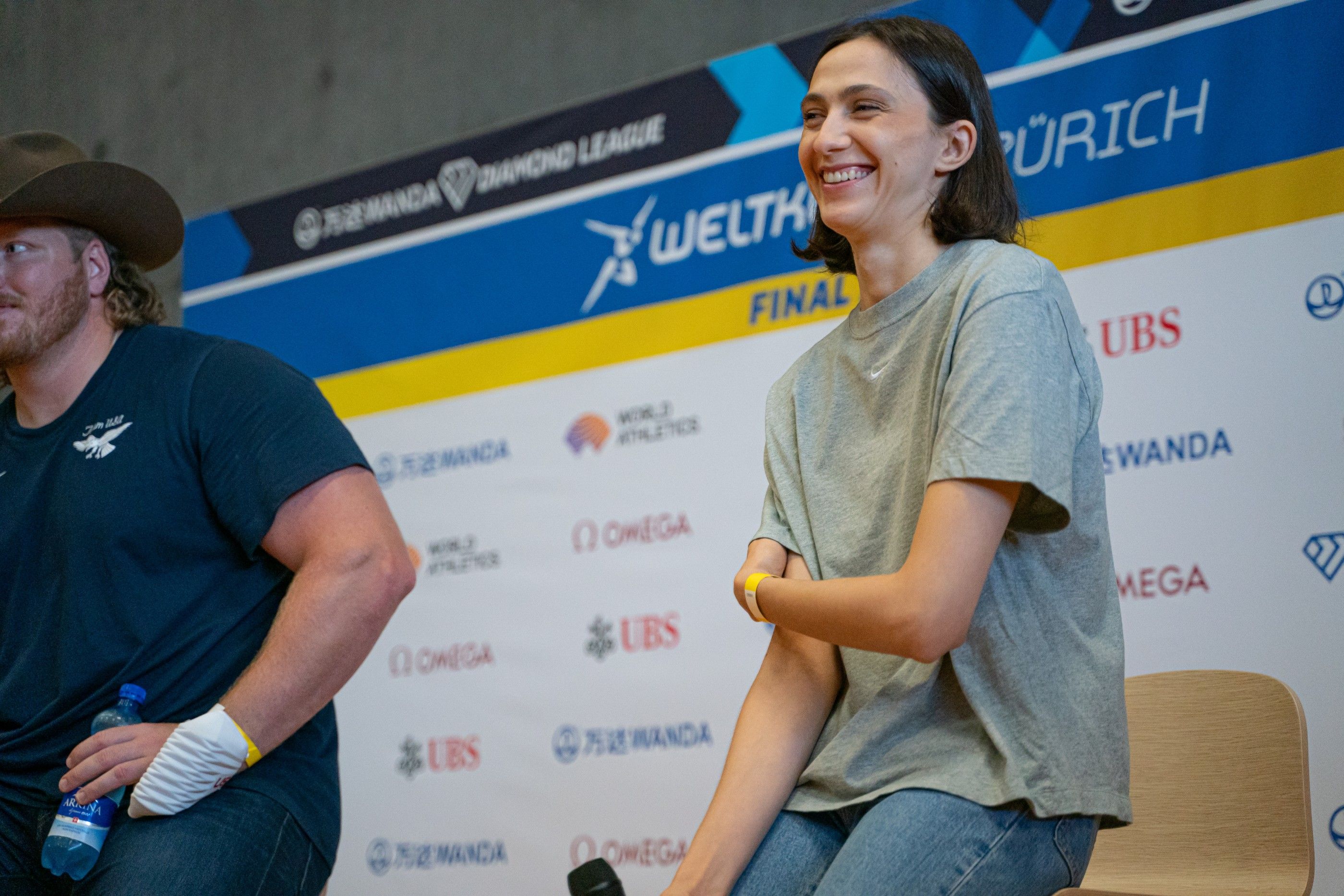 "I am so happy to come back to Zurich," said four-time Diamond Trophy winner Lasitskene, who claimed victory in the Swiss city's Letzigrund Stadium in 2014 and 2018.
Speaking through an interpreter, she added: "The city event that we are doing tomorrow is new for me. I have never done this before. It will be a new opportunity and a new feeling."
With Diamond Trophies, top $30,000 prizes and wildcard entries to the World Athletics Championships Oregon22 up for grabs for winners, each of the finals is set to be highly competitive, and both the women's high jump and the men's shot put feature all three Olympic medallists.
For Lasitskene, it is another opportunity to go up against Australia's Nicola McDermott and Yaroslava Mahuchikh of Ukraine, with the three athletes also having each secured one Diamond League win since the Games.
"I am so happy that I can compete with this fantastic company after the Olympic Games," she said. "Our competition, it is a big interest for all the public and it is not every season that we can see this high level of jumping."
Crouser is also motivated by the level of competition in his event and in Zurich he will again battle with his US compatriot Joe Kovacs, the Olympic silver medallist and world champion, and New Zealand's world and Olympic bronze medallist Tom Walsh.
"I definitely can't take credit for the world record alone," he said. "Any time you see an event compete at the level the shot has been, the outstanding performances feed off of each other.
"You look at Doha (2019 World Championships), the greatest shot competition in history with a pair of 22.90m throws and a 22.91m. Coming off of that I was right away getting to work on 'how are we going to go further?' and I know those guys are doing it every single day so it's definitely not an end result of just me doing it alone.
"Without the guys that are in the event right now, I wouldn't see myself having the world record or having moved as far as I have been able to, simply because those guys motivate me every day to be the absolute best that I can be."
So which does he consider his highlight so far this year – the Olympic win or his world record?
"I am really happy with both the Olympics and the world record," he replied. "It is tough for me to single one out. I would say the Olympics though would be the highlight. The world record was something that I have been after for a long time but each Olympics is its own individual achievement and so the chance to repeat as Olympic gold medallist for me is a once in a career opportunity. So, I would say persevering through a global pandemic and then the milestone of having the Olympics itself, athletes coming together once again after being a year apart. Having the Olympics together for me was such a special moment that I would put that above my own world record."


Obiri and Niyonsaba excited for a new challenge
While the idea of street athletics events is not new, never before have athletes had the chance to race alongside Lake Zurich and on a track around the city's Opera House. Given her 11-year international career, Kenya's two-time world 5000m champion Hellen Obiri is greatly experienced when it comes to track racing, but even for her it is a new experience.
"I feel so excited. It's a great opportunity to race in the city centre," said Obiri, who claimed her second Olympic 5000m silver medal behind Sifan Hassan in Tokyo. "It is a challenge and we have to face the challenge. Everybody is watching you."
The race will also mark the end of an incredible chapter for the 31-year-old, who intends to turn her attention to road racing after the meeting in Zurich.
"For now I say, let me try another career in my life," she added. "From next year I am going to do half marathons and 10km."
That journey will actually start this weekend, with Obiri explaining that she is set to race the Great North Run on Sunday.
But first up is the Zurich 5000m, where two-time Diamond Trophy winner Obiri will be joined by athletes including Burundi's Francine Niyonsaba, who finished fifth in the Olympic 10,000m final and is also excited for a new experience.




"Every race is new for me," said Niyonsaba, who recently won the Diamond League 5000m in Brussels in a national record of 14:25.34 to lead a race of unprecedented depth ahead of Ethiopia's Ejgayehu Taye and Obiri. "I think it is going to be a great race. To run with Obiri is an opportunity. I love challenges, I think we are going to have a good race."
There have of course been many challenges over the past 18 months due to the global pandemic and for event organisers there is great joy in being able to welcome athletes and fans back for the meeting.
"We have the right to have a full stadium, so we are lucky to provide an atmosphere," said Weltklasse Zurich's Andreas Hediger. "We are proud that we have already sold way more than 20,000 tickets so it will be an amazing atmosphere."
His meeting co-director Christoph Joho added: "One year ago we had the Inspiration Games (exhibition event). It was the right thing at the right time but you could tell, 'we want it back' – something like what we will have on Thursday night."
Jess Whittington for World Athletics