US sprint hurdler Grant Holloway (© Jean-Pierre Durand)
Hurdles ace Grant Holloway will be the star attraction at the New Balance Indoor Grand Prix – a World Athletics Indoor Tour Gold meeting – in New York, USA, on Sunday (6).
The event – traditionally held in Boston, but temporarily relocated to the Ocean Breeze Athletic Complex in Staten Island – will see the world record-holder return to the event he has ruled in recent years and take on a field of star quality.
The meeting will mark the 2022 debut for Holloway, who has not lost an indoor hurdles race since 2014, when the then 16-year-old finished second at the US High School Indoor Nationals in New York. Holloway enjoyed his best ever indoor campaign last year, capped off with a world record of 7.29 in Madrid. He was beaten just once in 2021 – in the Olympic 110m hurdles final in Tokyo – and in his first race since then, the 24-year-old will be keen to get back to winning ways.
He'll have to be near his best to do so, with fellow US stars Devon Allen and Daniel Roberts in the line-up, who went 1-2 at last weekend's Millrose Games, clocking 7.51 and 7.53 respectively. An even bigger threat could be Trey Cunningham, who ran a world-leading 7.46 in Texas last weekend.
Speaking in the pre-event press conference, Holloway said he spent his off-season "consuming a lot of wine", travelling and spending time with his family but he's been back in hard training since late October.
"I'm prepared, everything has gone well and I'm ready to finally compete," he said. "My goal is just to go out there and win. The time doesn't really matter. It's just to get to the finish line before anyone else, stay consistent, execute on a very high level and the rest will take care of itself. My goal is to be in tip-top shape by World Championships indoors."
Asked whether he felt his world indoor record last year was the perfect race, Holloway was quick to set things straight. "Absolutely not. Do I think I can perfect it a little bit more? Absolutely."
The women's 60m hurdles is also loaded with class, and Jamaican duo Danielle Williams and Britany Anderson should have little between them. Anderson set a PB of 7.91 to win at last weekend's Millrose Games and the Olympic finalist – who turned 21 earlier this week – will be hoping to make it a memorable birthday week with victory here. Williams ran a world-leading 7.84 to win in Karlsruhe last week, while the field includes a cluster of strong US performers such as Christina Clemons and Gabriele Cunningham.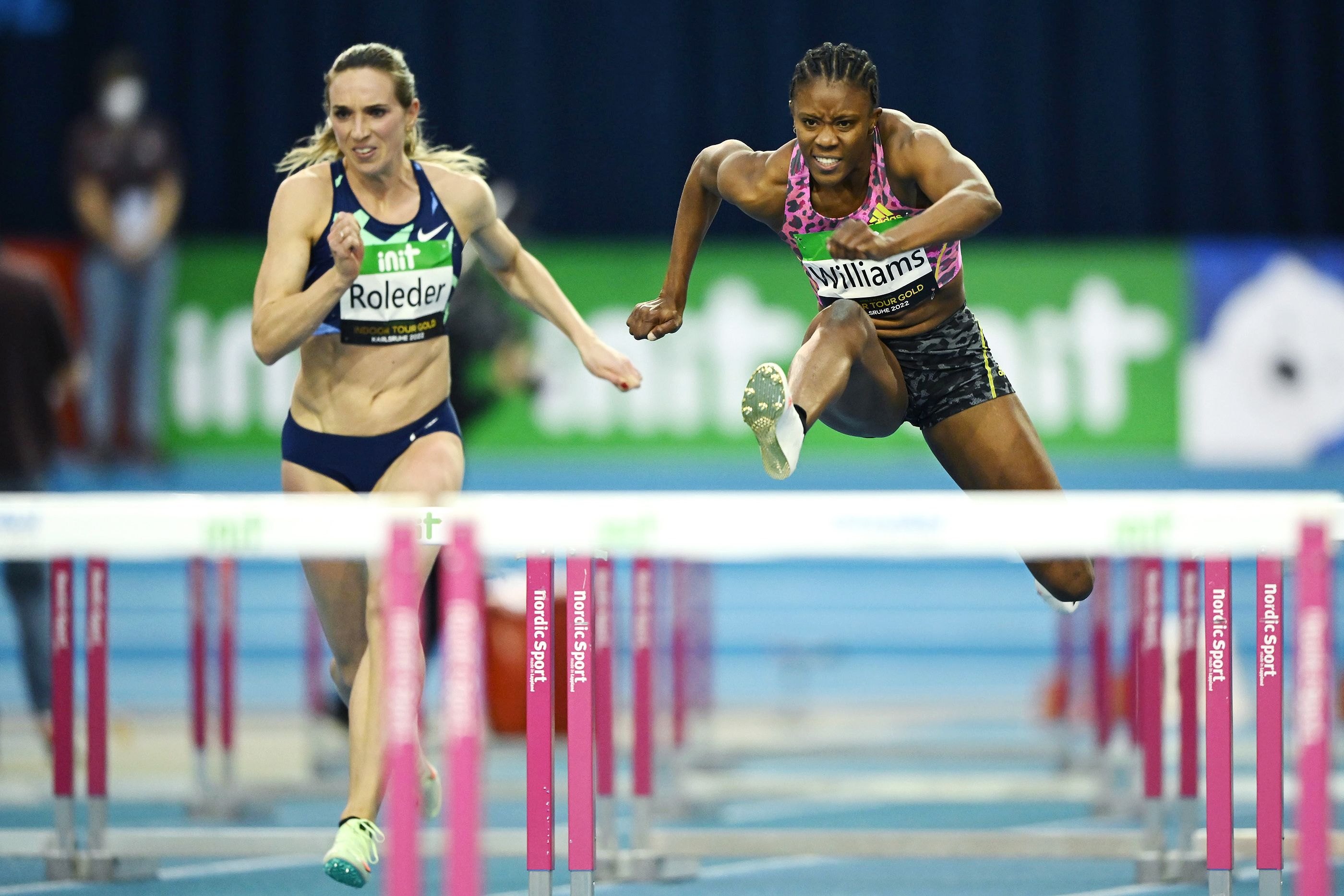 In the men's 60m, a pair of global champions – Omar McLeod and Noah Lyles – will be looking to sharpen their speed against the short-sprint specialists.
Lyles admitted fast times are not the goal this indoor season, but to build acceleration for his outdoor campaign.
"Everything I do at indoor is practice," he said. "I need to get my acceleration right, my top-end speed, and to make sure I'm close in that first 20 metres and getting in with competition who are good at it so I can feel where I need to make that adjustment."
Lyles is also relishing the chance to compete in front of crowds after the empty stands at the Tokyo Olympics. "I struggled so hard with no fans, I didn't realise how hard it was until we went from Tokyo, with no fans, to (the Prefontaine Classic), and a completely packed stadium," he said. "I literally felt this energy rush back to my body. I'm a showman."
In the women's 60m, Mikiah Brisco and Jamaica's Briana Williams will again take to the track, the pair having run 7.15 and 7.22 respectively last weekend. Morolake Akinosun, a 7.08 performer at her best, will open her season against them.
All eyes will be on Trayvon Bromell in the men's 200m as the 9.76 100m man steps to the distance where he has an indoor PB of 20.19. Bromell clocked 6.50 over 60m last weekend when finishing second to Christian Coleman at the Millrose Games. He might have it all to do to beat fellow US sprinter Elijah Hall, however, who was NCAA indoor champion at this distance in 2018 and has run 20.02 indoors. Josephus Lyles, a 20.03 performer outdoors last year, is also in the line-up.
Bromell intends to dabble more in the 200m this year to correct his comparatively weaker personal best. "My whole life in track, I never took the 200 serious but after last year I sat down with my coach and said, 'I want to run a 19,'" he said. "I don't want to leave this game with a 20.03 PB when I'm running 9.7, 9.6 or faster. It doesn't look right on paper. It's almost embarrassing.
"The 200 hurts like heck, last year when I ran it I was throwing up, but I feel like I've found the mentality now where I want to attack meets, get better, and take heed of every opportunity."
Bromell said last week's 60m outing was "a warmup for this race" and while he didn't want to predict a time for Sunday's 200m, he said he's approaching races with the "mentality of going out and putting down something crazy."
The women's 300m should see Gabby Thomas, who won this race for the past two years, again stamp her supremacy. The Olympic 200m bronze medallist, who ran 21.61 last year, set her 300m PB of 35.73 when winning this race last year and she tuned up for this event with a 7.25 60m at the Millrose Games.
In opposition are Britain's Amy Hunt, who clocked a 60m PB of 7.21 last month, and the US duo of Kendall Ellis and Lynna Irby.

Thomas faced a difficult journey to New York after a winter storm at her training base in Texas resulted in cancelled flights and an eight-hour wait at the airport on Friday, which the public health student spent catching up on college work.
While she's best known for her 200m exploits, her performances at 300m have indicated major potential over 400m and it's something she and coach Tonja Buford-Bailey have considered.
"We've definitely had conversations about it, I did dabble with it last season, running one (in 51.15) pretty close to Trials," she said. "It might be on the cards eventually but, emotionally, I'm not ready for that kind of training yet, and I don't feel I've accomplished everything I want to in the 100m.
"I've made a lot of improvements, worked on the block starts and transitions and I want to see where that goes. Once I've seen what I can do in the 100m, maybe then I'll think about transitioning up to 400."
Asked about her current fitness, Thomas said: "I'm in a great place. Last weekend, the 60m overall time (7.25) was pretty average and that was a little disappointing, but all we've been doing is working on that reaction time and block start and my first 10 metres. When I work on the transitions I think I'll be in a really good place. I'm excited for the 100m this year."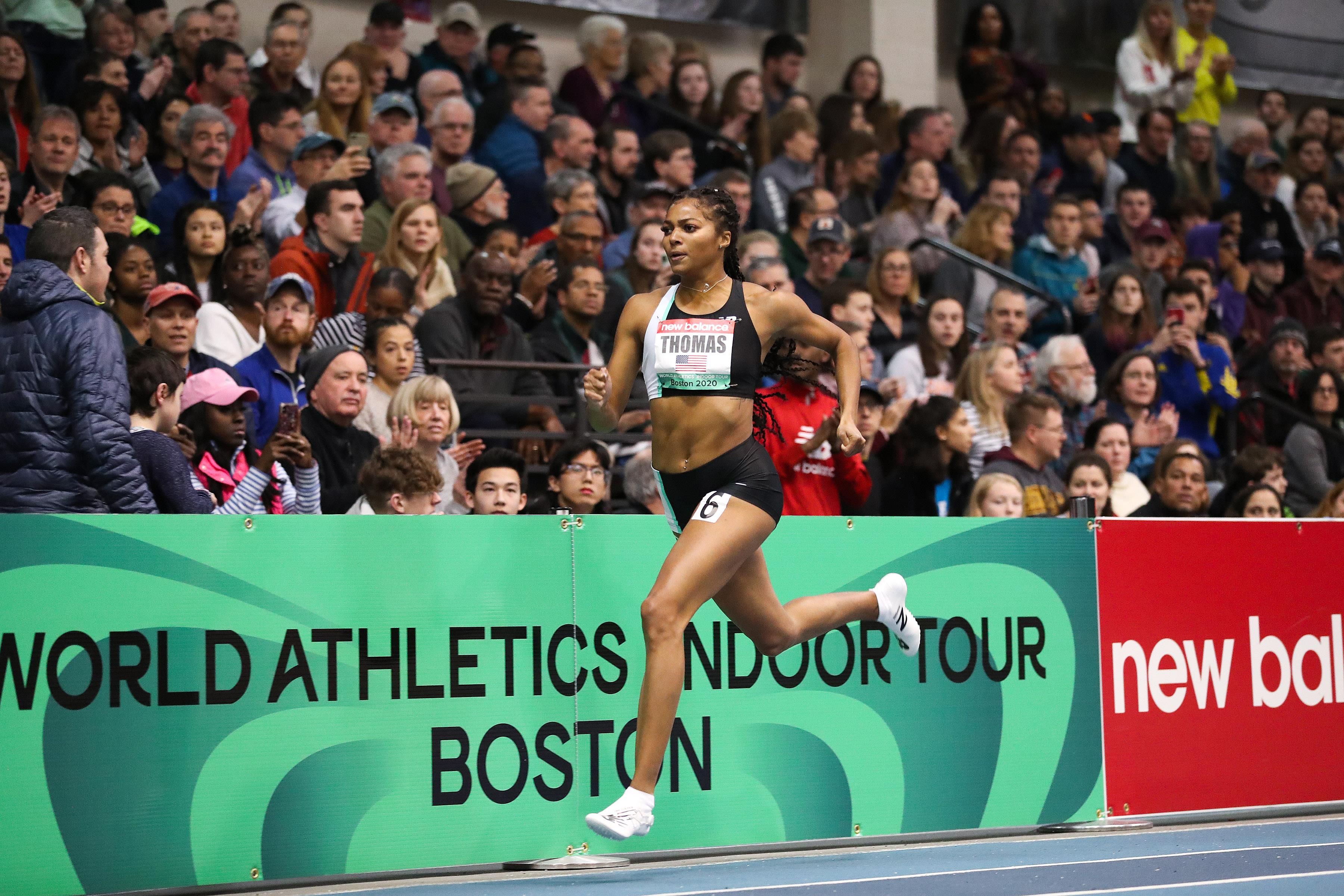 The women's 400m will see USA's Jessica Beard take on Jamaica's Roneisha McGregor, the pair finishing in the top four at the Millrose Games last weekend. Canada's Kyra Constantine, an Olympic semifinalist last year with an outdoor PB of 50.87, is also in the field.
There will be much anticipation around the men's 400m as collegiate star Noah Williams makes his professional debut. The 23-year-old was NCAA indoor champion last year, running the fastest indoor time in the world in 2021, 44.71, and while he hasn't raced since the US Olympic Trials last June he'll be tough to beat if back near his best.
Kahmari Montgomery, a 44.23 athlete outdoors, is also in the line-up along with Vernon Norwood, who clocked 46.45 to finish second at the Millrose Games last weekend, and 200m specialist Jereem Richards of Trinidad and Tobago.
Natoya Goule of Jamaica will start as favourite in the women's 800m, having finished second to Ajee Wilson last weekend in 2:02.14, with USA's Sammy Watson and Britain's Isabelle Boffey looking her most likely challengers.
The men's 3000m looks an open contest, with Spain's Adel Mechaal, the European indoor champion at this distance in 2017, bringing the best credentials. The 31-year-old has an indoor best of 7:36.57 and he finished fifth in the Olympic 1500m final in Tokyo. Not far behind him was Jake Wightman, who was 10th in that final and will take on Mechaal again here. Wightman opened his season with an indoor 3000m PB of 7:50.97 last month.
For Wightman, focusing on over-distance work this winter is directly related to his 10th-place finish in the Olympic 1500m final, the Briton hoping to become stronger to handle the three rounds he'll face at various championships.
"Sixty-six percent of my Tokyo (performance) was good but the one third that mattered wasn't good," he said. "I need to make sure that's not the case going forward. The strength side carries you through and this is all about building strength to be able to get through rounds a bit better." Wightman also dabbled in cross country this winter, a race he described as "shocking".
"You've got to swallow your pride with that and realise it's not the event you're good at but I'm hoping that'll contribute to being aerobically stronger. Gone are the days when a 3:50 1500m wins off a fast last lap. I'm the one who has to change."
His Scottish compatriot Andy Butchart is also in the line-up, the two-time Olympic finalist over 5000m holding an indoor best of 7:40.85 for this distance. Guatemala's Luis Grijalva finished fourth at the Millrose Games last weekend in a PB of 7:41.21 and should be in contention again.
USA's Bryce Hoppel will present a tough riddle to solve for his rivals in the men's 800m, the 24-year-old a dominant winner at the Millrose Games last weekend in 1:46.05. Britain's Kyle Langford and Guy Learmonth, along with Dutch athlete Tony van Diepen and Spain's Mariano Garcia, are also in the line-up.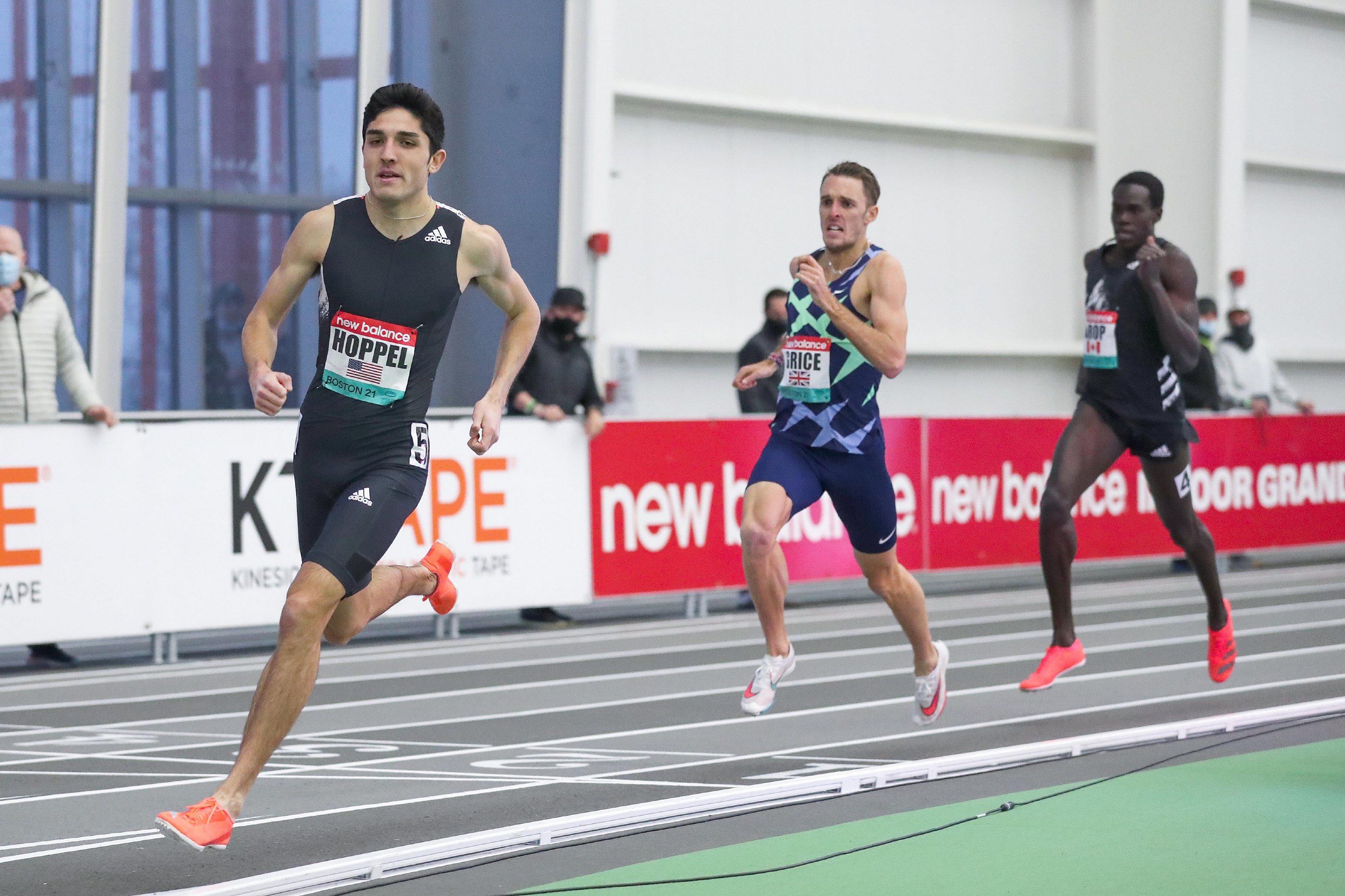 Another looking to string together back-to-back wins in the Big Apple is Geordie Beamish, who set a New Zealand indoor 3000m record of 7:39.50 at the Millrose Games last weekend. He'll drop down to the mile here, a distance at which he has an indoor best of 3:56.90, one that seems ripe for revision.
Also returning after the Millrose Games are US athletes Colby Alexander, Johnny Gregorek and Hobbs Kessler, along with Ireland's Andrew Coscoran. Alexander was the best of them in the Wanamaker Mile last weekend, finishing third in a PB of 3:52.84.
Josette Norris goes in the women's 3000m, the 26-year-old arriving after a big PB in the Wanamaker Mile, where she finished second to Elle Purrier St. Pierre in 4:20.81. She will be joined by Ethiopia's Olympic 3000m steeplechase fourth-place finisher Mekides Abebe, who races indoors for the first time, plus Britain's European indoor champion Amy-Eloise Markovc, who has run 8:46.43, and Canada's Gabriela Debues-Stafford, a 3:56.12 performer at 1500m who ran 8:38.51 for 3000m last year and who will open her season here.
USA's Cory McGee is again in the 1500m line-up, with the field also featuring her compatriots Heather Maclean and Nikki Hiltz.
In the women's long jump, USA's Katie Hall and Quanesha Burks will take on Canada's Christabel Netty, France's Yanis David and Britain's Jazmin Sawyers.
Burks has the leading mark among them this season with the 6.54m she jumped to finish second at the Millrose Games.
The men's triple jump will see US trio Will Claye, Donald Scott and Isaiah Griffith take on international rivals Jordan Scott of Jamaica, Mateus De Sa of Brazil and Jahnhai Perinchief of Bermuda. Scott has the leading mark among them this year with 16.76m.
Cathal Dennehy for World Athletics