Swedish pole vaulter Mondo Duplantis (© AFP / Getty Images)
Many of the world's top athletes, including multiple global medallists and a world record-holder in Mondo Duplantis, will make their season debuts when this year's World Athletics Indoor Tour Gold action kicks off at the INIT Indoor Meeting Karlsruhe on Friday (28).
Duplantis has been the dominant force in the men's pole vault over the past few years and he doesn't intend for that to change in 2022, a year in which he is targeting success at both the World Indoor Championships in Belgrade and the World Championships in Oregon. It all starts in Karlsruhe in southwestern Germany, where the 22-year-old will compete for the first time on Friday.
The Swedish star has been the world record-holder for almost two years now, having cleared 6.17m in Torun and then 6.18m in Glasgow just a week apart during the 2020 indoor season. In 2021 he picked up from where he left off, achieving 14 six-metre clearances, including at the Olympic Games where he gained gold with a vault of 6.02m, and recording world-leading marks of 6.10m indoors and outdoors. No athlete has yet soared over a six metre-high bar in Karlsruhe and Duplantis has set that as his target as he seeks to improve the meeting record of 5.95m achieved by Renaud Lavillenie in 2021.
"If nobody has jumped six metres in Karlsruhe, then I feel like it's about that time," he said at the pre event press conference. "It's always really exciting going into your first competition because as an athlete you have an understanding of the shape that you are in and you can kind of predict what you can do, but you don't fully know until you get out there on the track and compete. I feel good about it and I think somebody needs to jump six metres here."
He is looking forward to attempting to do that in front of crowds of fans, too.
"The past two years have been quite difficult. Sometimes it feels like you are just jumping in front of cameras," he explained. "Even though you know that there are other people beyond the cameras and in front of their TVs watching you, it is kind of hard to realise it and get that feeling when you are in the stadium, so it is really exciting that we are starting to jump in front of more and more people now.
"I feel like ever since I broke the world record in February 2020, the pandemic started to settle in. So ever since I started to really figure out how to jump high, I haven't been able to get full spectators to watch me, and I want to show people what I can do."
The track in action for the INIT Indoor Meeting Karlsruhe is the same as the one used for the 2013 European Indoor Championships in Gothenburg, where former world record-holder Lavillenie won with a 6.01m clearance and came agonisingly close to managing 6.07m. Although the bar remained up on his final attempt, it had been nudged from one of its pegs.
"I saw what Renaud was able to do on this track, making 6.01m quite easily and then having that funny attempt at 6.07m," said Duplantis. "That was one of the main driving forces for me to come to this meet in general, because I saw that it's a place where you can jump high and I want to go to places where I can jump high and try to do something special and I feel like Karlsruhe is a place to do that."
He won't be the only athlete aiming high, however, with the field also featuring Poland's five-time world medallist Piotr Lisek and their fellow six-metre-plus vaulter KC Lightfoot, who finished joint fourth at the Tokyo Olympics with Emmanouil Karalis, another of the entries in Karlsruhe. Valentin Lavillenie is back in the stadium where his brother set the meeting record last year, while world fourth-place finisher Bo Kanda Lita Baehre competes in front of home fans.


Spotlight on Aregawi and Giles
All eyes will be on Ethiopia's Berihu Aregawi in the men's 3000m, following his world 5km record run on the roads of Barcelona on New Year's Eve. The 20-year-old ran 12:49 at the Cursa dels Nassos, taking two seconds off Joshua Cheptegei's world record, and that was after a 12:52 run in Lille in early November and an impressive track season during which he won the 5000m at the Wanda Diamond League final in Zurich, finished fourth on his Olympic debut in Tokyo and won the Ethiopian 10,000m title. Prior to that, Aregawi had started his year with a 7:29.24 3000m in Lievin – the fastest ever indoor performance by a teenager.
His fellow 20-year-old Jacob Krop began his 2022 on the roads, running a PB of 27:23 to finish third in the 10K Valencia Ibercaja. Krop, who has an outdoor 3000m PB of 7:30.07, will be making his indoor debut. He will be joined by fellow Kenyans Abel Kipsang, the Olympic fourth-place finisher, and Justus Soget, the 2018 world U20 1500m bronze medallist. Spain's Adel Mechaal returns to the track after racing on the road and cross country so far this year.
Britain's Elliot Giles has fond memories of this meeting, with his 1:45.50 800m win marking the start of a successful 2021 indoor campaign. After improving to 1:45.49 in Lievin 10 days later, the 2018 world indoor fourth-place finisher then stormed to a time of 1:43.63 in Torun to become the second-fastest ever indoor 800m runner behind world record-holder Wilson Kipketer.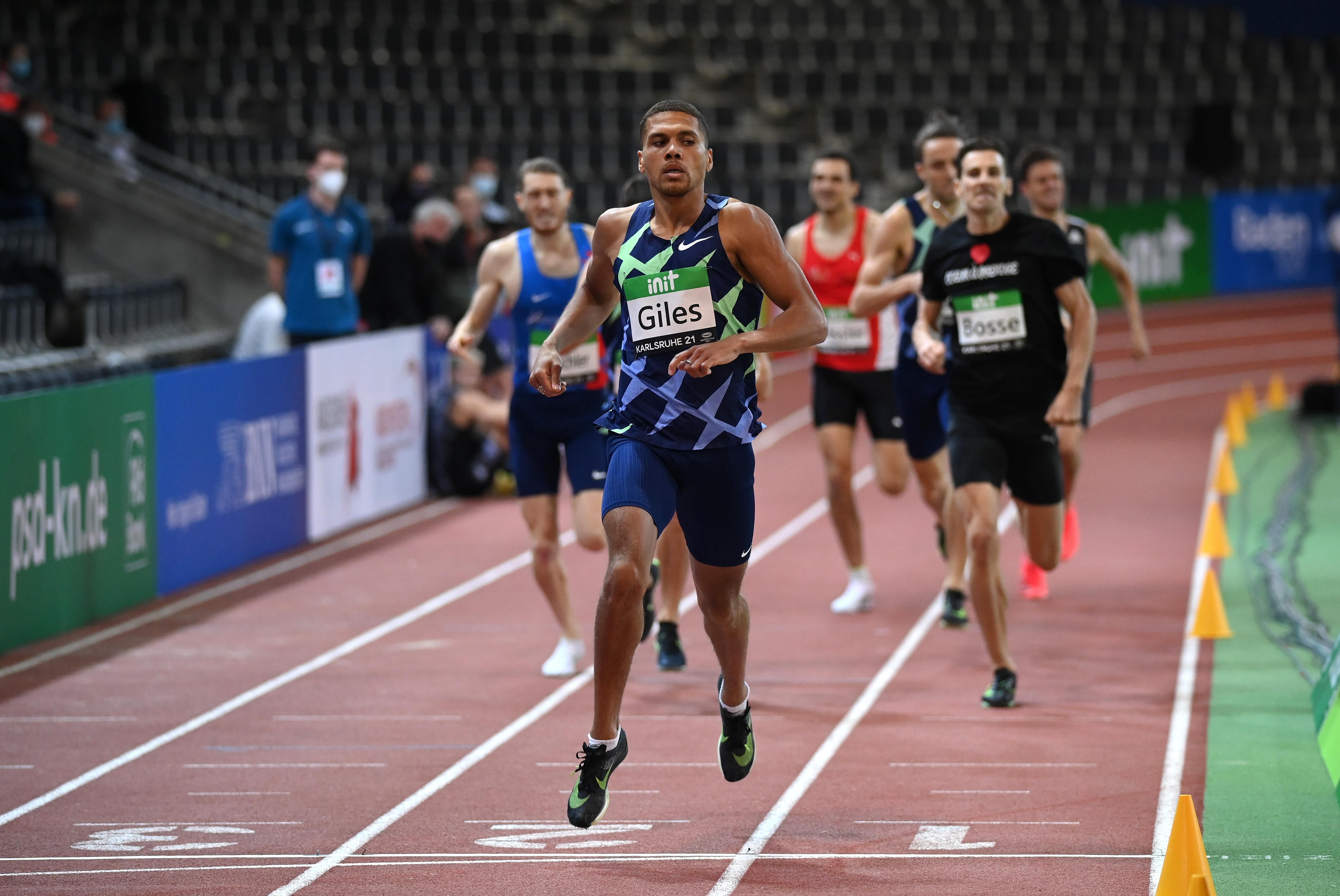 Andreas Kramer placed third on that occasion in Torun, setting a Swedish indoor record of 1:45.09, and was also among those in Karlsruhe last year. Spain's European indoor champion Alvaro de Arriba will join that duo on the start line.
The world champion is in action in the women's 800m, with Uganda's Halimah Nakaayi racing indoors for the first time since her 2:01.96 PB set in Lievin in 2020. She will line up alongside multiple German champion Christina Hering and Sweden's 2016 European bronze medallist Lovisa Lindh.
Nakaayi's Ugandan compatriot Winnie Nanyondo contests the 1500m. Olympic and world finalist Nanyondo was runner-up last year in Karlsruhe behind Katharina Trost, who also returns to race on home soil. Joining them will be Ethiopia's Olympic fourth-place finisher Freweyni Hailu, Hirut Meshesha and 2014 world indoor silver medallist Axumawit Embaye, who set her indoor PB in Karlsruhe back in 2015. Kenya's Edinah Jebitok, who recently won at the Elgoibar Juan Muguerza Cross Country, also races, as do Spain's Marta Perez and Esther Guerrero.


Global medallists Tapper and Pozzi highlight hurdles
Jamaica's Megan Tapper has not raced indoors since 2018 and now she does so as an Olympic medallist. The 27-year-old had the competition of her life in Tokyo, setting a PB of 12.53 in the heats before claiming 100m hurdles bronze in 12.55. The Jamaican champion went on to match that position with a third-place finish in the Diamond League final.
Her compatriot Danielle Williams, meanwhile, has raced indoors much more recently and the 2015 world 100m hurdles champion will be looking to build on the 7.92 she ran in Clemson earlier this month. Germany's 2015 world 100m hurdles silver medallist Cindy Roleder, who contested her first pentathlon since 2014 a few weeks ago, returns to her specialist discipline in Karlsruhe, with European champion Elvira Herman of Belarus also among the entries for the women's 60m hurdles.
In the men's event, Britain's world indoor champion Andrew Pozzi will again go up against world medallist Pascal Martinot-Lagarde of France. Pozzi clocked 7.44 – a time which remains his second-quickest ever, just 0.01 off his PB – to win in Karlsruhe in 2017 and the Briton went on to win the European indoor title later that season. The following year, he added the world indoor title to his CV. Three-time world indoor medallist Martinot-Lagarde, meanwhile, makes his fifth appearance at the Karlsruhe meeting, and will be joined by his compatriot Aurel Manga, the world indoor bronze medallist, plus Germany's Martin Vogel.
Another athlete seeking a strong performance on home soil will be Olympic and world long jump champion Malaika Mihambo, who tests her speed by racing the 60m. With a PB of 7.22, the athlete with a 7.30m long jump best ran 7.37 in Karlsruhe in 2020. Her compatriot Tatjana Pinto, who ran 7.06 in 2018 and won in Karlsruhe that same year, returns to competition for the first time since the Tokyo Olympics, while European indoor bronze medallist Jamile Samuel of the Netherlands is among those also taking to the start line.
Poland's European champion Justyna Swiety-Ersetic goes in the 400m along with Germany's world leader Corinna Schwab, who ran 51.95 in Chemnitz last weekend, and Lieke Klaver, who formed part of the winning Dutch 4x400m team at the European Indoor Championships last year.



The women's high jump no longer features Olympic and world champion Mariya Lasitskene, who has been forced to withdraw due to suffering a cold, and so Ukraine's 2017 world silver medallist Yuliya Levchenko now leads the entries along with leading German high jumper Marie-Laurence Jungfleisch and Bulgaria's 2016 Olympic silver medallist Mirela Demireva, with the trio all having cleared two metres or higher during their careers so far.
"Karlsruhe is my first competition of the season, and I'm curious about what I can get out of the competition tomorrow," said Jungfleisch. "Training has been going well, and I am really motivated. I hope, of course, to be able to jump 1.90m or higher."
Germany's 2016 world indoor silver medallist Max Hess will look to make the most of the home advantage for a strong show in the men's triple jump, where he will face Azerbaijan's European indoor champion Nazim Babayev and Melvin Raffin of France. Sweden's two-time European indoor silver medallist Thobias Montler won the Diamond League final in September and after racing over 60m in Vaxjo last weekend he returns to contest his specialist event against Spain's Olympic fourth-place finisher Eusebio Caceres, Germany's European indoor fifth-place finisher Maximilian Entholzner and France's world U20 champion Erwan Konate.
The INIT Indoor Meeting Karlsruhe is the first of this season's seven World Indoor Tour Gold meetings, with the series then moving on to Manhattan (29 January), Staten Island (6 February), Lievin (17 February), Birmingham (19 February), Torun (22 February) and Madrid (2 March).
Jess Whittington for World Athletics