Selemon Barega pips Lamecha Girma in the Madrid World Indoor Tour Gold 3000m (© RFEA)
A thrilling 3000m victory by Olympic champion Selemon Barega over a formidable Spanish duo – and his Ethiopian teammates – proved the most captivating contest at the Villa de Madrid, the final World Athletics Indoor Tour Gold meeting of 2022, on Wednesday (2).
The noise inside the Centro Deportivo Municipal Gallur reached a crescendo midway through the penultimate lap of the 15-lap event as Spain's Mohamed Katir twice tried to overtake Barega, but in the end, just as it was over 10,000m in Tokyo, Barega was too strong for everyone.
After two recent losses over 3000m, the big-kicking 22-year-old re-asserted his supremacy with a catch-me-if-you can performance filled with courage and class.
With Katir and his Spanish compatriot Adel Mechaal – who recently set a European record of 7:30.82 – in the field, there were high hopes of a home victory. Katir seemed intent on delivering it, taking up pole position behind the pacers as they passed 1000m in 2:31.67, with Barega then seizing command shortly after they had stepped aside, passing 2000m out front in 5:05.32.
From there he relinquished the lead, and after fending off Katir he repelled the late charge of his compatriot Lamecha Girma, hitting the line in a meeting record of 7:34.03. Girma's runner-up finish in 7:34.09 secured him the overall tour victory and a wild card entry for this month's World Athletics Indoor Championships Belgrade 22. Mechaal edged Katir for third, 7:35.26 to 7:35.73.
"After two times being second without any elite speed training, this week I was targeting a push from 150 metres out," said Barega. "The altitude (657m) is difficult here so I decided maybe it was not the time to run fast. After the Olympics it was just easy training, but I put in a hard month of training and the target now is to become world champion."
Barega said he hopes to double in Belgrade over 1500m and 3000m if allowed by his federation.
In terms of individual brilliance, it was another Olympic champion – Venezuela's Yulimar Rojas – who shone brightest on the night. In the arena where she set the world indoor record at 15.43m two years ago, Rojas twice gave that mark a major scare – jumping 15.35m and then 15.41m. Next best was Cuba's Liadagmis Povea with 14.08m.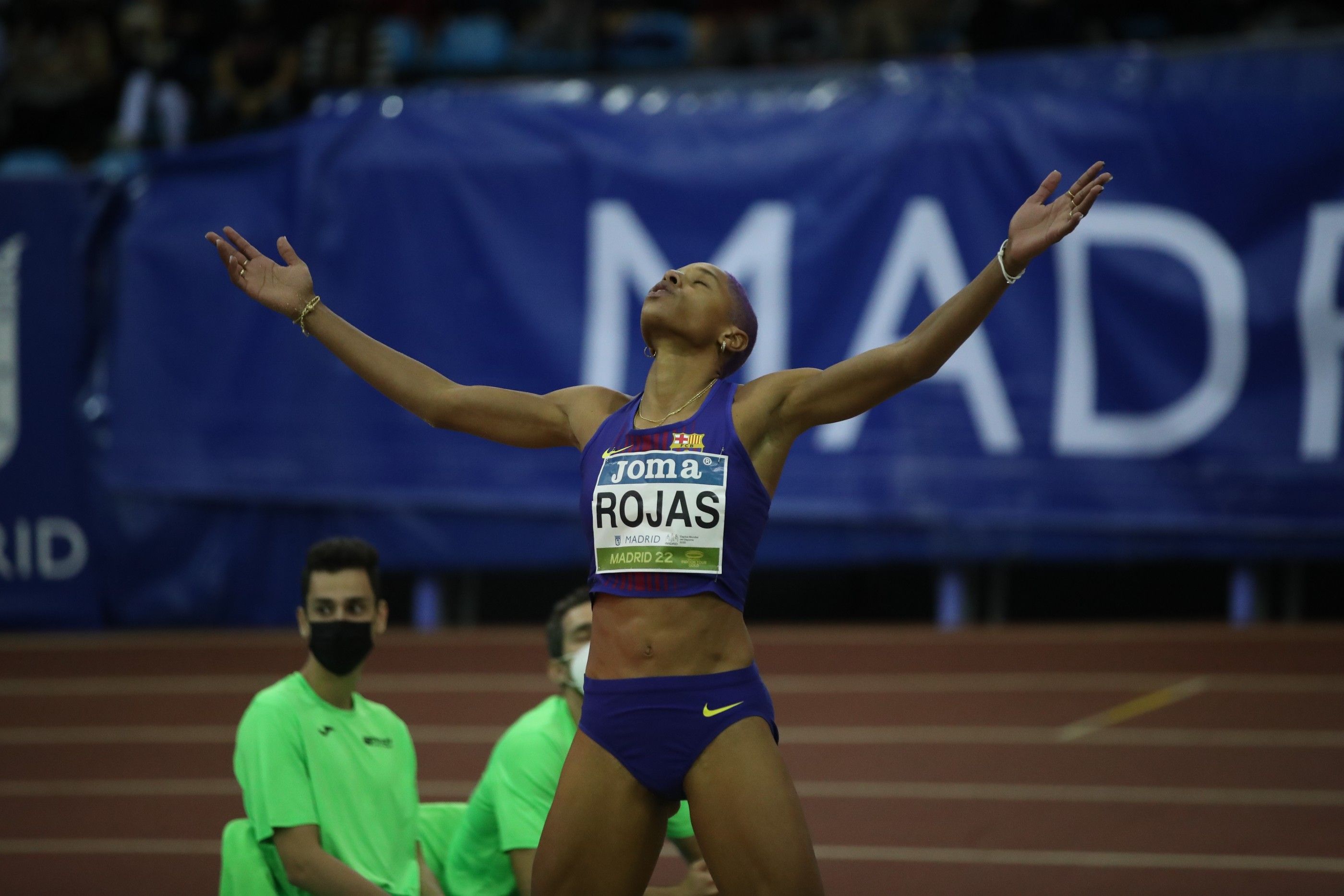 Yulimar Rojas celebrates her win (© Giancarlo Colombo)


"It was very good, and for my first competition it went really well," said Rojas. "There are small details we need to work on, but I felt really good and it was what we wanted. It's always great to compete in Madrid, with so many people in the stands making such a nice atmosphere.
"We'll recuperate now and get ready for Belgrade. The most important thing there is to do a better mark. I want to be champion of the world, but I also want to enjoy the championships. It's been more than two years since we had a normal championships like this."
Ethiopia's Gudaf Tsegay produced another dominant run in the women's 1500m, the world indoor record-holder clocking a meeting record of 3:57.38 to come home well clear of compatriots Hirut Meshesha (4:02.22) and Freweyni Hailu (4:03.38). It meant Tsegay took a comfortable victory in the overall tour standings.
Elliot Giles unleashed a vicious kick up the home straight to deny Spain's Mariano Garcia victory on the night, and also edge him to victory in the overall tour standings. He set a meeting record of 1:45.43, with Garcia second in 1:45.82 ahead of fellow Spaniard Alvaro de Arriba (1:45.97).
"The plan was to win, nothing but to win," said Giles. "I figured I race these boys all the time, I know how the beat them, and while it didn't quite happen the way I planned, it was great to get the win."
Giles will next be in the line in Belgrade where a medal looks well within his grasp. "That race with pacemakers is so different to a champs so these races don't give us any indication of how it'll go," he said. "Other than I know I'm strong and if I get to the final, I know I can hold my position."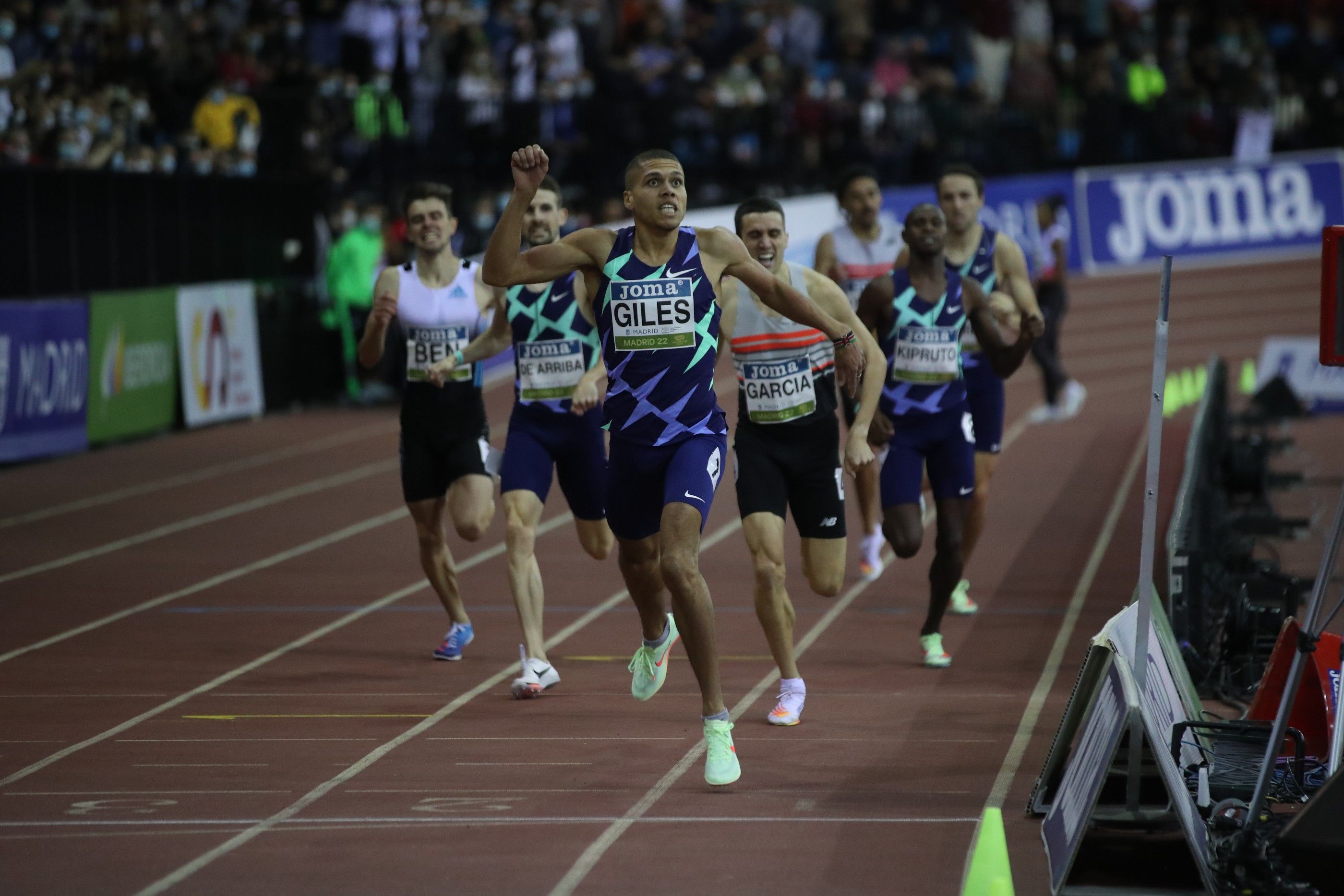 Elliot Giles wins the 800m in Madrid and with it, the World Indoor Tour title (© Giancarlo Colombo)


In the women's 800m, Australia's Catriona Bisset continued her run of excellent form with a dominant victory in 2:00.10, well clear of Britain's Adelle Tracey (2:01.89) and Germany's Christina Hering (2:01.99).
"I had a really disappointing 2021 and after the Olympics I made a bunch of changes," said Bisset, who switched coaches to Ned Brophy-Williams. "I'm excited to go to a championships (in Belgrade) with a bit of momentum behind me. Anything can happen."
Poland's Justyna Swiety-Ersetic had to fight hard to grab the all-important lead at the halfway mark of the women's 400m, but her bravery was well rewarded as she powered to victory in a meeting record of 51.21, which secured her overall tour victory. Lithuania's Modesta Juste Morauskaite was second in a PB of 51.63 and Ireland's Phil Healy – who challenged Swiety-Ersetic to the bell – was third in a PB of 51.66.
"Today's race was really good and I hope next time will be better and I can break the Polish record (51.10)," said Swiety-Ersetic. "The first 200m was very, very fast but the result was a PB and I'm waiting for my next race at Polish Championships. Maybe I can go under 51."
Zoe Sedney was foot-perfect in the women's 60m hurdles, the Dutch athlete lowering her PB to 7.95 as she took the victory ahead of Finland's Reetta Hurske (8.00) and Ireland's Sarah Lavin (8.14).
USA's Elijah Hall secured an important win in the men's 60m, clocking 6.57 to come home ahead of compatriot Michael Rogers (6.60) and France's Jimmy Vicaut (6.60). Hall bypassed the recent US Indoor Championships but his victory here crucially shot him to victory in the overall tour standings, which earned him a wildcard entry for Belgrade.
"It felt good to make the world team, and I'm ready for the next step," said Hall. "We're not done yet. We just need to get better every day. I'm going to sharpen up my race, try to go in and get it done. In the off-season we've been working hard to get my name out there, and I think we've done that now."
Spain's Asier Martinez delighted the home crowd with a photo-finish victory ahead of compatriot Enrique Llopis in the men's 60m hurdles, both clocking 7.56, with Britain's David King third in 7.57.
Australia's Eleanor Patterson was a class apart in the women's high jump, recording a perfect series up and including 1.96m before recording three failures at 2.00m, victory tonight ensuring she reigned supreme in the overall tour standings. Runner-up was Finland's Ella Junnila with a best of 1.90m, while Montenegro's Marija Vukovic was third with 1.87m.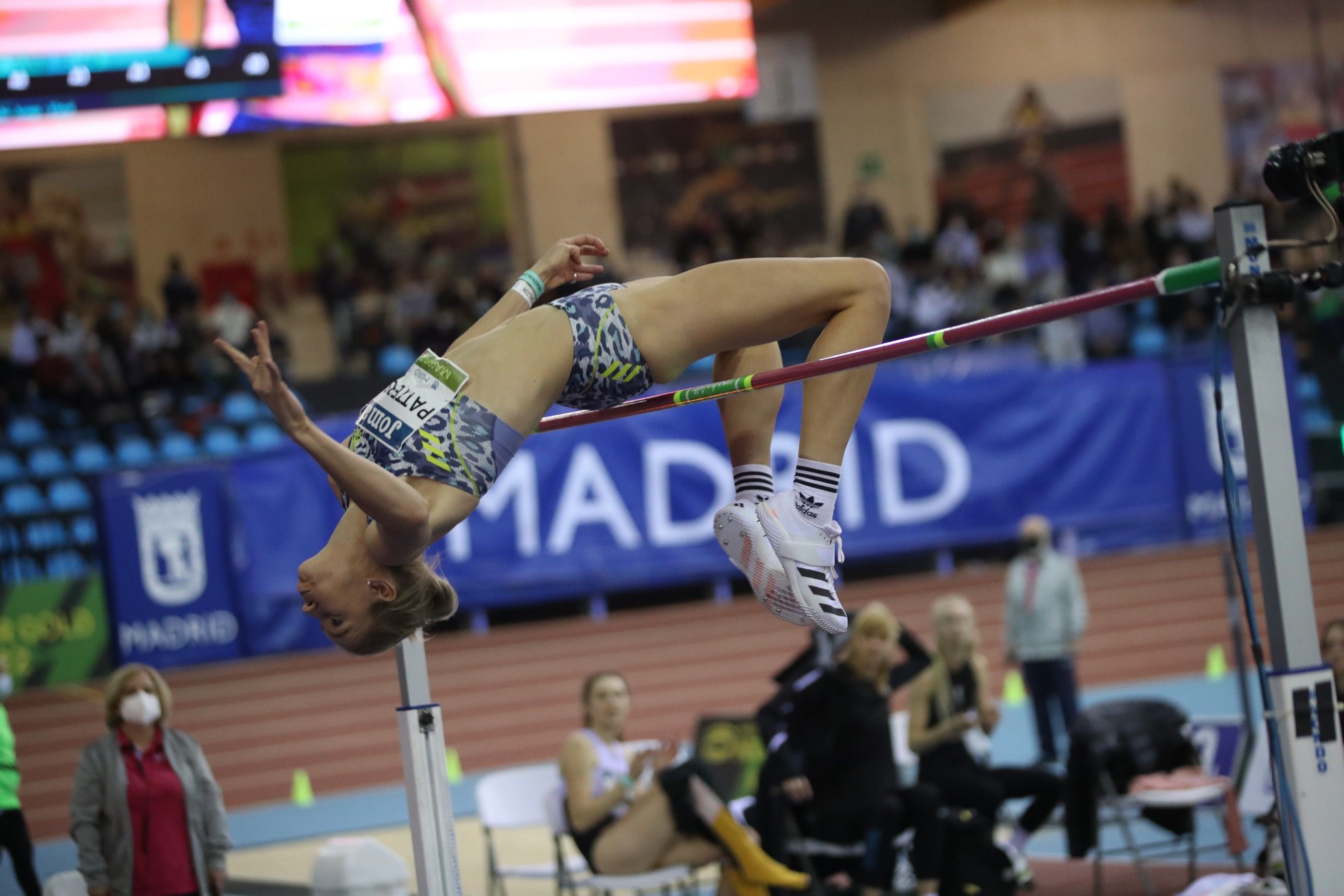 Winner Eleanor Patterson in the high jump (© Giancarlo Colombo)


Poland's Konrad Bukowiecki solidified his position as a strong medal contender in Belgrade by throwing a meeting record of 21.91m in the men's shot put, which puts him second on the year's top lists behind USA's Ryan Crouser. Croatia's Filip Mihaljevic was next best with 21.83m, while Italy's Zane Weird took third with 21.40m. Bukowiecki and Mihaljevic finished on equal points in the overall tour standings, with Bukowiecki winning due to his superior top mark.
"The past few years was very tough for me, a lot of injuries, but now I'm back," said Bukowiecki. "I finally found something I had when I was a junior: I found the joy again of throwing and that's what it's all about."
Bukowiecki will compete at the Polish Indoor Championships in Torun next weekend before targeting a medal in Belgrade the week after.
"I'm going there with the one goal: to throw the furthest I can," he said. "I have good memories from Belgrade, being European indoor champion, and I just need to stay focused, do what I do and I hope I'm going to throw far. I can't wait for it."
Britain's Lorraine Ugen set a meeting record of 6.67m to take the women's long jump and secure overall tour victory, with Spain's Fatima Diame second on the night with 6.51m and Italy's Larissa Iapichino third with 6.45m.
Sweden's Khaddi Sagnia was a late withdrawal from the competition and finished on the same points total (20) as Ugen in the overall tour standings, but the Briton took the win via her best mark during this year's gold-level meetings – her 6.71m in Staten Island edging Sagnia's 6.70m in Birmingham.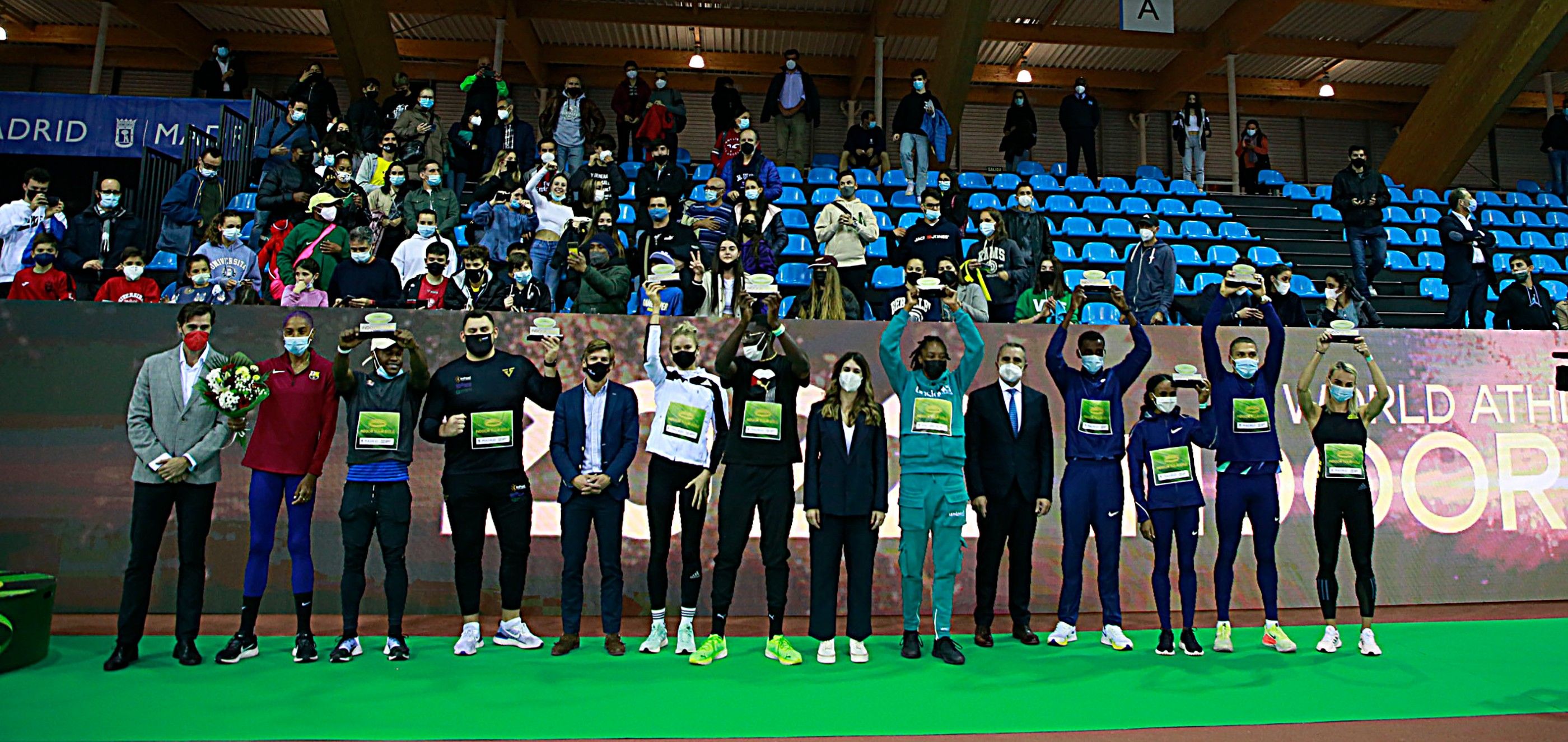 Winners in Madrid (© Giancarlo Colombo)


"I did it by the skin of my teeth!" said Ugen. "The competition went okay. I was a bit shaky, I got one decent jump out there and the rest were a bit off. Once I get to Worlds and have my coach to give me feedback, I should get some better distances out there. My runway needs to be fine-tuned a little bit more but once I get that right, the jumps will come."
Cuba's Lazaro Martinez took the men's triple jump via his second-round effort of 17.12m, which also secured him a narrow overall tour victory with 20 total points. Germany's Max Hess was second with 16.85m – and also second in the tour standings, just one point behind – while France's Jean-Marc Pontvianne was third on the night with his sole recorded mark of 16.67m.
Cathal Dennehy for World Athletics