Antonina Kwambai wins in Toronto (© Canada Running Series)
Kenya's Irine Cheptai and Ethiopia's Chala Regasa took the titles at the Vedanta Delhi Half Marathon, a World Athletics Elite Label road race, on Sunday (16).
The women's race was a one-athlete show from just after half way. A group of 10 went through 5km in 15:40 and, despite a slowing of the pace over the next five kilometres, there were still six together at 10km, passed in 31:42.
However, Cheptai made a decisive move just after 12km and was never headed before reducing her personal best by one second to 1:06:42.
Cheptai finished more than a minute in front of Ethiopia's world 5000m bronze medallist Dawit Seyaum, who was second in 1:08:02, while Stella Chesang set a Ugandan record of 1:08:11 in third place.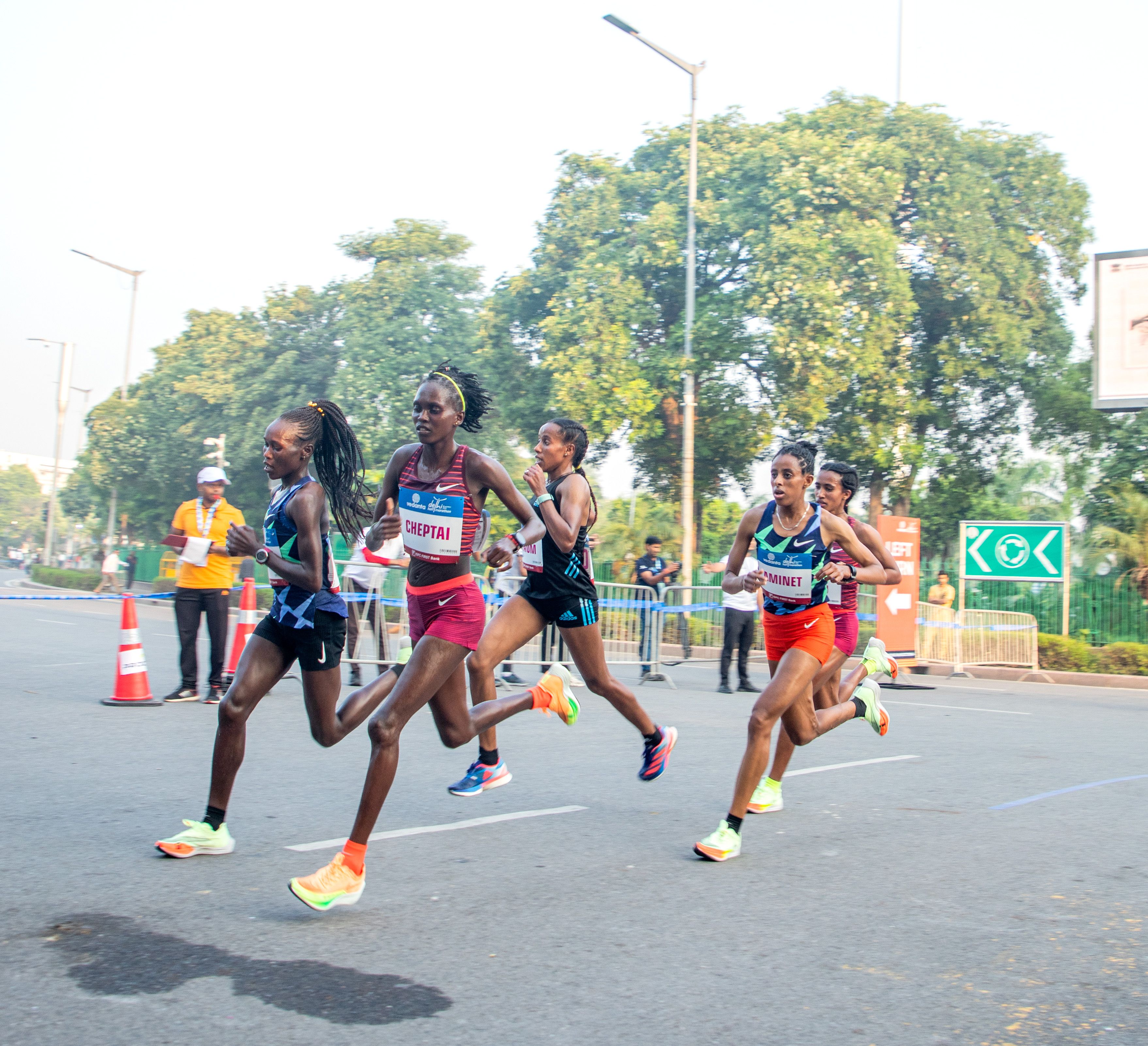 Irine Cheptai on her way to Delhi Half Marathon victory (© Procam International)
By contrast, the men's race boiled down to a thrilling three-man battle in the final kilometre with Regasa coming out on top, sprinting away from Kenya's Felix Kipkoech and fellow Ethiopian Boki Diriba with 400 metres to go to win in 1:00:30.
Kipkeoch finished second in 1:00:33 while the debutant Diriba, the Ethiopian U20 5000m champion on the track and still just 18, was third in 1:00:34.
A relatively sedate early pace in the men's race saw a large group of the elite international field go through 5km in 14:21 and then 10km in 28:48, which meant that the course record – 58:53 set by Ethiopia's Amedework Walelegn in 2020 – was unlikely to be challenged despite the classy field.
Nine men were still in contention as 15km was passed in 43:22, guaranteeing a thrilling finale over the final quarter of the race. Kipkoech soon increased the tempo and that splintered the leading pack. One of the first to be detached was Ethiopia's two-time world 5000m champion Muktar Edris, who came home eighth.
The leading group was reduced to just four men by 19km. Kipkoech, Regasa and Diriba then broke away and passed 20km in 57:31 and duelled almost all the way to the finish line at the famous Jawaharlal Nehru Stadium.
"The final two kilometres were tough, but I knew I had the speed come out in front as I have a good background at shorter distances on the track," said Regasa, who was formerly a top-class middle-distance runner.
Organisers for World Athletics
Leading results
Women
1 Irine Cheptai (KEN) 1:06:42
2 Dawit Seyaum (ETH) 1:08:02
3 Stella Chesang (UGA) 1:08:11
4 Aminet Ahmed (ETH) 1:08:34
5 Lemlem Hailu (ETH) 1:08:50
6 Meseret Gebre (ETH) 1:09:13
Men
1 Chala Regasa (ETH) 1:00:30
2 Felix Kipkoech (KEN) 1:00:33
3 Diribi Boki (ETH) 1:00:34
4 Joshua Belet (KEN) 1:00:43
5 Gemechu Dida (ETH) 1:00:51
6 Moses Koech (KEN) 1:00:56
Kwambai comes from behind to take victory in Toronto
Kenya's Antonina Kwambai and Ethiopia's Yihunilign Adane were victorious at the TCS Toronto Waterfront Marathon, winning competitive contests at the World Athletics Elite Label race on Sunday (16).
The women's race was expected to be a battle between defending champion Magdalyne Masai of Kenya and the Ethiopian woman whose all-comers' record she had beaten by one second, Gelete Burka.
Gelete took charge with about 10 kilometres remaining and looked as if first place was hers for the taking. The early pace, however, started to take its toll.
Kwambai and fellow Kenyan Ruth Chebitok went past Burka to fill the top two places in 2:23:20 and 2:23:58. The Ethiopian finished in 2:24:31. Malindi Elmore won the Canadian title in 2:25:14, placing fourth overall.
"I passed her (Burka) at 37km, and she was tiring," said Kwambai. "This is my first time here in Toronto. It was amazing for me. I am really excited and really happy."
The pacemakers for the elite men's race took a pack of seven through the halfway point in an ambitious 1:02:27 and 30km in 1:29:40 and the Canadian all-comers' record of 2:05:00 was still possible.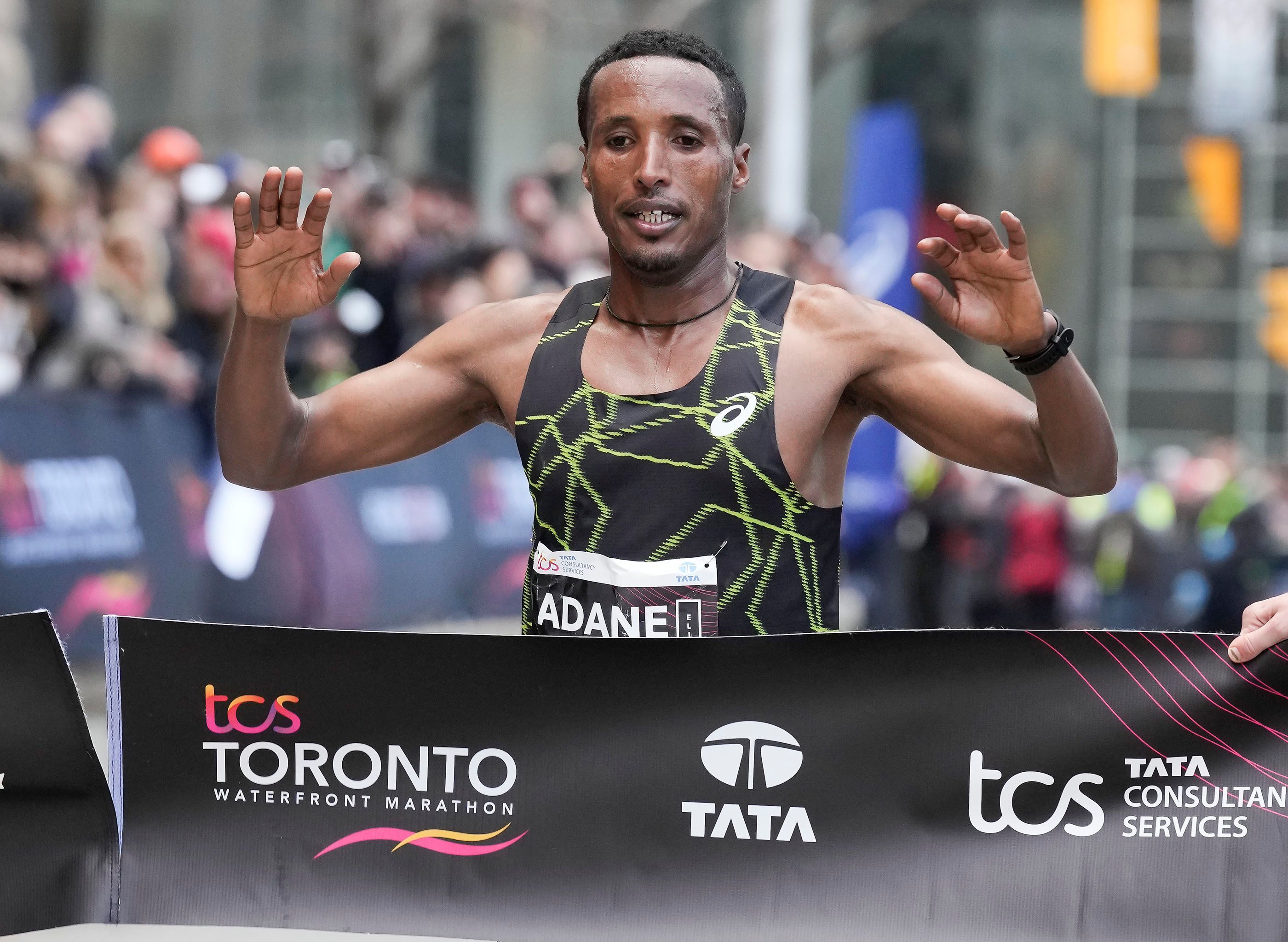 Yihunilign Adane wins the Toronto Waterfront Marathon (© Canada Running Series)
Once the pacers retired, Kenya's Felix Kandie assumed the lead and opened up a gap which split up the contenders into a single file procession. Over the final 10 kilometres, Adane ate up the gap and coasted to victory in 2:07:18.
Kandie also submitted to the closing attack of his compatriot Kiprono Kipkemoi (2:08:24), finishing 20 seconds later in third place.
"I knew I would catch him in the latter stages," said Adane, who also won in Barcelona earlier this year. "When there was about 4km left I decided then to run the pace that I could make until the end."
Paul Gains for World Athletics
Leading results
Women
1 Antonina Kwambai (KEN) 2:23:20
2 Ruth Chebitok (KEN) 2:23:58
3 Gelete Burka (ETH) 2:24:31
4 Malindi Elmore (CAN) 2:25:14
5 Magdalyne Masai (KEN) 2:25:39
6 Tseginesh Mekonnin (ETH) 2:28:43
Men
1 Yihunilign Adane (ETH) 2:07:18
2 Kiprono Kipkemboi (KEN) 2:08:24
3 Felix Kandie (KEN) 2:08:44
4 Enock Onchari (KEN) 2:10:07
5 Trevor Hofbauer (CAN) 2:11:00
6 Barselius Kipyego (KEN) 2:11:12
Mokoka retains title, Dinke breaks record in Cape Town
Defending champion Stephen Mokoka claimed a third win in the Sanlam Cape Town Marathon, a World Athletics Elite Label road race, while Meseret Dinke broke the race record to win the women's event on Sunday (16).
Multiple South African champion Mokoka broke the tape in 2:09:59, two seconds faster than his winning 2:10:01 last year and the fourth-fastest winning time in the race's history. Second place went to Ethiopian Derseh Kindie in 2:11:27, with his compatriot Dagnachew Adere outsprinting Kenya's Raymond Kipchumba Choge to take third place, 2:11:55 to 2:11:56.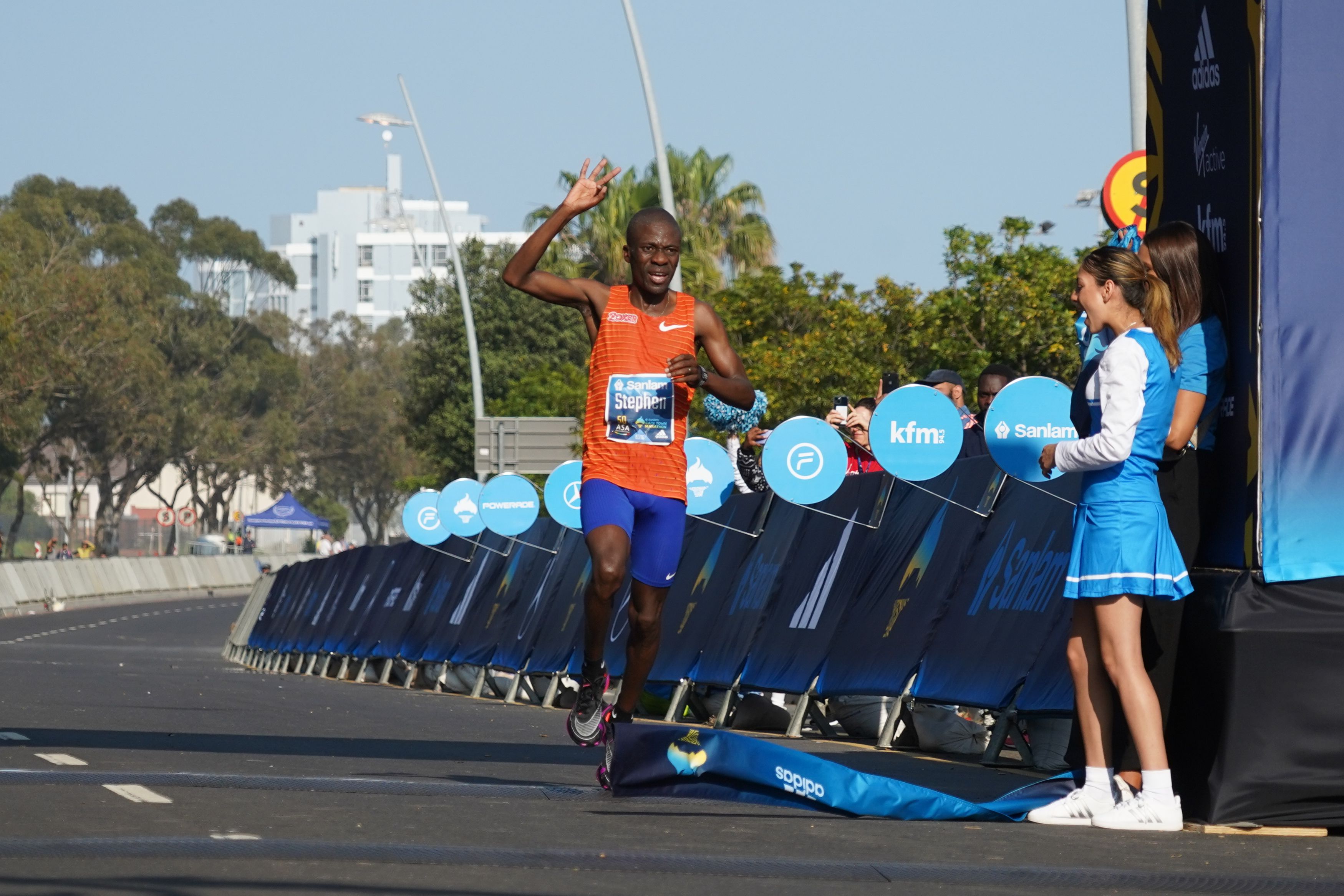 Stephen Mokoka retains his Cape Town Marathon title (© Organisers)
"This was a tough, tough course," said Mokoka. "Normally at 25km you start enjoying a marathon, but at 28km today, we climbed that hill in District Six and it got really hard for a while, but overall I really enjoyed the race."
Mokoka ran a world 50km record of 2:40:13 in Gqeberha in March, a record that CJ Albertson took to 2:38:43 eight days ago. Asked what his Cape Town Marathon win means, Mokoka added: "I am delighted to win in Cape Town for a third time. I have won races overseas, too, but this is still special. Records are meant to be broken, but titles stay forever, and this win means more to me than just running a fast time. It's also about the memories of our runs."
In the women's race, Dinke of Ethiopia took top honours in 2:24:04, smashing the 2:25:44 event record run in 2021 by Lydia Simiyu and also improving her personal best of 2:25:12. Second over the line was Tecla Kirongo in 2:27:57, also setting a PB, with her Kenyan compatriot Judith Cherono taking third in 2:30:34.
"I enjoyed the race thoroughly, but unfortunately I had to do it by myself," said Dinke. "When you run by yourself it is so difficult to control your pacing, but I managed. If everything had been perfect, I had hoped to run a 2:20 or 2:21. The course was a little tougher than other international races, but I was running within myself, and felt confident that I could keep a consistent pace until the end."
Organisers for World Athletics
Leading results
Women
1 Meseret Dinke (ETH) 2:24:04
2 Tecla Kirongo (KEN) 2:27:57
3 Judith Cherono (KEN) 2:30:34
4 Zinashwork Yenew (ETH) 2:34:03
5 Webalem Bazanew (ETH) 2:34:24
Men
1 Stephen Mokoka (RSA) 2:09:59
2 Derseh Kindie (ETH) 2:11:27
3 Dagnachew Adera (ETH) 2:11:55
4 Raymond Kipchumba Choge (KEN) 2:11:56
5 Samuel Moloi (RSA) 2:14:39