Kelvin Kiptum wins the Valencia Marathon (© sportmedia.es)
Marathon debutant Kelvin Kiptum and Ethiopia's Amane Beriso were victorious at the Valencia Marathon Trinidad Alfonso EDP, a World Athletics Elite Platinum Label road race, which proved to be one for the history books on Sunday (4).
Their respective winning times of 2:01:53 and 2:14:58 elevate them both to third place on the men's and women's all-time lists. Kiptum's time is just 44 seconds shy of the men's world record, while Beriso's performance is just 54 seconds adrift of the women's mark.
World 10,000m champion Letesenbet Gidey – who was a pre-race favourite, although a tentative one given that she was making her marathon debut – finished second in 2:16:49. Like Kiptum, she set a record for the fastest marathon debut in history.
Kiptum destroys opposition
The men's contest set off at a steady 2:57/km pace, headed by pacemakers Bernard Ngeno, Stanley Rono and Chala Regasa. After splits of 14:42 for 5km and 29:24 for 10km, the pacemakers increased their cadence and covered the following 5km section in 14:30 with 16 men still in contention.
The large lead pack, which included world champion Tamirat Tola and Chalu Deso plus Tanzania's Gabriel Geay, reached the halfway mark in 1:01:42, slightly adrift of the expected pace.
By 26km, the pacemakers had drifted but a determined Tola took the lead and was closely followed by Kiptum, Deso, Milkesa Mengesha and Alexander Mutiso. Within two kilometres Tola's relentless 2:53/km rhythm had whittled down the leading pack to 10 men. But about 28.5 kilometres into the race, Kiptum took a turn to increase the pace and by the time he reached 30km (1:27:34) he had only Tola and Geay for company.
The 23-year-old Kenyan maintained his relentless rhythm, and with 1:35 on the clock he was out on his own. A stunning 14:00 5km split brought him to 35km with a significant 15-second lead over Geay. It also meant he had covered the previous 10km in 28:26, which was more than enough to see off the rest of his opposition.
The knowledgeable Valencia crowd was then able to witness Kiptum cruise through the closing stages to smash the course record with 2:01:53, having covered the second half in 1:00:11. Kiptum's winning time is by far the fastest marathon debut in history and he enters the world all-time list at third place, behind the legendary Eliud Kipchoge and Kenenisa Bekele.
Further back, Geay improved his own Tanzanian record by almost two minutes with 2:03:00, elevating him to equal eighth on the world all-time list. Mutiso – also making his marathon debut – came from behind to overtake Tola in the closing stages, finishing third in 2:03:29, 11 seconds ahead of Tola.
"I didn't expect to win, but I was very well prepared and I wanted to prove it," said 23-year-old Kiptum, whose 58:42 half marathon PB from 2020 was also set also in Valencia.
Beriso gets the better of Gidey
The women's race opened at a steady 3:12/km pace, going through 5km in 16:03, 10km in 32:01 and 15km in 48:03. By that point, Gidey – who holds the world records for 5000m, 10,000m and the half marathon – ran comfortably behind the male pacemakers, but Beriso was also running alongside her esteemed compatriot.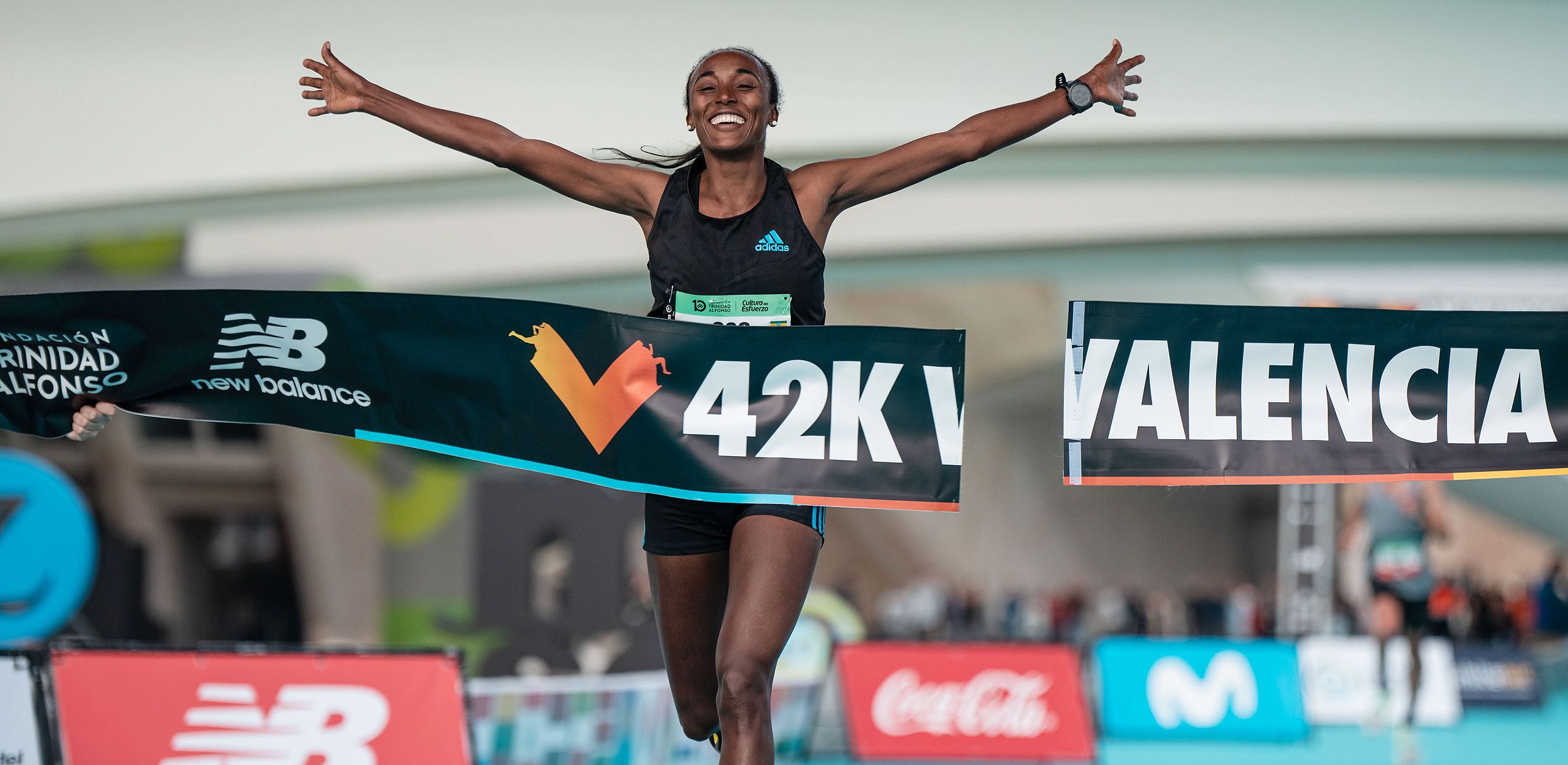 Amane Beriso wins the Valencia Marathon (© sportmedia.es)
The lead duo reached half way in 1:07:18 – slightly outside world record pace, but in keeping with Gidey's pre-race strategy of recording a negative split. The only surprise was the fact that Beriso – who has a half marathon PB of 1:08:43 and a marathon best of 2:20:48 – was still in contention.
As planned, the pace started to increase in the following kilometres, the Ethiopian pair covering the 25-35km section in a brisk 31:44 for an overall split of 1:51:21, just seven seconds slower than Brigid Kosgei's world record split in Chicago three years ago. But just before that checkpoint, Gidey started to lose ground on Beriso as the 31-year-old set off alone.
Beriso, who won the Mexico City Marathon in August this year, was unable to get back on world record schedule but she did more than enough in the closing stages to see off Gidey's challenge, going on to win in a course and Ethiopian record of 2:14:58. An exhausted Gidey had to be satisfied with a 2:16:49 runner-up finish, while Kenyan debutante Sheila Chepkirui completed the podium in 2:17:29, seven seconds ahead of Ethiopia's 21-year-old Tadu Teshome.
For the first time in history, four women finished inside 2:18 and seven women finished inside 2:19.
"I can't believe what I have achieved today," said Beriso. "Everything was fantastic – the circuit, the weather, the crowd. I'm really delighted."
Emeterio Valiente for World Athletics
Leading results
Women
1 Amane Beriso (ETH) 2:14:58
2 Letesenbet Gidey (ETH) 2:16:49
3 Sheila Chepkirui (KEN) 2:17:29
4 Tadu Teshome (ETH) 2:17:36
5 Fancy Chemutai (KEN) 2:18:11
6 Tiruye Mesfin (ETH) 2:18:47
7 Tigist Girma (ETH) 2:18:52
8 Etagegne Woldu (ETH) 2:20:03
9 Dolshi Tesfu (ETH) 2:20:40
10 Majida Maayouf (MAR) 2:21:01
Men
1 Kelvin Kiptum (KEN) 2:01:53
2 Gabriel Geay (TAN) 2:03:00
3 Alexander Mutiso (KEN) 2:03:29
4 Tamirat Tola (ETH) 2:03:40
5 Kaan Kigen Ozbilen (TUR) 2:04:36
6 Chalu Deso (ETH) 2:04:56
7 Milkesa Mengesha (ETH) 2:05:29
8 Ronald Korir (KEN) 2:05:37
9 Philemon Kiplimo (KEN) 2:05:44
10 Goitom Kifle (KEN) 2:06:09