Yulimar Rojas celebrates her world indoor record in Madrid (© Dan Vernon)
The skill of compartmentalisation is a key one for athletes – that ability to block out the noise and focus your attention on a single task.
It's one Yulimar Rojas mastered on a Friday night back in February, producing the biggest jump of her life – and the second biggest in history – with her final-round leap of 15.43m at the World Athletics Indoor Tour meeting in Madrid.
That feat saw her crowned Female Athlete of the Year at the World Athletics Awards last weekend, and when asked to reflect on this tumultuous year, the 25-year-old Venezuelan noted that she will do so with a selective memory.
"What I want to remember of 2020 is only the good things," she said. "By remembering only the good things, it'll help me to focus better for 2021."
She has big ambitions for the year ahead. The Olympics, obviously, but success for her will not only be defined by medals, but also measurements. There are two distances foremost in her mind.
"15.50m I know I can do," she said. "My ambition is to become the first woman to jump 16 metres. It is something unimaginable in people's minds, but I think I have the ability to do it."
She could easily get annoyed about what might have been in 2020. Rojas, after all, went into the year as the reigning world champion, the only athlete since 2016 to have jumped beyond 15 metres, which she did seven times last year.
When she started the year with a South American indoor record of 15.03m in Metz, then soared out to her 15.43m world indoor record in Madrid, she seemed destined to seize Olympic gold. But we all know what happened next.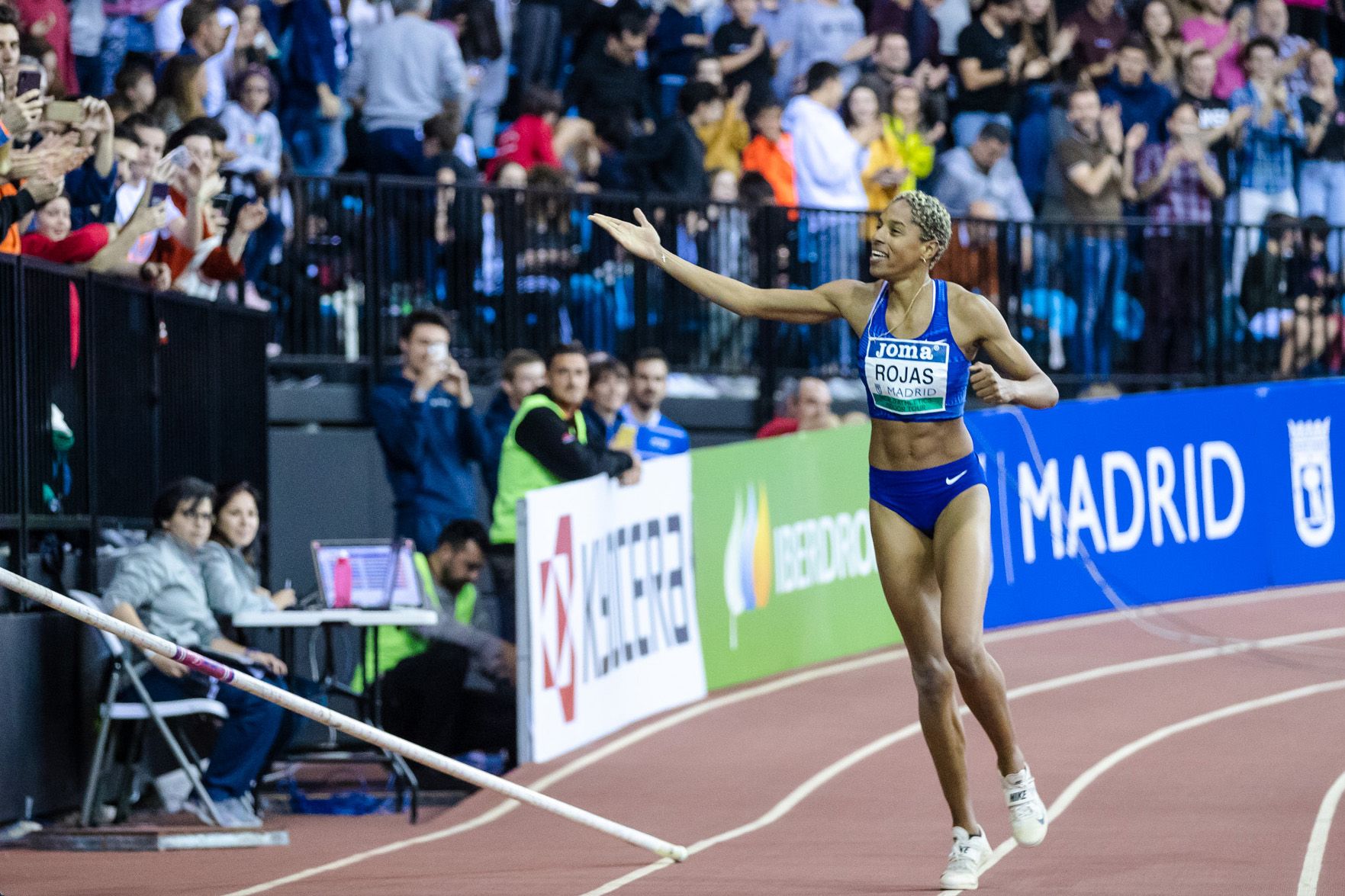 Yulimar Rojas on a lap of honour in Madrid (© Dan Vernon)
"I was coming off an indoor season where I was in exceptionally good shape and was working towards 15.50m," she said. "I honestly believe if there hadn't been the lockdown and the pandemic I would now be celebrating an Olympic medal, a better performance than 15.43m. But I'm an athlete who always wants more and despite what happened in 2020, I'm confident 2021 will bring more joys and I'll find myself in even better shape."
That would be a daunting prospect for rivals of Rojas, who competed sparingly in an abbreviated outdoor season, jumping a best of 14.71m in Castellon, Spain in September.
"It's been a very short season, a quick season, but it's helped us realise there are much more important things out there," she said. "I took advantage of the pandemic to take a rest and now I'm really looking forward to getting ready for the next season."
On Saturday she was back home in Venezuela to watch the live broadcast of the World Athletics Awards, and her reaction to news of her victory was one of utter shock.
"I felt like, 'wow, what is happening to me? Am I living in a dream?' Being one of the finalists was like winning for me. This is proof that dreams do become reality."
She was equally delighted for her coach, Ivan Pedroso, who is based in Guadalajara, Spain. For all of the Cuban's achievements as a legend of the long jump – Olympic gold, four world outdoor titles, five world indoor titles – he had never been crowned Athlete of the Year and Rojas was keen to share the honour with him.
"Together we make a very strong team and I'm sure when I see him again soon I'll hug him and in that hug there will be a lot of emotion," she said. "It'll be a very magical moment."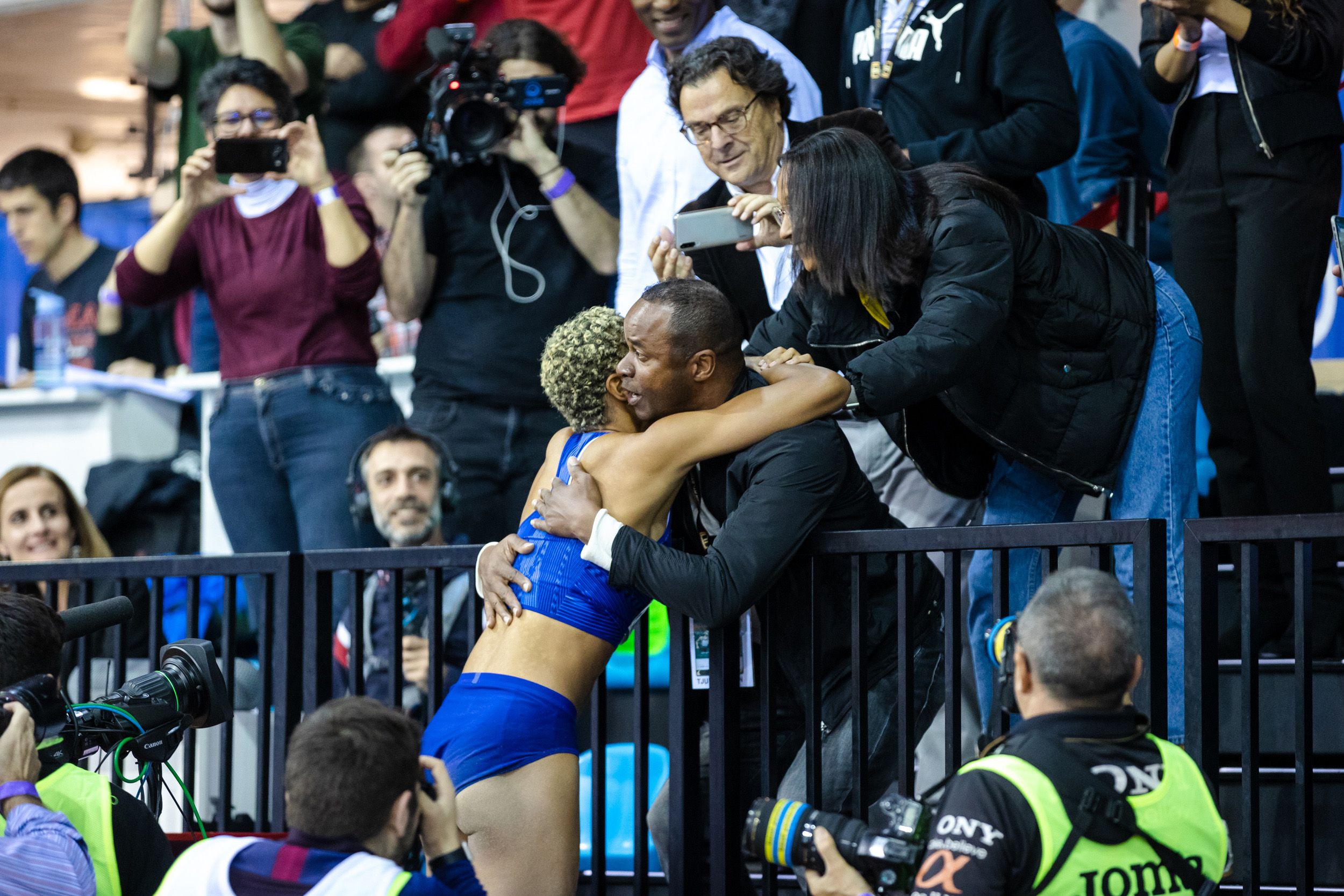 Yulimar Rojas and Ivan Pedroso in Madrid (© Dan Vernon)
After adding Pedroso as a friend on Facebook in 2015, Rojas told him of her ambition to train with him and in November that year she moved to Guadalajara, which is an hour's drive from Madrid.
Under Pedroso's guidance she has won two consecutive world indoor titles, two consecutive world outdoor titles and improved her PB from 14.20m to 15.43m. But what he has taught her since 2015 goes far beyond the triple jump.
"I feel a lot of love when I speak about him," she said. "The thing I learned from him is the strength to be able to get back up, being humble, the simple happiness of training and how to manage problems.
"Whatever happens, I know Ivan will be there for me. He is a coach for me but not only that, he's like a father figure and we know together, with the love for the sport we have, we can go very far."



The night of the World Athletics Indoor Tour meeting in Madrid back in February, Pedroso had been more nervous than Rojas when they showed up to the Polideportivo Gallur arena.
"It denoted that something special was in the air," she said.
She had done enough to secure victory in the second round, then jumped a whopping 15.29m in the fourth round, but after fouling her fifth attempt it seemed her shot at the world indoor record of 15.36m was slipping away. But with all eyes trained on the triple jump runway, she nailed her final attempt to hop, skip and jump into the history books.
"It was a perfect day," she said. "The crowd was there, the stadium was full, and every single person was watching me. I think what made the difference was how focused I was on jumping and not the performance. I completely forgot about any mark, any world record."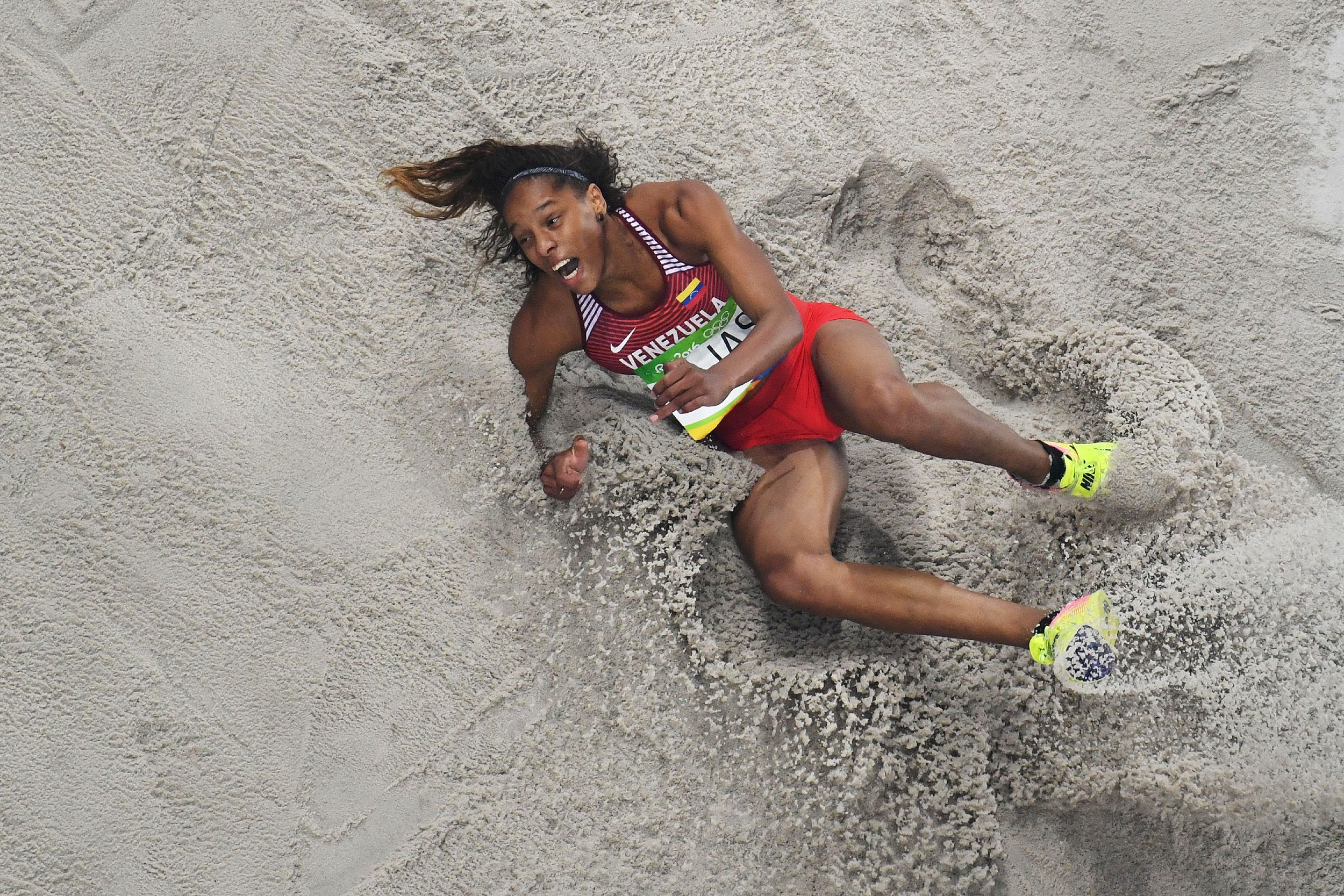 Yulimar Rojas in action at the Rio 2016 Olympic Games (© AFP / Getty Images)
Having become the first Venezuelan woman to win an Olympic medal with her triple jump silver in 2016, hopes were high that Rojas would become the country's first ever female gold medallist in Tokyo. But with those Games postponed she's happy to be patient.
"I had waited four years for the Olympics but they remain my main focus in 2021," she said. "Every day I wake up for that target. The energy and the focus have not changed and they have never left my body. I believe 2021 will be even better for me and I'm ready to give my very best in the Olympic Games."
After an end-of-season vacation and some time at home in Venezuela, Rojas will soon return to Spain to commence training under Pedroso's watch, preparing to be even better in 2021.
"It's obviously a very important year but most important for me is to be healthy and competitive. I need to be psychologically and physically at the very best of my shape, to train at 100 per cent and compete at 100 per cent."
Do that and the two foremost goals in her mind – Olympic gold and the world record of 15.50m – should be within reach.
"I have the ambition to get there," she said. "I know my heart will take me there."
Cathal Dennehy for World Athletics